Tahoe Rim Trail 2021 backpacking: planning and gear list
My plans for a socially distant, easy resupply TRT thru-hike in June 2021. Early season conditions mean snow and creek crossings, but also beautiful nature.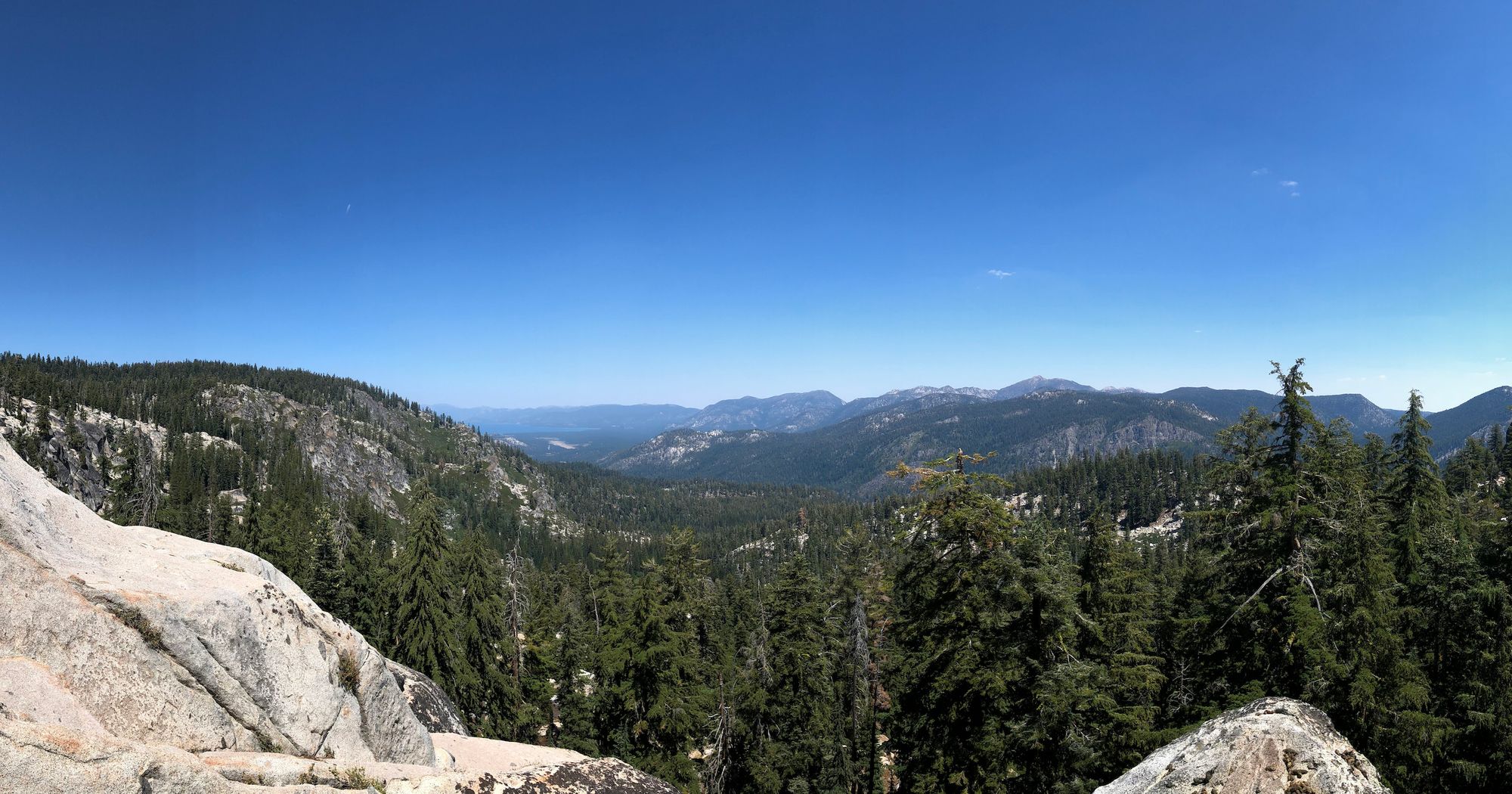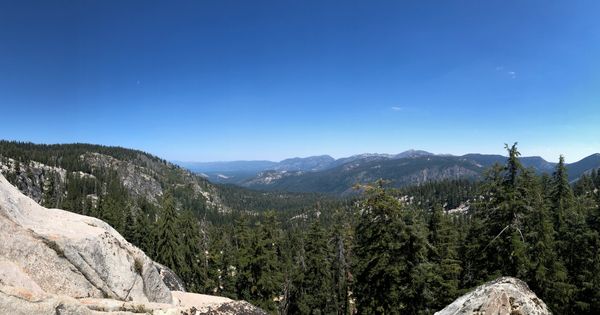 Although I managed to get in a few great hikes in 2020, like the Kings Canyon trip, I wasn't comfortable doing a longer hike that required resupplying during the pandemic. As the COVID situation is finally improving in the US, I want to do a proper thru-hike in 2021. I want to spend the better part of two weeks on the trail to get into the long-distance backpacking rhythm.
I decided that I want to re-hike the Tahoe Rim Trail (TRT) for two reasons. First, my previous TRT hike wasn't technically a thru-hike. I had to split it into two section hikes because I had to go back to work for two weeks. But more importantly, my previous hike was in 2018 during the fire season. I couldn't see Lake Tahoe for most of the trip, and I want to experience the trail in all its glory.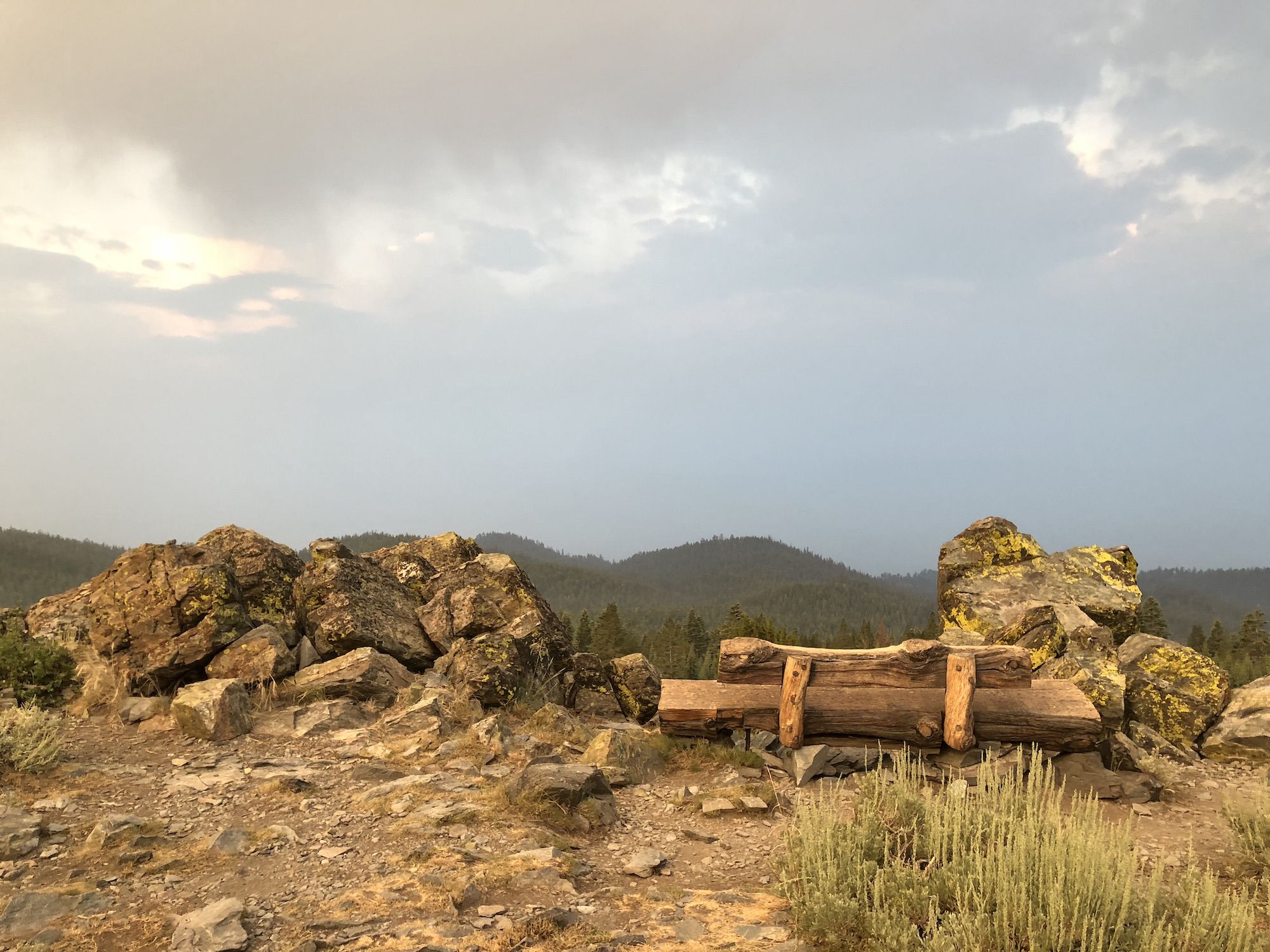 Planning a thru-hike during the COVID-19 pandemic
Even though I'm fully vaccinated, I still want my hike to be as self-sufficient as possible. I want to avoid using public transport and hitchhiking.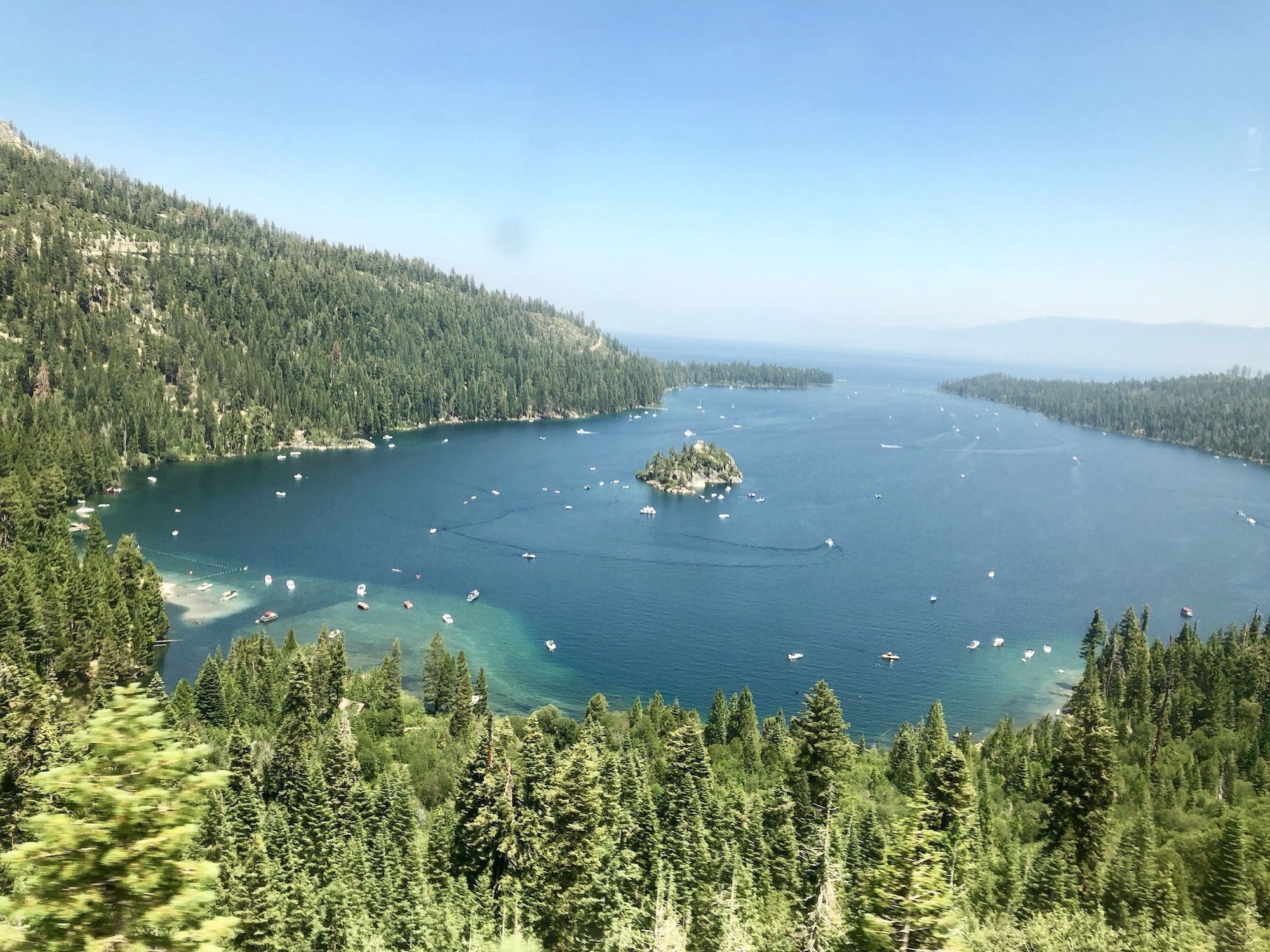 The TRT is a loop. That means that I can drive myself to the trailhead and that I will finish the hike at the same trailhead. Resupplying on the TRT is easy because I can walk into both Tahoe City and South Lake Tahoe without having to hitchhike.
Preparing for early season conditions
The 2020-2021 winter has been exceptionally dry. To date, the Sierra Nevada snowpack is at 37% of normal.
The lack of snow means that the trail will be open to backpacking earlier than usual. Unfortunately, it will also likely mean that we're in for another big fire season.
I plan to start my hike in mid-June. I will have stretches of snow and dense clouds of mosquitoes to deal with at that time. But early summer will also mean plentiful water, vibrant greens, and wildflowers in full bloom.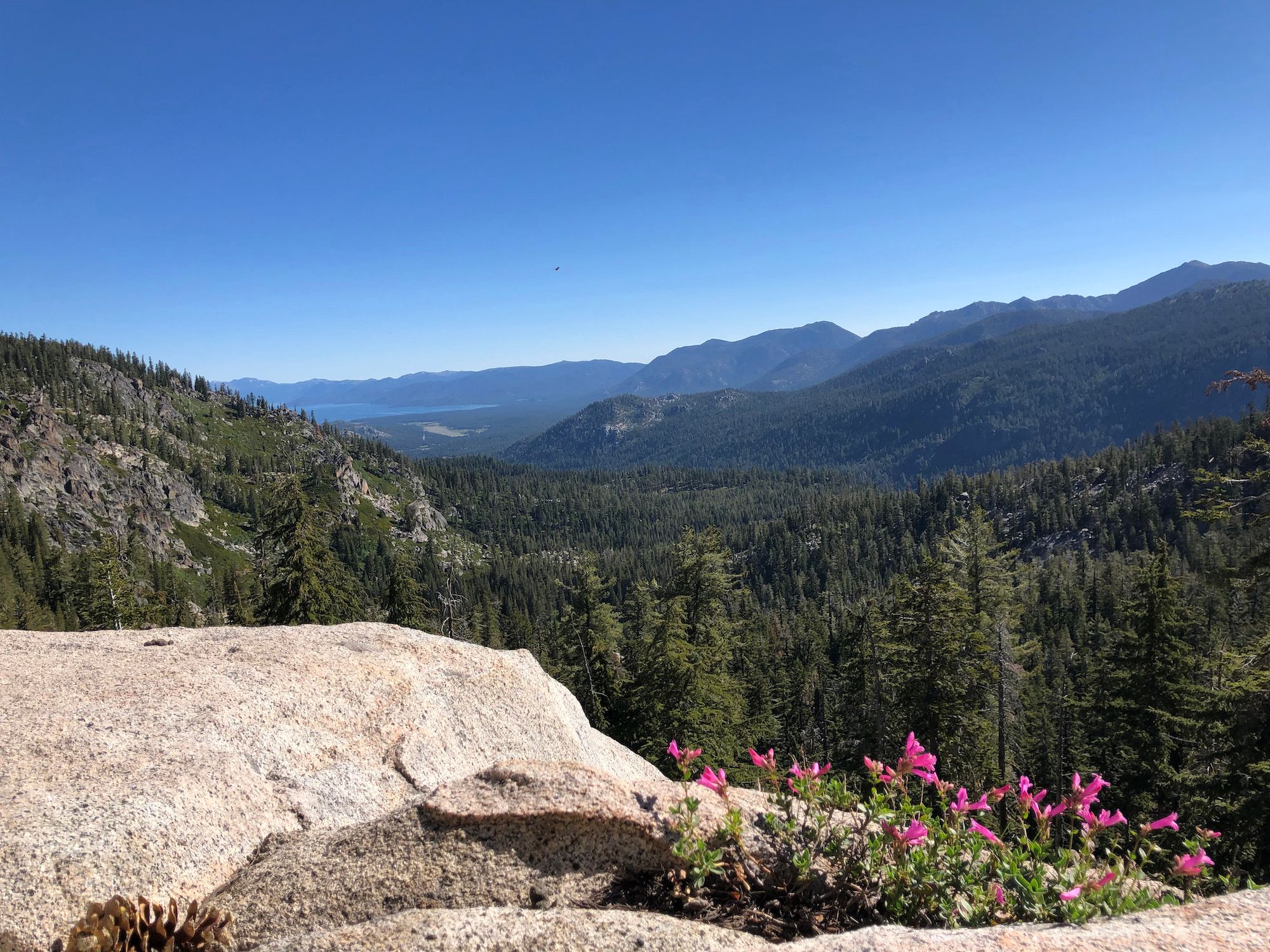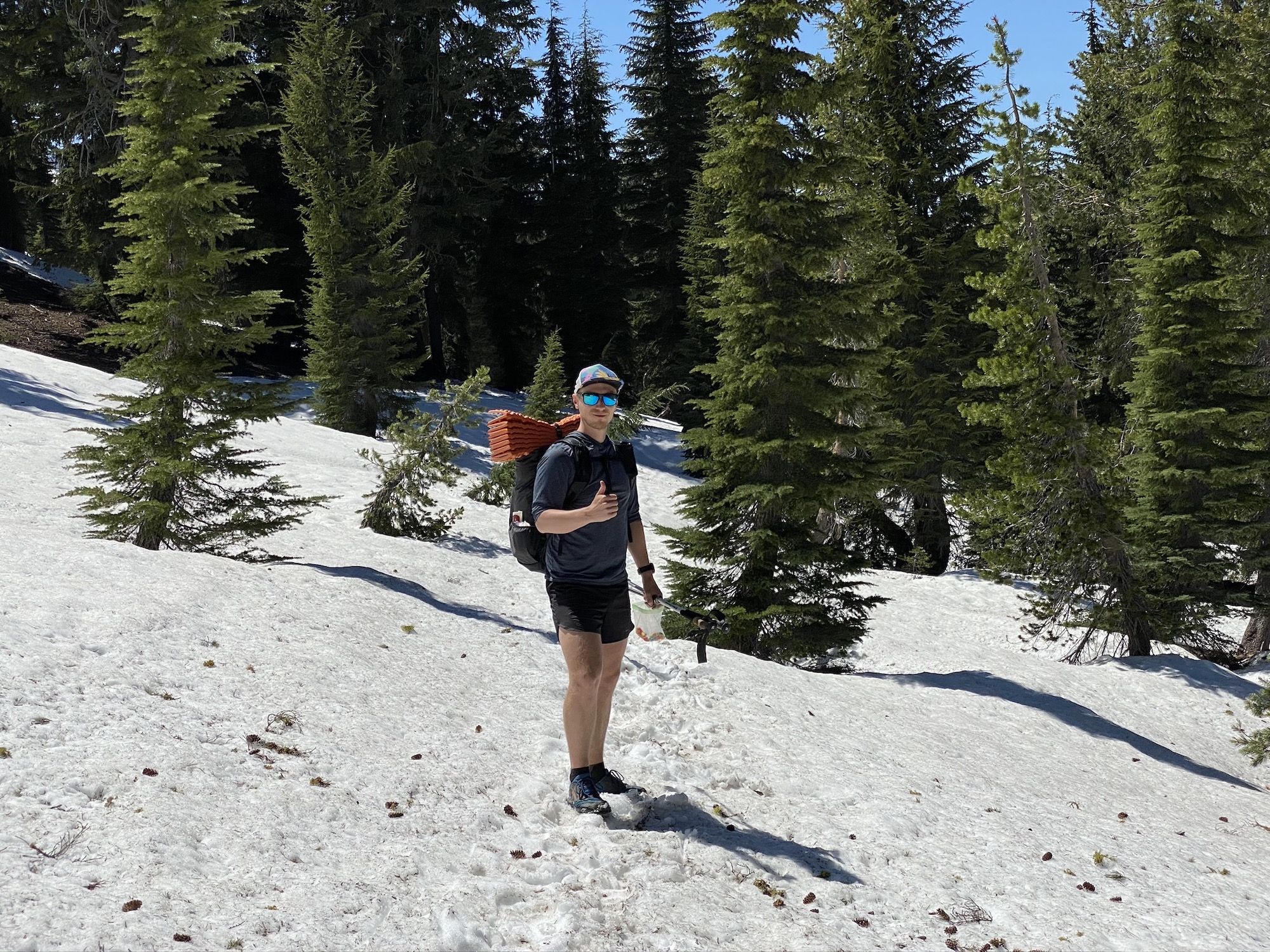 The main considerations when it comes to early season backpacking in the Sierra Nevada are snow travel and creek crossings.
During the summer months, the TRT is like a backcountry highway. But when it's hidden beneath the snow for long stretches, you need to be prepared to navigate on your own. Depending on the snow level, it may also pose risks when traversing steep sections or crossing snow bridges.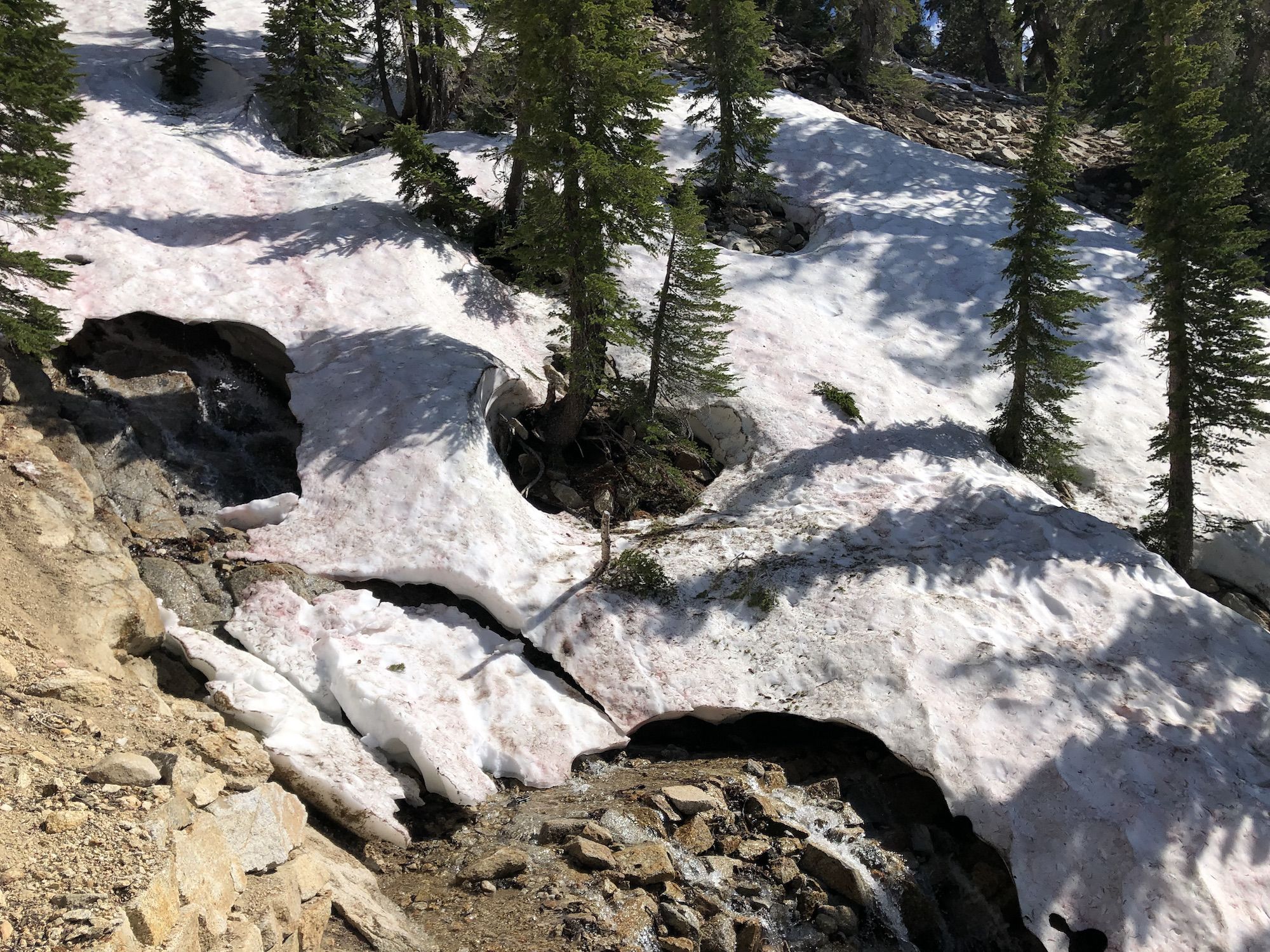 Later in the season, there are no considerable creek crossings on the Tahoe Rim Trail. But early in the season, even small creeks can swell to dangerous levels. You need to have the skills to cross them safely and the patience to find the right place to cross (or even wait until the morning when the snowmelt is at its lowest).
Mosquitoes are usually at their worst a few weeks after the snow has melted. This means I'll be heading out in the thick of it and need to prepare accordingly.
Note. Always plan your own hike according to your skill and comfort level. Don't attempt an early-season trip if you are not prepared for it. You will put yourself and rescuers in unnecessary danger.
Itinerary, resupplying, and permits
My previous TRT thru-hike was my first long-distance hike. This time, I have the benefit of experience. I know the trail, and I have tuned in my skills and gear over many trips (like the John Muir Trail) since then.
I'm planning on completing the TRT in 10 days but will add a 2-day buffer in my schedule because of the early season conditions. I enjoy hiking long days, but I don't want to feel rushed.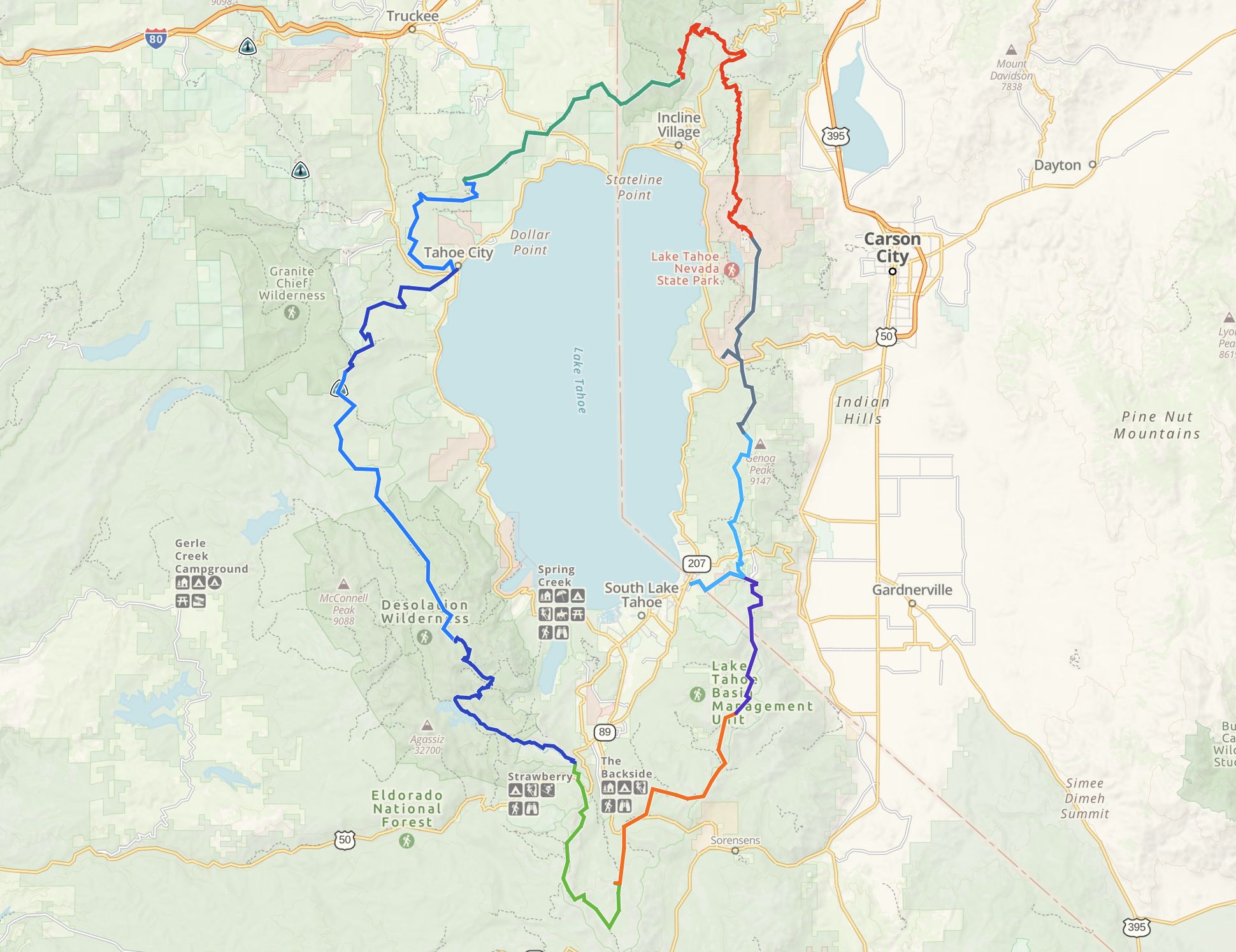 I'm starting and ending the hike at Echo Lakes as it will make for easy resupplying and permits. From Echo Lake trailhead, I'm hiking 3 days/2 nights to Tahoe City for my first resupply.
From Tahoe City, I have a 5-day stretch around the east side of Lake Tahoe to South Lake Tahoe for my next resupply. This section will have the longest dry stretches combined with most food weight.
From South Lake Tahoe, I'm taking the Van Sickle connector back up to the TRT and then continuing back to Echo Lakes over the next 3 days–spending 2 more nights in nature.
I'm not planning on caching water anywhere along the trail. Instead, I'm prepared to carry up to 5 liters of water to get through the dry stretches. The added benefit of additional water-carrying capacity is that it makes it easier to camp away from water sources and mosquitoes.
You need two permits to hike the Tahoe Rim Trail: an overnight permit for Desolation Wilderness and a California campfire permit if you intend to use a stove. The TRT website has information on how to obtain all the needed permits. Thru-hikers can bypass the Desolation wilderness quota system and get a special permit mailed to them by calling the Lake Tahoe Basin Management Unit office (see the TRT site for details).
Gear for an early-season TRT thru-hike
When it comes to gear, I'm a minimalist. All my gear isn't necessarily ultralight and I don't try to force my base weight below a certain number. But I also know from experience that having a light backpack makes hiking more enjoyable and reduces the risk of injuries.
For my shelter, I'll be using my trusty old Zpacks Duplex. It's light and offers a large bug-free environment if I need to escape the mosquitoes. I'm bringing my new Nemo Tensor Insulated Regular/wide sleeping pad. It's much heavier than my other pad, but also very, very, comfy. Finally, I'll bring my Enlightened Equipment Revelation 20-degree quilt.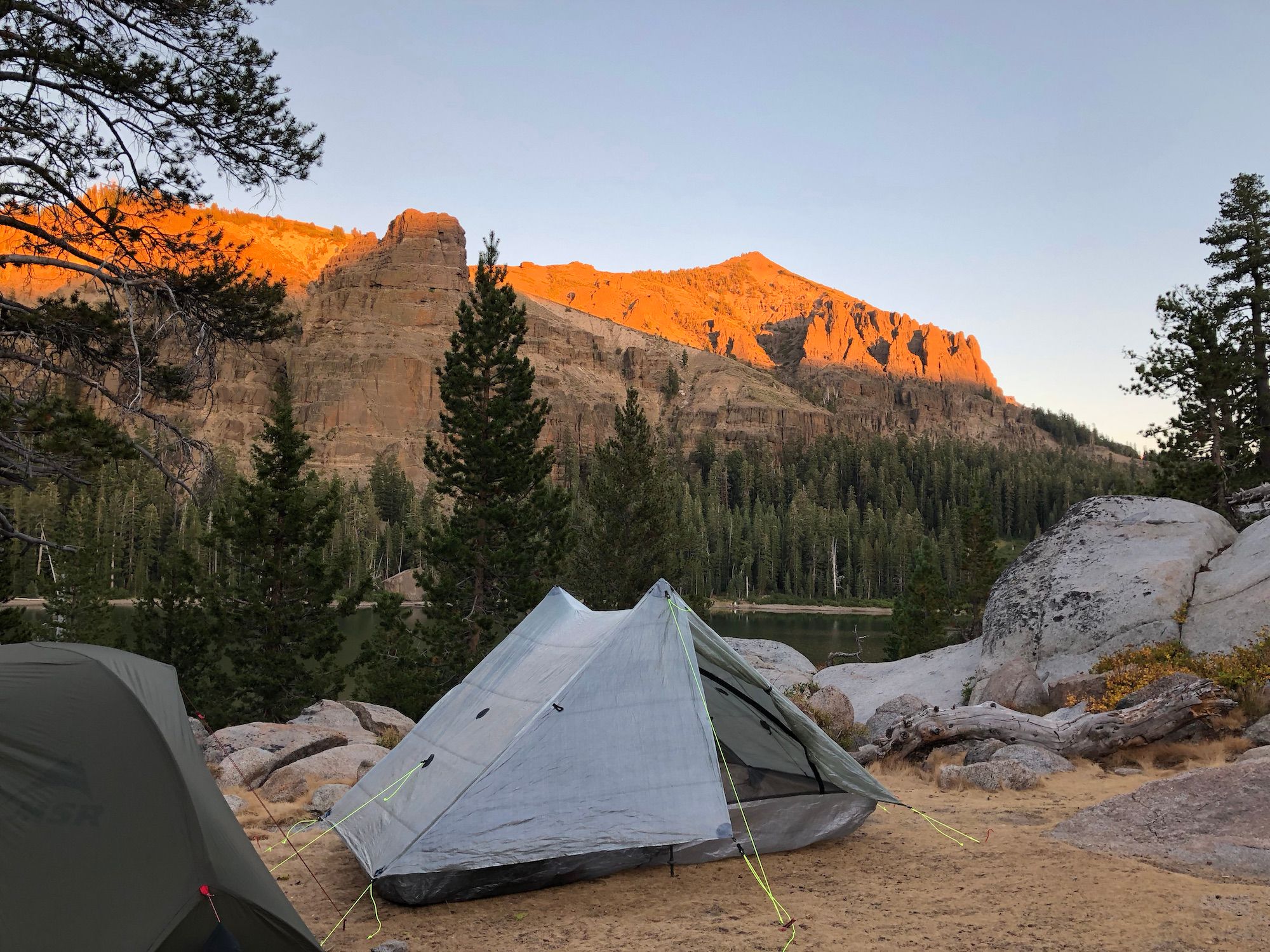 I'm using my Pa'lante V2 backpack. It's frameless, but has a hip belt to handle the couple of long water carries.
I'll be using my new JetBoil Stash as my cook system for the trip. It's so fuel-efficient I can complete the entire trail with a single 100g gas canister.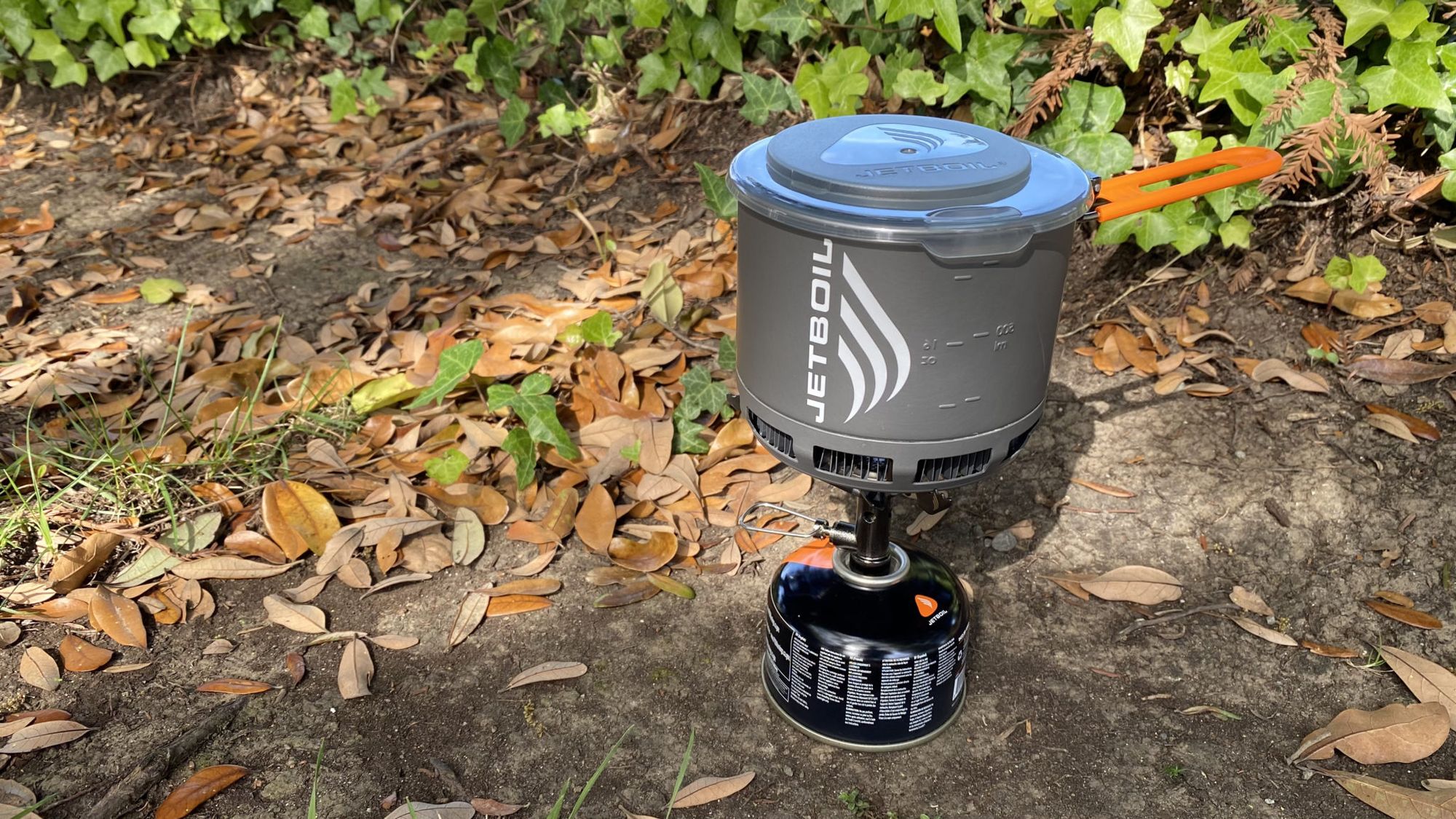 I'm bringing the new Platypus QuickDraw water filter on this trip. It combines many of the best features of the Sawyer Squeeze and the Katadyn Befree, so I'm excited to try it out. I had issues with the BeFree on my previous TRT hike, and have stopped using it since then.
For bear-proofing food, I'm bringing my Ursack Major XL paired with an odor-proof OPSAK.
I will be navigating mainly with the Gaia GPS and Guthooks apps and offline maps. I will also upload the GPX tracks to my Garmin Fenix 6 watch.
I don't expect to need microspikes and an ice ax, but I will have to make that call closer to the start date when I know what the snow situation is like.
You can find my full Tahoe Rim Trail 2021 gear list on LighterPack.
Food
This time around, I'm going to keep things very simple when it comes to food. I'm only bringing things I can readily buy from normal grocery stores, which means I'll be able to resupply the same stuff in town easily.