My (almost) ultralight JMT gear list
The pack, shelter, clothes, cook system, and electronics I used on the John Muir Trail. Even with a bear canister and fishing rod, I was able to stay at 16 lbs.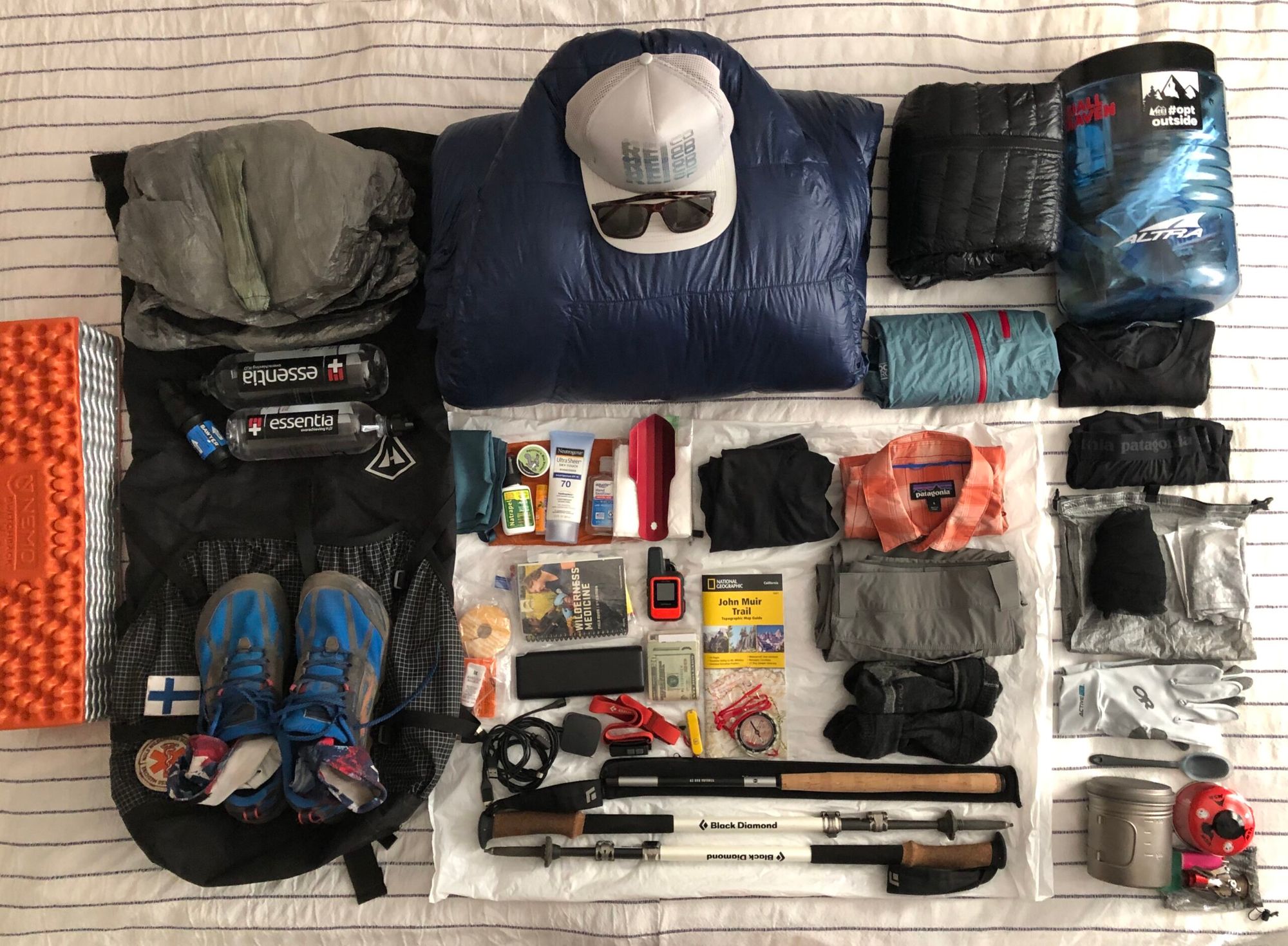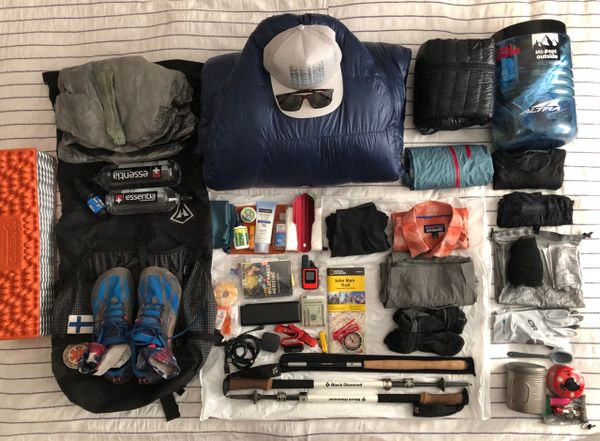 I already had a lot of backpacking experience before the trip. I had even thru-hiked the Tahoe Rim Trail the previous summer. But the JMT would be quite different. Much higher in elevation longer stretches between resupplies. I wanted to be ready.
I went on several practice hikes to dial in my system and to get some training for the trek. In May, I went to explore Henry Coe State Park. Later, in June, I went to the Trinity Alps in northern California. Finally, two weeks before starting the JMT, I re-hiked one of my favorite sections of the TRT. Each trip helped me figure out what worked and what didn't.
Here's a link to the gear list if you don't want to read my commentary.
Big 4: Shelter, sleep, and backpack
I used the same tent as I did on the TRT, a Zpacks Duplex. It's one of my favorite pieces of gear and offers an incredible amount of space for its weight.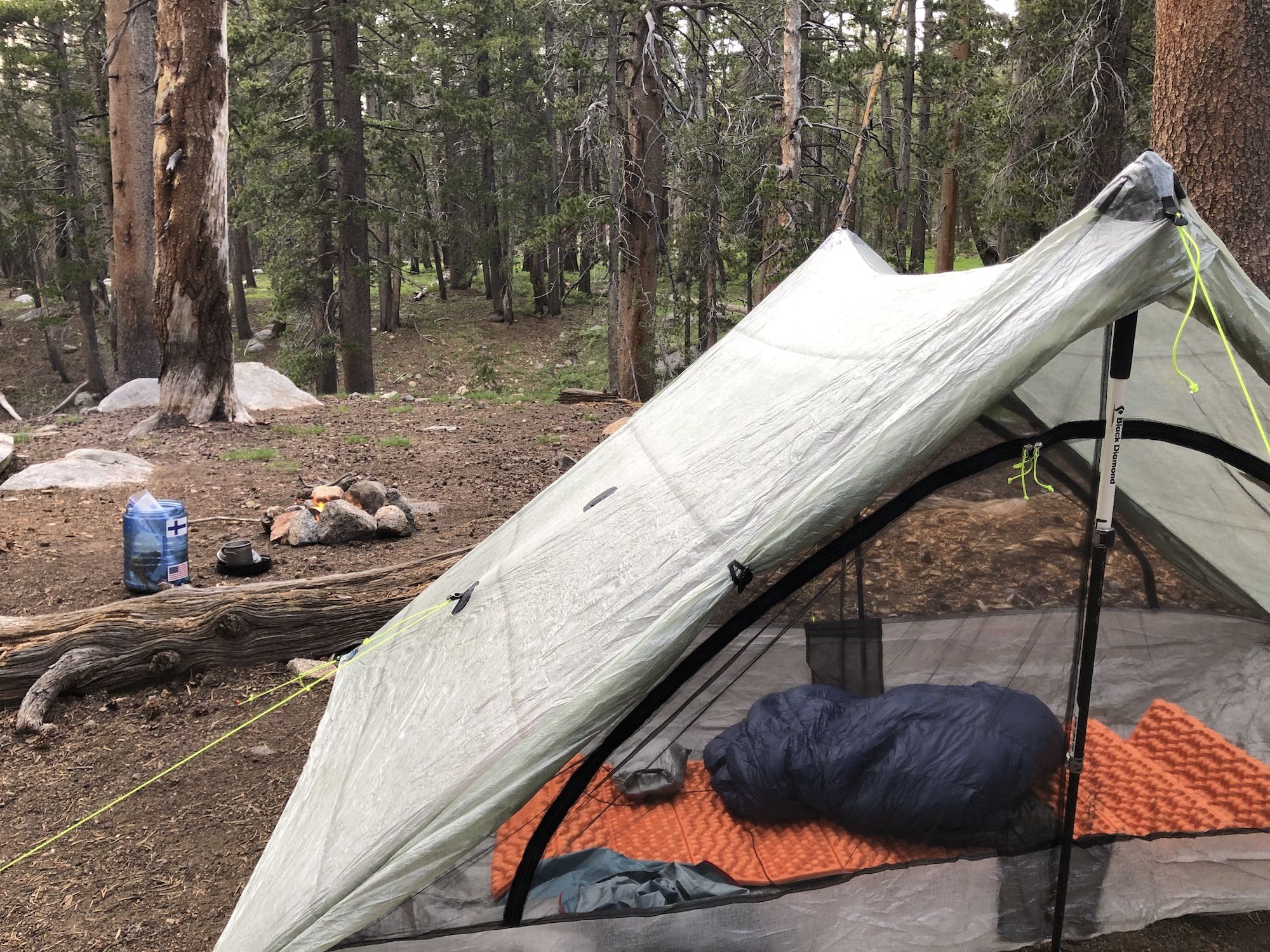 After popping my Therm-a-rest X-lite on one of the practice trips, and getting tired of not getting a good night's sleep on it, I decided to switch back to a CCF pad, the Nemo Switchback, for the trip. I was happy with the decision. Any time I took a break, I could lay it down for a quick nap or to lay out my gear without getting it dirty. And I slept better. The only downside is the bulk.
I used an Enlightened Equipment Revelation 20F quilt. I liked the freedom of sleeping with a quilt. However, it got chilly once the temperature dropped into the 30s, even with a down jacket on. They have since increased the fill on the quilts, so newer ones may be better.
The Hyperlite Mountain Gear Southwest 3400 was my pack of choice for this trip. You need to carry a bear canister on the JMT, and the larger volume and aluminum frame made the carry more comfortable than going with a frameless pack. I added two Zpacks shoulder pouches for holding a water bottle and my phone. The pack worked out great.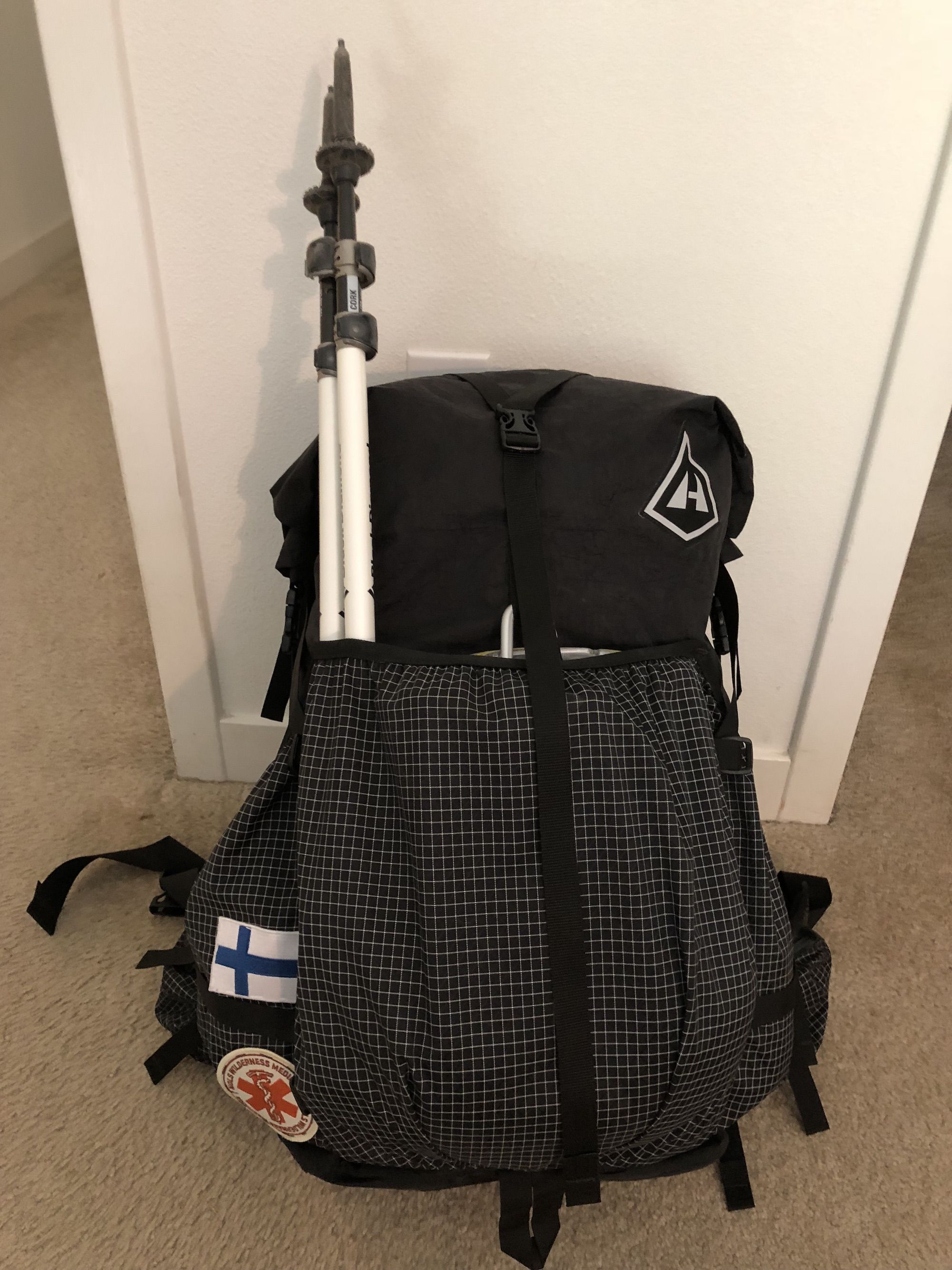 Food, water, and cooking
For water filtration, I went with the trusty Sawyer Squeeze. I switched to it last year during my Tahoe Rim Trail hike when my Katadyn BeFree filter stopped working. The reliability and convenience of fitting standard bottles easily outweigh the extra weight.
My cook system consisted of a Vargo Bot 700 and an MSR PocketRocket 2. I had considered going stoveless until my last practice hike. I realized I might want to have a warm coffee in the mornings or if I got soaked in a crossing. I was able to get a new gas canister at Muir Trail Ranch.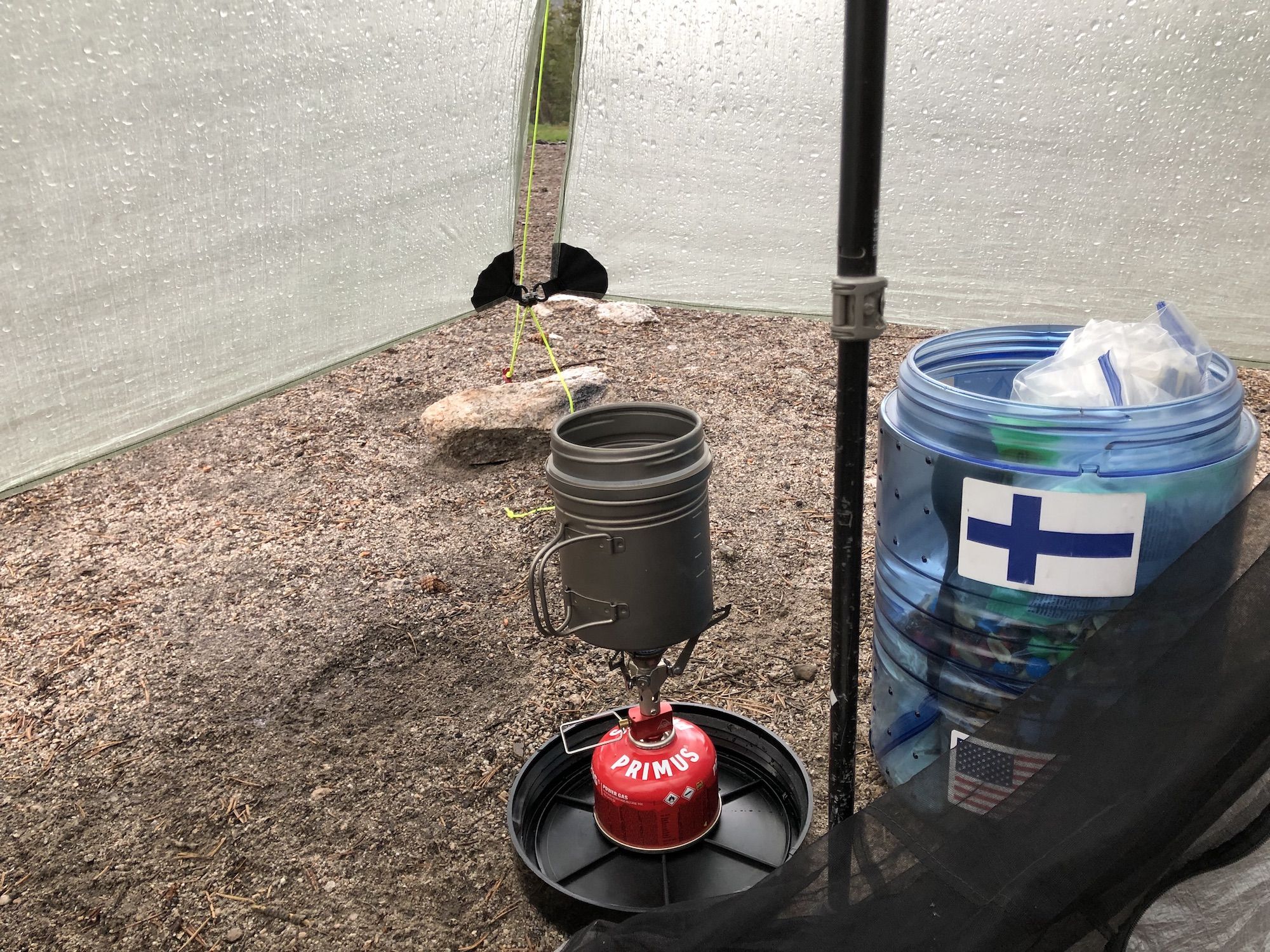 I used a Bear Vault BV500 as my bear canister. Although I would have liked to get a lighter carbon fiber one, I couldn't justify the cost. It's bulky and inconvenient to carry, but it's required and helps you sleep well at night in bear country.
I didn't bring any commercial freeze-dried backpacker meals. Instead, I opted to make my own meals, slightly tweaking Andrew Skurka's recipes.
Clothes and shoes
My hiking outfit consisted of running shorts and a button-up shirt. I also carried permethrin-treated pants for the evenings.
I brought OR Helium rain jacket and pants. I hadn't initially planned on bringing rain pants, but the day before I headed out, there was a massive storm in Yosemite, and I figured I might as well. I didn't end up using them.
I had a Mountain Hardwear Ghost Whisperer puffy jacket for evenings and for sleeping. It worked out well.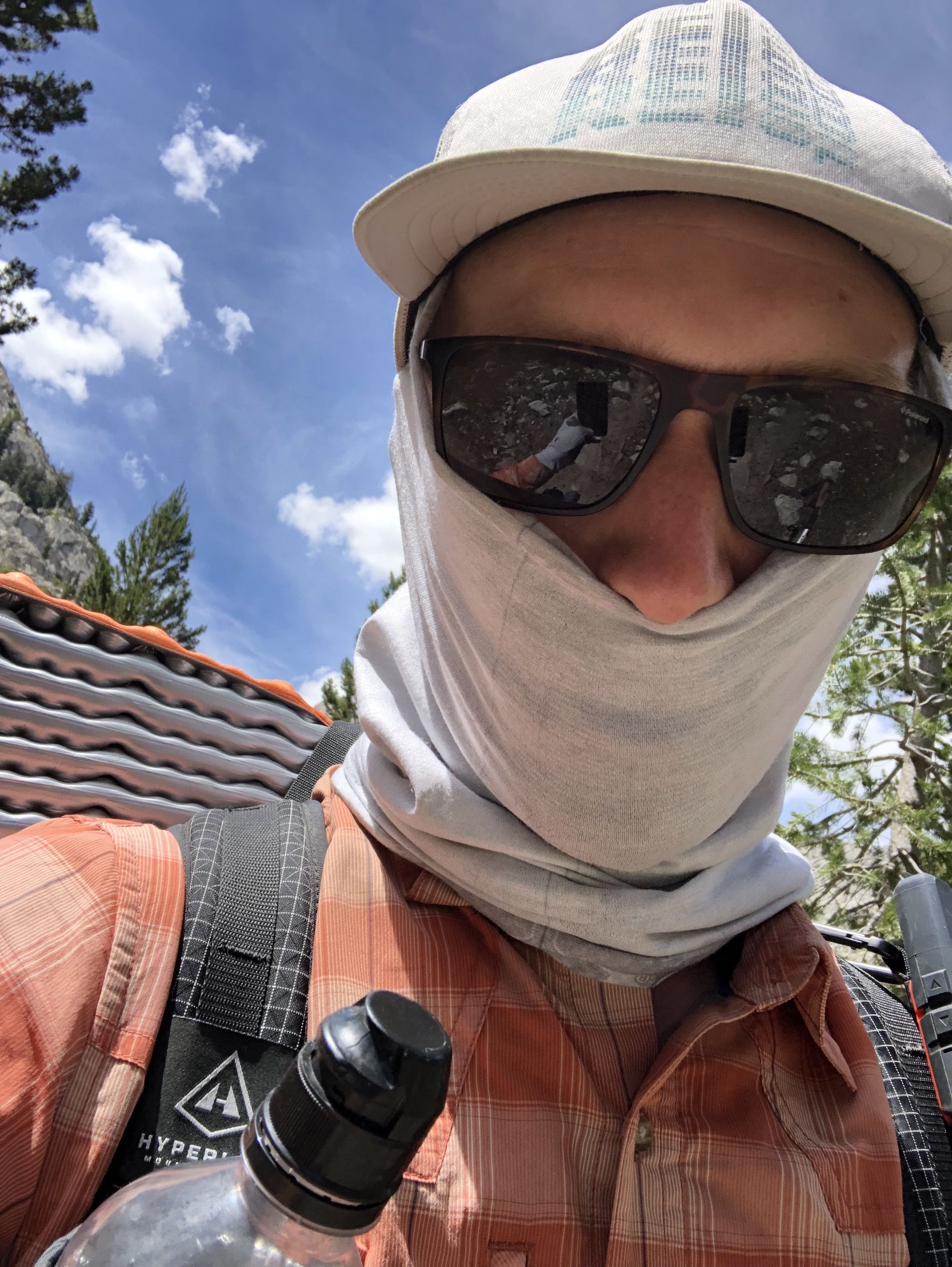 I brought sun gloves and a UV bandana for sun protection. I ended up using both also for sleeping, which turned out well.
The shoes I used were Altra Lone Peak 4.0 trail runners. I'm a bit torn about them. On the one hand, they were very comfortable and didn't give me a single blister on the whole trip. On the other hand, they started falling apart after just 3 days. I was able to glue them back together after the trip, and I'm still using them.
Update: I've since switched to hiking in Inov-8 Terraultra G 260 trail runners, which I've found to be substantially more durable.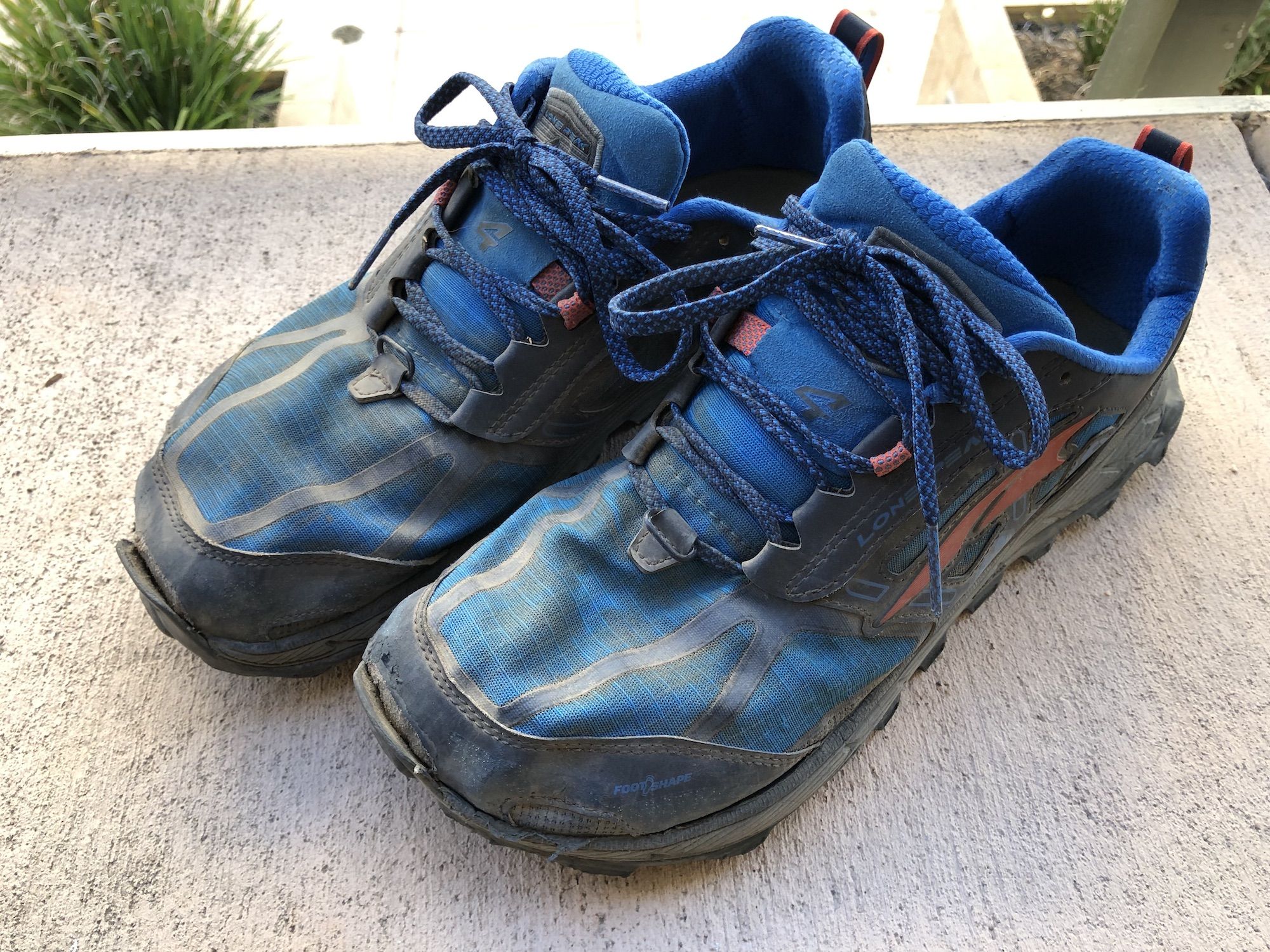 First Aid and hygiene
My first aid and hygiene kit was self-assembled and pretty basic. It consisted of:
Ibuprofen
Allergy medicine
Imodium
Disinfectant wipes and antibiotic ointment
Leukotape
Picardin bug spray
SPF 50 sunscreen
Anti-chafe
Hand sanitizer
Toothbrush and paste
In addition to the tangible things I carried, I had taken a NOLS Wilderness First Responder course to better prepare to help myself and others on the trail.
I didn't bring toilet paper on the trip since I didn't want to carry it out. Instead, I used a backcountry bidet and washed my hands thoroughly with soap and water. It worked out wonderfully and kept me feeling clean and fresh.
Electronics
I used a Suunto 9 GPS watch to track my progress and altitude. It has a great battery life, and I was able to fit all the info I needed into one screen for a quick glance. Although I liked the watch, I ended up upgrading to a Garmin Fenix 6 after the trip, you can read more about the reasons in my comparison review.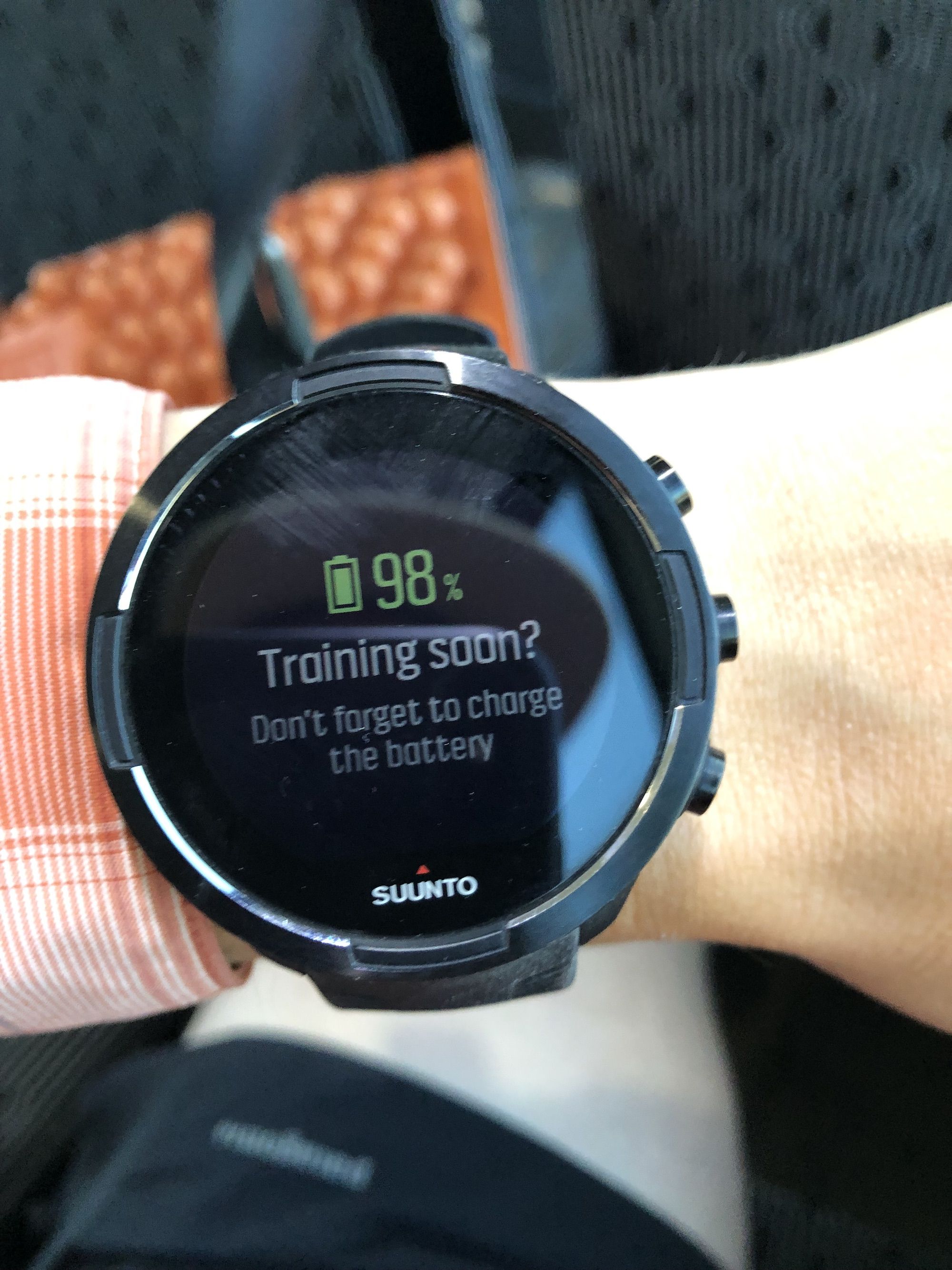 For communication and peace of mind, I carried a Garmin InReach Mini. I used it for messaging my wife back home, and had something gone wrong, it would have allowed me to press an SOS button to call for help. Fortunately, I haven't had to test that functionality. I went with the unlimited message plan for the duration of the trip, which worked out great.
I used my iPhone 11 for most of the navigation and all photography. In airplane mode, the battery lasts 2-3 days.
My headlamp was a rechargeable NiteCore NU25, a great little lamp. I loved not having to deal with batteries.
To power all the electronics, I had a 20,000 mAh Anker USB-C power bank. I also brought a dual-port RavPower 18W USB-C and USB quick charge wall charger so I could quickly charge both the battery pack and gear when I got a chance. In hindsight, the battery pack ended up being unnecessarily big, but I don't mind too much. Not having to worry about running out of power gives you peace of mind.
For fun
I brought a collapsible Tenkara Rod for fly-fishing. The rod, line, and flies only weighed about 100g/4oz and provided a lot of enjoyment (and food!). I can warmly recommend bringing one if you like fishing.
Full list
JMT planning resources