GSI Halulite Minimalist II review: the best budget ultralight cook set (in my opinion)
The Halulite Minimalist is lightweight, packs small, and comes with an insulated sleeve that keeps your coffee warm and saves fuel when cooking food.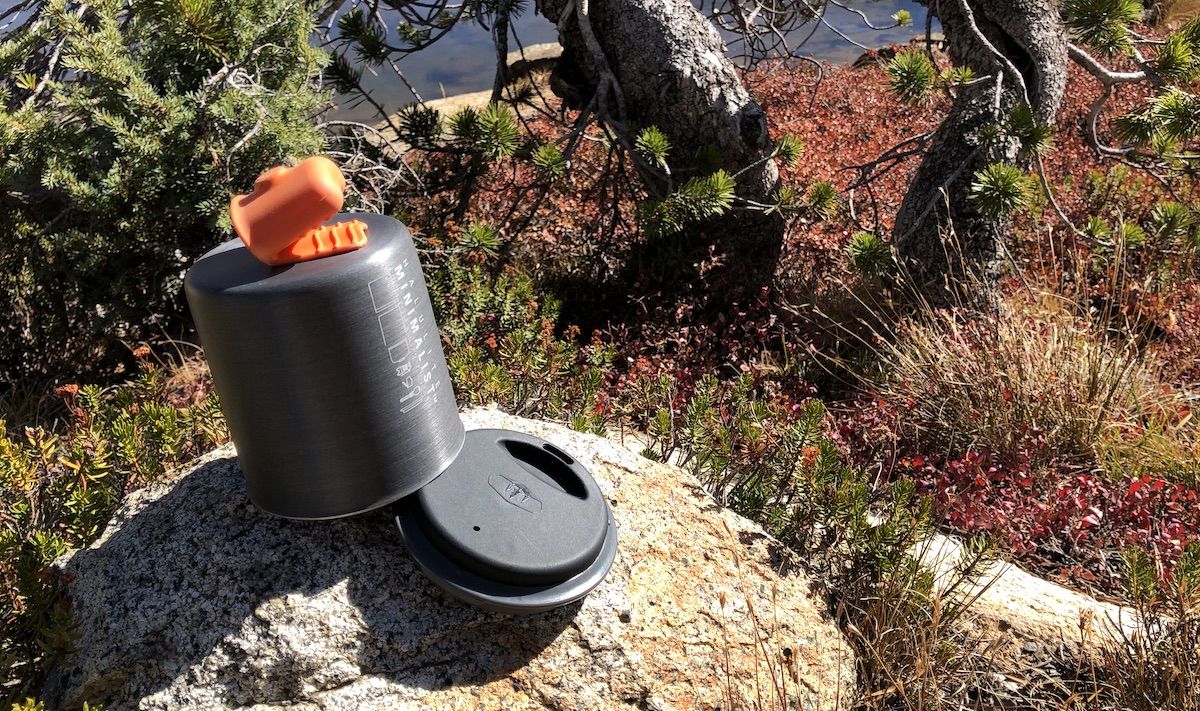 Confession: I have a lot of backpacking stoves and pots. I have a Jetboil that's fast and fuel-efficient, but heavy. I also have a couple of different sized titanium pots that I use with a MSR Pocket Rocket 2 stove.
But the stove setup I most often end up using is the GSI Halulite Minimalist. It's light enough, it packs small and comes with an insulated sleeve. And perhaps best of all: it's cheap—less than $30 on Amazon.
What makes the Halulite Minimalist II a good backpacking cook set?
There's a lot to like about GSI's budget ultralight cook set. It's the right size, just big enough to fit a 4oz gas canister, a stove, lighter, and the included pot grip. The pot comes with a cozy that keeps your morning coffee warm and helps you save gas by cooking food off the flame.
The package includes:
A 600 ml (2.5 cup) pot/mug/bowl with measurement marks
An insulated sleeve
A sip-through lid that doubles as a strainer
A silicone pot gripper
A folding spork
Note that the cook set doesn't include a stove. I use an MSR Pocket Rocket 2. Another good option is the sub-20 dollar BRS 3000 stove.
What are the drawbacks of the Halulite Minimalist II?
Although the Minimalist is my favorite cook system, there are a few things I'd like to change:
The folding spoon/fork is way too flimsy for actual use. Save yourself a lot of frustration and use a real spoon or spork. I use the ¢80 GSI plastic spoon.
The insulated sleeve is the same color as the pot. You need to be very careful that you don't accidentally light your stove with the cozy on.
If your pot is full, the potholder will dip into your food and get dirty.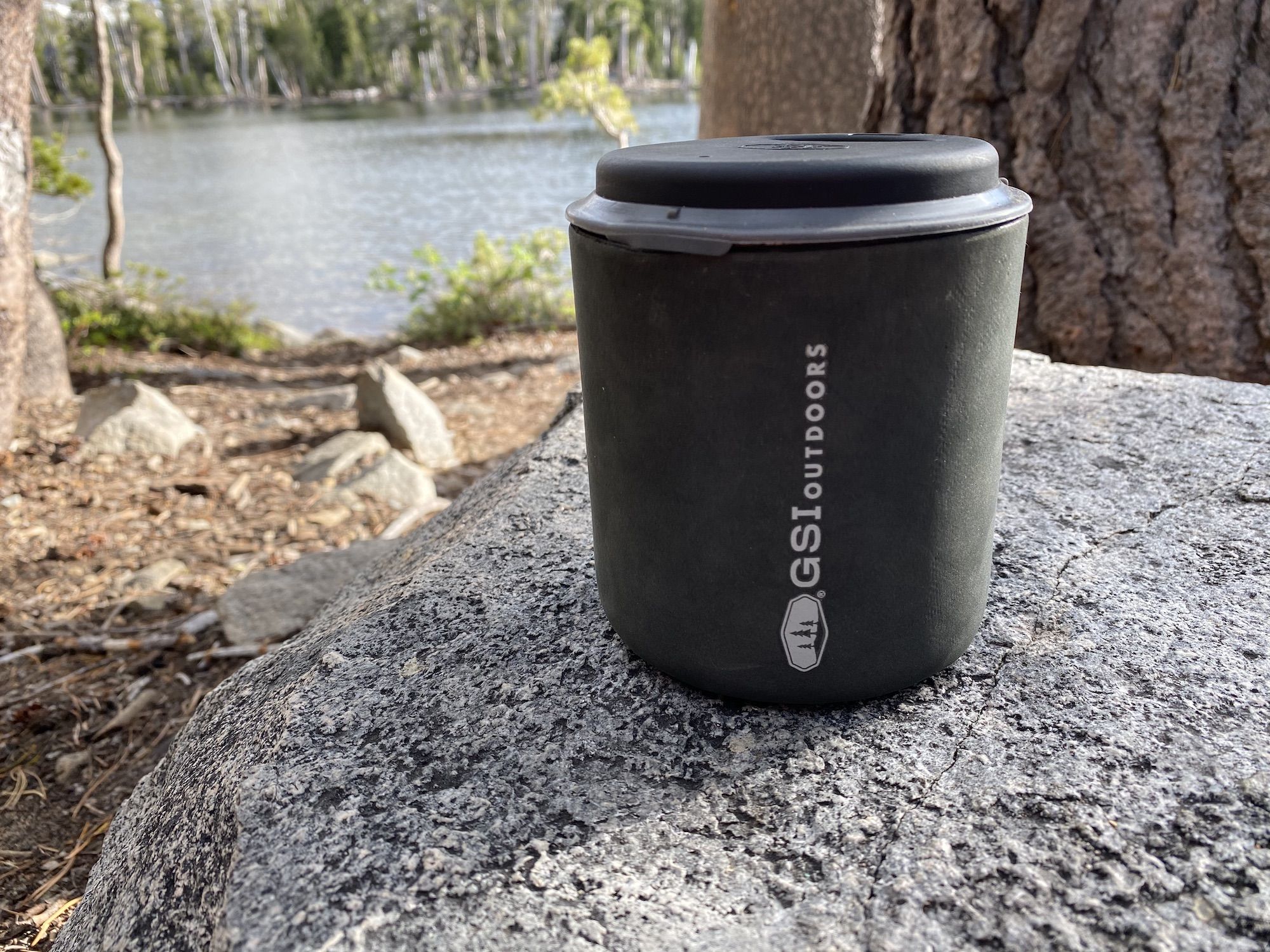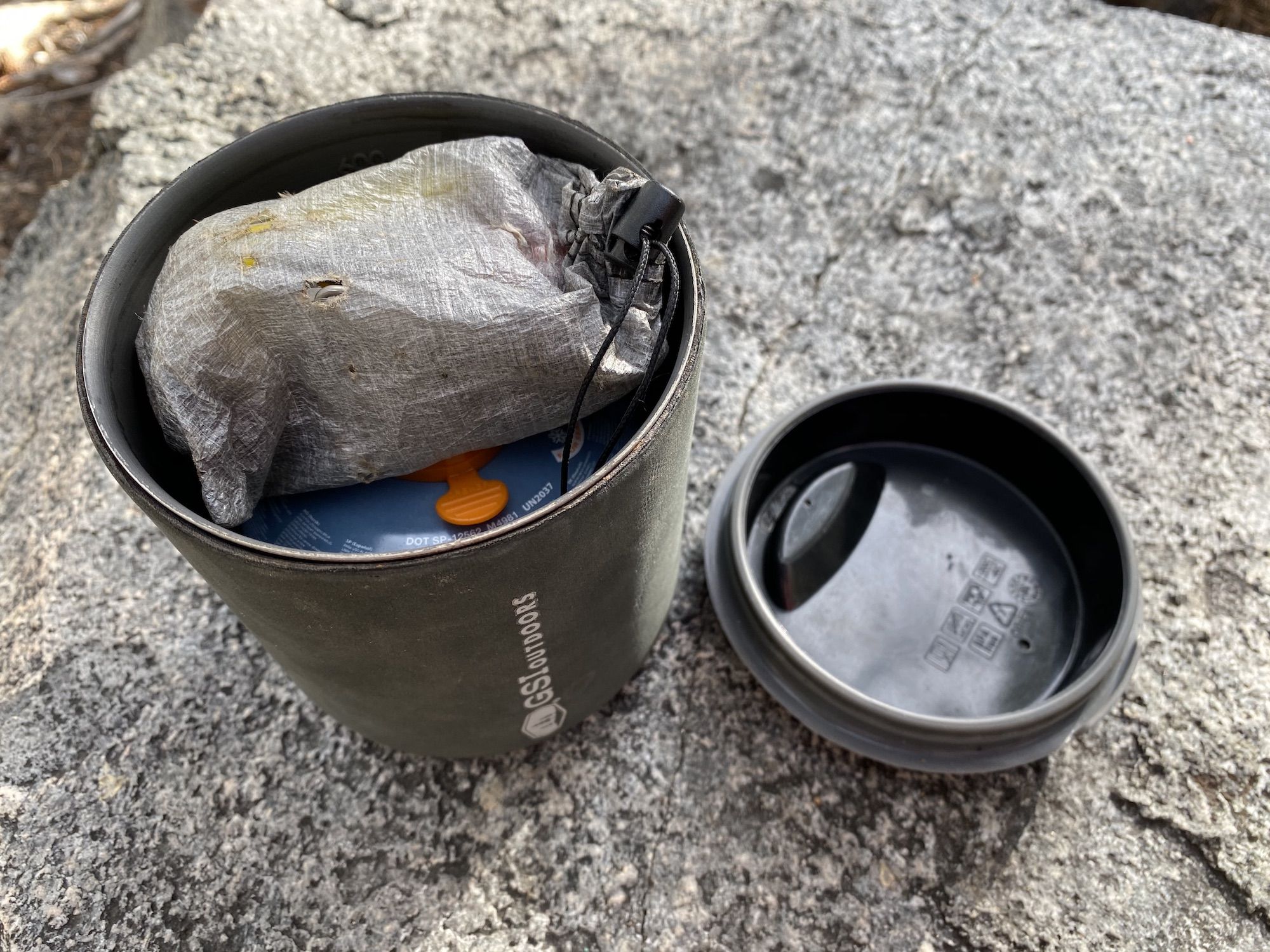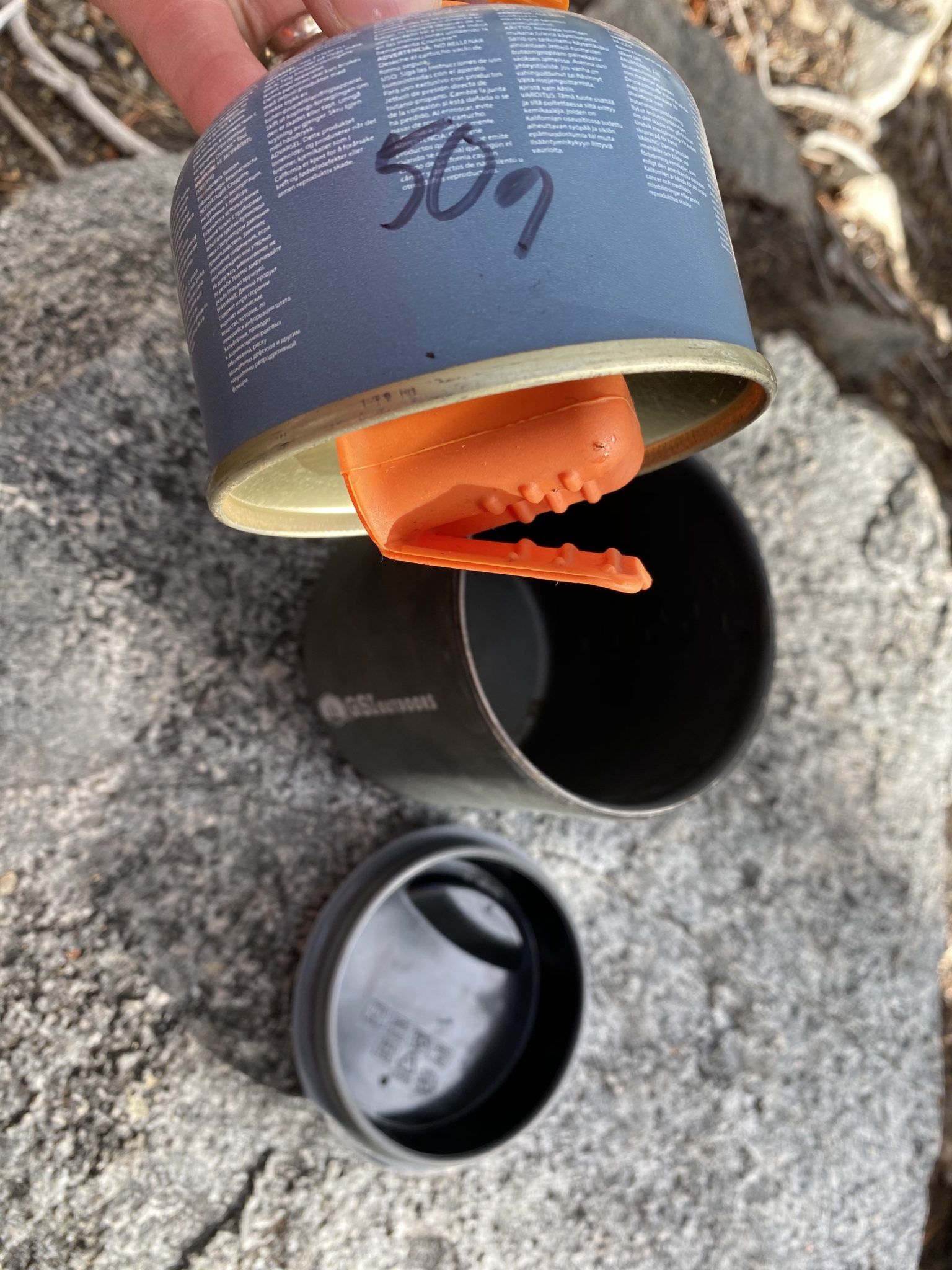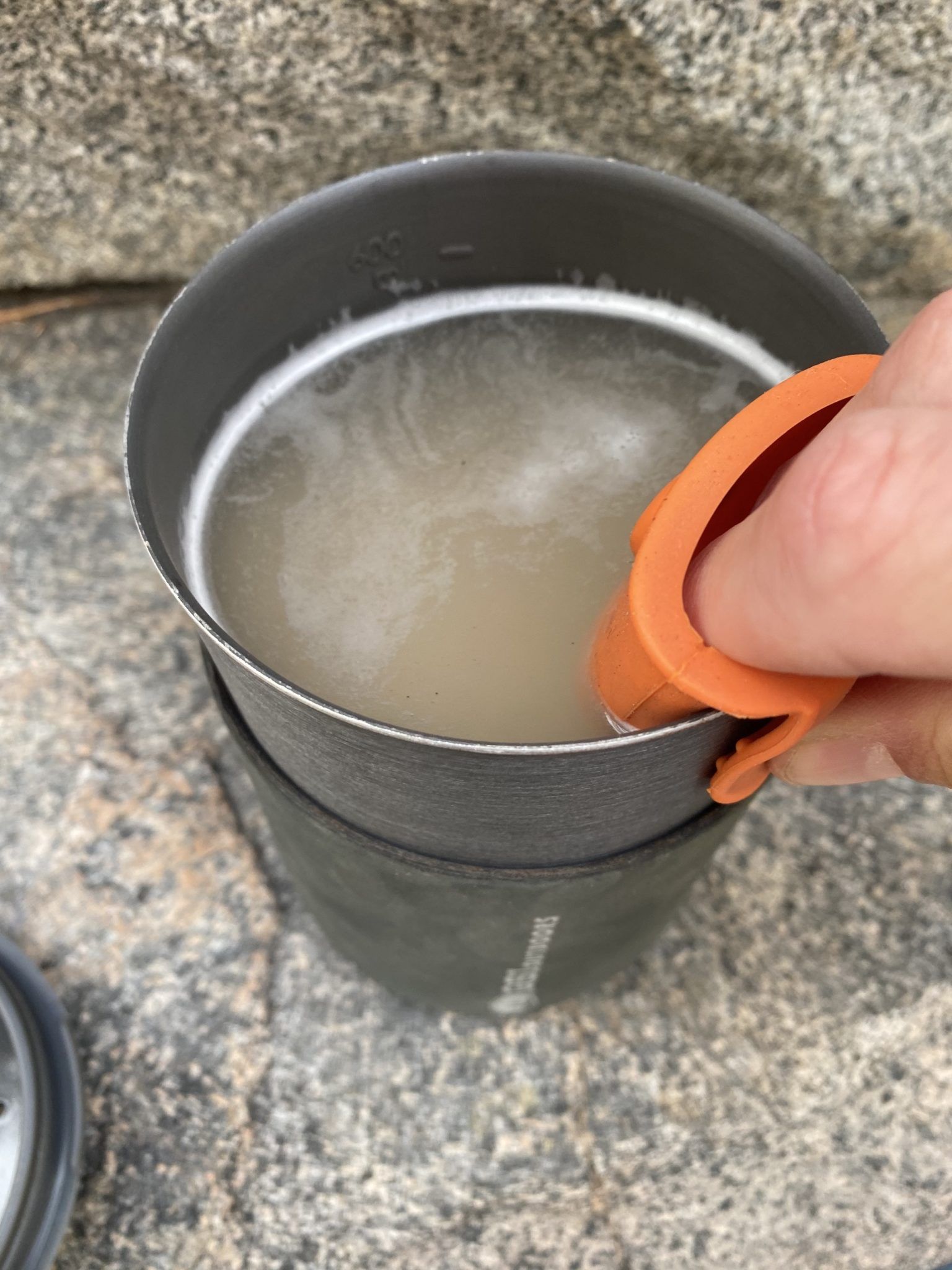 GSI Halulite Minimalist II weight
| | | |
| --- | --- | --- |
| Pot | 93g | 3.3oz |
| Lid | 42g | 1.5oz |
| Sleeve | 15g | 0.5oz |
| Pot gripper | 11g | 0.4oz |
| Total | 161g | 5.7oz |
Should you buy the GSI Halulite Minimalist cookset?
The GSI Minimalist is a great cookset if you're looking for a cheap and functional ultralight cooking setup. If you combine it with a cheap ultralight stove, you have a full backpacking stove kit for less than 50 dollars. For example:
There's a pretty sizeable difference if you compare that to something like a Jetboil Flash that weighs 393g and costs $109.