3-day spectacular Emigrant Wilderness backpacking loop
Stunning Yosemite-like vistas without the crowds. This 2-night backpacking trip in Emigrant Wilderness lets you soak in nature in solitude.

Emigrant Wilderness is in Stanislaus National Forest, North of Yosemite. Like Yosemite, it has towering granite mountains and spectacular alpine lakes. But it's much less crowded than its neighbor to the South, offering more solitude for backpacking.
I had time for one last weekend trip to the Sierra before winter. It was the last few weeks of trout season, so I also wanted to bring my fly fishing gear.
I planned a 3-night trip to Emigrant Wilderness to fish Emigrant Lake and some smaller lakes. I also planned to do some off-trail exploration in the high country.
5-star camping at Upper Buck Lake
I picked up my Emigrant Wilderness permit at the Summit Ranger Station right after it opened at 8:30 am. From there, I had another 15 minutes to the Crabtree Trailhead. The last 2 miles of the road was unpaved, but passable with a car.
It was still near freezing when I started my backpacking trip. Wearing both a fleece and gloves, I started climbing.
The trail passed through a pleasant pine forest. Gaps in the trees offered occasional glimpses of granite cliffs and the views ahead.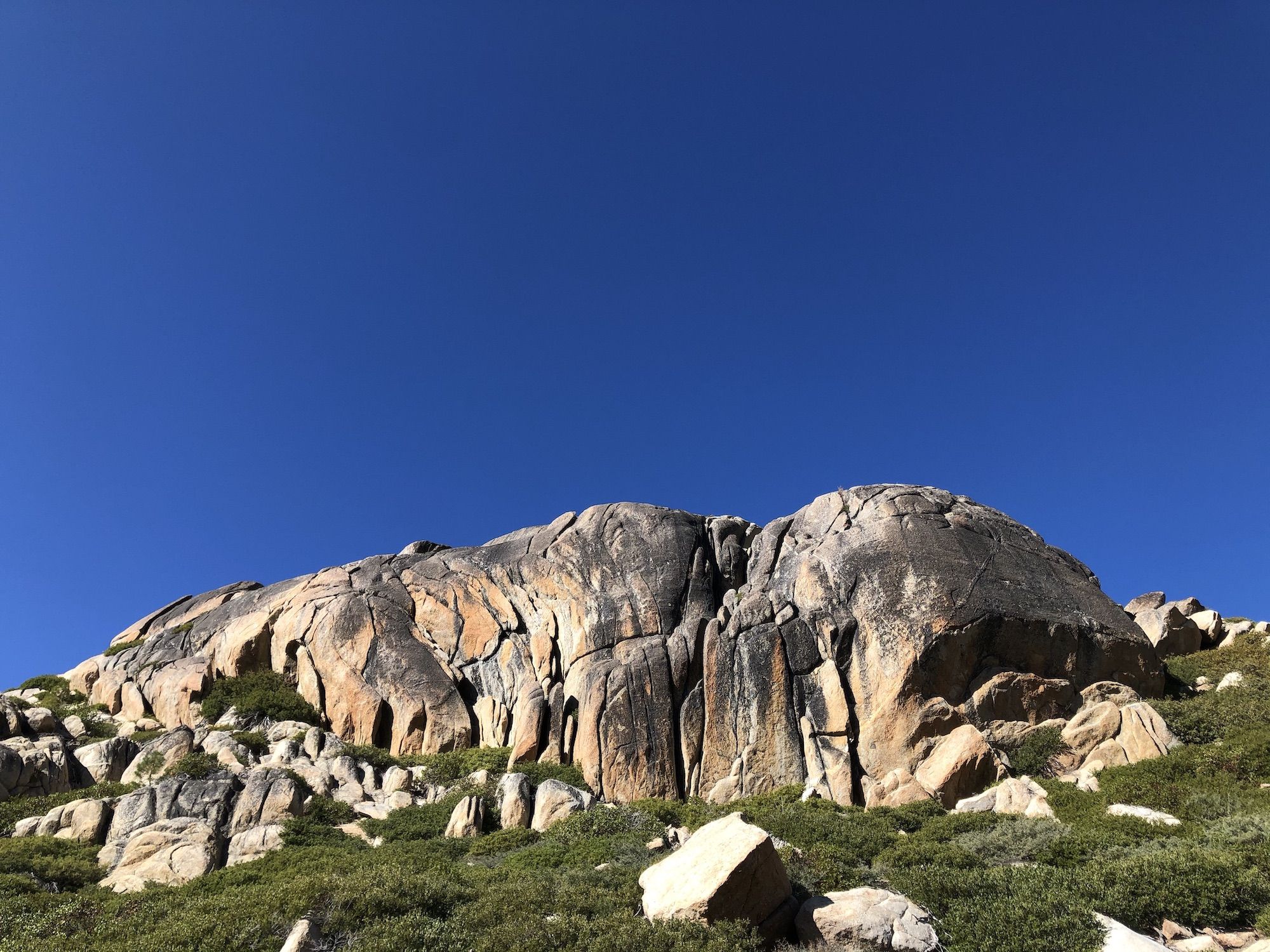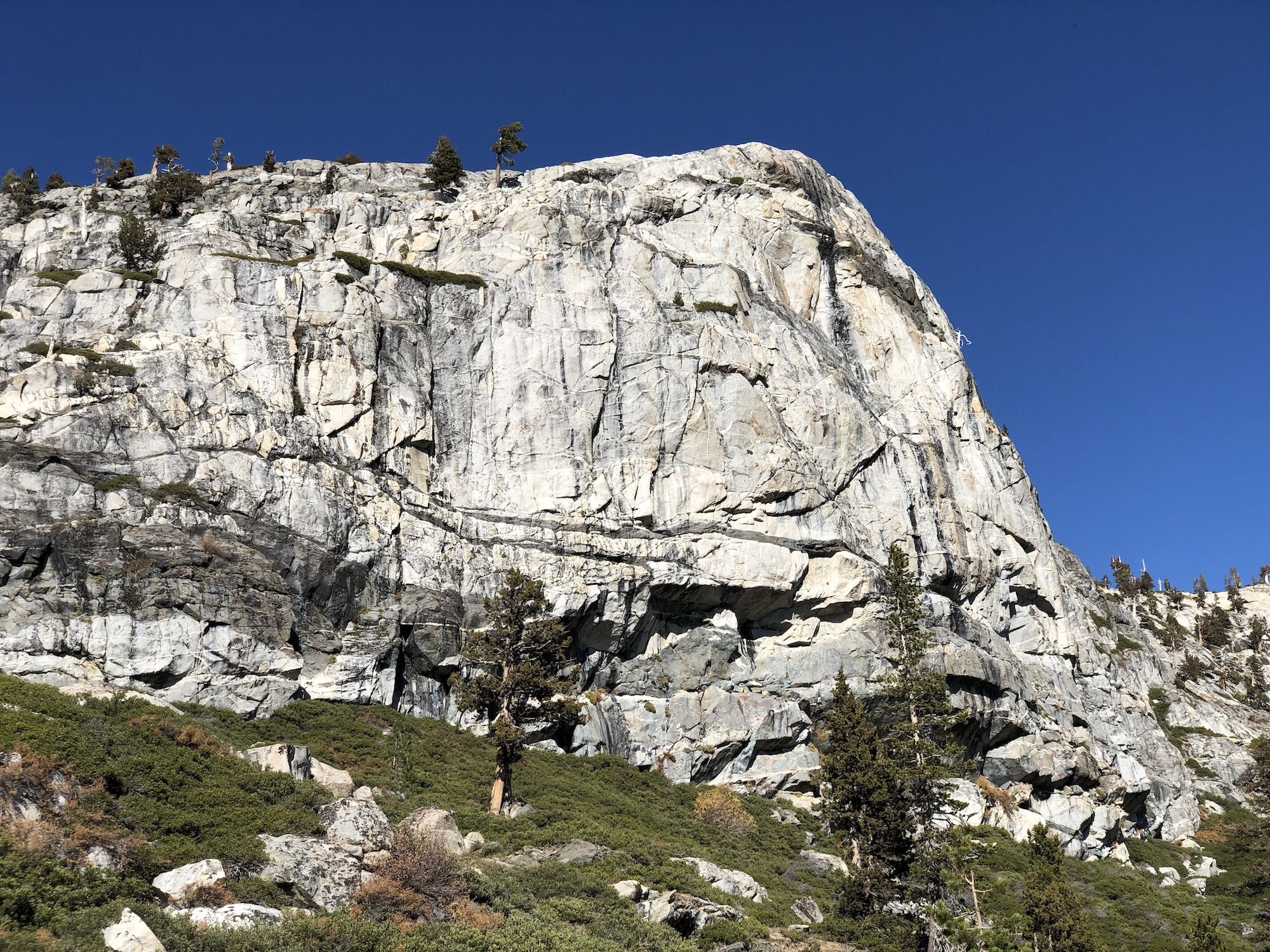 I stopped at Camp Lake to fill up on water and layer down. The temperature had gone from freezing to summer in the hour I had been on the trail.
I planned for a short first day, stopping either at Jewelry Lake or Deer Lake. I didn't see any signs of fish, so I continued hiking to Buck Lakes.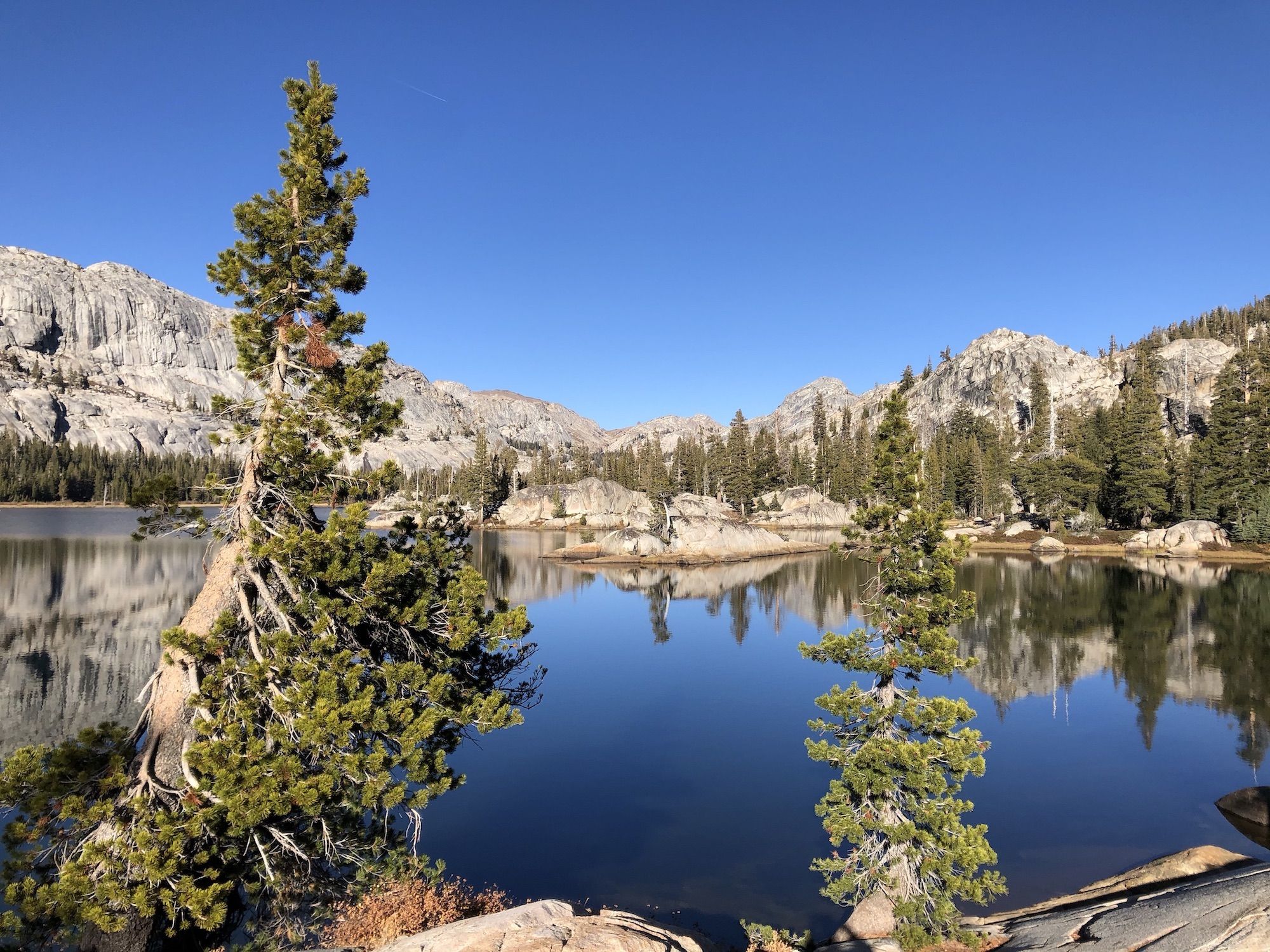 Towering granite peaks surrounded Upper Buck Lake. I found a campsite on the cliffs overlooking the lake a little ways off the trail. The night was wind-still, and there wasn't a cloud in sight. I decided to sleep under the stars without the tarp.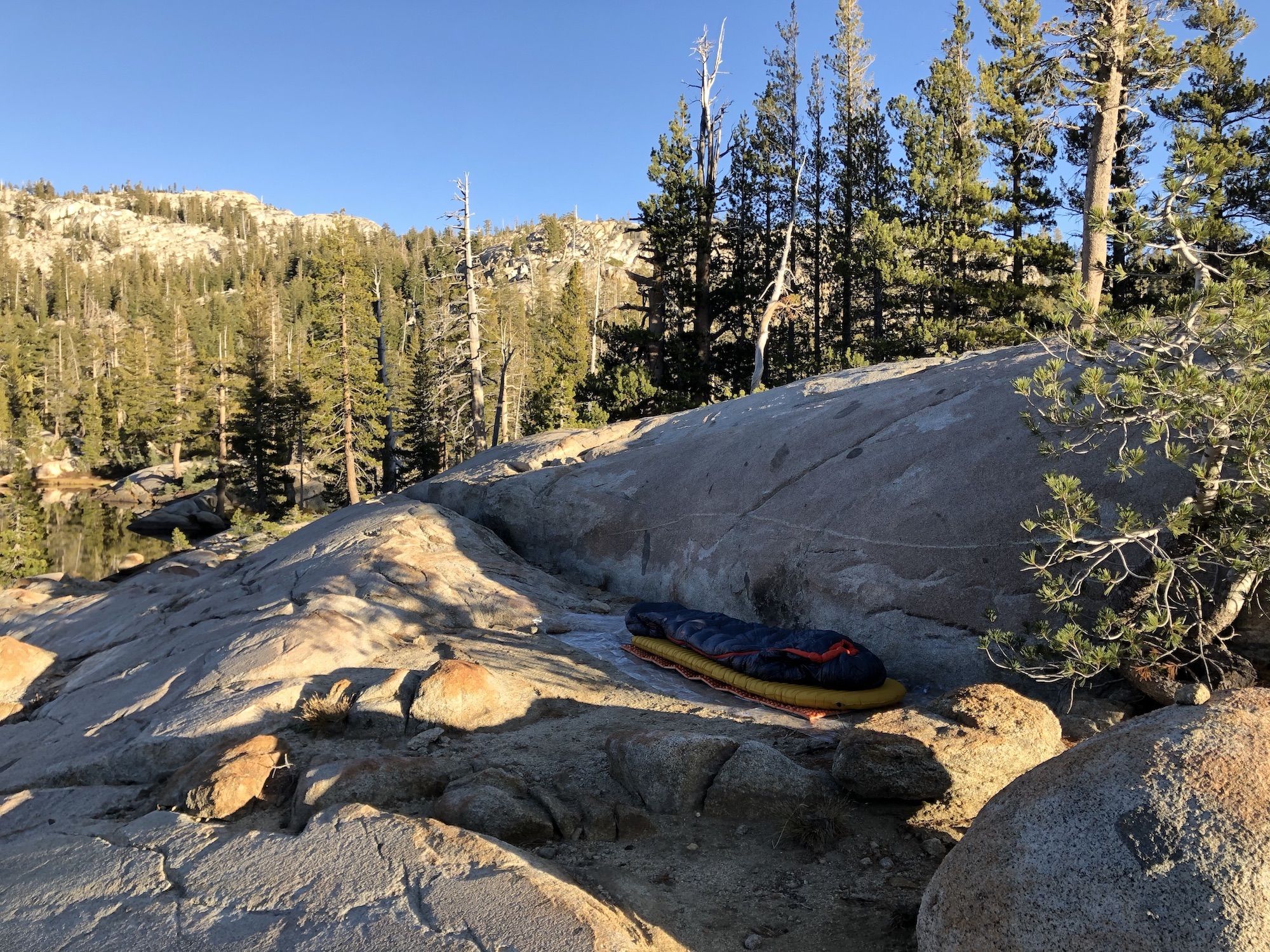 I ate dinner, watching the sunset reflect off the calm lake. The evening was chilly, but I stayed warm by my campfire.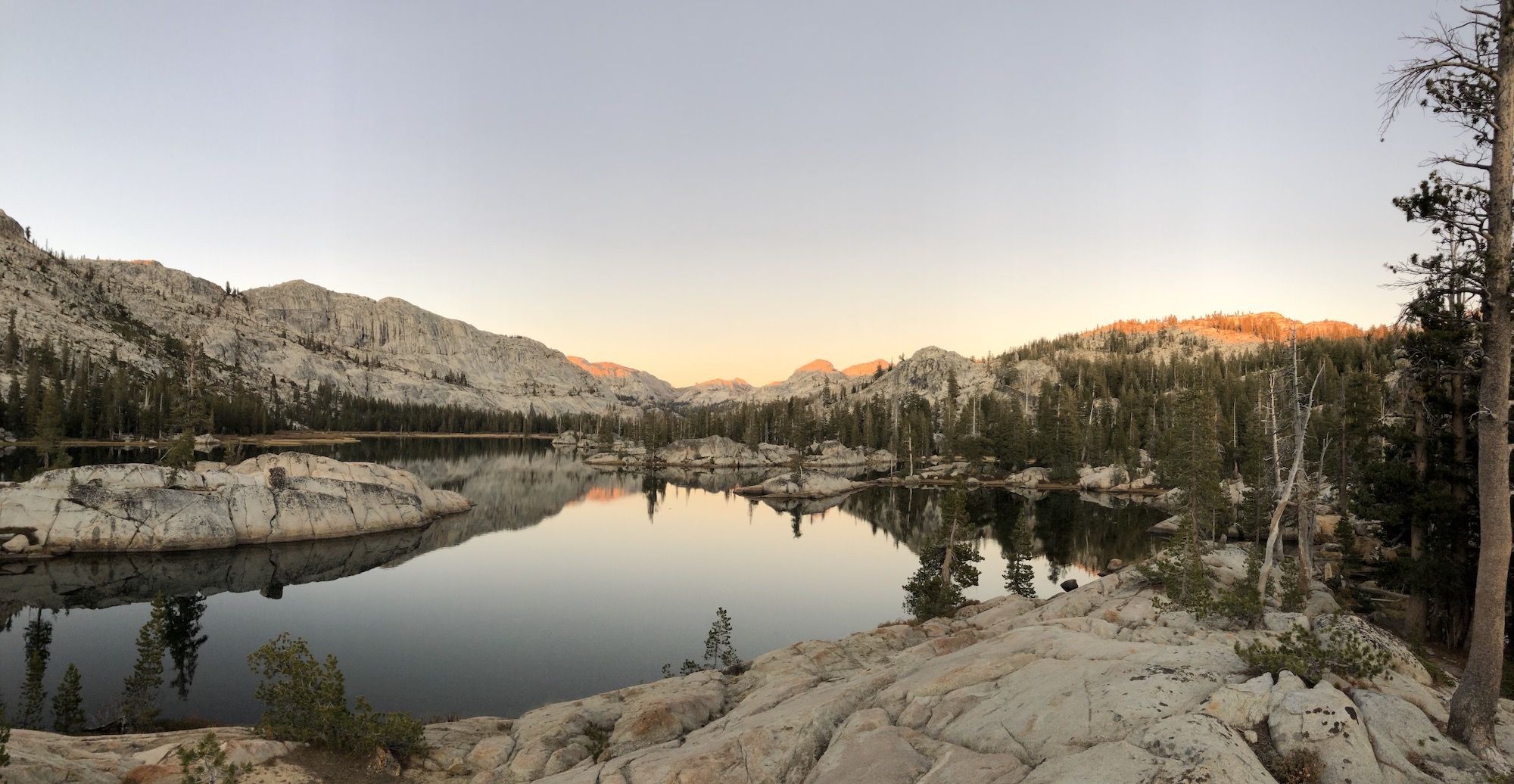 Trout fishing in Emigrant Lake
I woke up as the sun began to illuminate the mountains. My water bottle had frozen overnight, but I slept warm.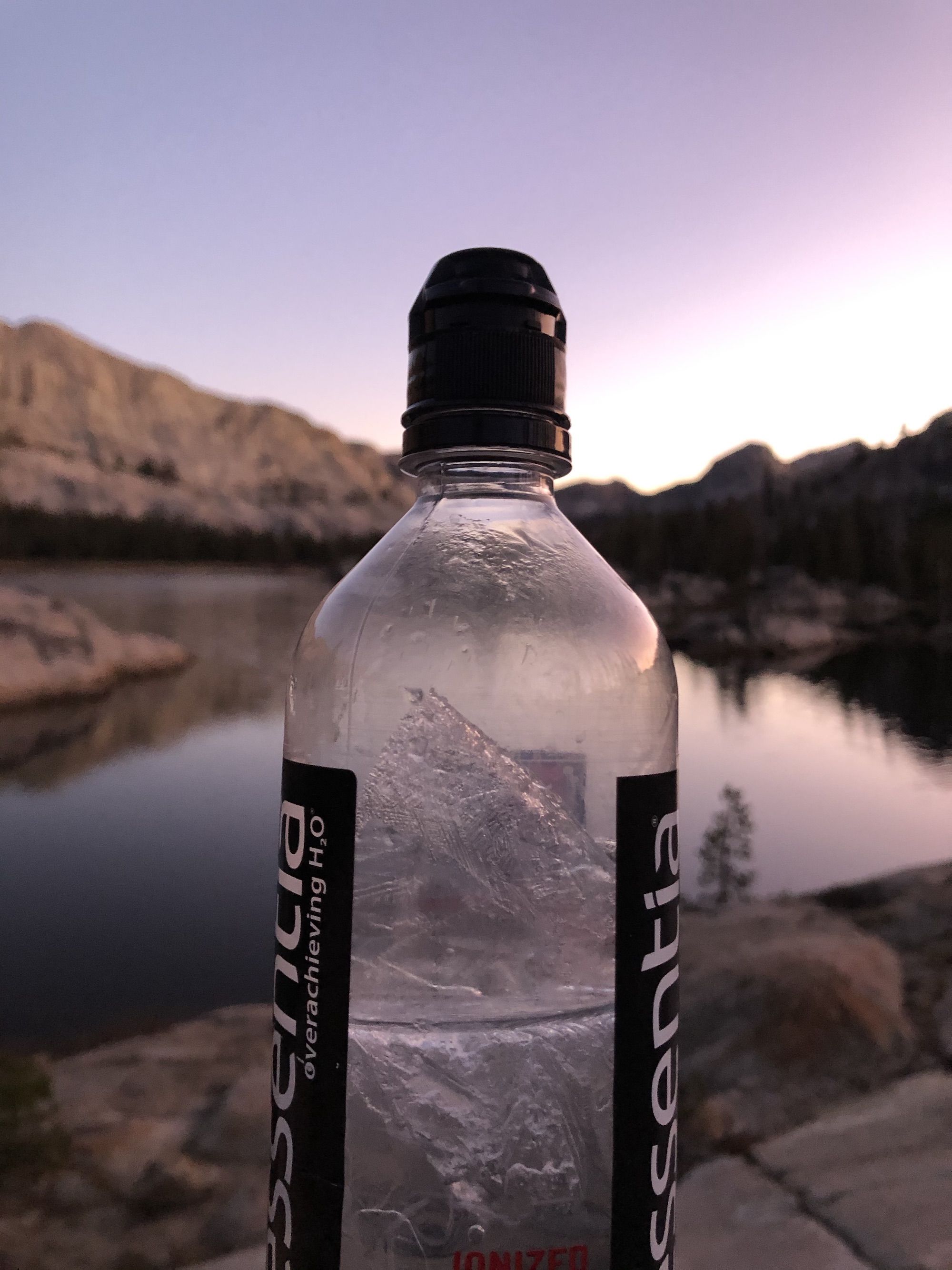 After a warm breakfast and a large cup of coffee, I headed toward Emigrant Lake. The trail followed the edge of a large meadow on the Northside of Upper Buck Lake. A small stream that flowed through the field had frozen overnight.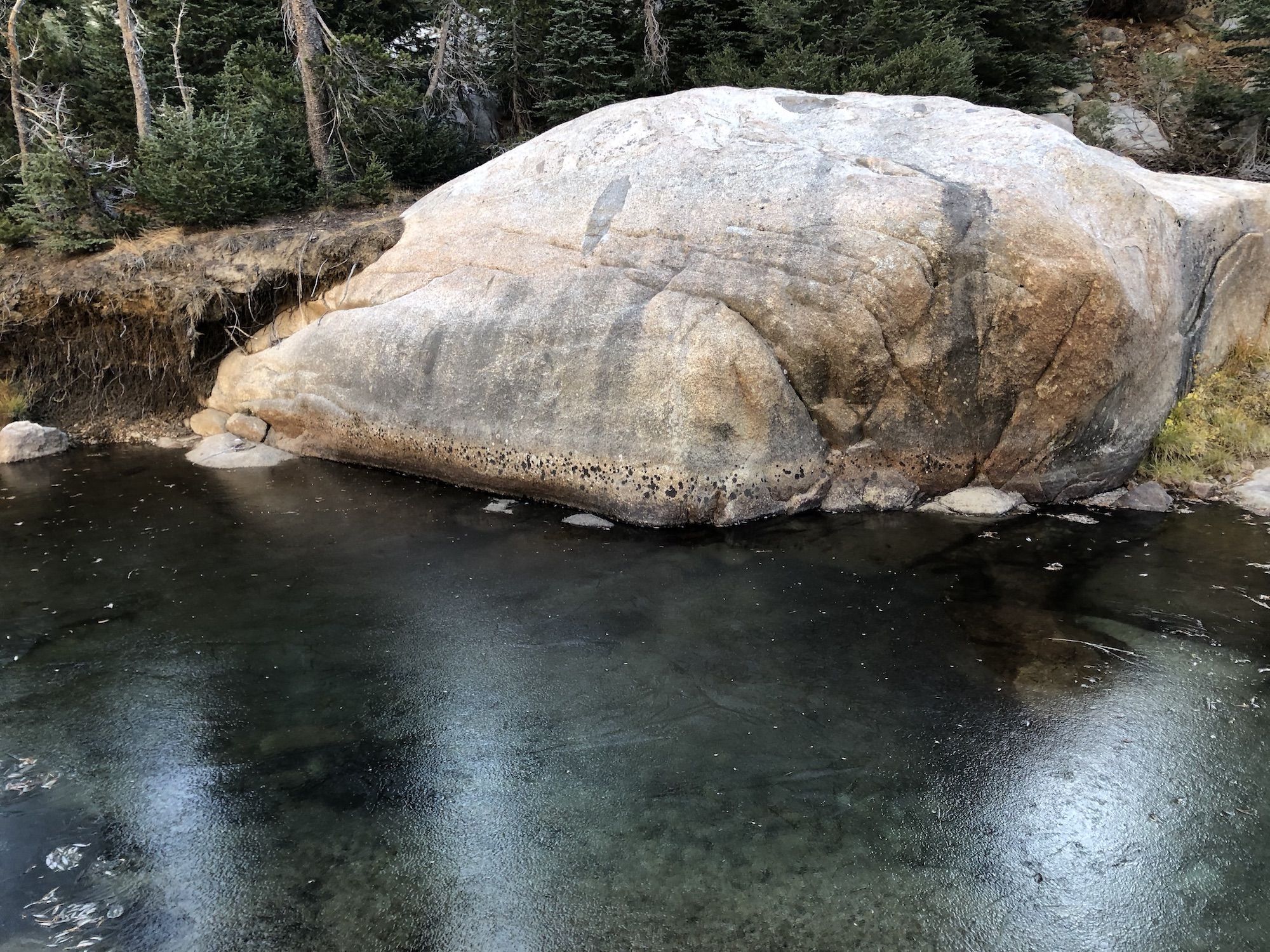 By the time I got to the top of the ridge separating Buck Lakes and Emigrant Lake, it was once again warm enough that I could ditch my fleece.
Emigrant Lake was much larger than any of the lakes I visited the day before. A ranger that I met on the trail the day before said that he'd heard anglers catch 25-inch trouts there.
The rocky shore dropped deep into the lake and offered trout places to hide. I stood and watched the lake for a few minutes. Suddenly, I saw a big trout come up for a bite. Just as quickly as it had appeared, it vanished into the dark.
I rigged my Tenkara rod and picked a size 16 bead head nymph with a pink hotspot. The fly dropped outside the cliff and sank. I gave it a few quick jigs and boom–the trout slammed the fly.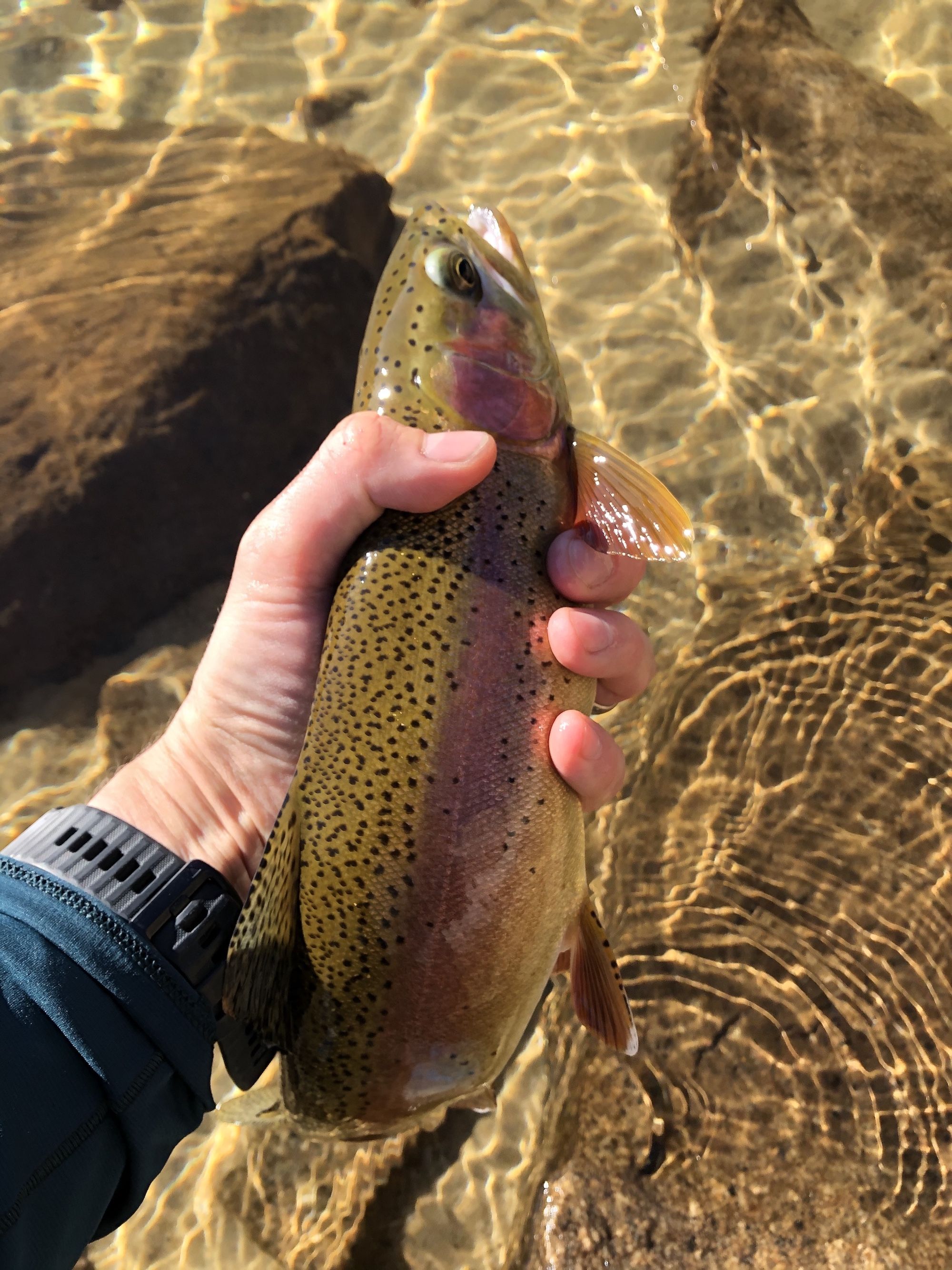 My 12-foot rod bent as the line whizzed through the water. The trout leaped into the air several times before accepting its fate. It was way too big for me to eat, especially right after breakfast. I pulled out the barbless hook, snapped a quick picture, and released it.
Foot failure
I packed away my rod and continued along the lakeshore. Immediately I noticed that something wasn't right. Every step I took on my left foot resulted in a stabbing pain near my heel.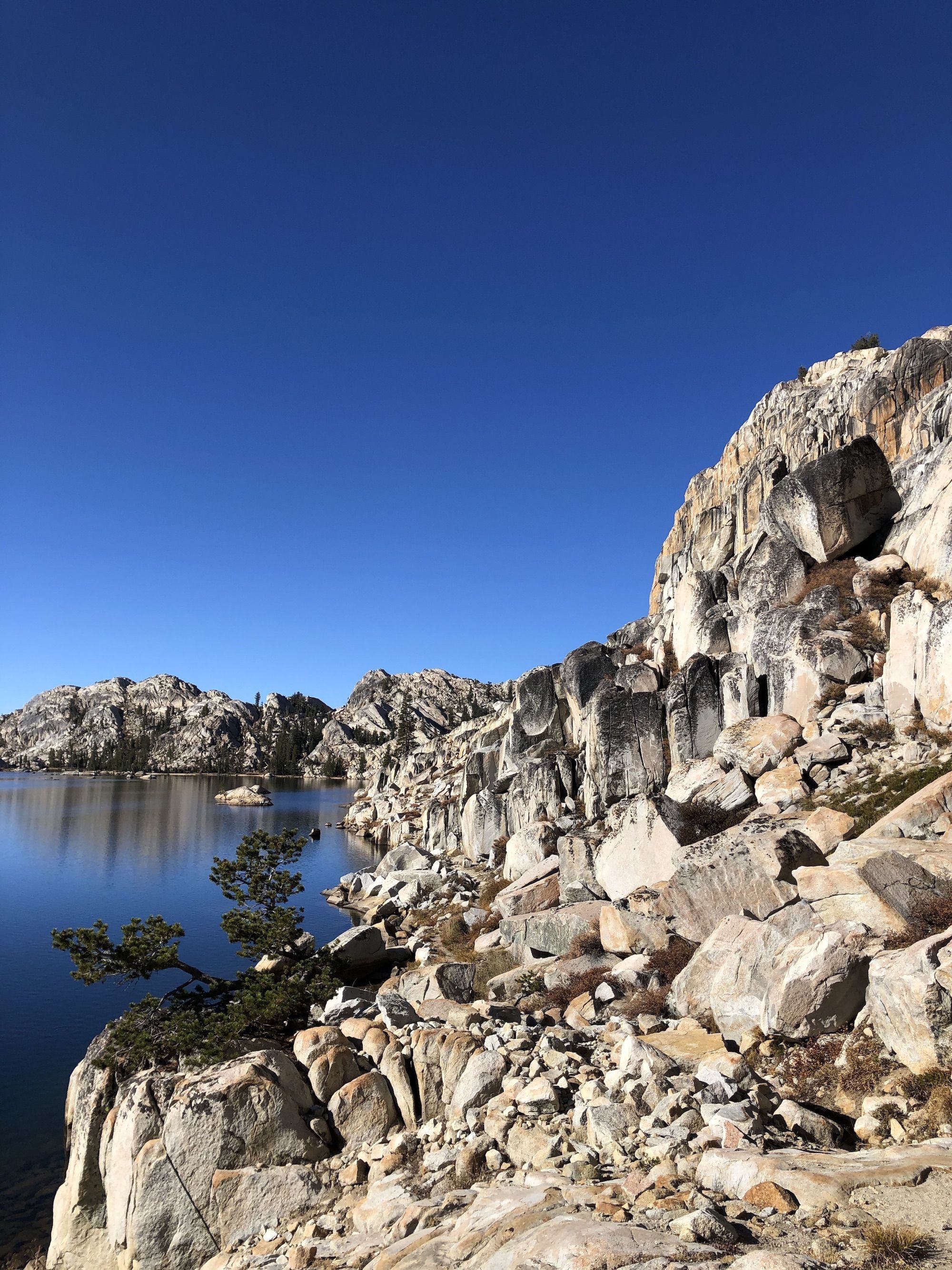 It felt like plantar fasciitis but had appeared suddenly. Inflammations should take longer than that to develop, I thought.
Only later did I remember that I had hit the outside of my foot against a sharp rock. At the time, I didn't think much of it as the pain subsided in minutes. But the impact was forceful enough to cause a big bruise and my foot to swell up.
I had to abandon my plan to keep hiking up North Fork Cherry Creek toward the upper Emigrant Lakes. Instead, I headed South, toward Huckleberry Lake, passing Blackbird and Maxwell Lakes.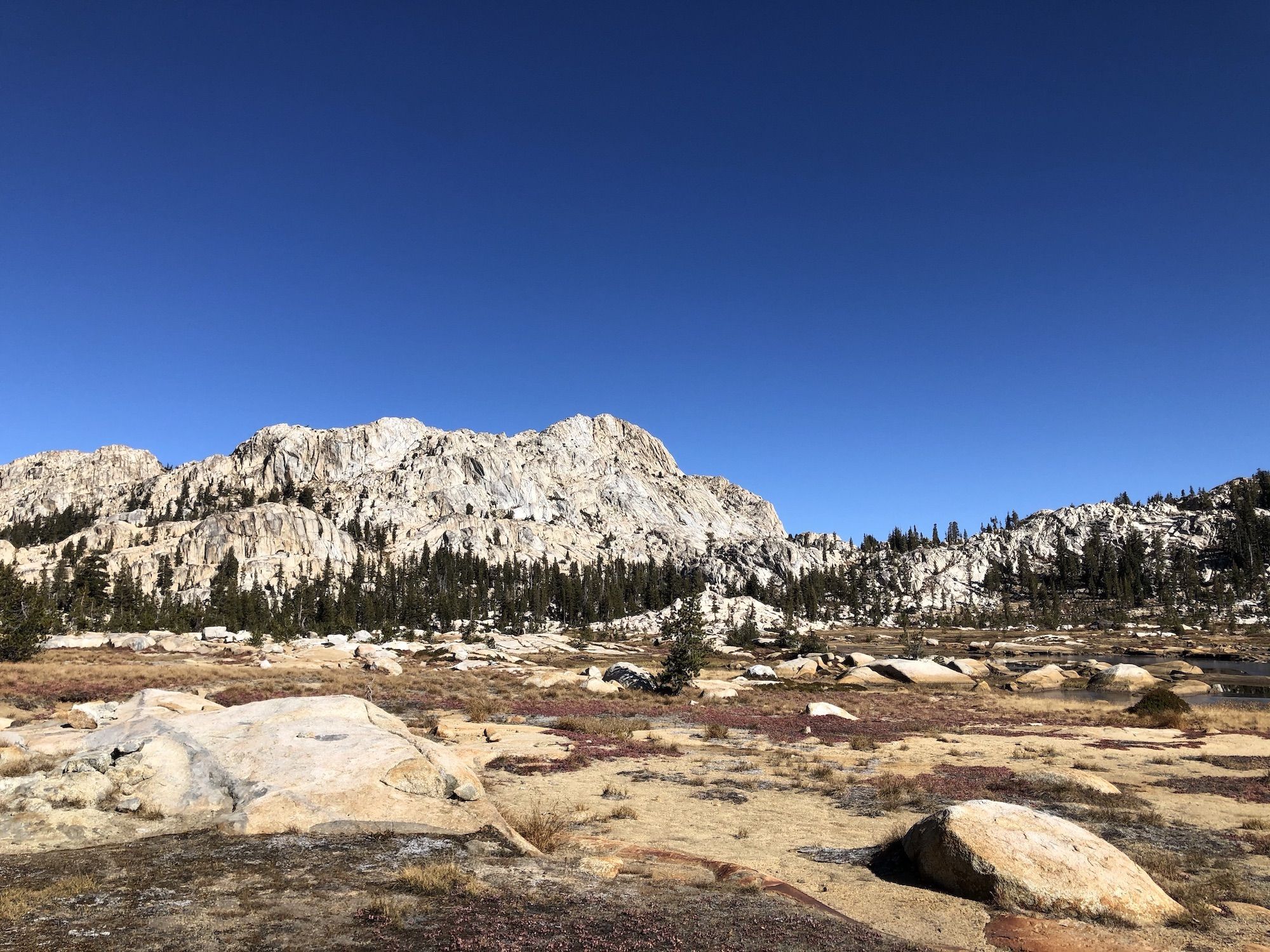 The descent to Huckleberry Lake was painful. Until then, the trail had been well-maintained. But the path that paralleled East Fork Cherry seemed to double as a riverbed during spring. The trail consisted of loose rocks ranging from the size of a grape to a football.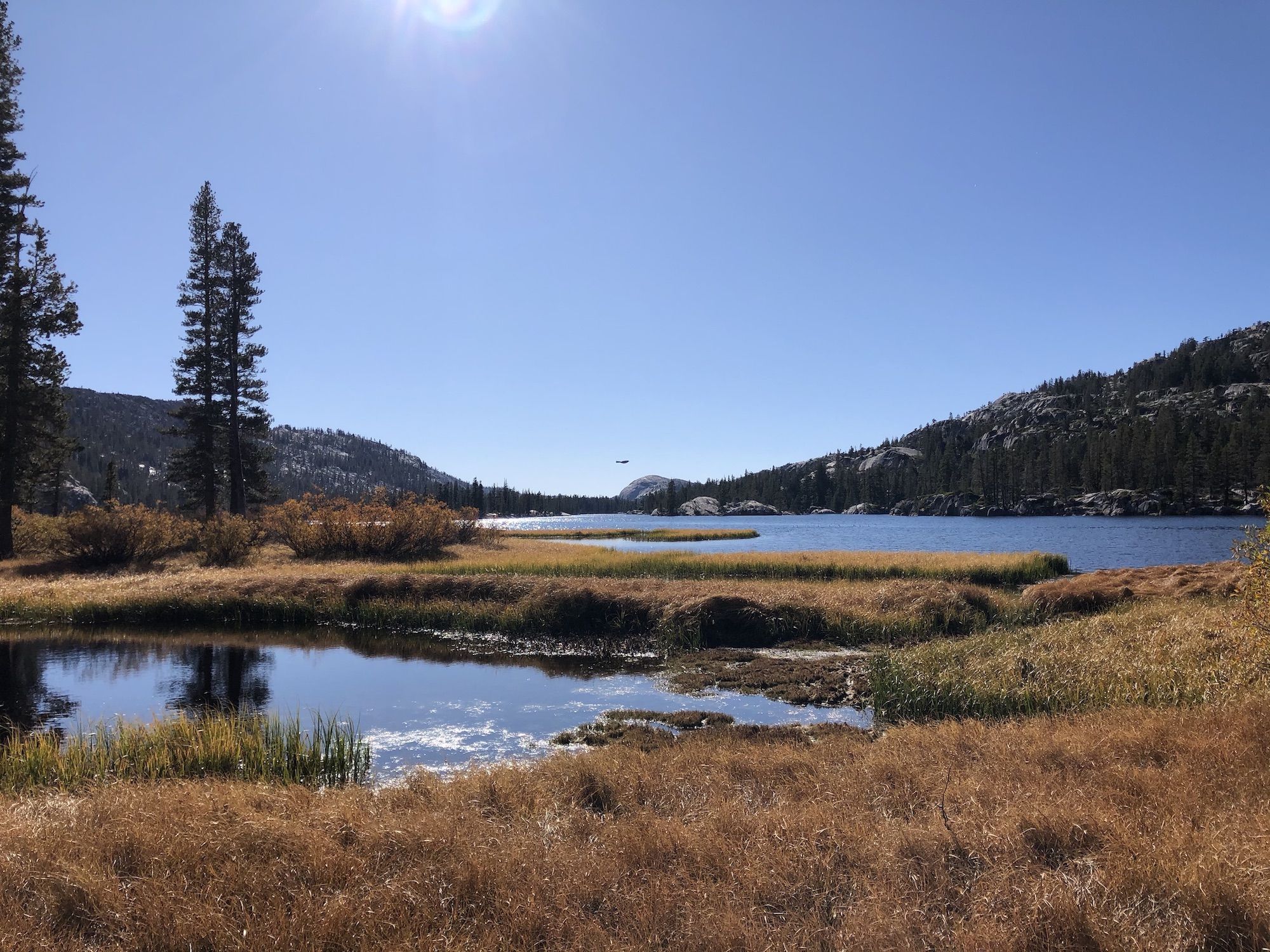 Going where few have gone before
At Huckleberry Lake, I left the main trail and headed up towards Letora Lake. It looked like the trail didn't get much traffic. In fact, I hadn't seen a single fresh human track on the trail since Emigrant Lake.
Even so, the trail had well-constructed steps that ascended the granite. The views over Huckleberry Lake were some of the most impressive of the trip so far.

I was getting to the limit of how far I could walk on my foot. Even so, I wanted to push a bit further so I could walk back to my car the following day.
I planned to camp at Wood Lake. When I got to the West side of the lake, I was disappointed to notice that it was a shallow, swampy lake. Camping, there would be a wet and cold ordeal. I kept going.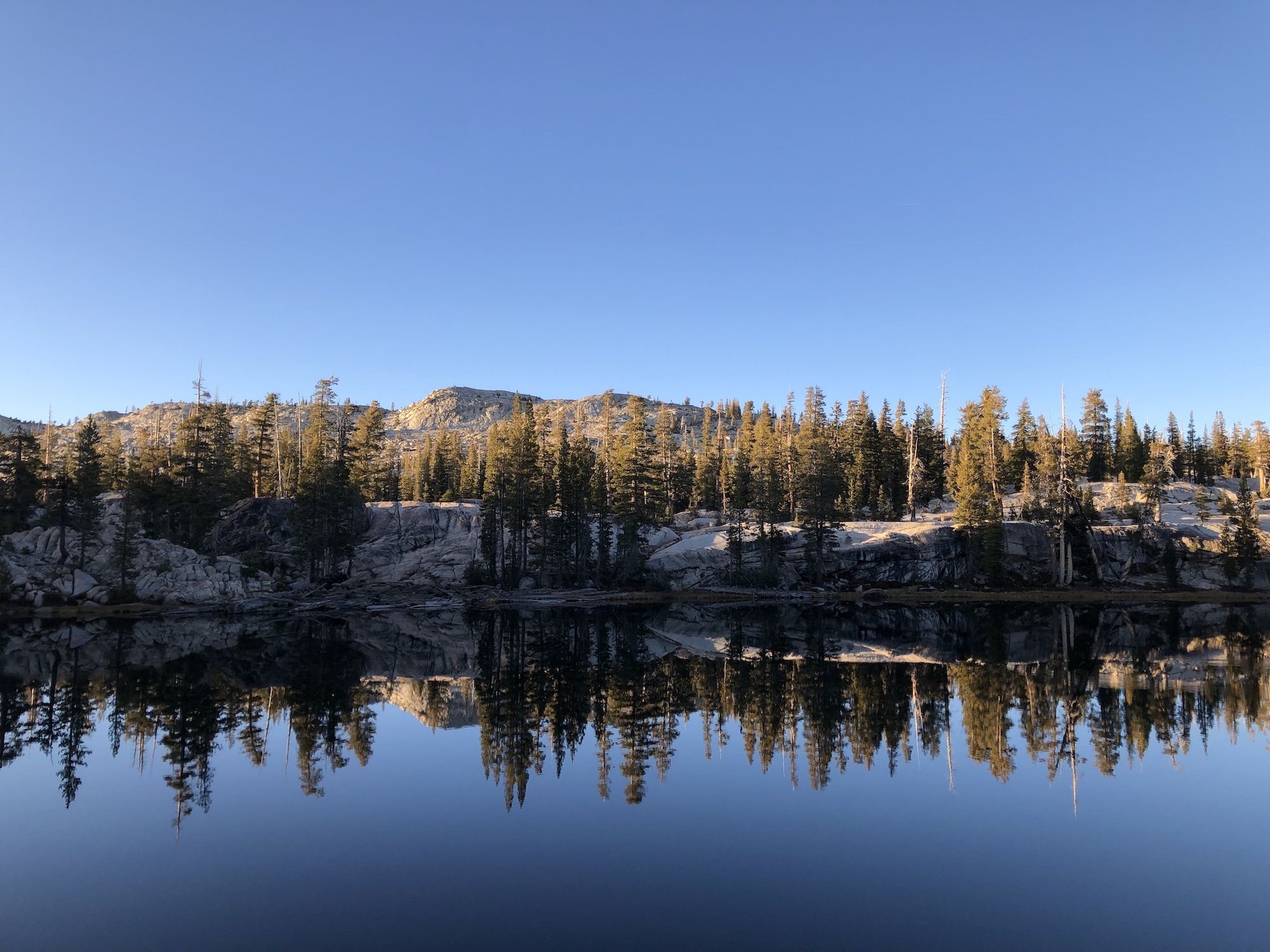 Fortunately, the other end of the lake was much more suitable for camping. I found a cliff overlooking the lake with a fire ring and a sheltered spot for my sleeping pad.
Hello, human!
In the morning, my foot was feeling worse. I still had almost 11 miles to the car, so I conjured an ibuprofen and acetaminophen cocktail to get me going.
Most of the 11 miles were downhill. I passed through some of the most impressive granite landscapes of the whole trip.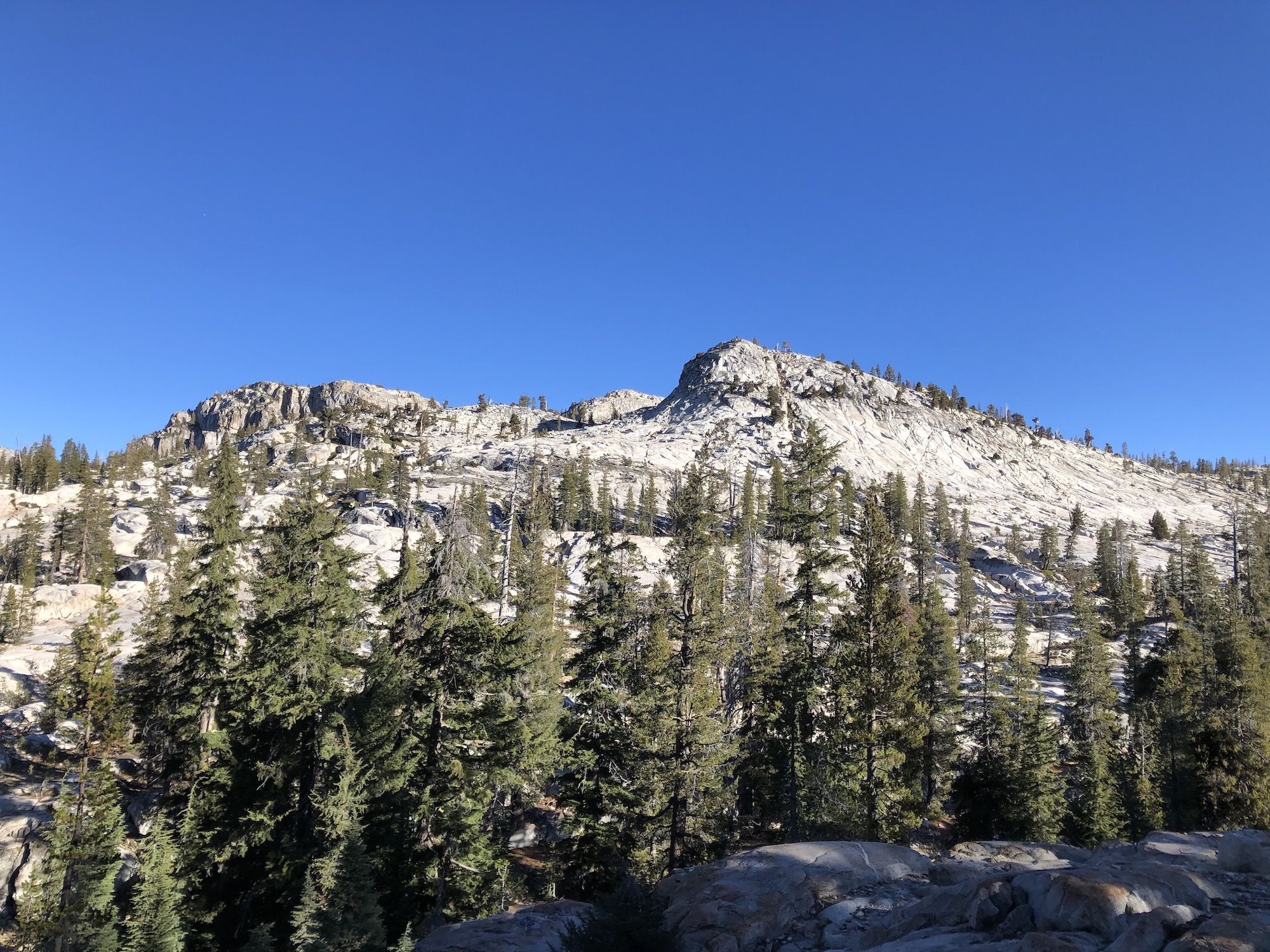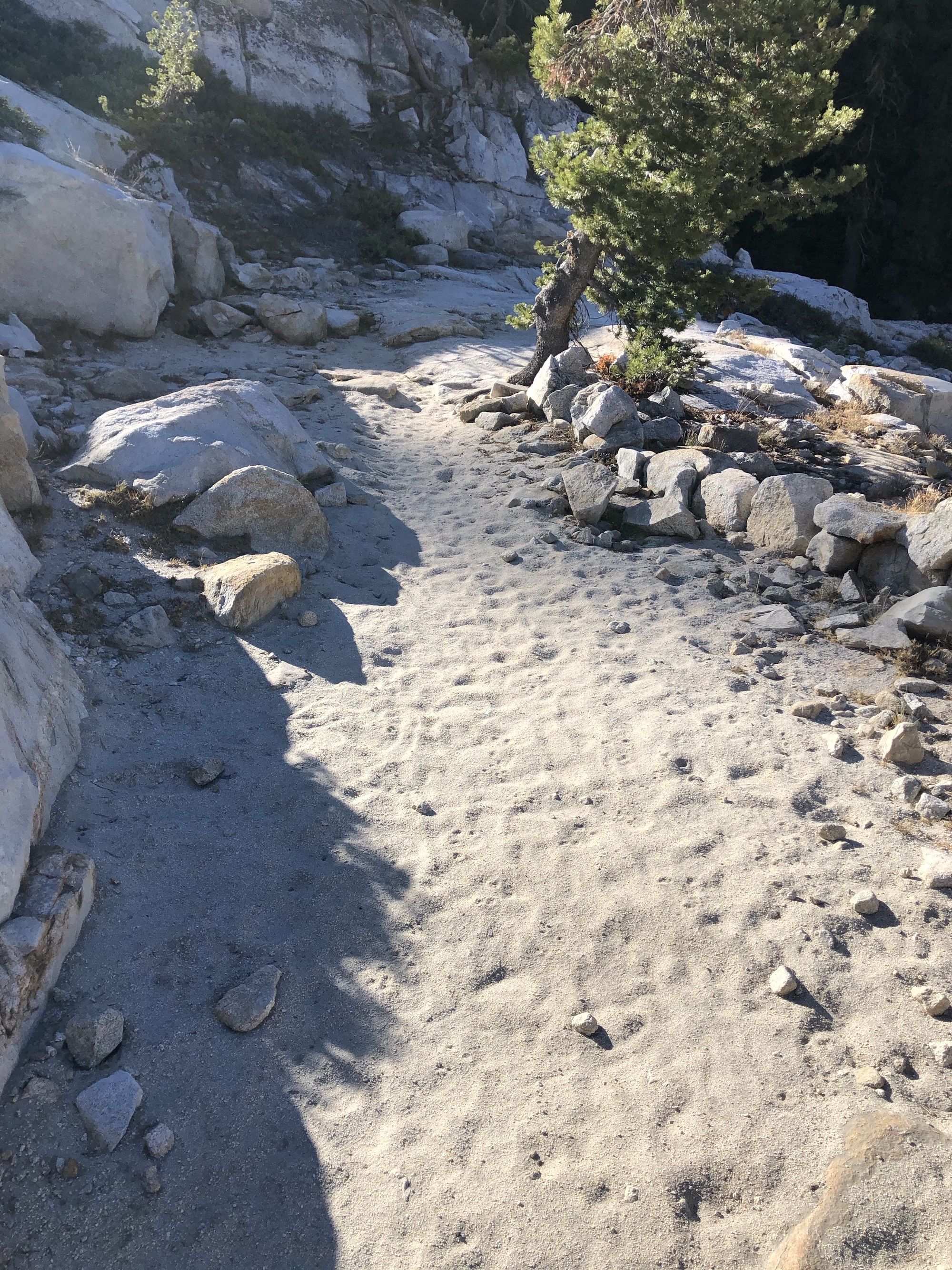 At this point, it had been over two full days since I'd seen another person, and over a day since I'd even seen a footprint.
Five miles from the trailhead, I ran into a group of hikers. They greeted me with a surprised "hello, human!" Clearly, they hadn't seen others in a while either.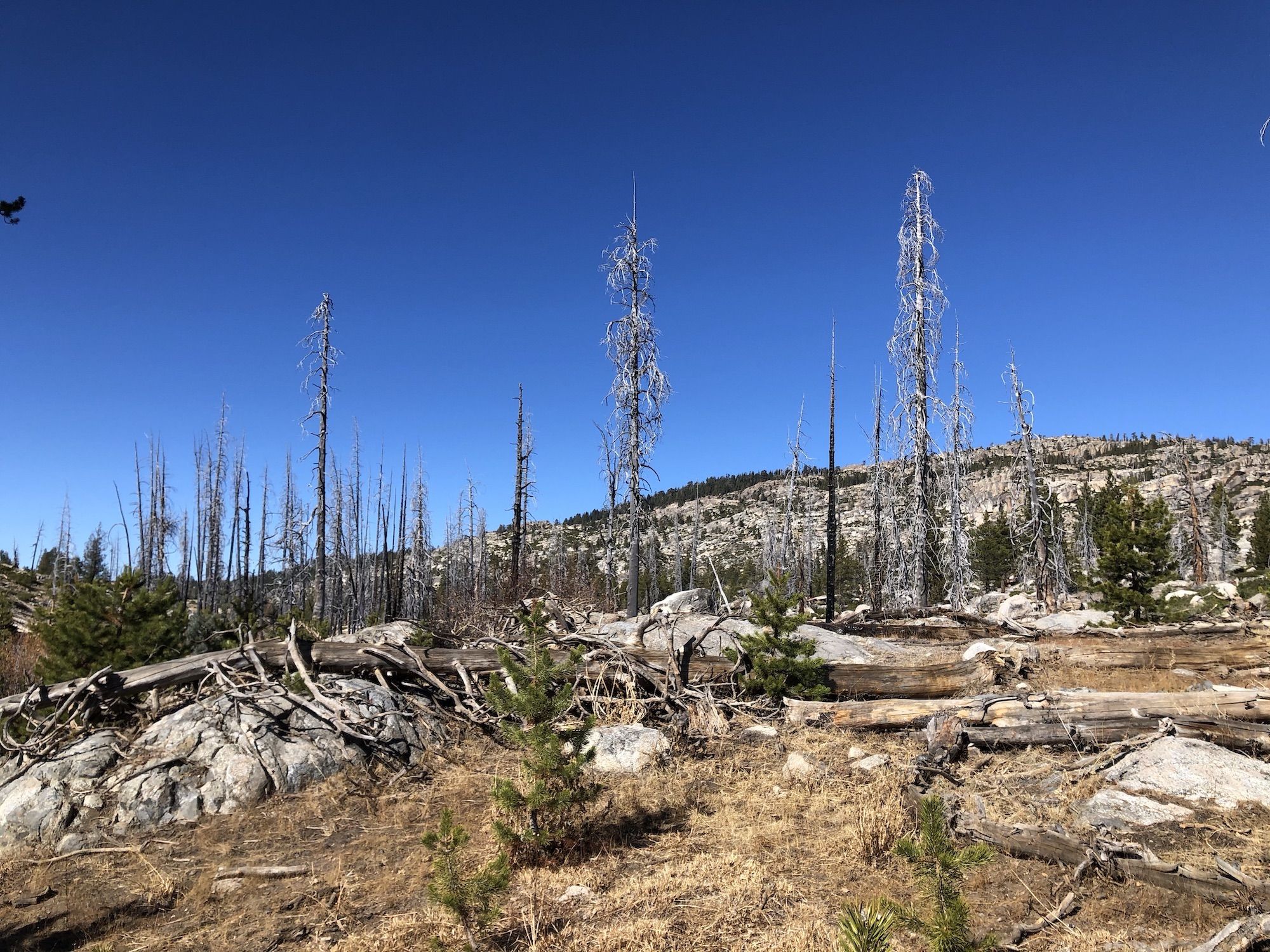 The last miles of the trail passed through an old burn area. There were a lot of fallen trees that had thankfully been cleared off the trail.
The last climb up to the trailhead offered a new landscape of volcanic rock and bright-yellow aspen.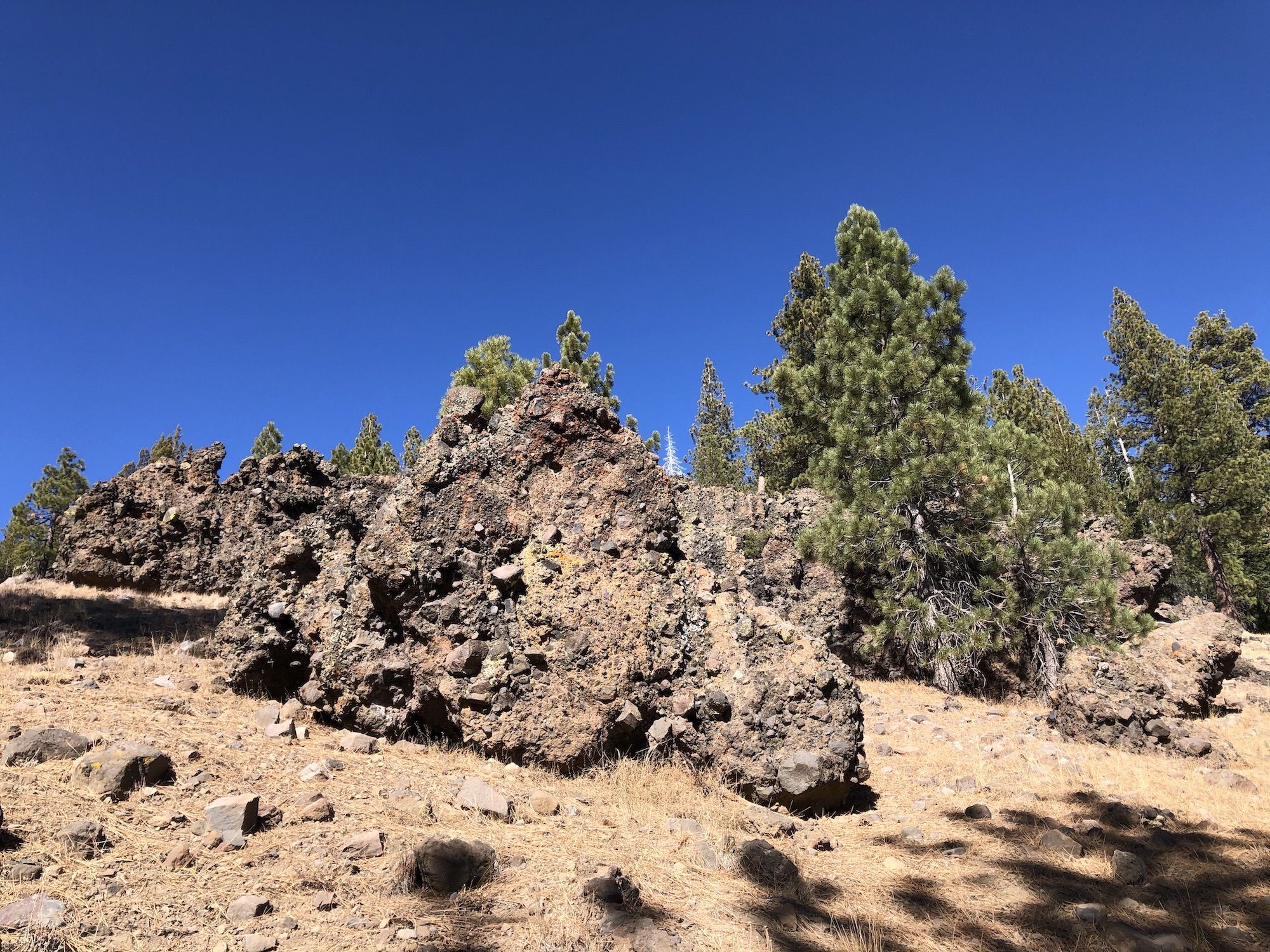 Gear for a late fall Sierra Nevada trip
The weather forecast for the trip showed clear skies. Daytime temperatures were in the low 60s and nighttime lows int the 20s. The weather station was at 7,200 ft, so I needed to prepare for 4-8 degrees colder at the elevation I would be at.
My main concern was to stay warm at night. Because of that, I brought 2 sleeping pads and my 10-degree sleeping bag. In addition, I brought down pants and wool socks to stay warm in camp.
Some of the extra weight could be offset by not bringing a tent as there wouldn't be any mosquitoes this late, and there was no rain forecast either.
Emigrant Wilderness loop map and stats
Start at Crabtree Trailhead.
Day 1: Camp Lake, Piute Lake, Gem Lake, Jewelry Lake, Deer Lake, Buck Lakes.
Day 2: Emigrant Lake, Maxwell Lake, Huckleberry Lake, Letora Lake, Cow Meadow Lake, Wood Lake.
Day 3: Buck Meadow, Grouse Lake, Pine Valley, Crabtree Trailhead.
| Day | Distance | Ascent | Descent |
| --- | --- | --- | --- |
| 1 | 12.5 | 2,950 | 1,780 |
| 2 | 16.8 | 2,560 | 2,560 |
| 3 | 10.3 | 1,230 | 2,390 |