Bay Area bikepacking trip to the beach and redwoods
A 124-mile bikepacking loop from San Jose follows bike paths, doubletrack and less traveled roads. Mountains, redwoods, and the Pacific – all in a weekend trip.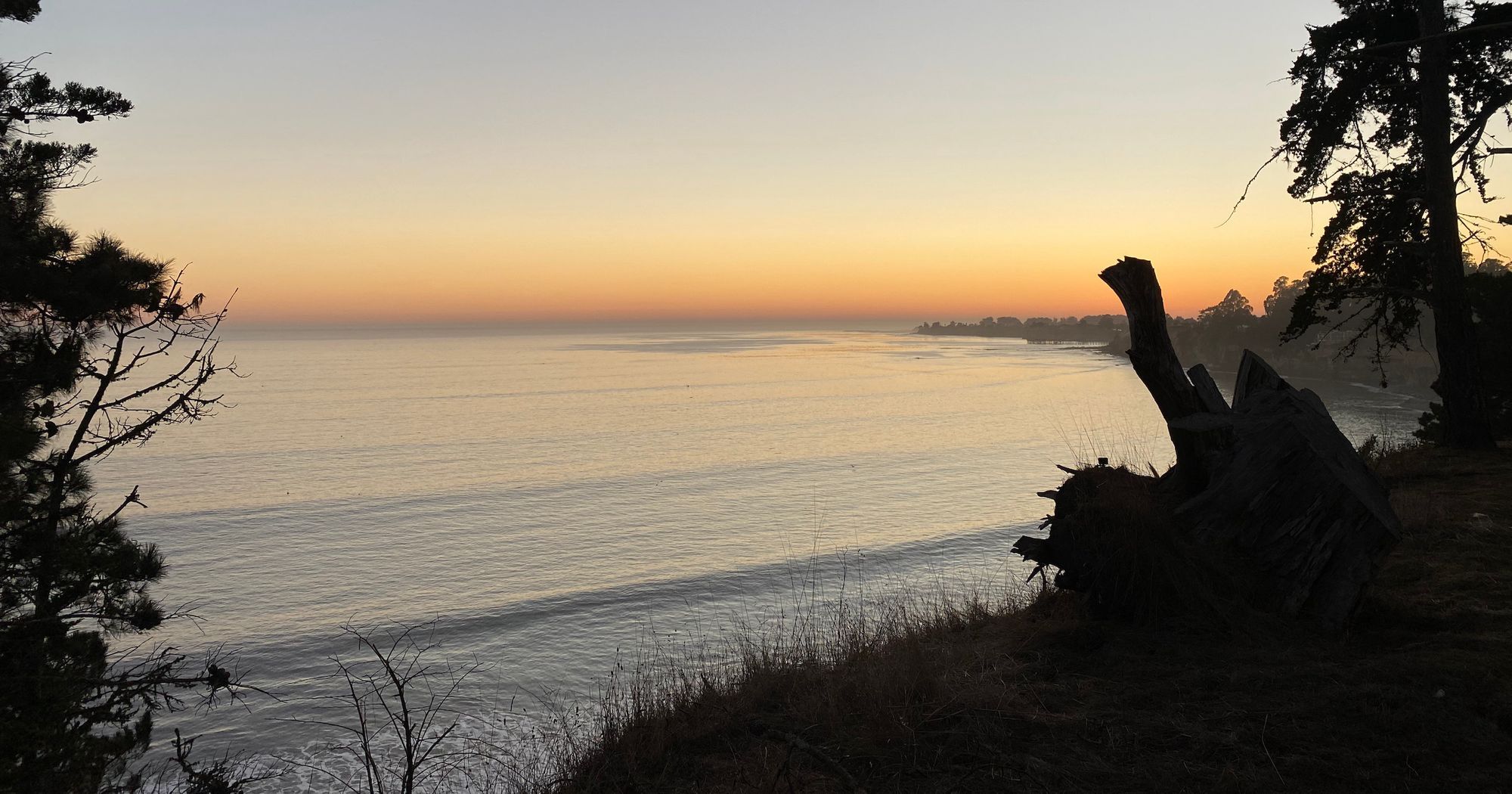 The 2020 fire season in California was brutal. Many of the trails near the Bay Area that I've hiked in the winter went up in smoke. The fire in the Santa Cruz mountains meant that the alternate routes I planned before my last bikepacking trip through Pacifica, Half Moon Bay, and Big Basin were no longer options.
With the ongoing corona pandemic, I wanted to plan a trip I could do solo with minimal human interaction. I also wanted to avoid using public transport this time around.
Looking at the fire history map, heading towards Santa Cruz and the southern part of the Santa Cruz mountains seemed like the most promising option.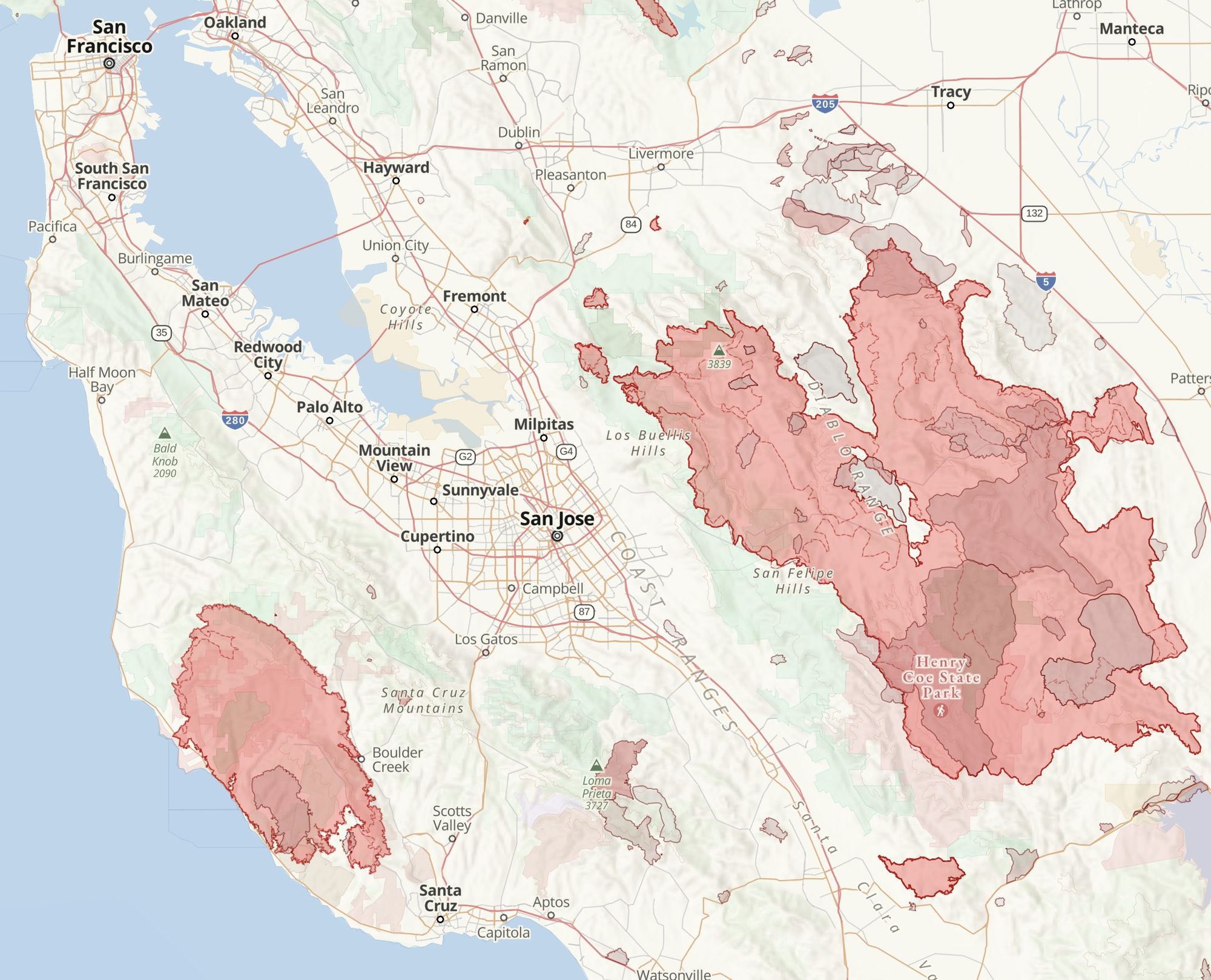 The route
I planned the route to mostly use bike paths, doubletrack, and roads with less traffic. Starting from north San Jose, the route I took was:
Guadalupe Creek Trail – Los Gatos Creek Trail – Los Gatos – Alma Spring Road – Old Santa Cruz Highway – Summit Road – Soquel San Jose Rd – Soquel – Capitola – New Brighton State Beach – Aptos – Forest of Nisene Marks State Park – Aptos Creek Fire Road – Sumit Road – Mt. Madonna County Park – Mt. Madonna Road – Redwood Retreat Road – Watsonville Road – Little Llagas Creek Trail – Morgan Hill – Monterrey Road – Cochrane Road – Coyote Creek Trail – Tully Road – Highway 87 Bike Path – Guadalupe Creek Trail.

San Jose to New Brighton State Beach
46 miles. 2,900 ft elevation gain.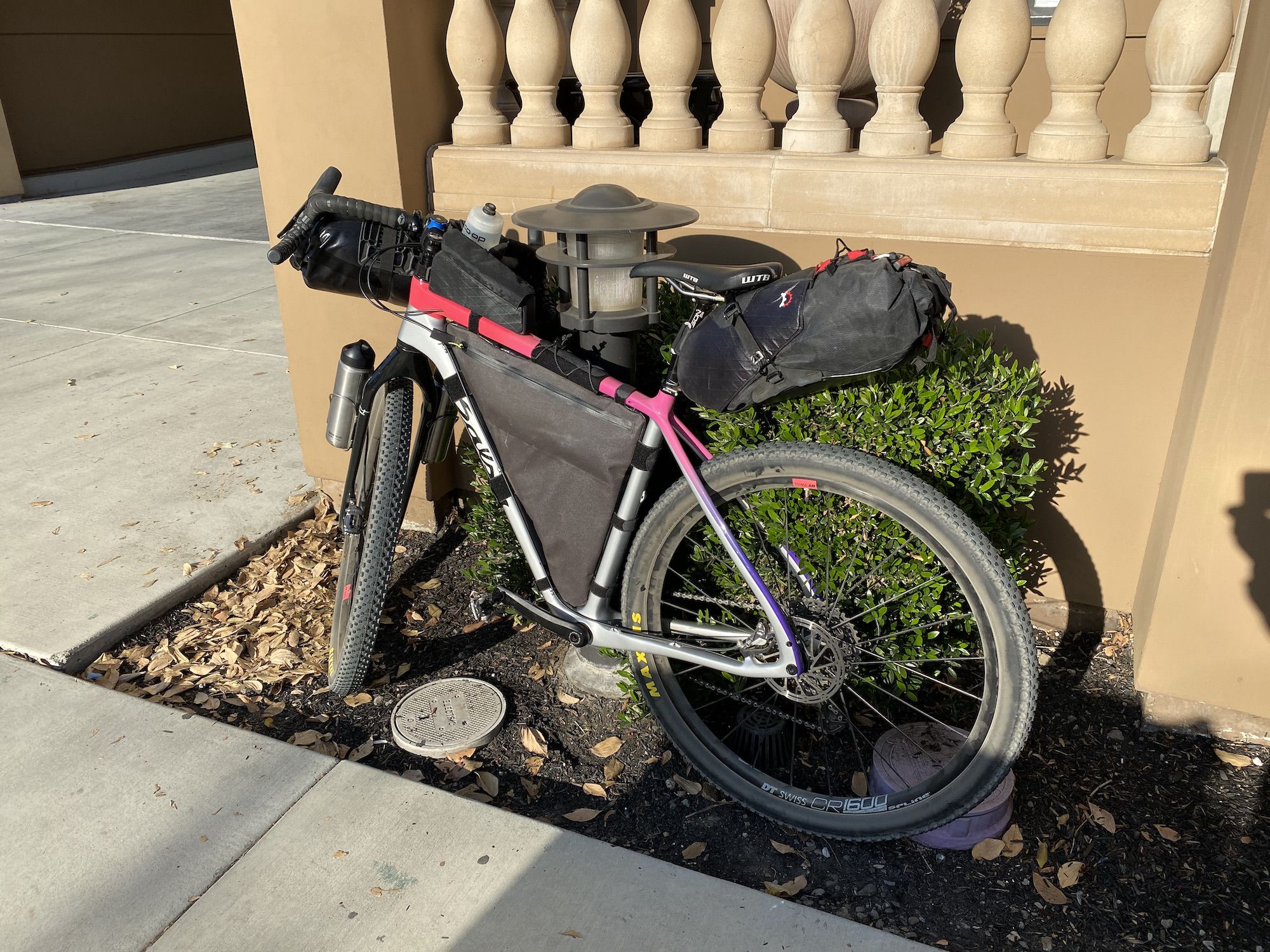 The sunset is before 5 pm in December. Which meant I wanted to get a somewhat early start to avoid riding in the dark.
I rolled off just after 9:30. The first 30 miles would be easy going on mostly flat bike paths to Los Gatos.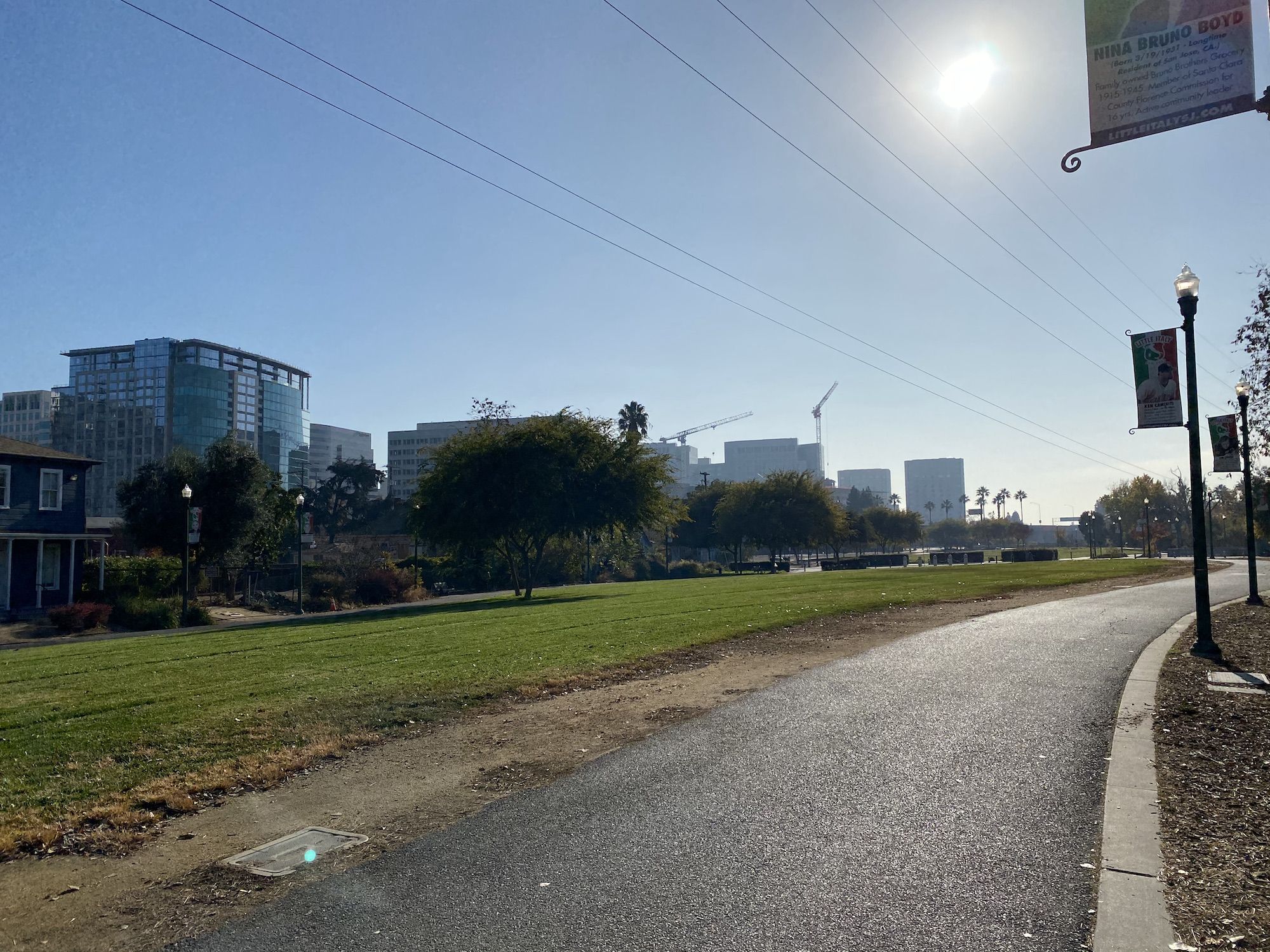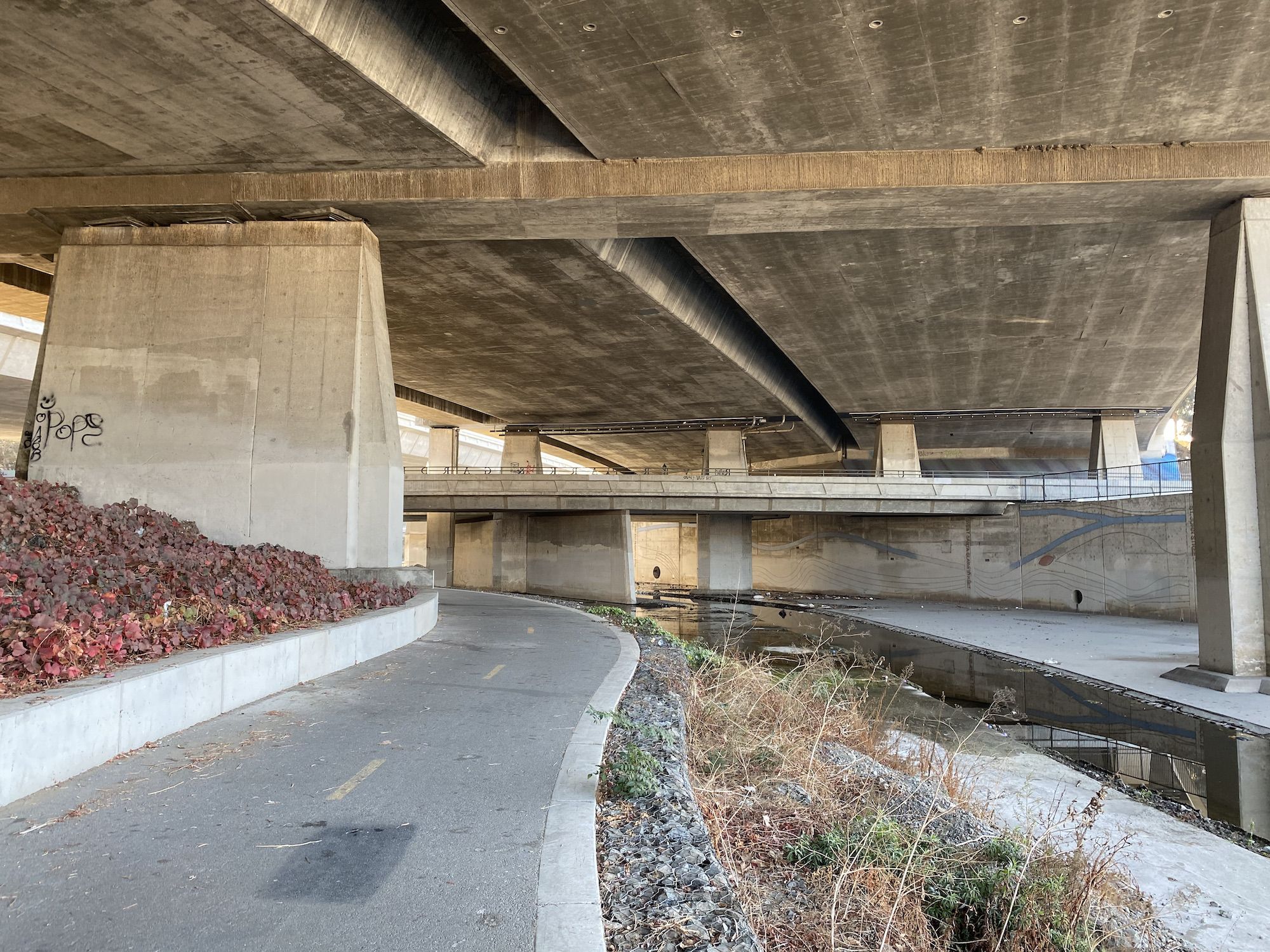 It had been almost ten months since the last time I rode south of the airport on the Guadalupe Creek trail. The impact of Covid was devastating to see. The sporadic homeless encampments had grown into a full-blown shantytown of makeshift structures, tents, and beat-up cars. Fires were spewing out noxious fumes of burning trash. A man with no pants was sitting along the trail, eating breakfast.
The Guadalupe Trail ends on West Virginia Street. I continued along Willow Street through Willow Glen to connect with the Los Gatos Creek trail. The Los Gatos Creek Trail passes through a couple of small parks with lakes. There were restrooms and a water bottle filling station at Vasona Lake County Park.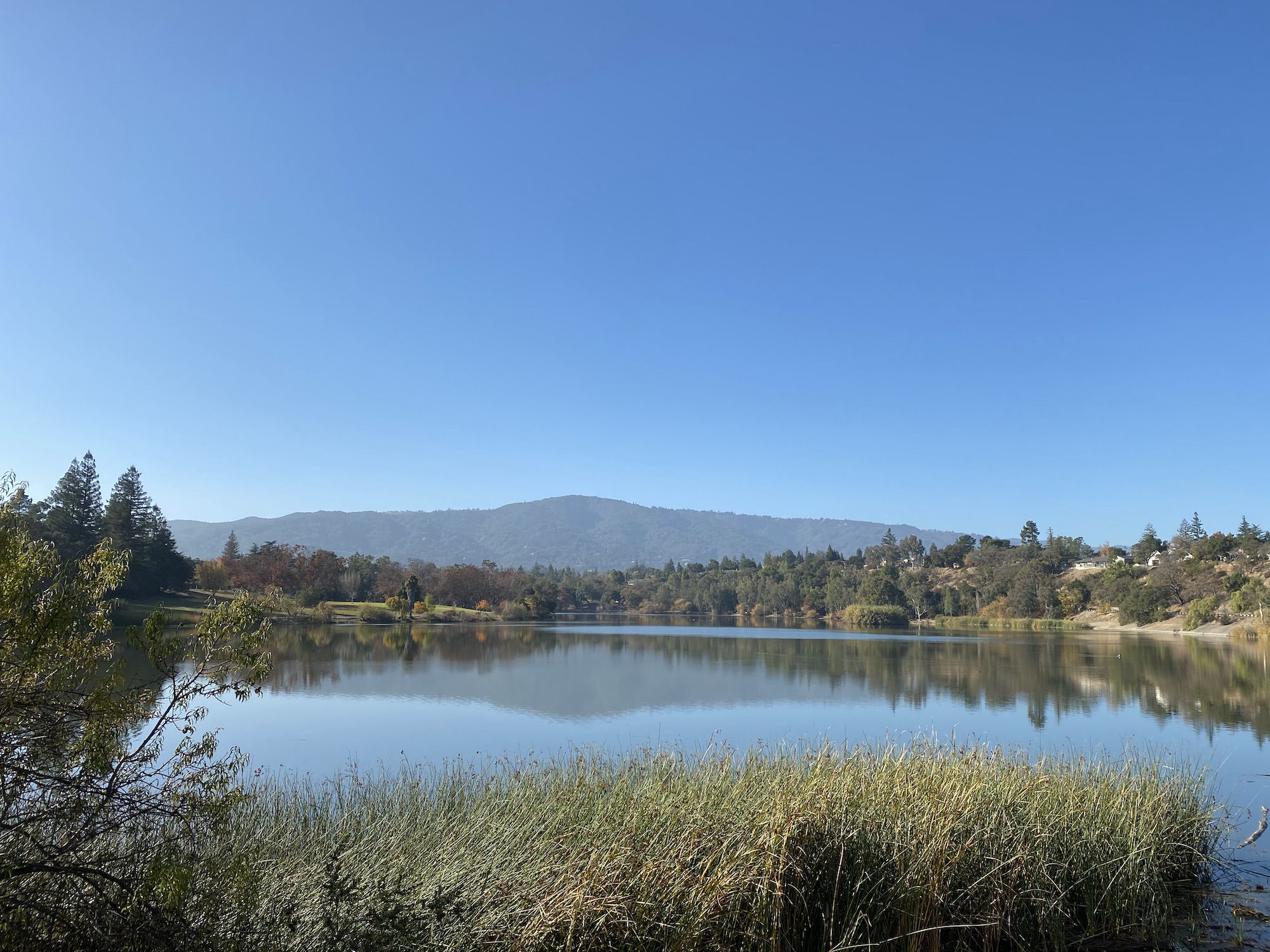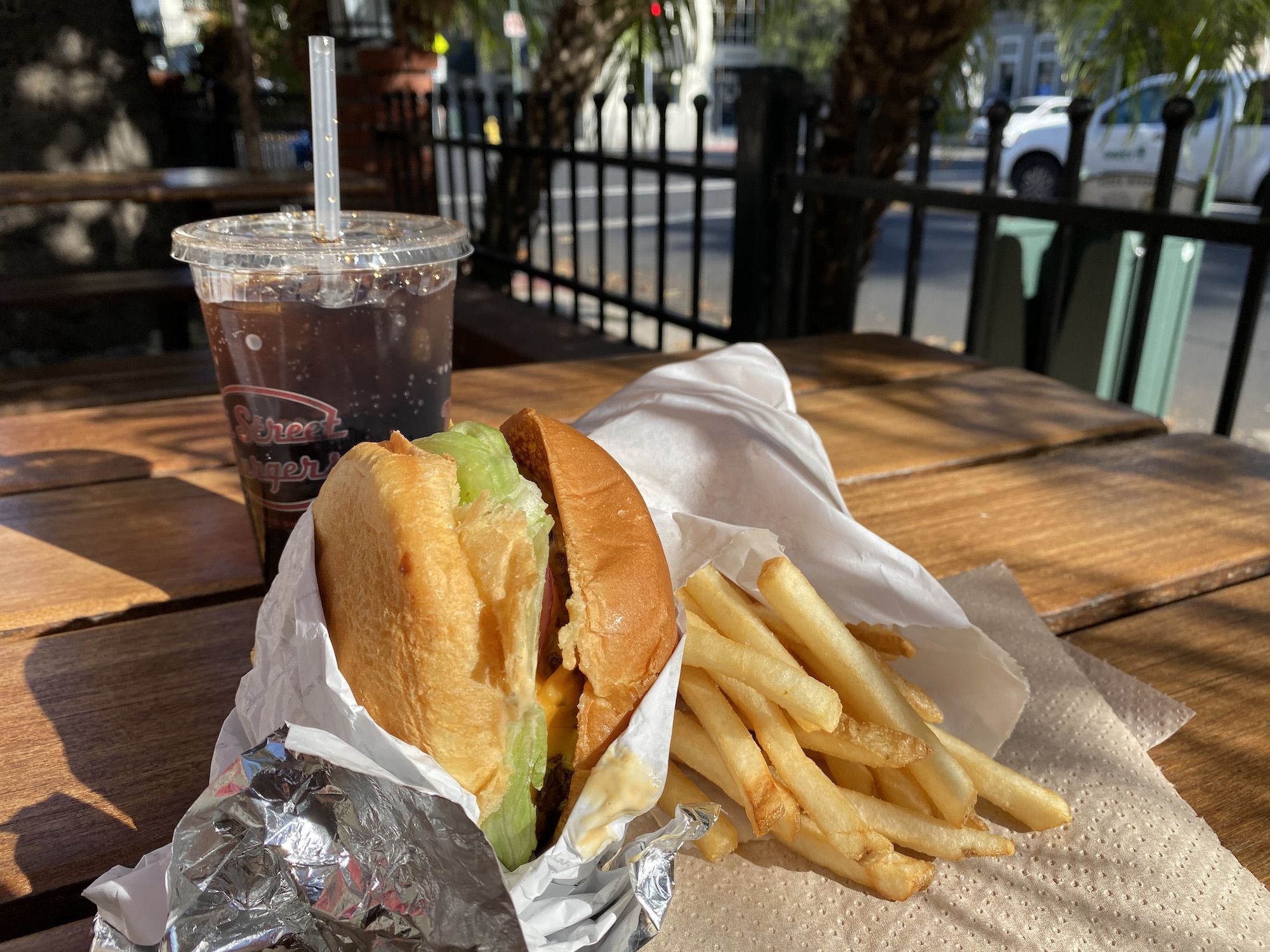 I stopped in Los Gatos for a double cheeseburger and fries to power me up to the summit.
It's a 1,700 ft climb from Los Gatos to Summit Road. After a short flat section along the creek, the path starts climbing steeply up to Lexington Reservoir. That double cheeseburger may have been a mistake.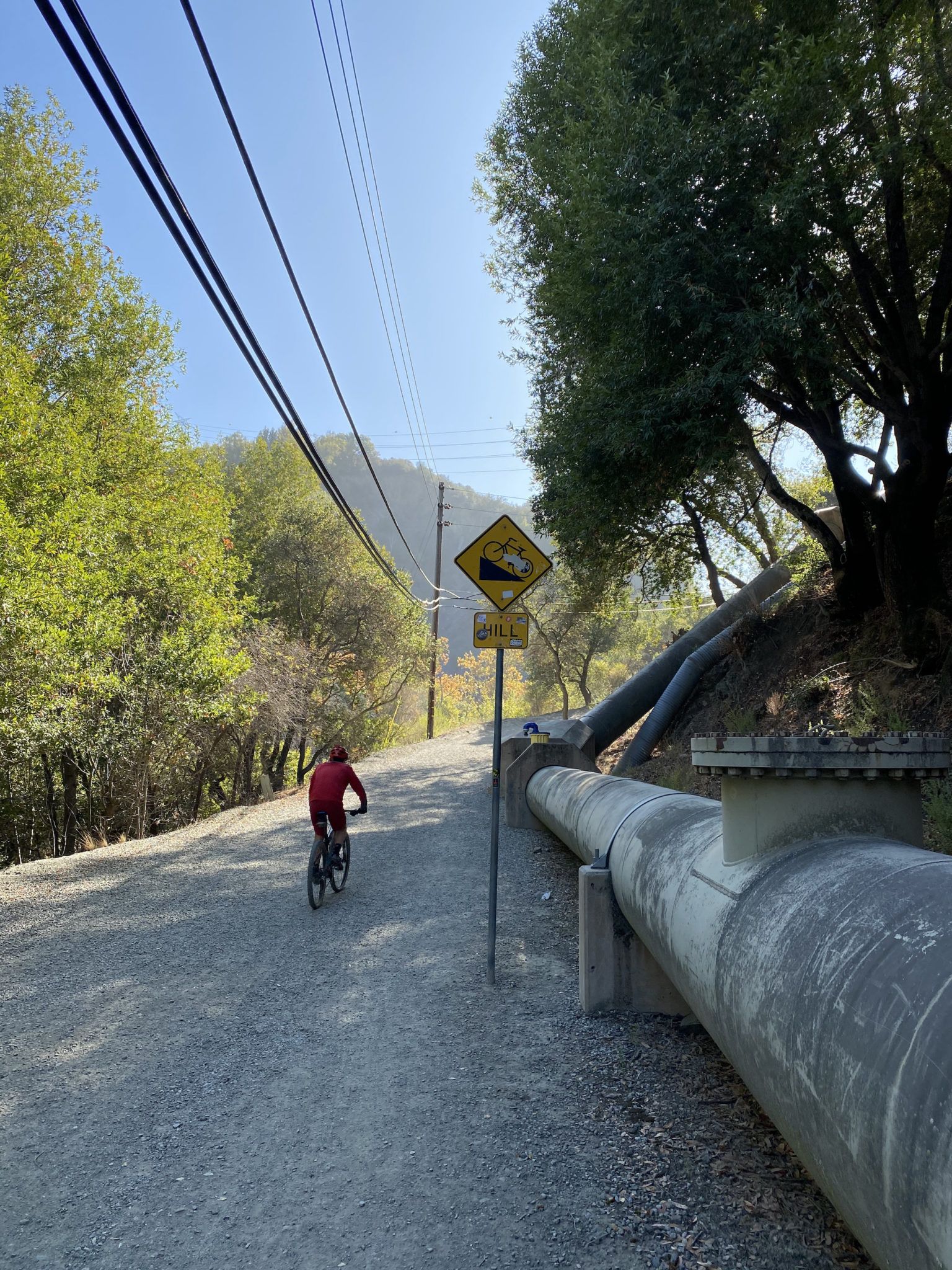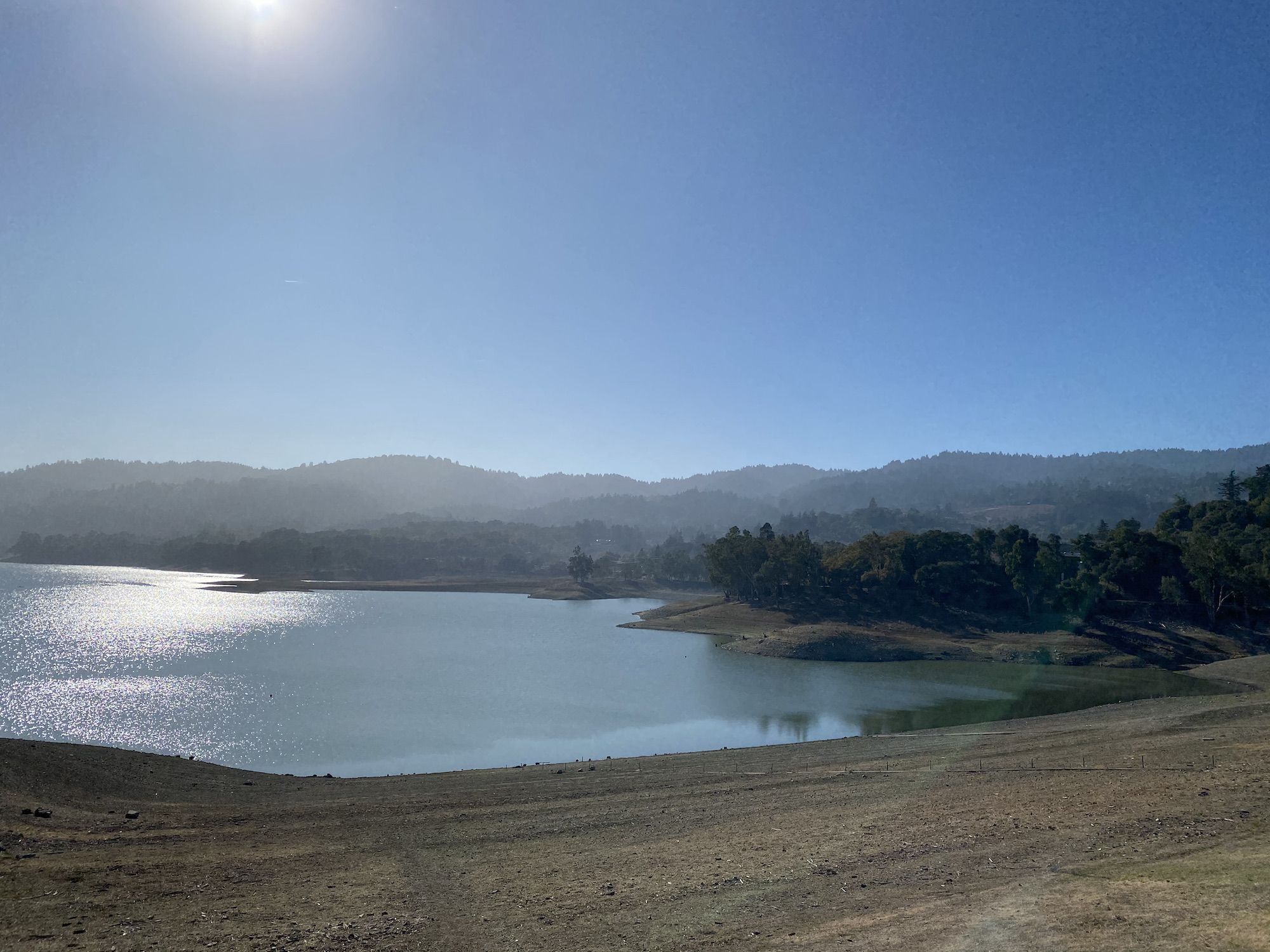 Fortunately, the ride levels out for a while along the reservoir before picking up again when you get to the Old Santa Cruz Highway. The road is wide and lightly trafficked, shaded by redwoods.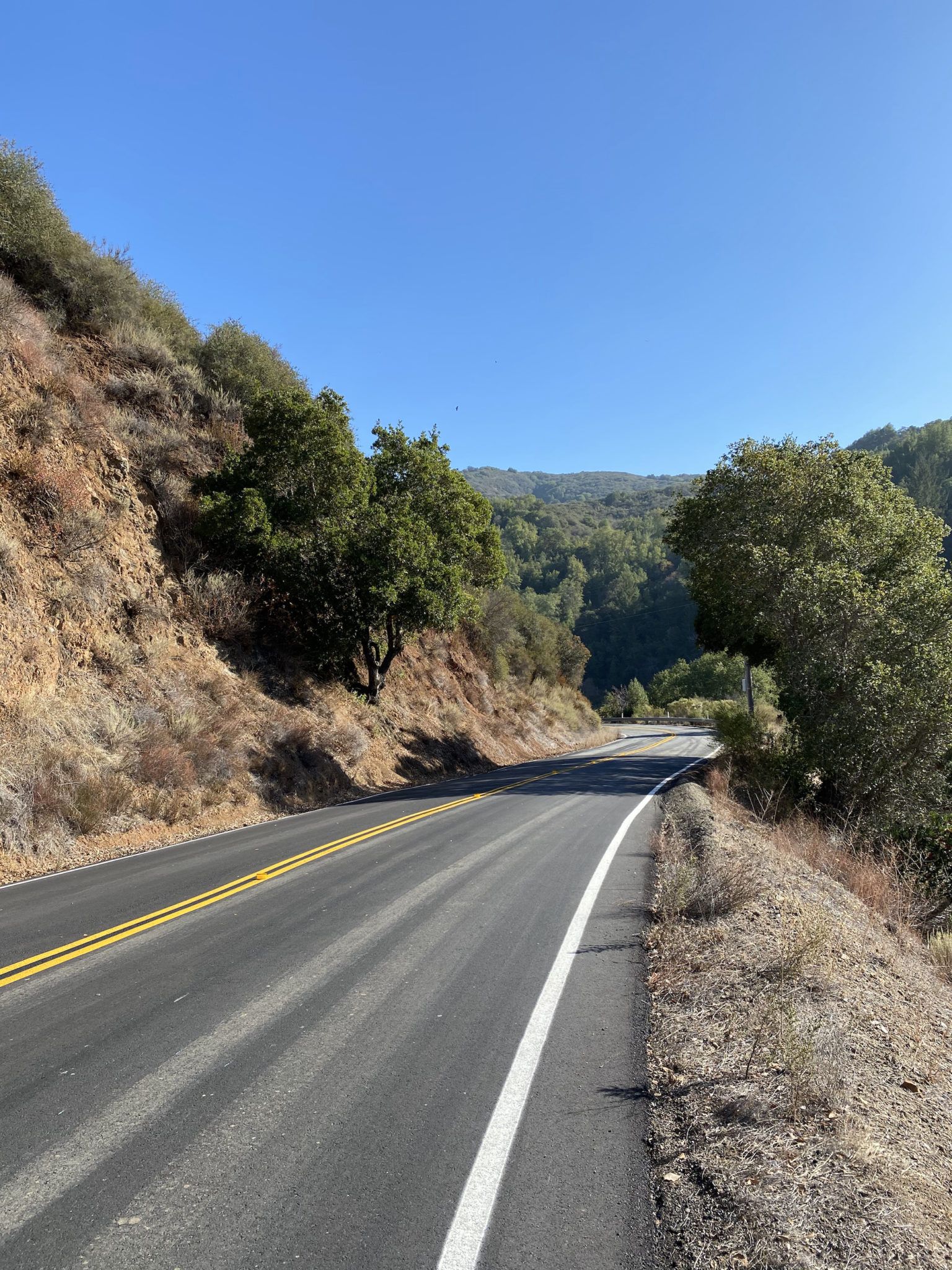 Finally, on Summit Road, I continued to the store to fill up on water. From there, it was all downhill for the rest of the day.
The Soquel San Jose Road was a joy to ride down. Smooth pavement and few cars. Most of the way down, the grade was just right: enough to keep me rolling with good speed, but not steep enough that I would have had to ride my breaks.
I made it to Soquel earlier than I had thought, so I decided to head over to Discretion Brewing for an after-ride beer before going to the beach to set up camp. Their socially distant beer garden was a perfect place to sit and enjoy the warm December afternoon.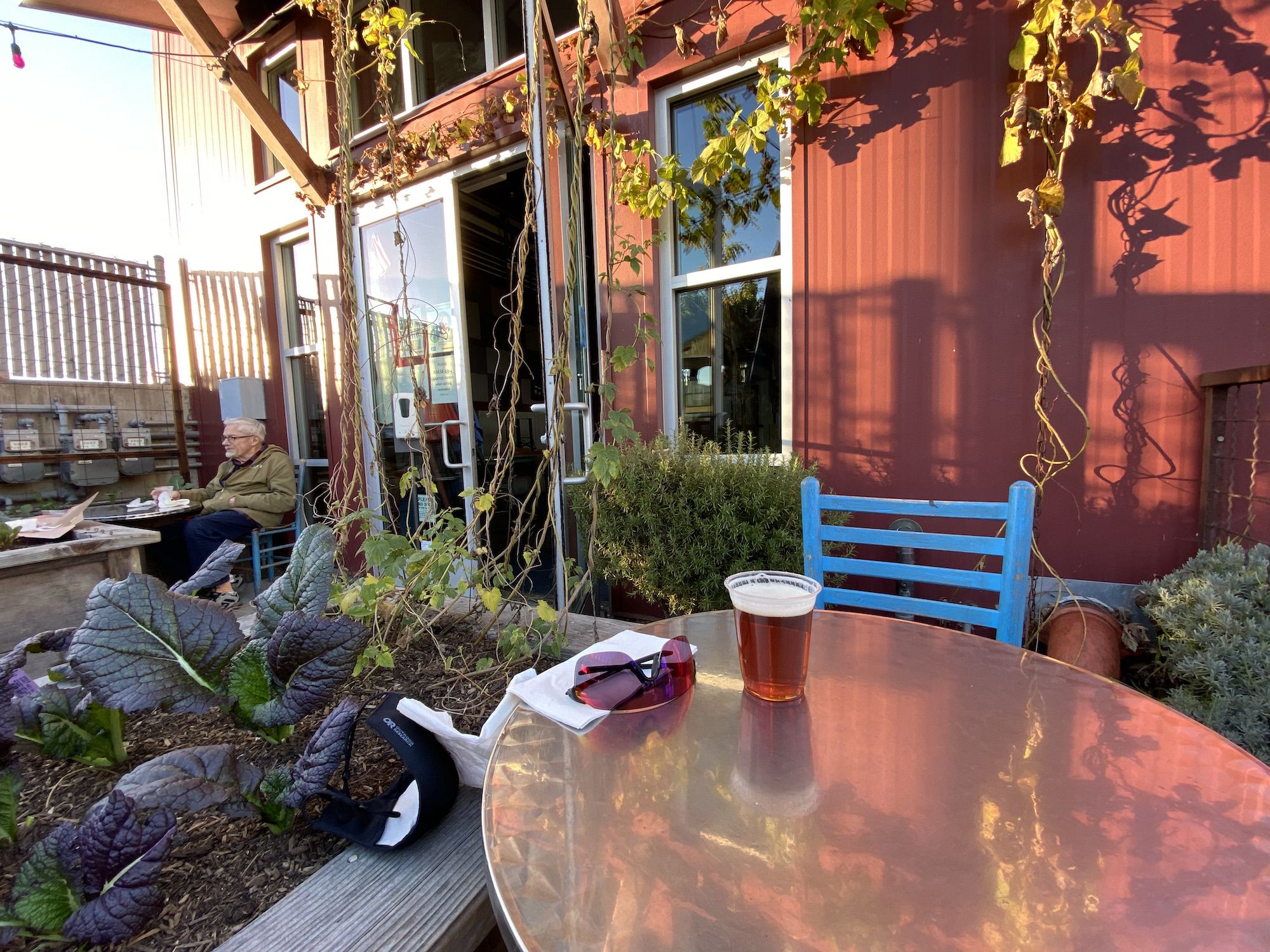 It was about a 15-minute ride to New Brighton beach along busy streets. I paid for a bike-in site and a bundle of firewood. There were four bike camping sites, and I was the only biker there. I picked a spot and set up camp just as the sun was setting. I sat by the fire a while, listening to an audiobook, before heading to bed. The RV campers kept making loud noises until well after midnight.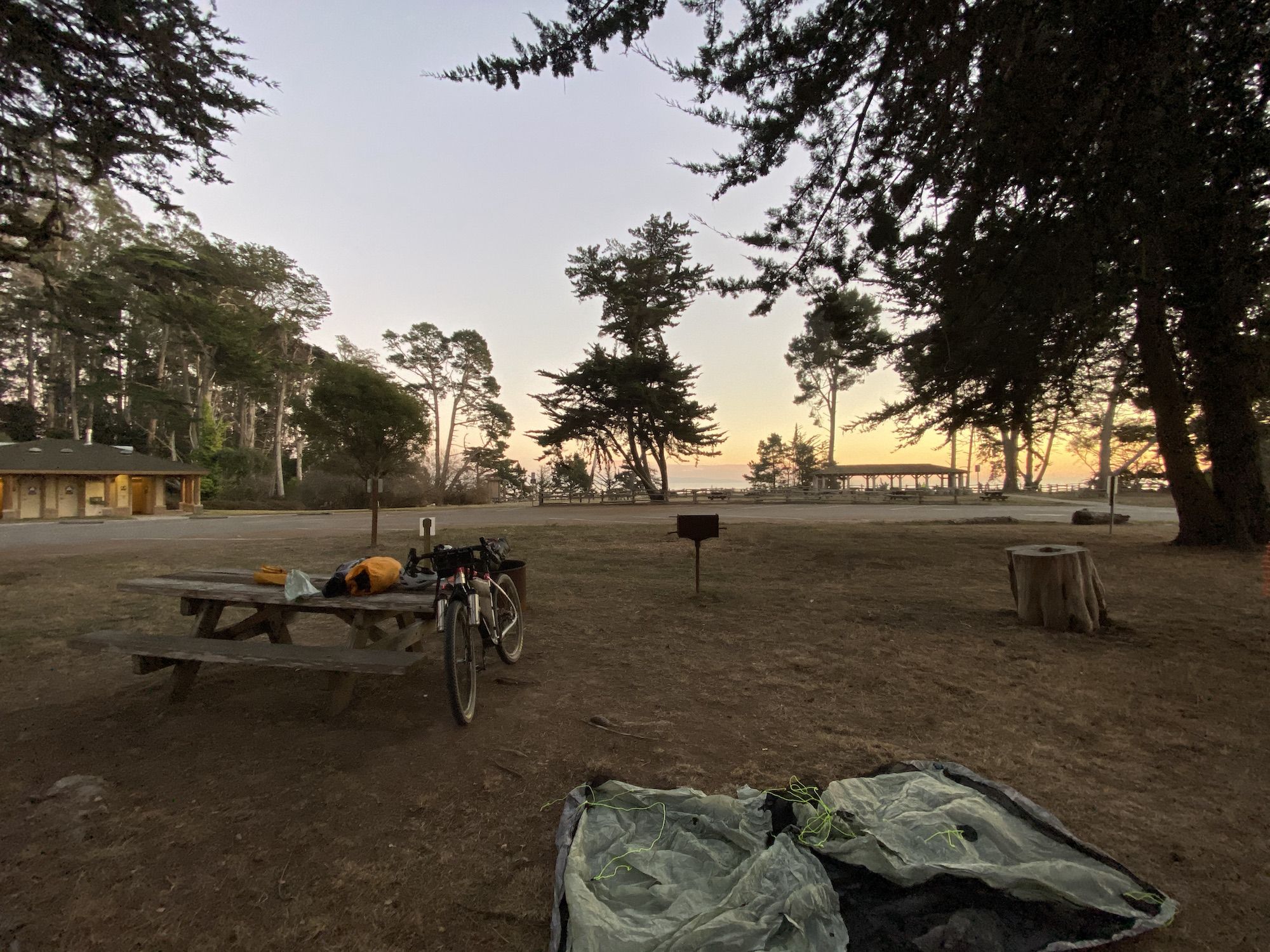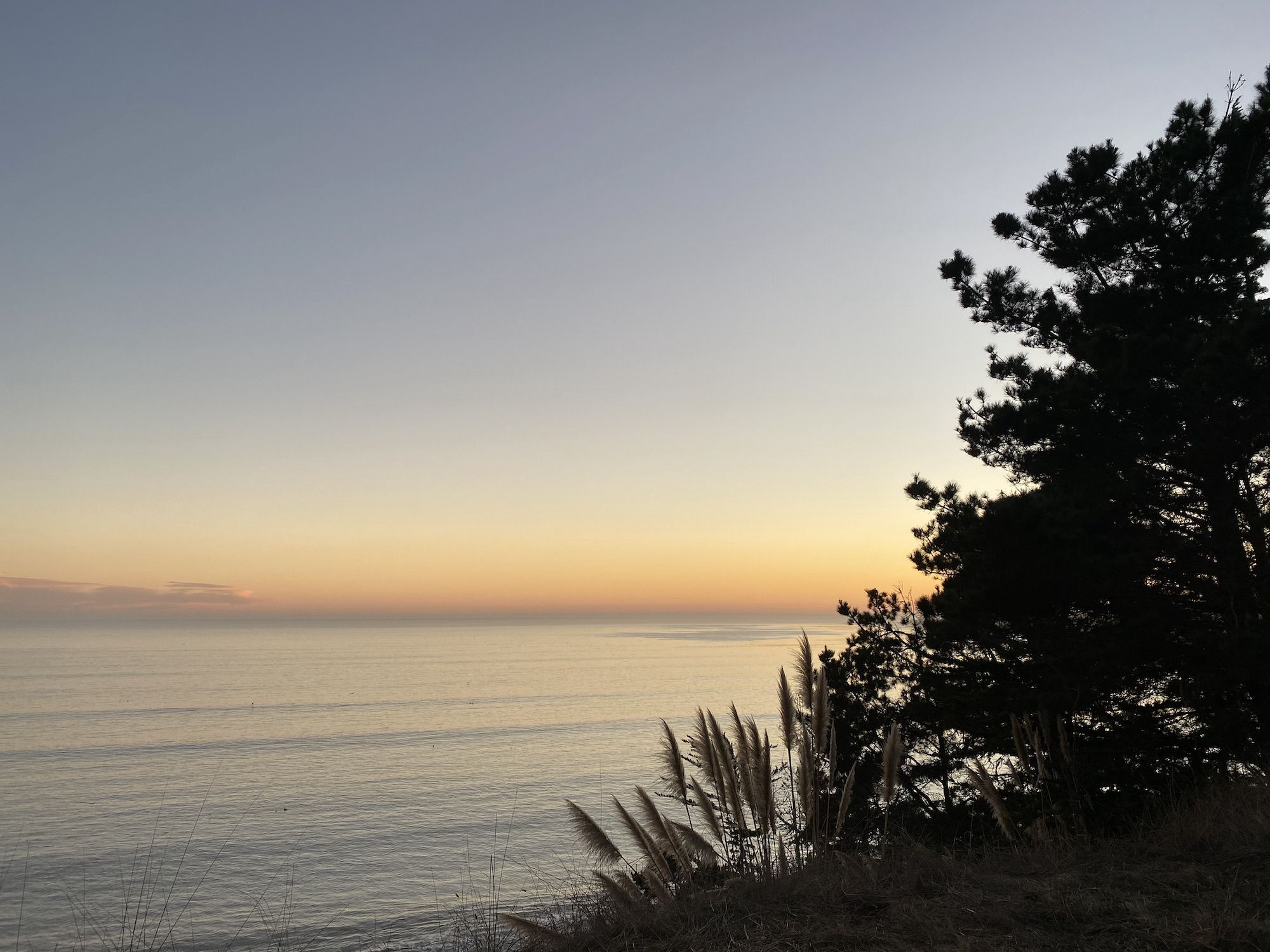 Aptos to Mt. Madonna County Park
31 miles. 4,600 ft elevation gain.
I woke up just before dawn. I made coffee and watched the calm ocean, waiting for the sun to reach my campsite. It was going to be a short day, so I was in no hurry.
After a lazy breakfast, I tore down camp and got going. My first stop was the New Leaf Market in Aptos to get some lunch and snacks for the long ride back up the mountain. I opted for a turkey-bacon-avocado sandwich on sourdough for later and a hot, freshly brewed coffee to enjoy before heading into Nisene Marks.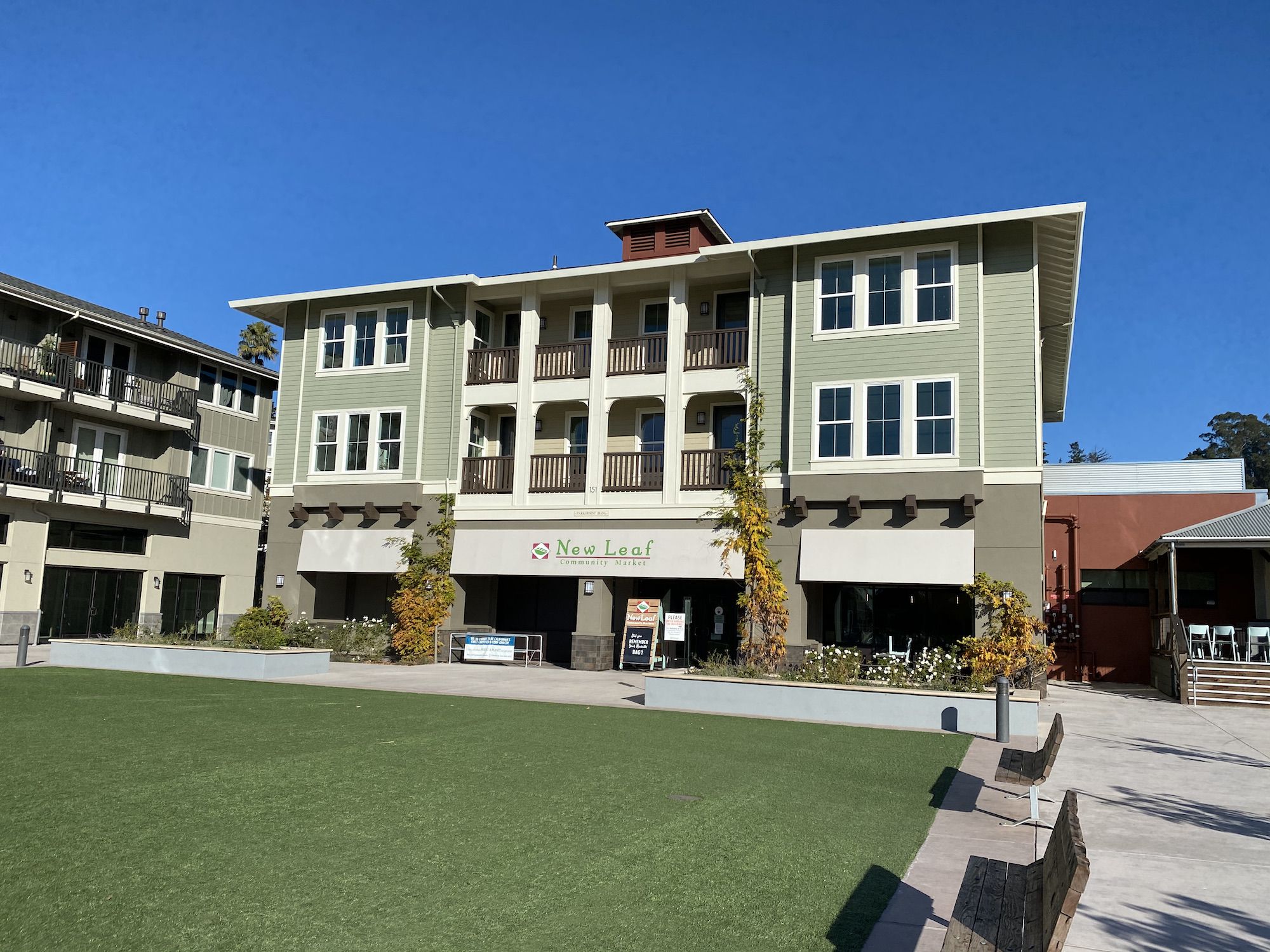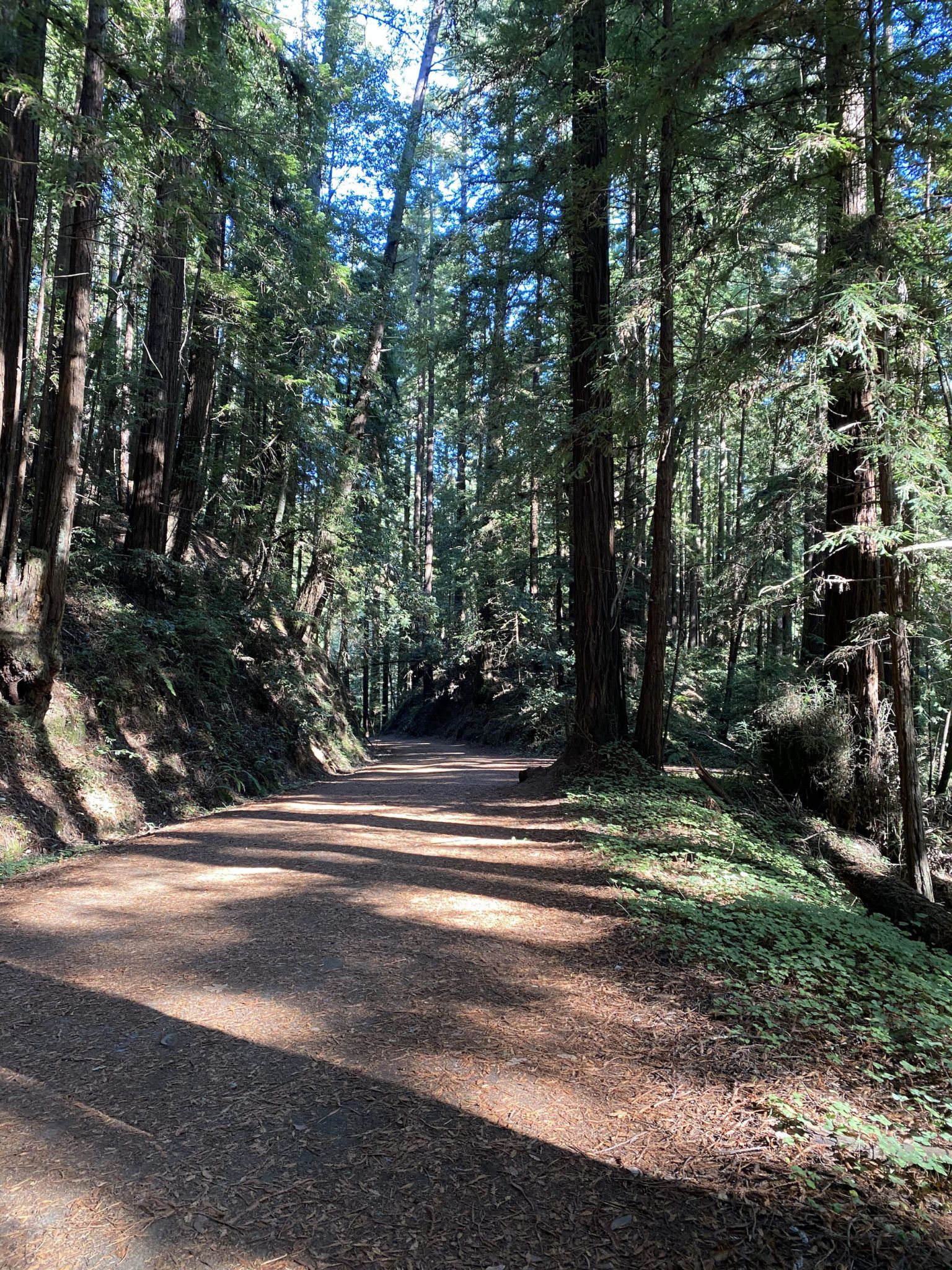 The temperature must have dropped by 20 degrees on the short ride from the sunny courtyard outside New Leaf. The thick redwood canopy still held on to the cold moisture of the night. I pulled on my windbreaker and started climbing.
The Aptos Creek Fire Road is popular with mountain bikers and hikers. But the farther I got from the gate, the fewer people I saw. E-bikes whirred past me occasionally, and despite my gear load, I managed to pass a few bikers heading up the seemingly neverending incline.
I found a level area just off the trail, beneath redwoods. A small sliver of sunlight found its way through the tall trees and warming the air.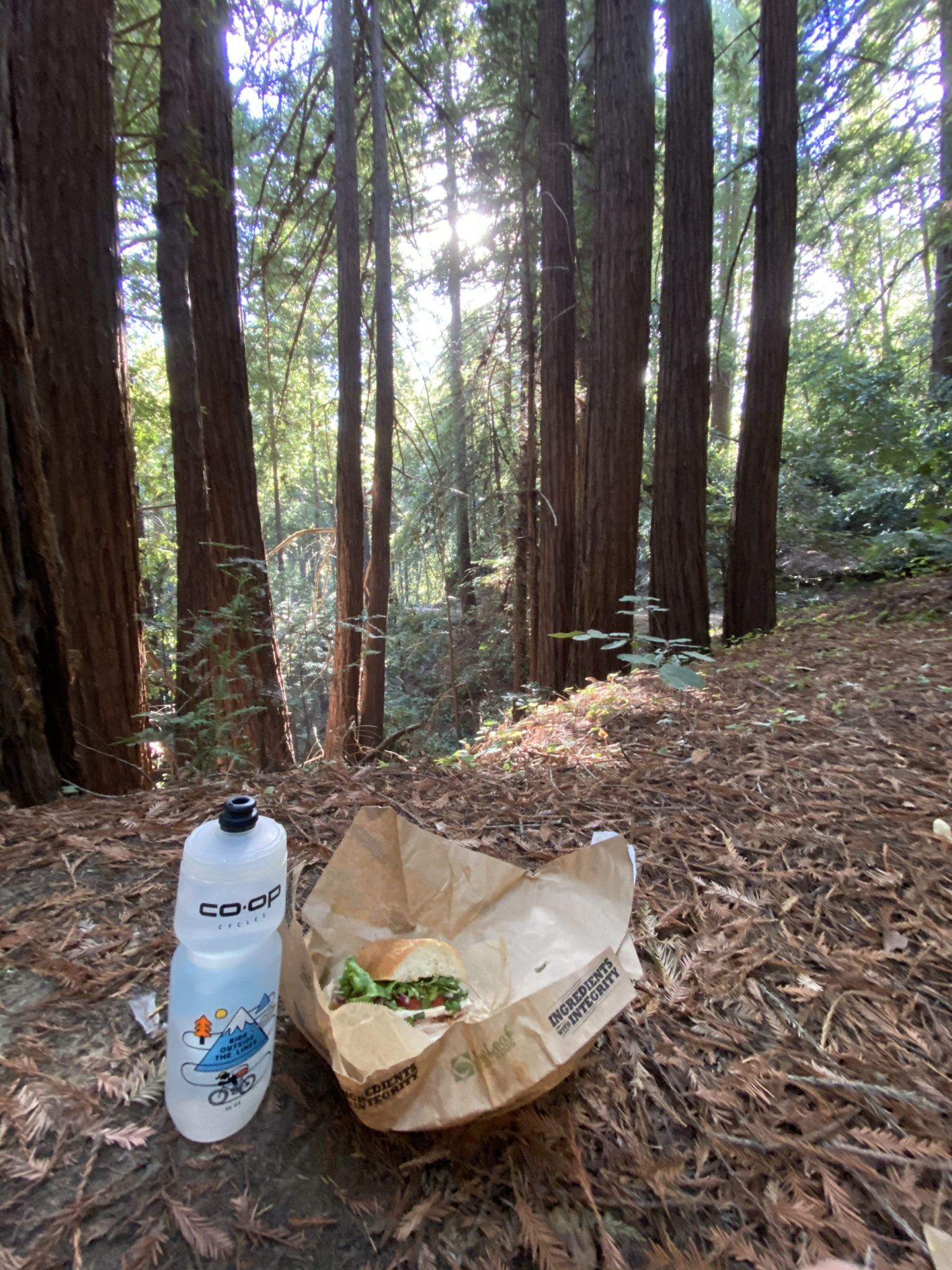 As I sat there savoring my sandwich, I noticed a faint odor that grew more prominent. Maybe someone had taken a dump somewhere nearby? To my horror, I realized the smell was coming from my shoe. It turned out that the "mud" I thought I had stepped in when taking a leak earlier hadn't been mud at all, but actual shit. Right on a side trail. Goddamnit.
After some swearwords, and a cleanup operation featuring sticks, redwood needles, and napkins, I was back on the bike.
The dark coniferous forest slowly began to give way to a more airy deciduous forest providing occasional views toward the ocean. Most riders seemed to end their ride at an overlook with benches, about 8 miles into the climb. I continued.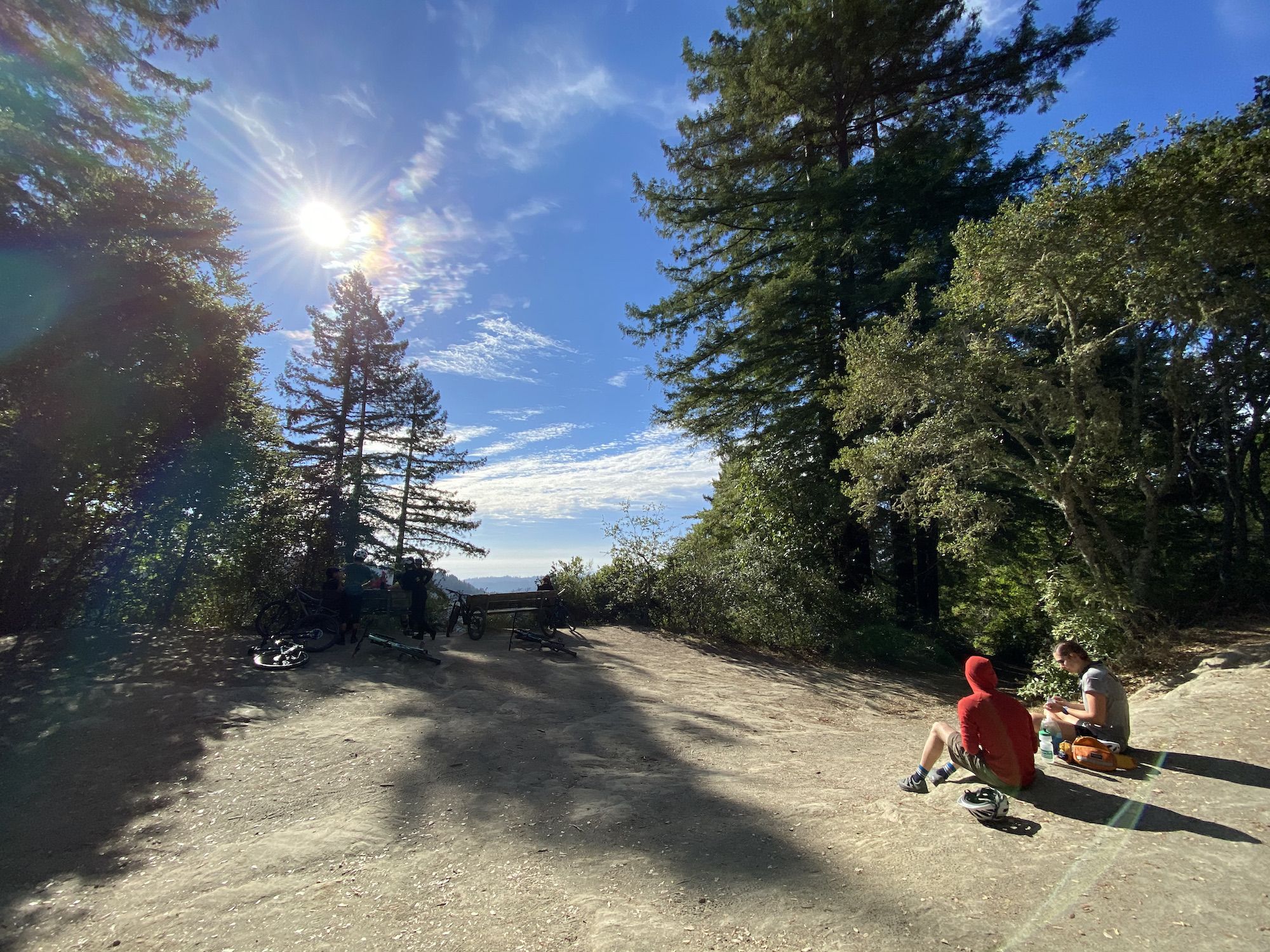 The climb got steeper once again after the overlook. At one point, I was close to getting off the bike, but I was able to push through. Three miles after the outlook, the trail crests at the intersection of the Flow Trail. I took a break at the benches overlooking Monterey Bay. A dark mass of clouds making its way ashore, chilling the air.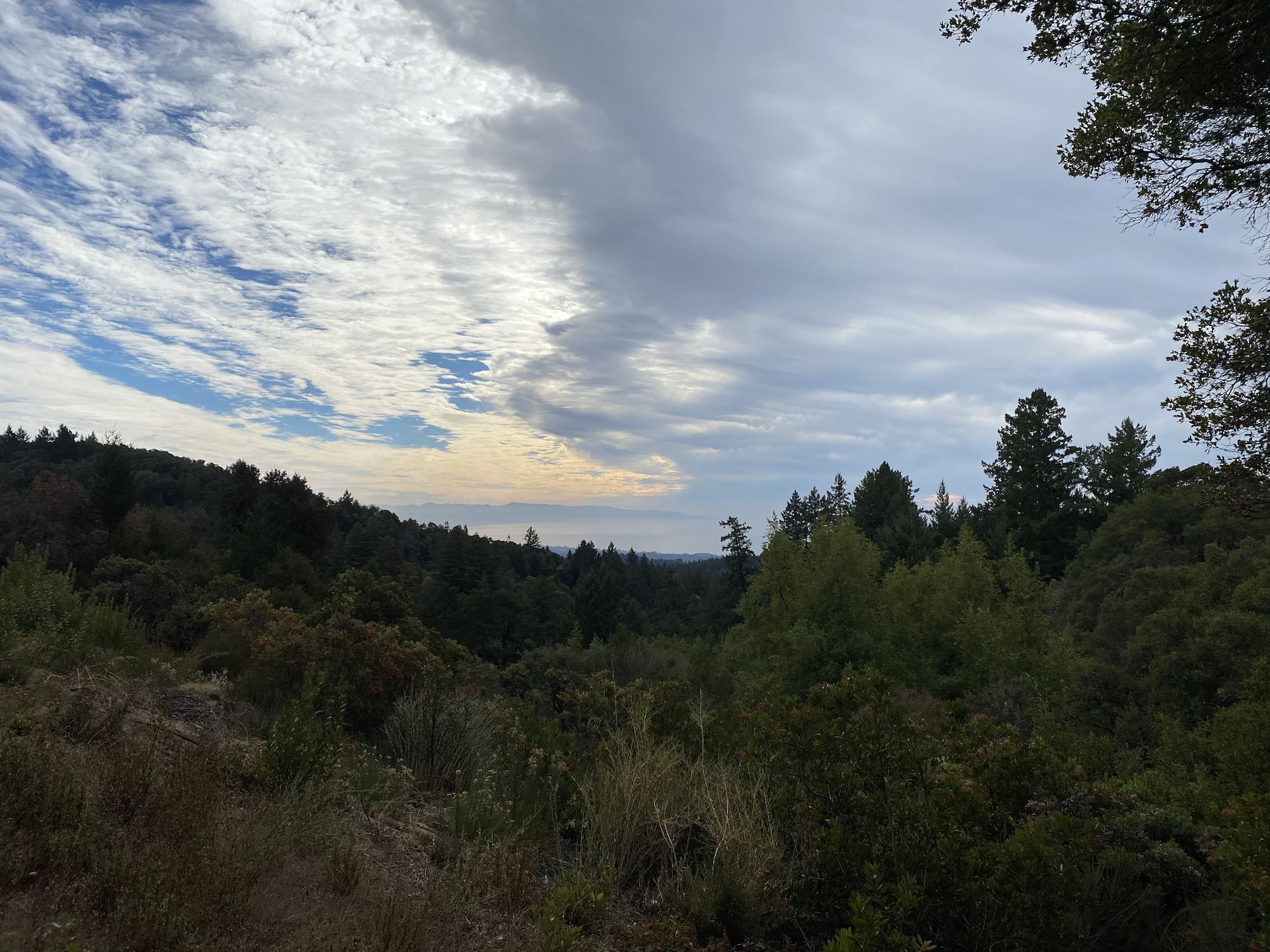 I still had 1,000 ft to climb for the day. But first, 750 ft of downhill. The descent was easy enough, and I quickly found myself at a paved intersection. The final two miles to Summit Road were a constant 8-10% incline on a small, winding road.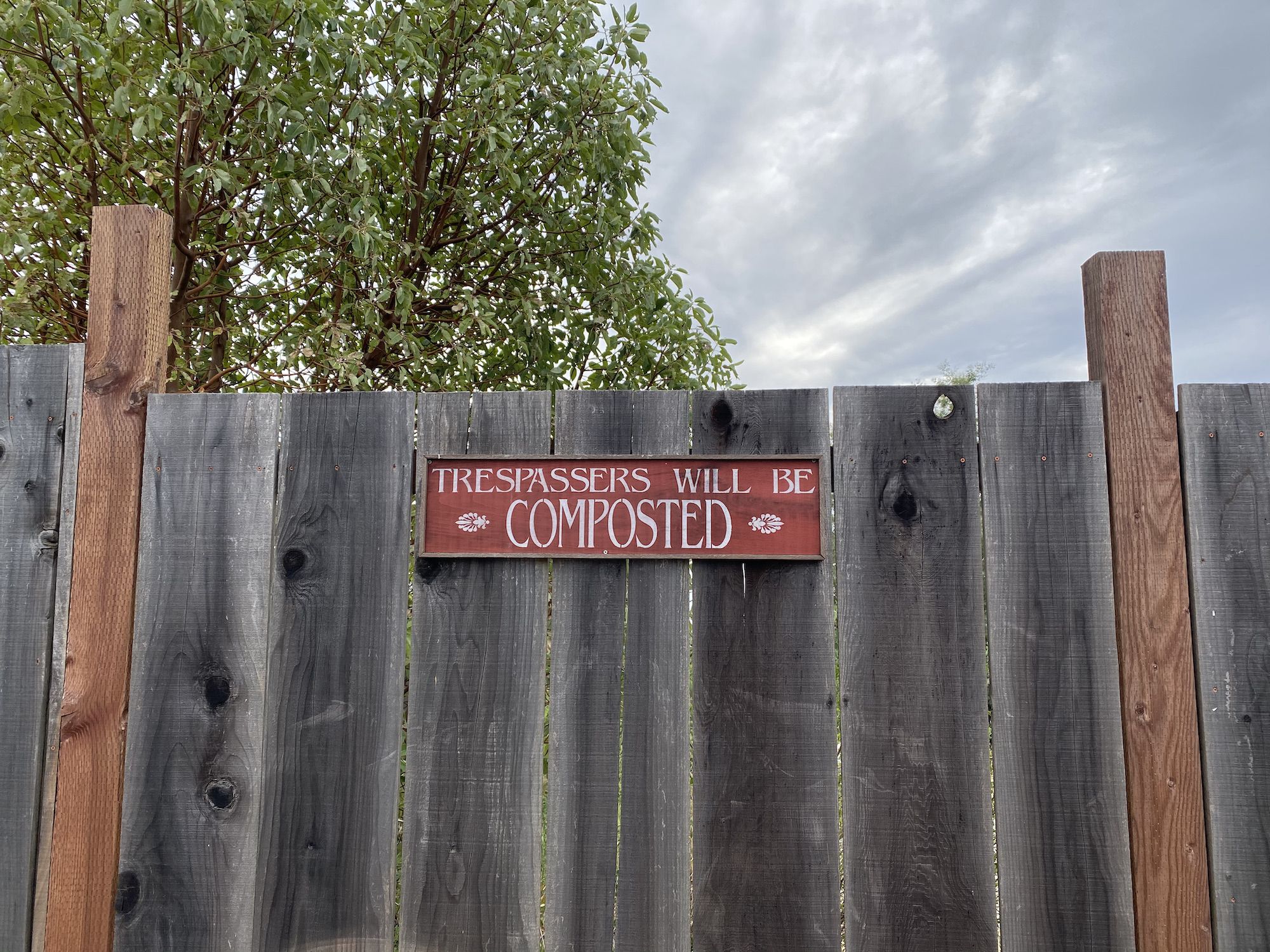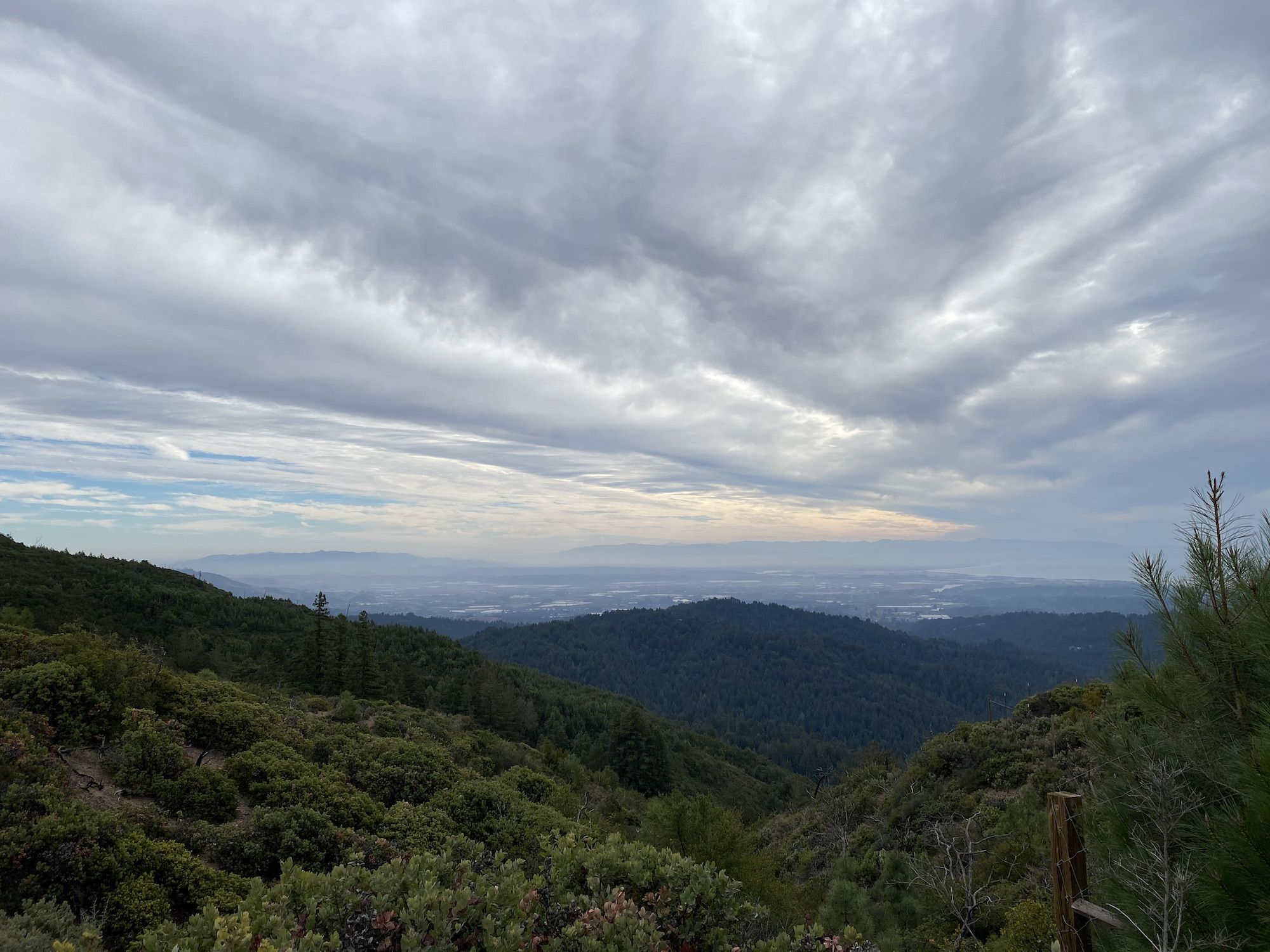 Once I was on Summit Road, it was mostly downhill to Mt. Madonna County Park. I rode to the entry gate and checked into my campsite. Mt. Madonna doesn't have walk-up camping, so make sure you reserve a camp online before heading out.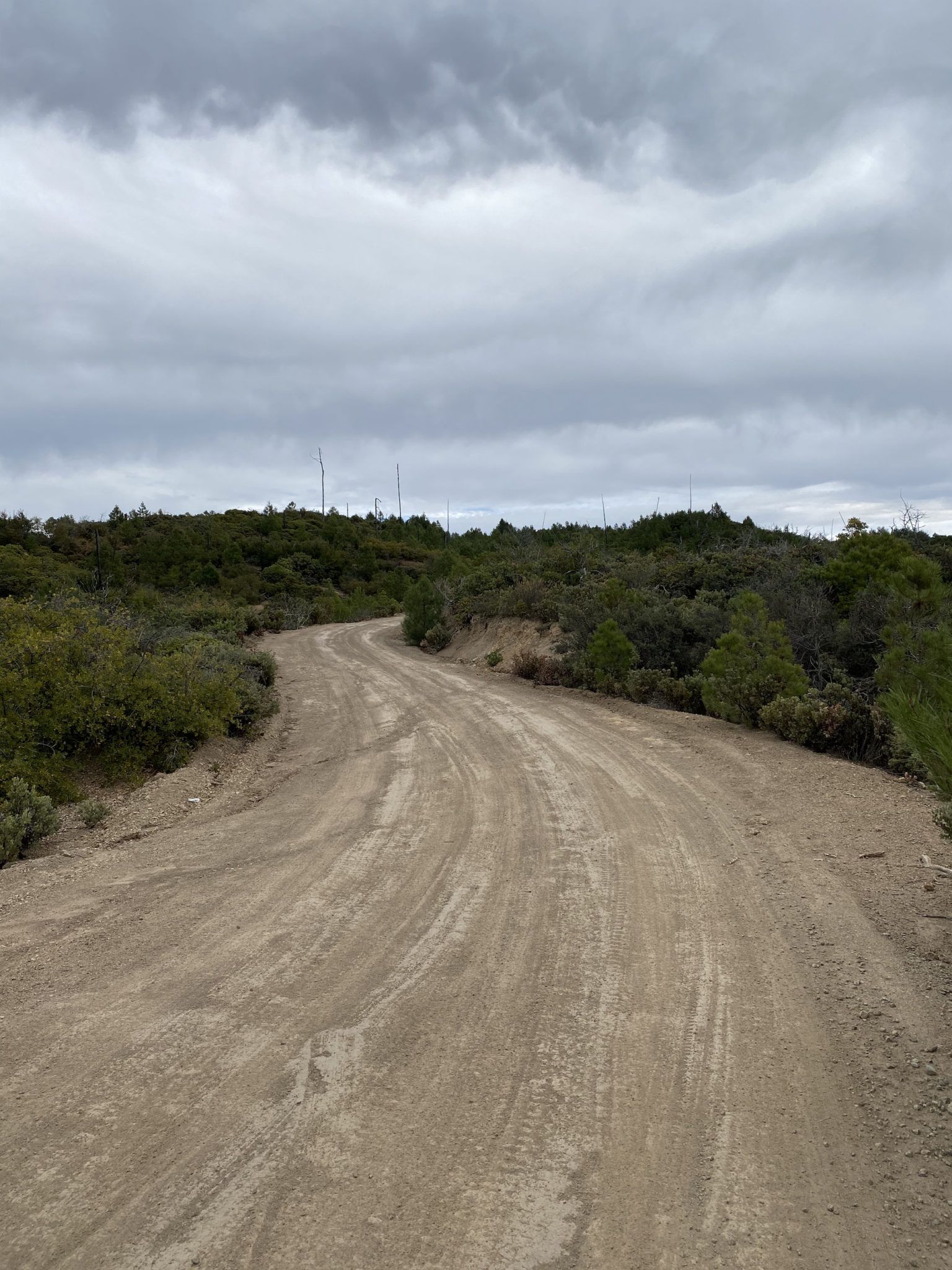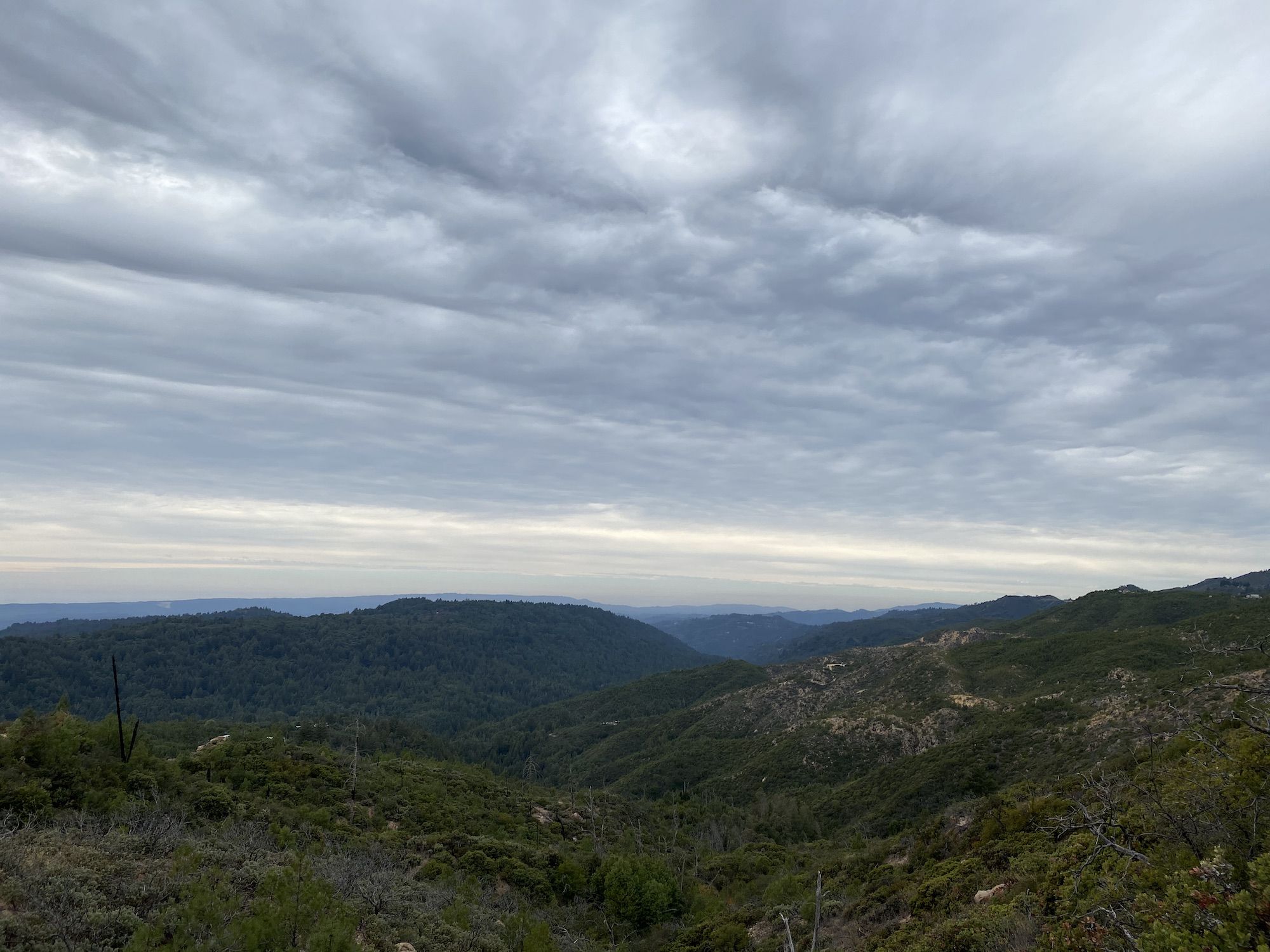 I had selected the campsite farthest away from the gate as possible in hopes of finding some quiet. No such luck. Almost all the sites were occupied. Music was blaring. Most disregarded the ban on fires and wood collection. Instead, they were whacking away like woodpeckers with their hatchets to get fuel.
The campsite I had selected had a table, food locker, and hard, lumpy ground. I opted to go and set up my tent a bit deeper in the woods on a flat, soft bed of redwood needles. The trees above would also help me sleep warmer and avoid condensation.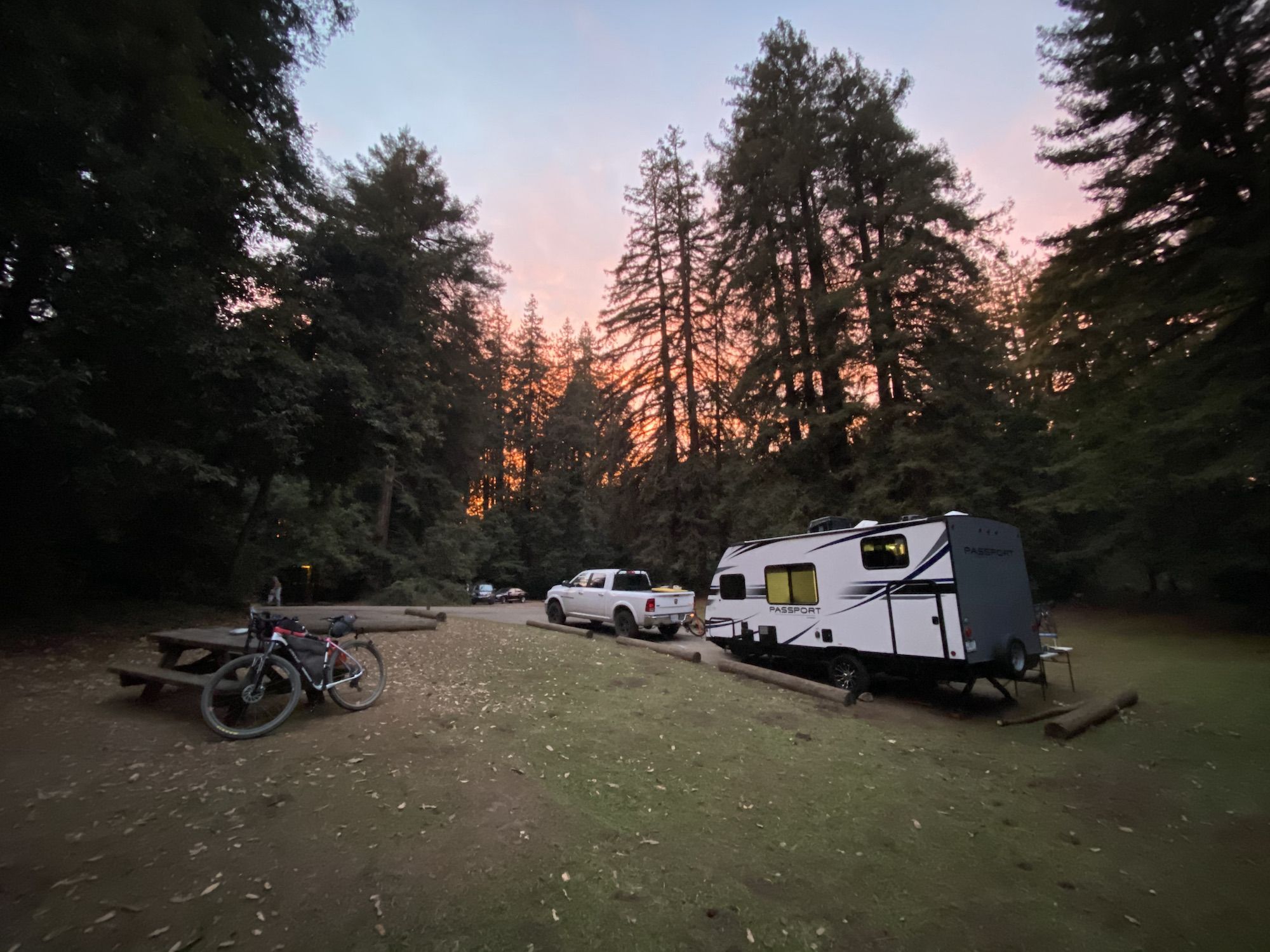 I cooked up some dinner, then went into my tent to read. I fell asleep before 9, occasionally waking up to the sounds of people chopping down the forest.
Mt. Madonna to San Jose
51 miles. 1,350 ft elevation gain.
It was still misty when I woke up. Sleeping under the redwoods had been a good idea – all my gear was still dry.
The sky began to clear up as I ate breakfast. Today would be a easy day back home, only downhill after I backtrack a mile back to the backroad from Mt Madonna to Redwood Retreat Road.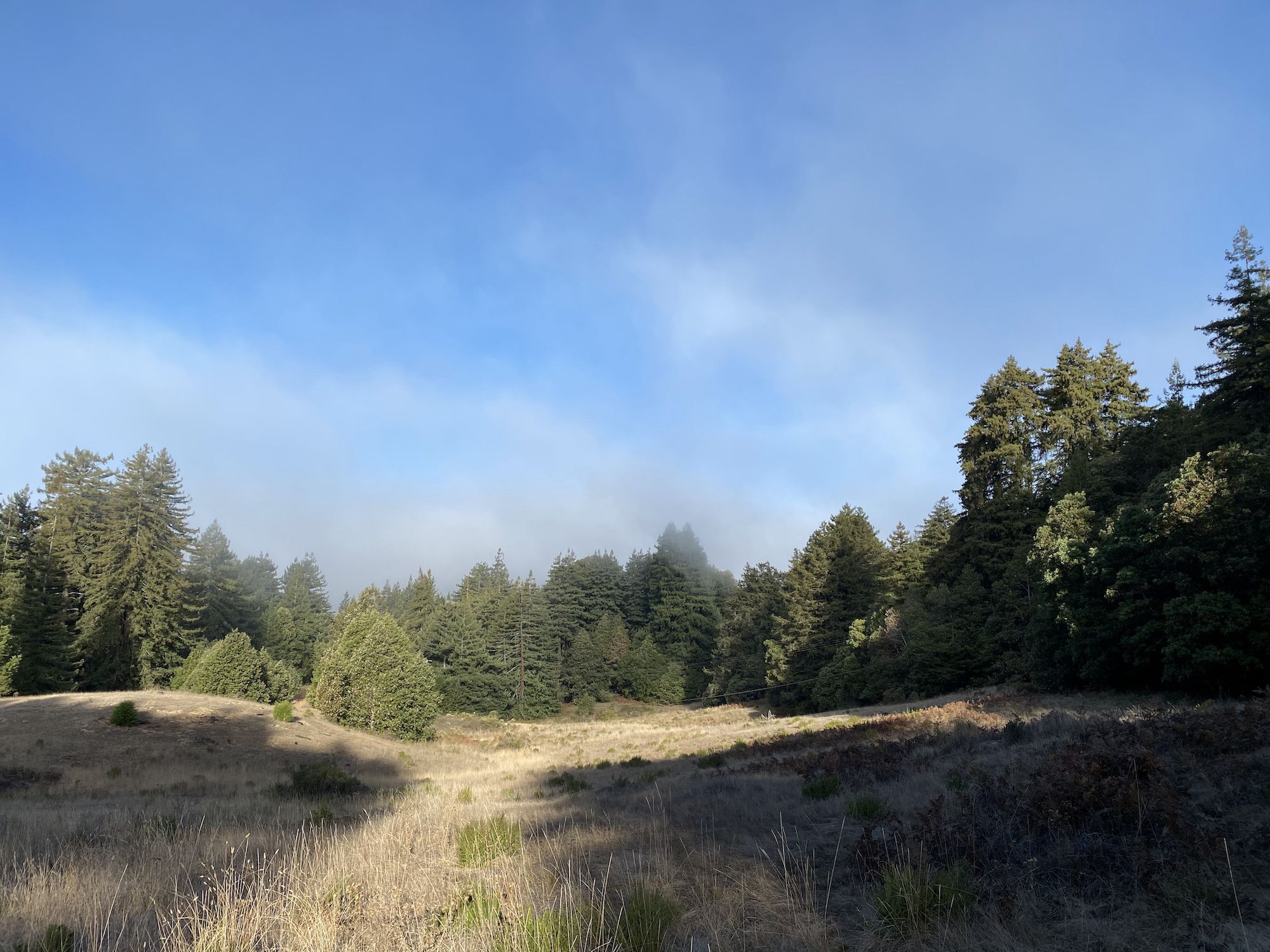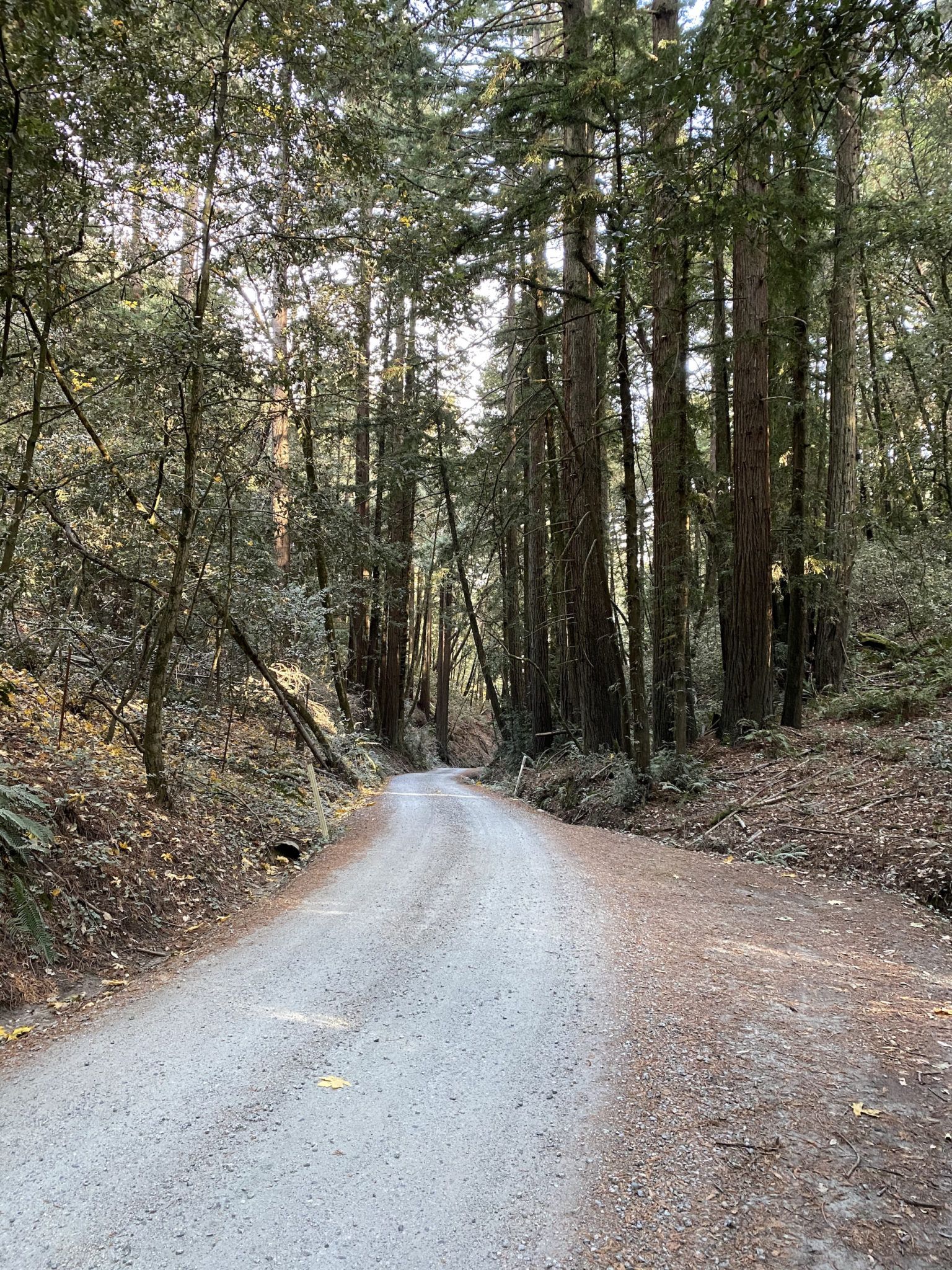 Mt Madonna Road was a narrow gravel road that snaked through redwoods, oak trees, and finally through fields and vineyards. The temperature plunged as I dropped into the thick marine layer blanketing the valley. It was barely above freezing at the bottom, and my glasses kept misting up with the dense fog.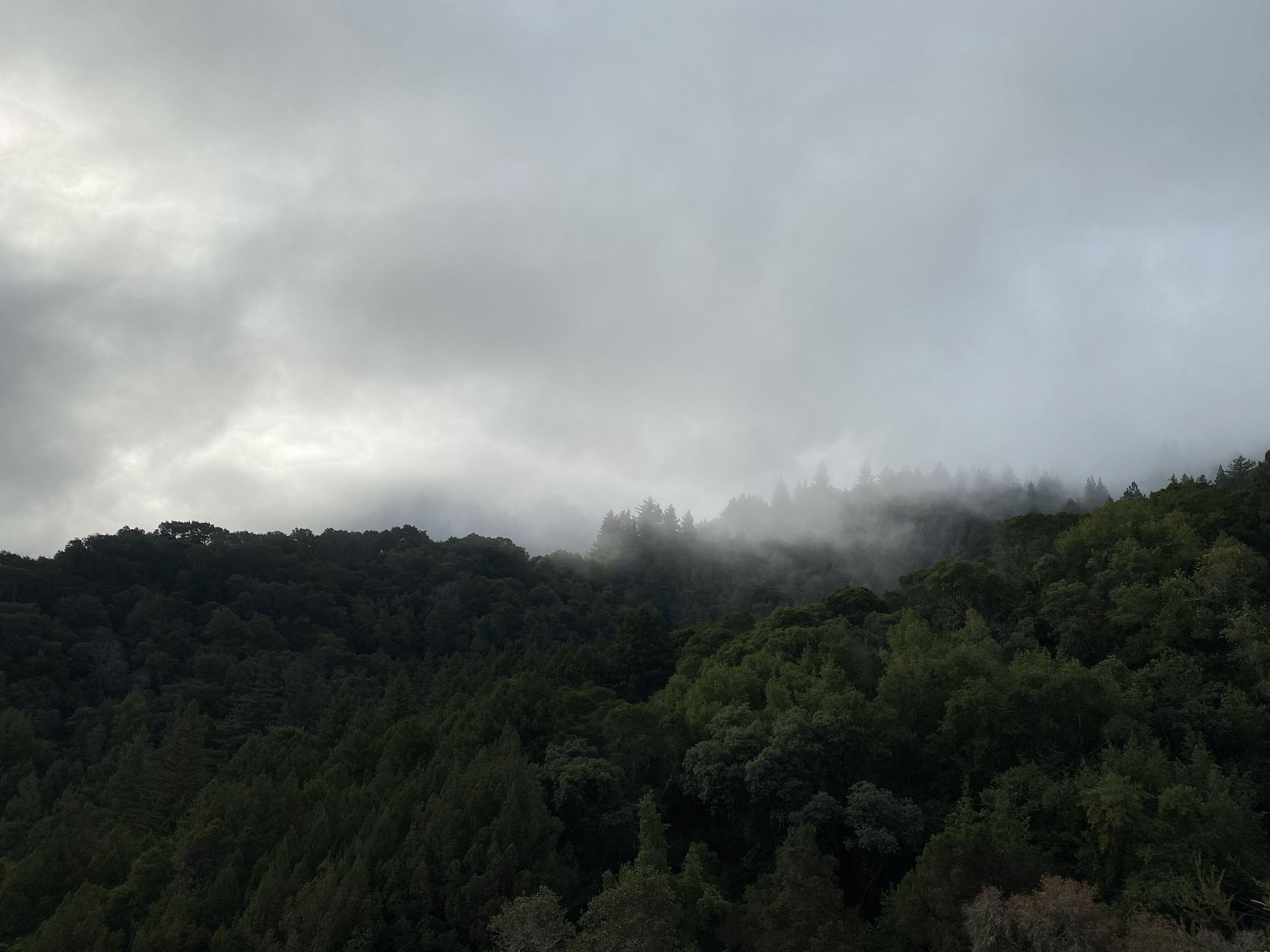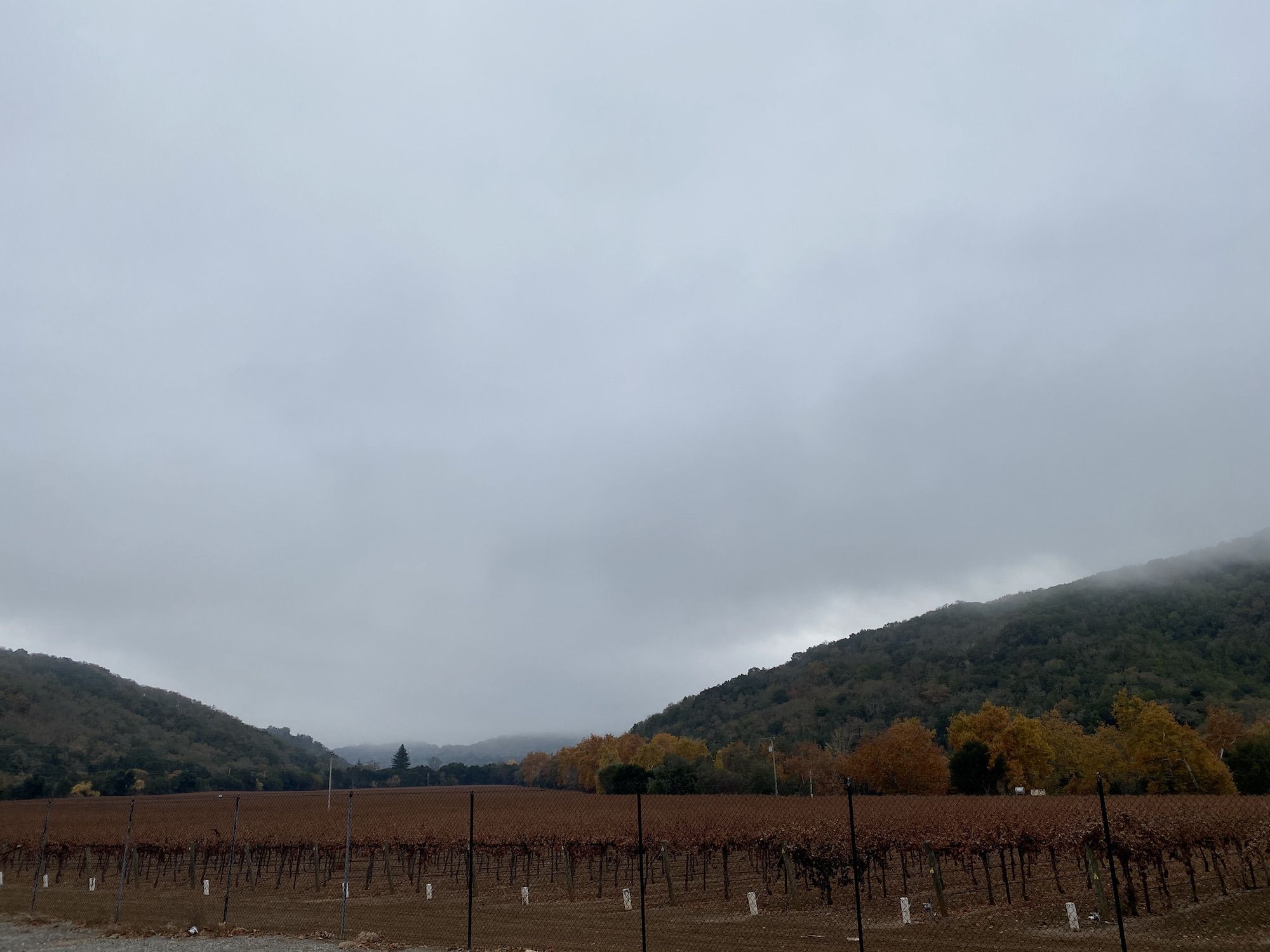 I rode through vineyards and farms along Watsonville Road. My next stop was downtown Morgan Hill to get a cup of warm coffee and a breakfast burrito.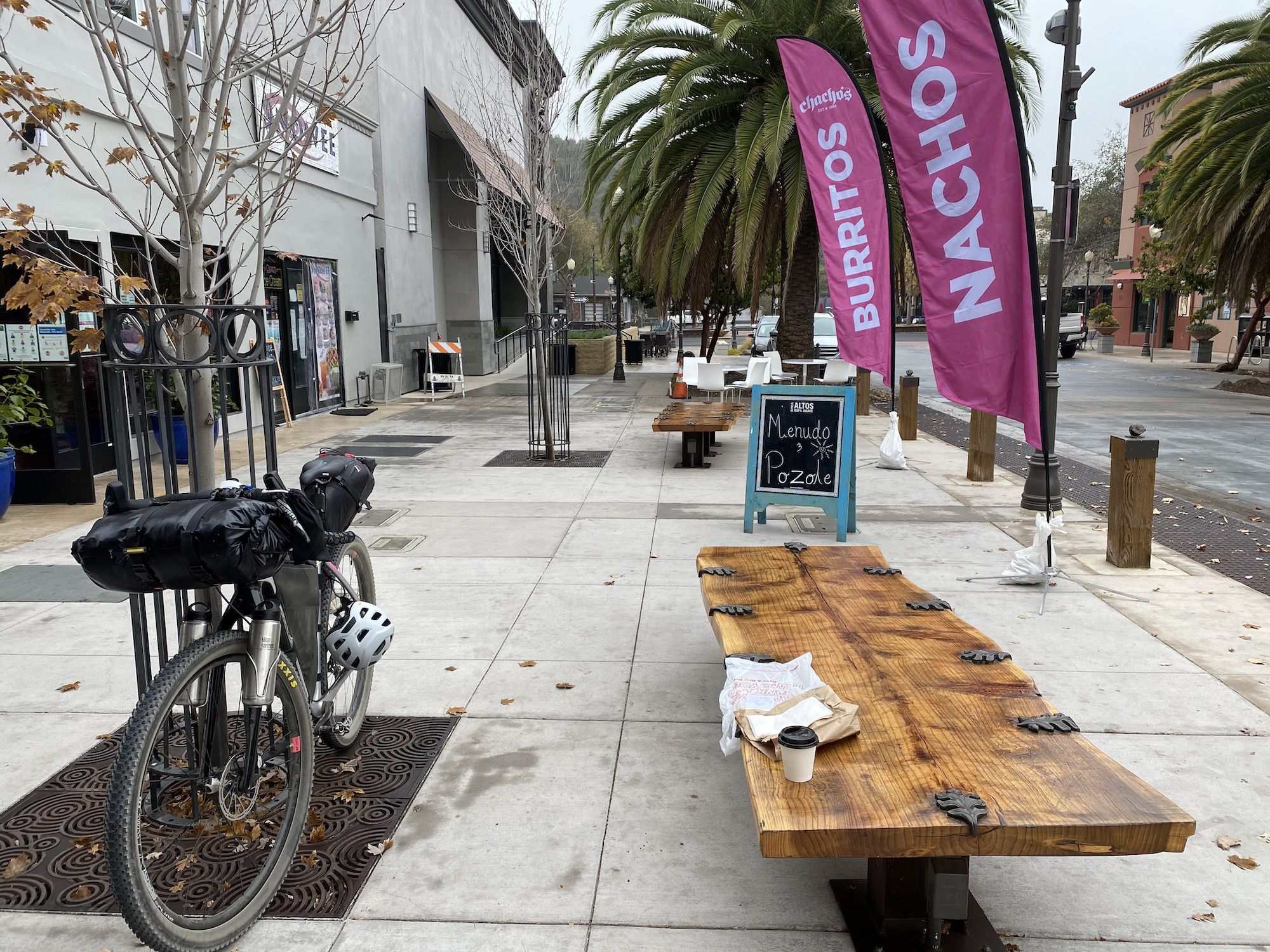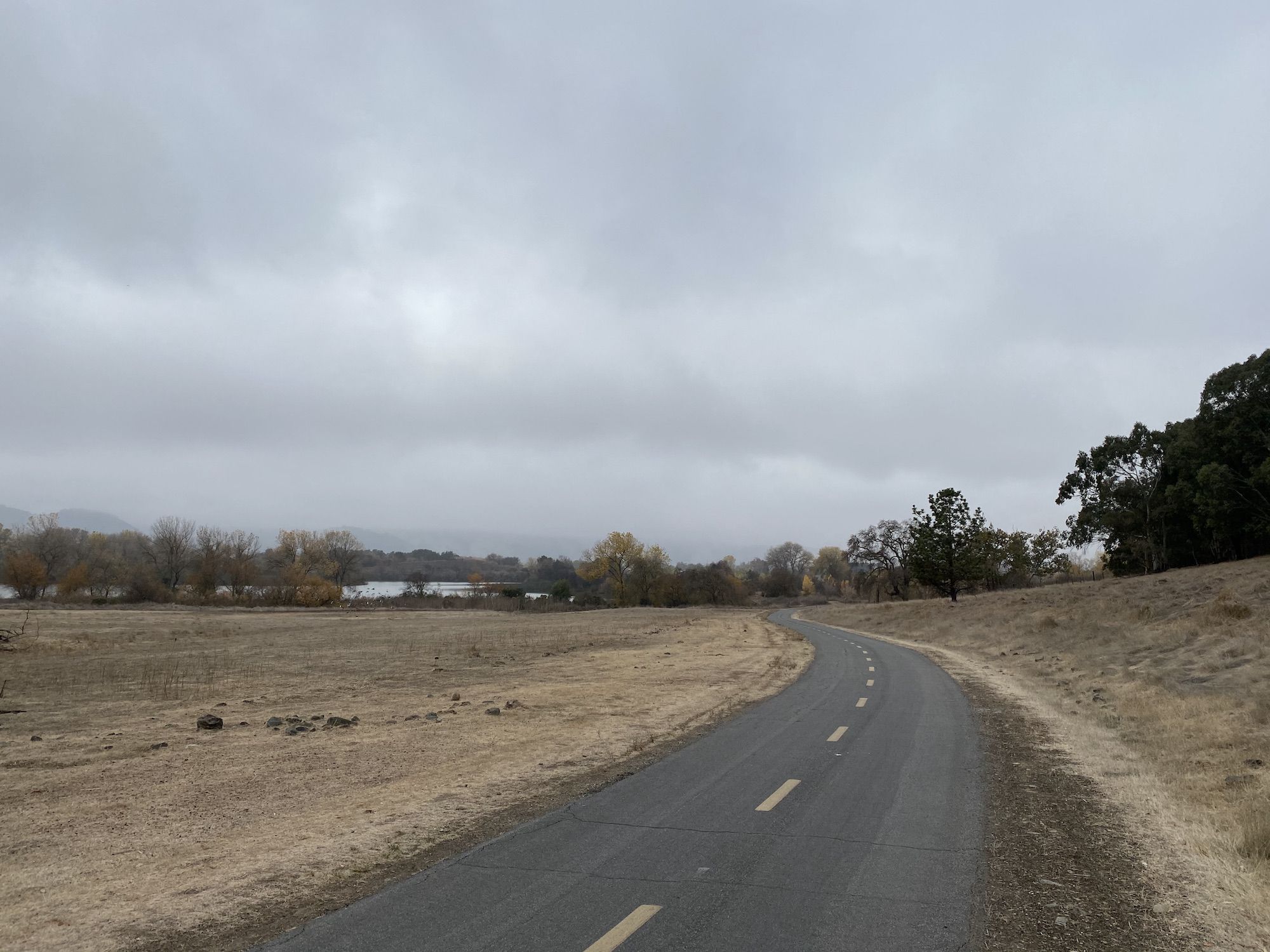 Fueled up, I continued towards Coyote Creek Trail. The trail is almost 20 miles long. Except for a detour through Coyote, it was nice to be off car roads. The landscape was still dry. A couple of days of rain in November had not been enough yet to begin turning the hills green.
Closer to San Jose, I once again found myself riding through homeless encampments. The stretch between Capitol Expressway and the airport is probably best avoided after dark.
I got home a little after one, a perfect time for lunch.
Gear