Rocky Mountain National Park backpacking trip with Andrew Skurka
Trip report from a 5-day Andrew Skurka adventure trip. We hiked off-trail in remote parts of the park and learned valuable backpacking skills while having a great time.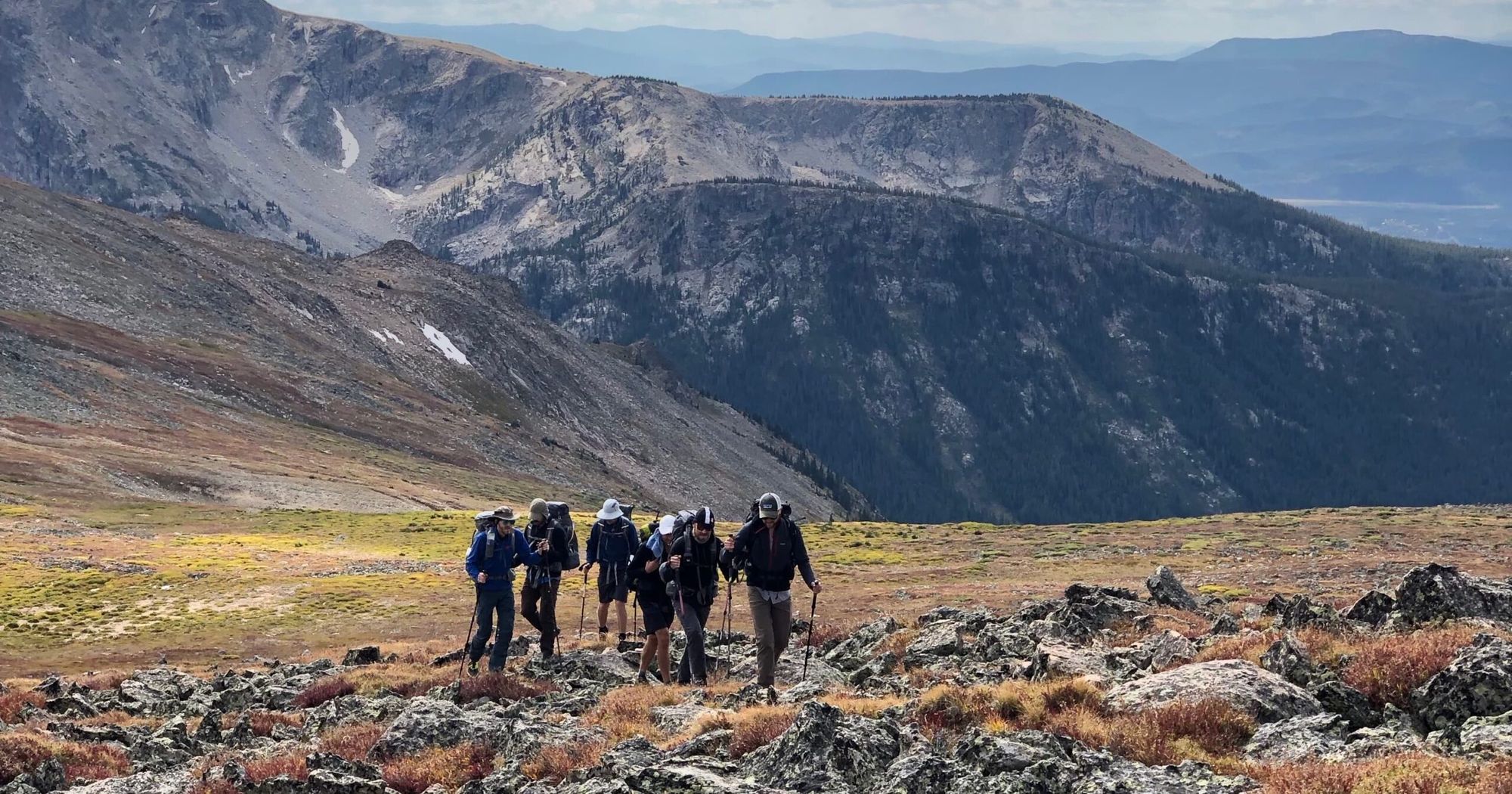 For me, the best way to learn new skills is to work with experts. Most of my backpacking has been on established trails until now. I wanted to learn the skills needed to safely and confidently start planning my own off-trail adventures. Andrew Skurka is one of the backpackers who I've followed online for several years. I've learned a lot from his insightful articles and videos, so when I saw that he's arranging guided trips, I knew I wanted to go on one.
I applied for Andrew Skurka's adventure trips the day the application period opened. After a few emails back and forth, I ended up choosing a high-intensity adventure group heading to Rocky Mountain National Park in September.
Trip planning and preparation
We started preparing for the trip already early in the spring. Andrew had built up an online curriculum that covered the most important aspects of getting ready for a trip. Andrew has a useful guide covering most of the skills and preparation you need to get started with backpacking on his website.
The main things we covered are:
Assessing conditions
Having the right gear
Fitness and training
Route planning and navigation skills
Food
Gear for a fall trip in the Rocky Mountains
One of the most essential parts of the preparations was getting the right gear. The guides went through our gear lists ahead of the trip to ensure we have everything we need, and that we don't have things we don't need. My gear setup was very close to the one I had on the JMT and that I was used to.
When we planned the trip, Rocky Mountain National Park still required food to be stored in bear canisters. Over the summer, the requirement changed to allow Ursack bear proof bags, as long as they have an aluminum liner. No longer having to carry a bear canister, I decided to lighten my load a bit.
First off, I switched to a lighter Pa'lante Packs V2 Laminate backpack. I also decided to try some of the gear I don't regularly use: a bivy and tarp shelter, an alcohol stove, and Aquamira for water treatment. I wanted to see how I would enjoy using them. The last gear change was upgrading my watch from a Suunto 9 to a Garmin Fenix 6.
My base weight ended up being just over 11 lb. Fully loaded with food and fuel, I came in at just over 20 lb.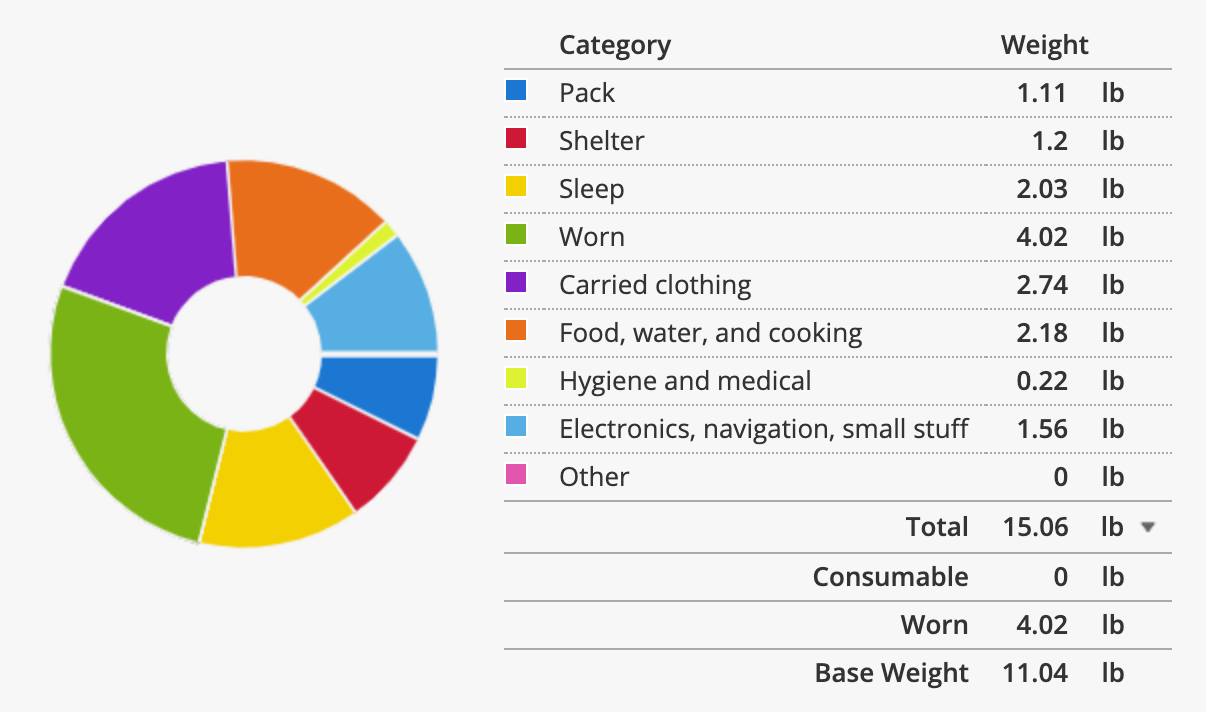 You can find my complete gear list on LighterPack.
Getting to the trailhead
I arrived in Grand Lake on Wednesday evening, so I would have time to acclimatize before the hike. I shared an Airbnb with four others from the trip. We had a lot of fun comparing gear and stories from earlier trips.
On the night before the hike, we went out for dinner at a local BBQ joint and met up with most of the other hikers in our group. Everyone was excited to get out there.
Day 1 – Into the wilderness
We met Andrew and the guides at the trailhead in the morning. Another group was also heading out on the same route, only in the opposite direction.
My group was led by Mike Clelland! and Justin Simoni. I had read Mike's Ultralight Backpackin' Tips book a few years earlier and was excited to meet him. Based on a quick Google search, I knew that Justin is an ultra-endurance adventurer who's hiked and biked incredible trips. I knew I'd be learning a lot from these two.
Before heading out, we got a final gear shakedown from the guides. They handed out breakfasts and dinners along with some shared group items.
Some in the group had requested demo gear from Andrew. The most popular item was a hammock. Many wanted to try hammock camping because almost all the campsites we would be staying at were heavily used and prone to flooding.
Finally, we headed out on the trail!
The weather was beautiful – clear blue skies with a perfect hiking temperature. We headed out from a popular trailhead, which meant that there were a lot of day hikers on the trail. We decided to split up our group into two smaller groups to make it easier for us and everyone else on the path.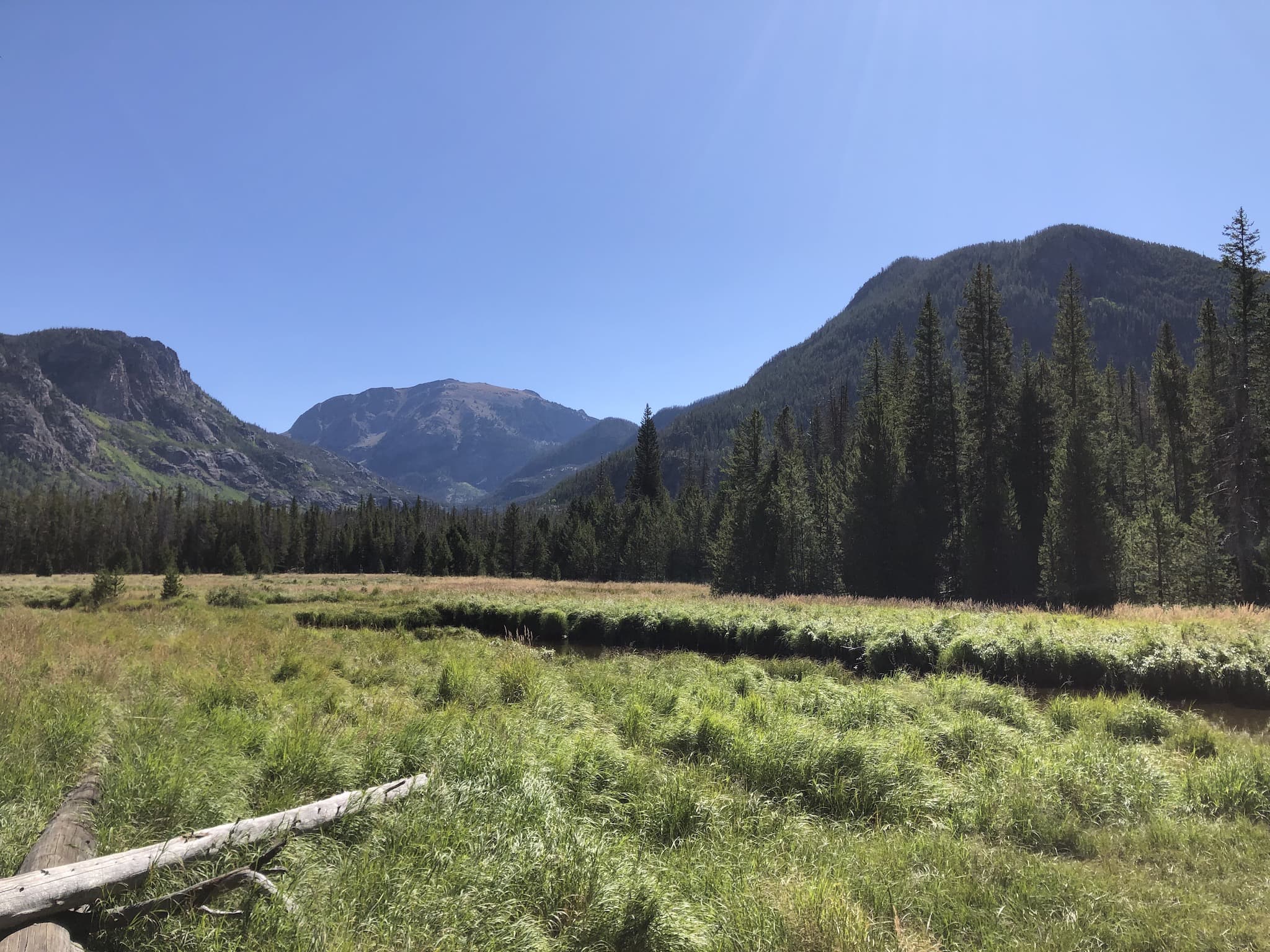 Our first stop was on a cliff overlooking the valley we had just walked through. We sat down for some snacks and to find ourselves on the map. Map and compass navigation was one of the primary skills I wanted to practice on the trip, and we got to start practicing right away.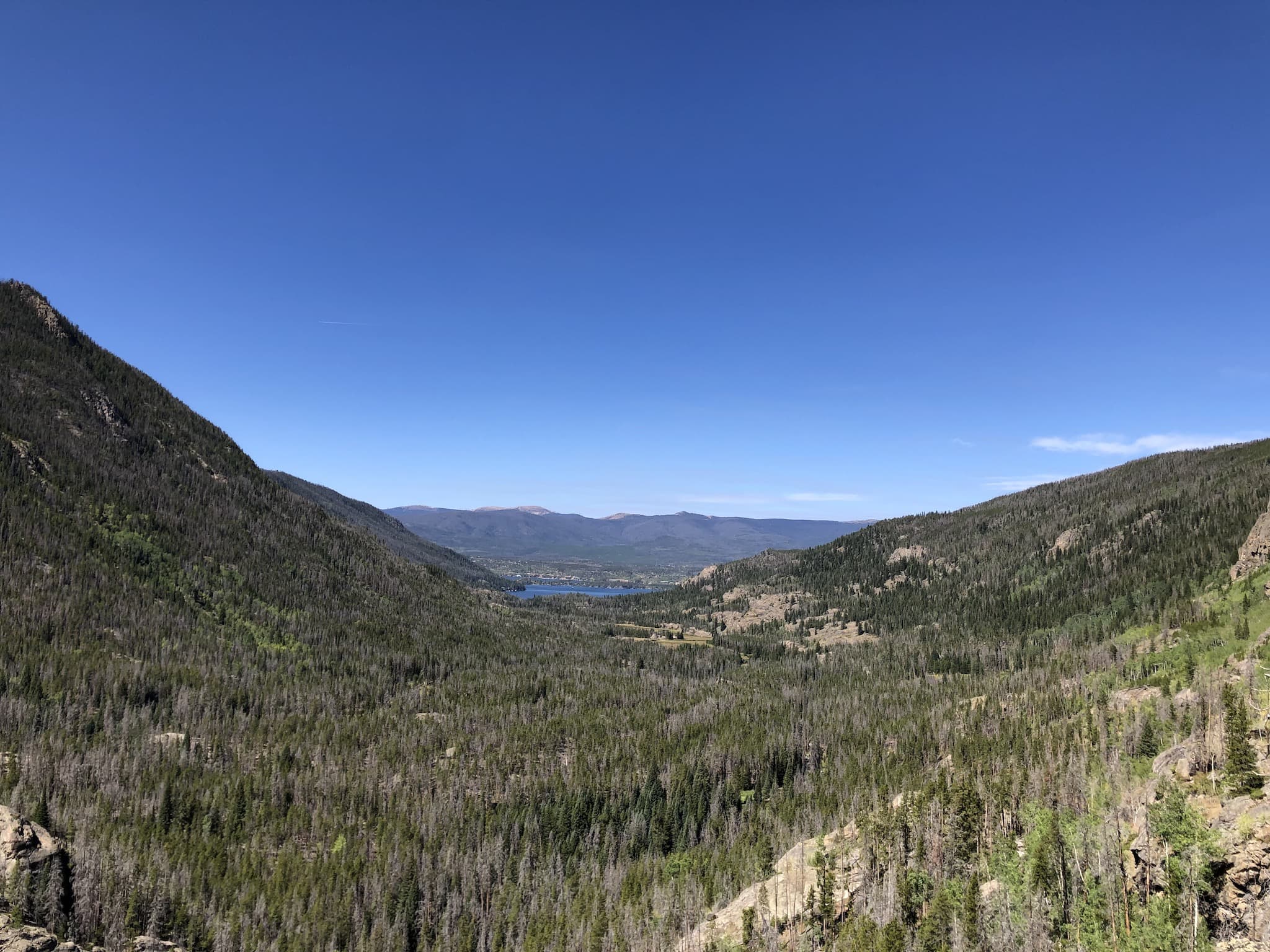 We continued up the valley and decided to meet up again at the far side of the next lake. At the lake, we left the trail and made our way through the forest to the meeting point. Walking through the bilberry shrubs and conifers reminded me a lot of walking through woods in Southern Finland. We even saw a moose.
Everyone in the group was using Aquamira for water treatment. To make the process easier and faster, we had a small bottle of premixed A+B that we could use whenever we needed to treat water. With the clean water up in the mountains, we only needed seven drops per liter, which left no noticeable taste in the water.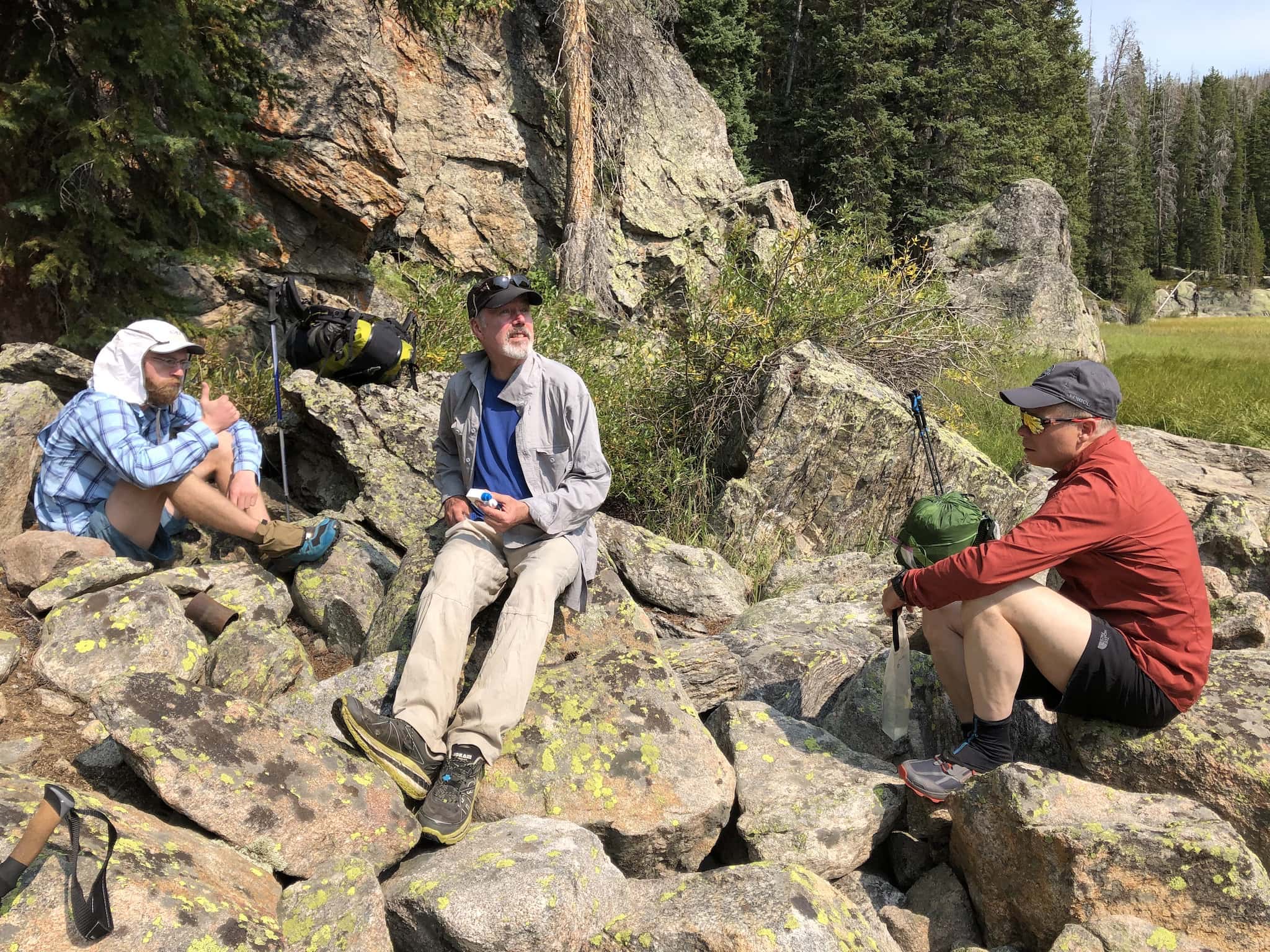 We continued our navigation lesson. We covered reading topographical features on maps, how to orient the map and how to find and transpose bearings. We made sure our compasses were adjusted for the correct declination.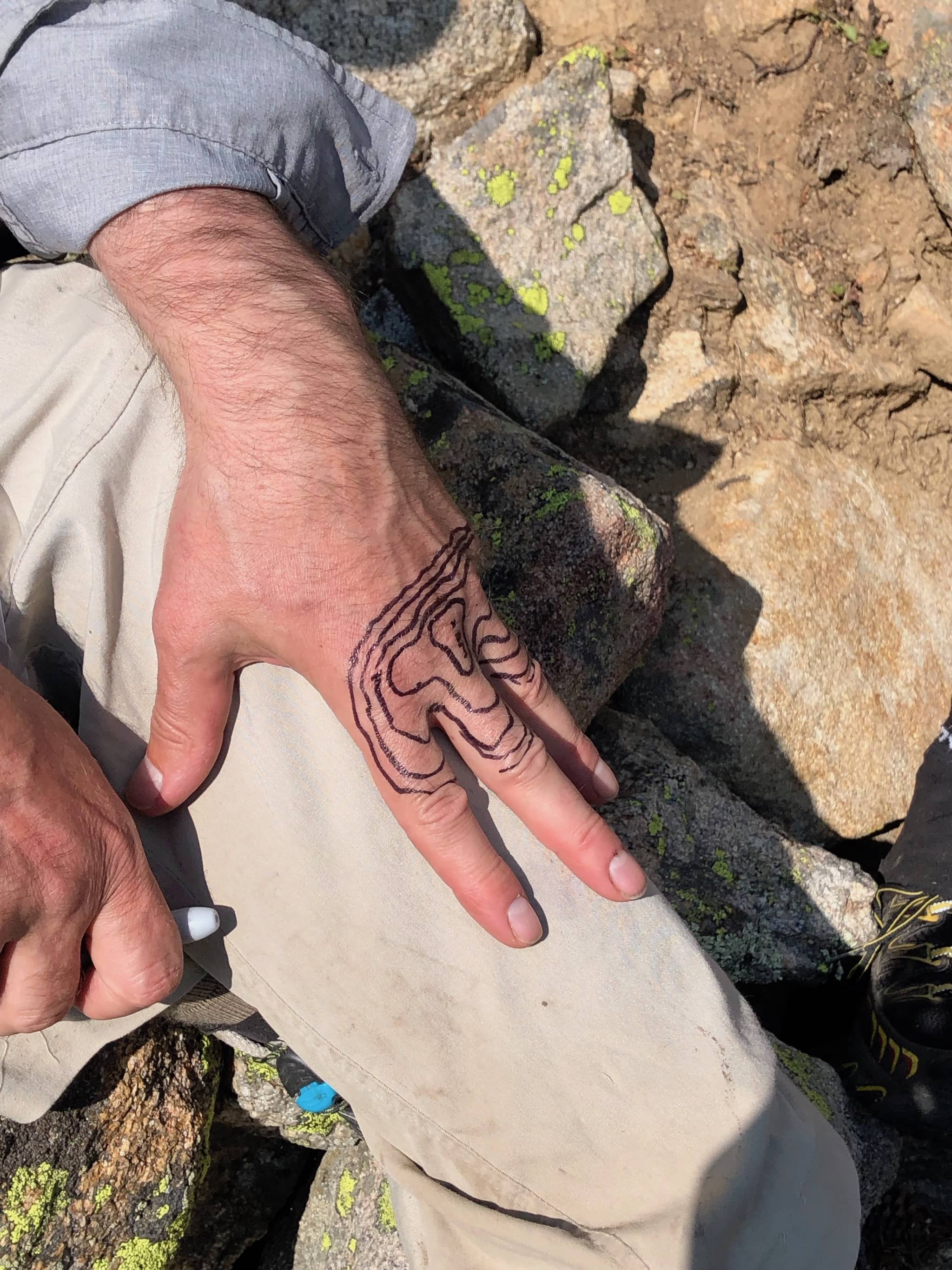 After the navigation lesson at the lake, we only had about a mile left to our campsite. We were at camp with plenty of daylight left.
We continued our skill workshops with a lesson in Leave No Trace: how to poop in the woods and use natural material for wiping. Mike managed to convince even the staunchest skeptics to give it a try.
Before dinner, we set up the hammocks as a group. Nobody had previous experience with hammocks, but we made it work. We learned useful knots for setting up the tarp and getting a tight pitch.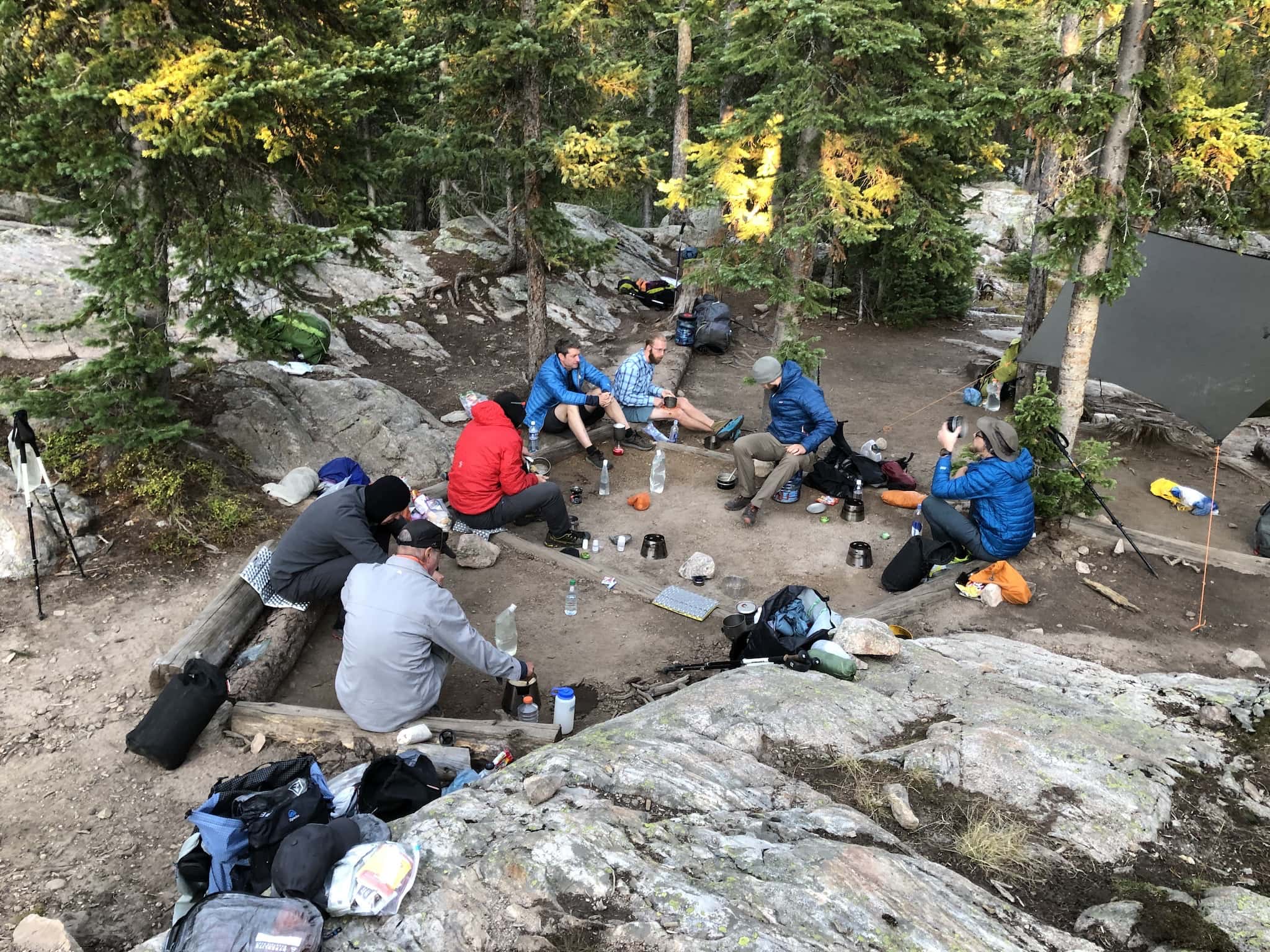 We practiced the use of alcohol stoves while making the first night's dinner. Several people in the group had borrowed or brought their own alcohol stoves, and it was the first time using an alcohol stove for most. The Caldera Cone stove was the most popular one. It was a lot more stable and efficient than my Evernew stove setup.
After a filling dinner, half the group and I continued to another campsite. It was just starting to get dark. We ran into a moose on a narrow section of trail with steep cliffs on either side. We walked slowly behind it until it finally found a way into the forest.
It was a clear evening and no chance of rain, so I only set up my bivy for the night. My first impressions of using a bivy weren't that great. Things that are easy in a tent, like putting on more layers, requires you to get out of the bivy. But having a full view of the star sky was a big plus.
Day 1 stats

| | |
| --- | --- |
| Distance | 7.6 miles |
| Ascent | 2,800 ft |
| Descent | 960 ft |
Day 2 – Off-trail hiking through high alpine landscapes
We woke up at sunset, at 6 AM. The other group that we'd left behind at the earlier campsite hiked up and met us at our campsite for breakfast before we headed out.
Unlike the first day, the second day would be mostly off-trail. The trail we had followed the day before became narrower and less well maintained as we continued up. We passed two beautiful lakes. It was still early, and the wind hadn't picked up yet, so the lakes were like mirrors.
Finally, we left the trail and started making our way up a steep hill towards an unnamed pass.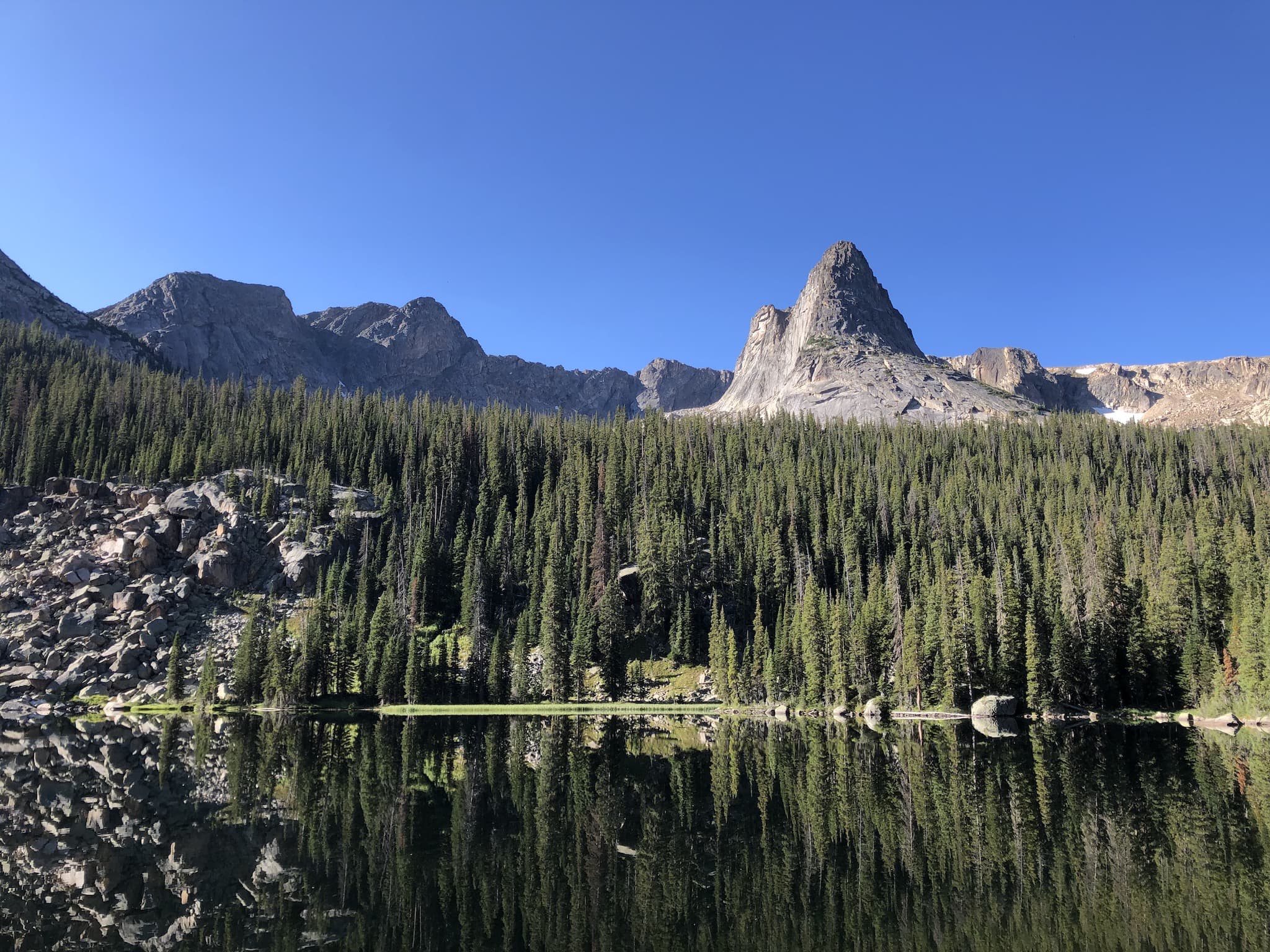 The terrain looked somewhat steep, but straightforward on the map. But in real life, we ran into steep cliffs that we needed to navigate around. The first big lesson in off-trail navigation for me was that 40ft contour lines can hide a lot of significant terrain features.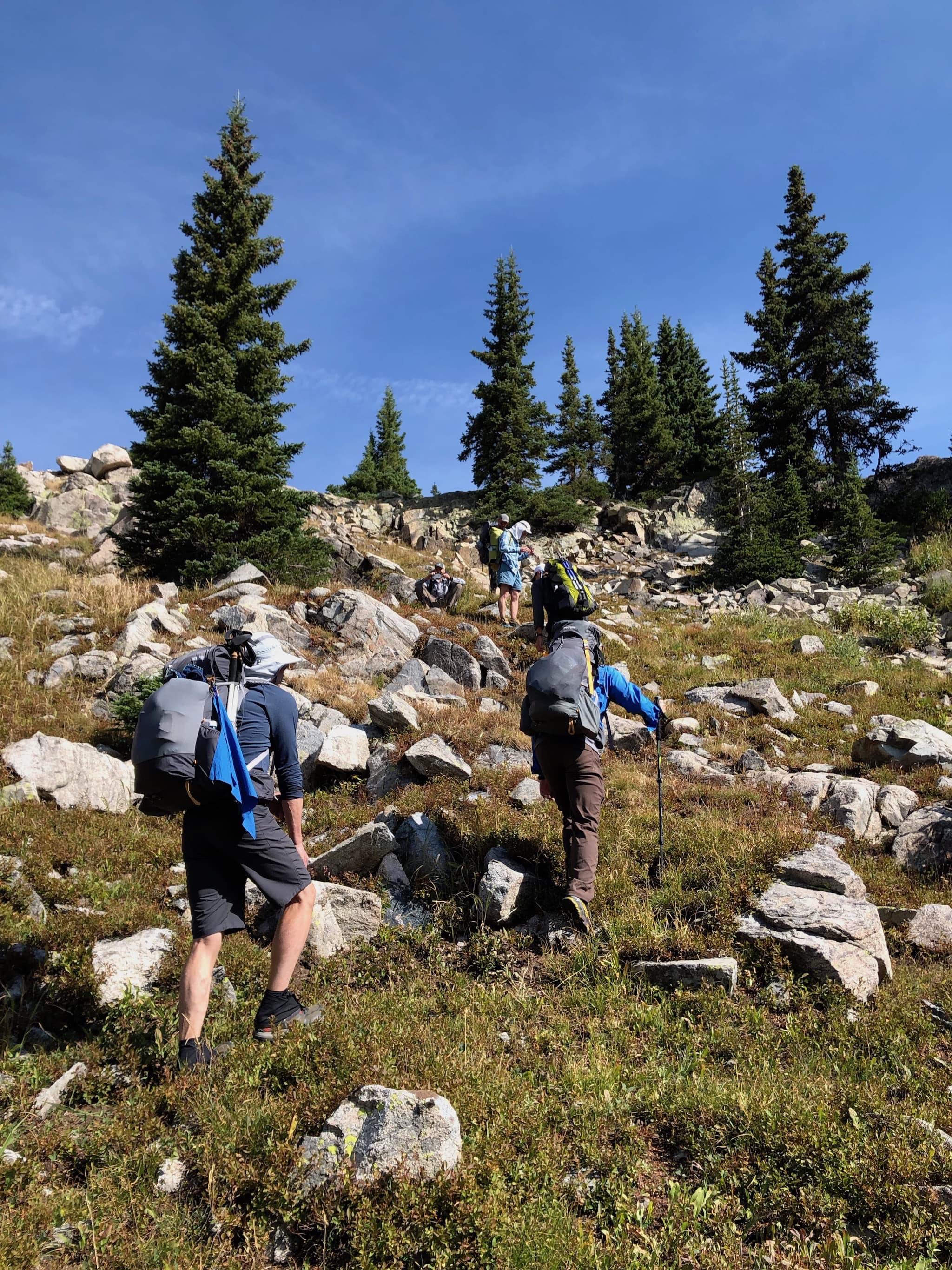 As we got higher, the thick forest and fallen trees started giving way to a more open landscape. The final push was through a grass field that covered talus.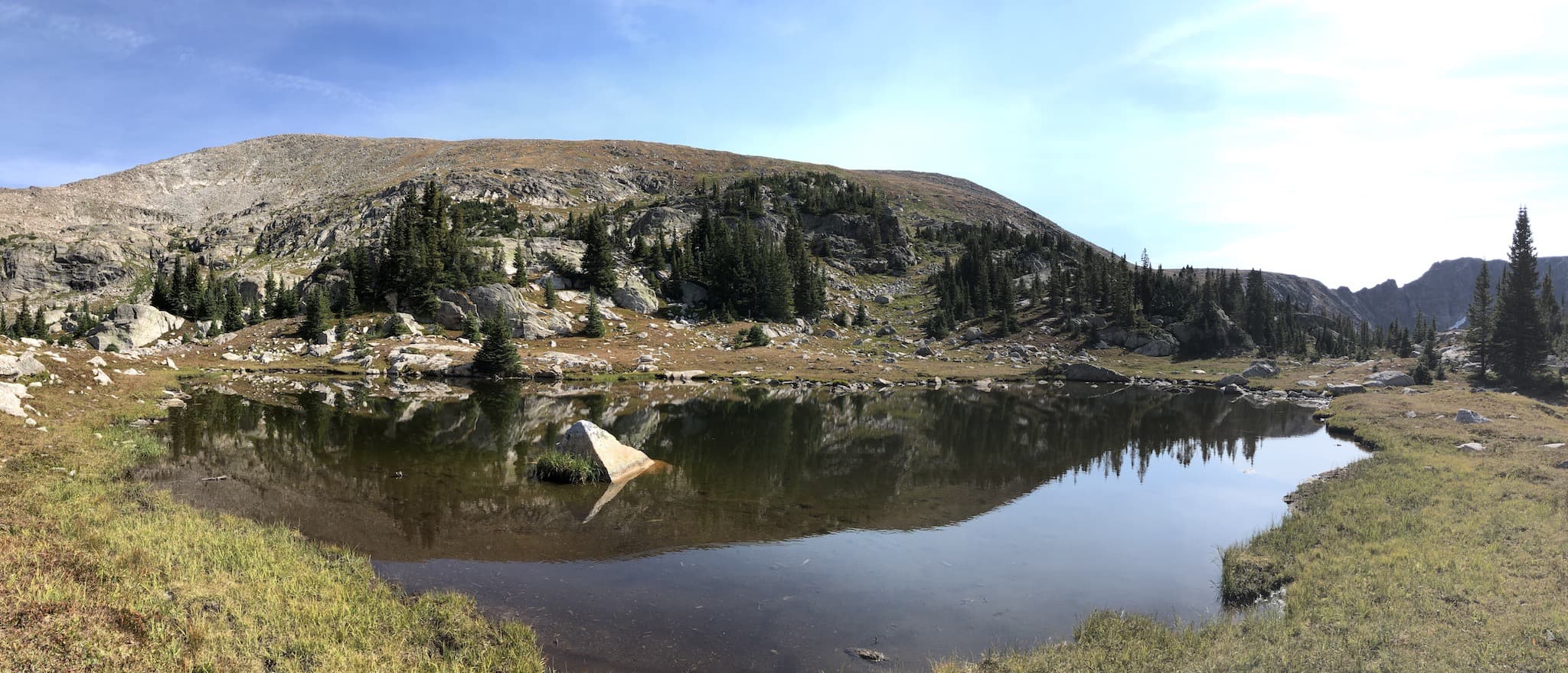 Once we got to the top, we got expansive views of the high country we would be traveling through for the next couple of days.
We were just around tree-line. There were occasional small trees sprinkled around the tundra, shrinking as we got higher into the mountains.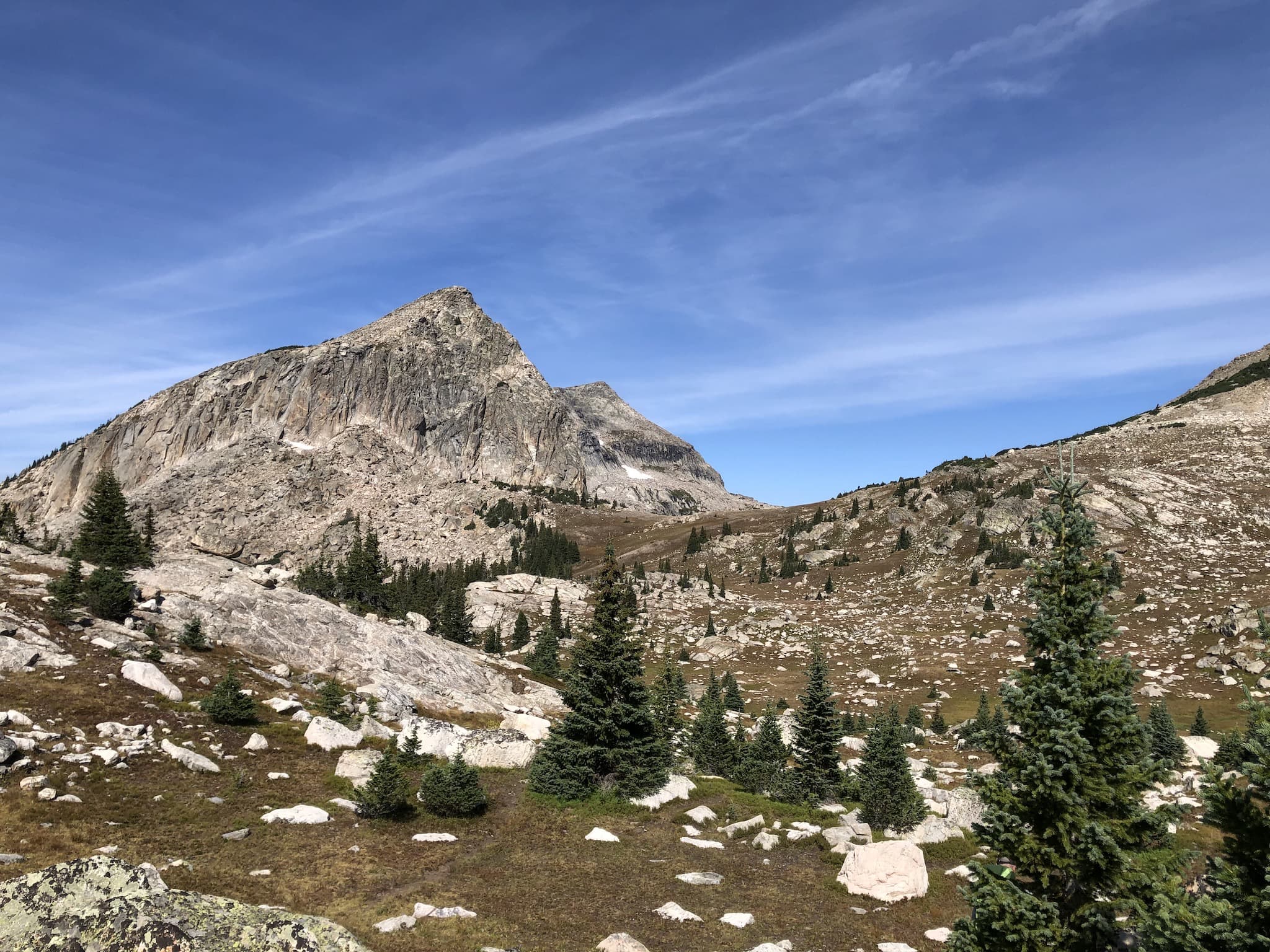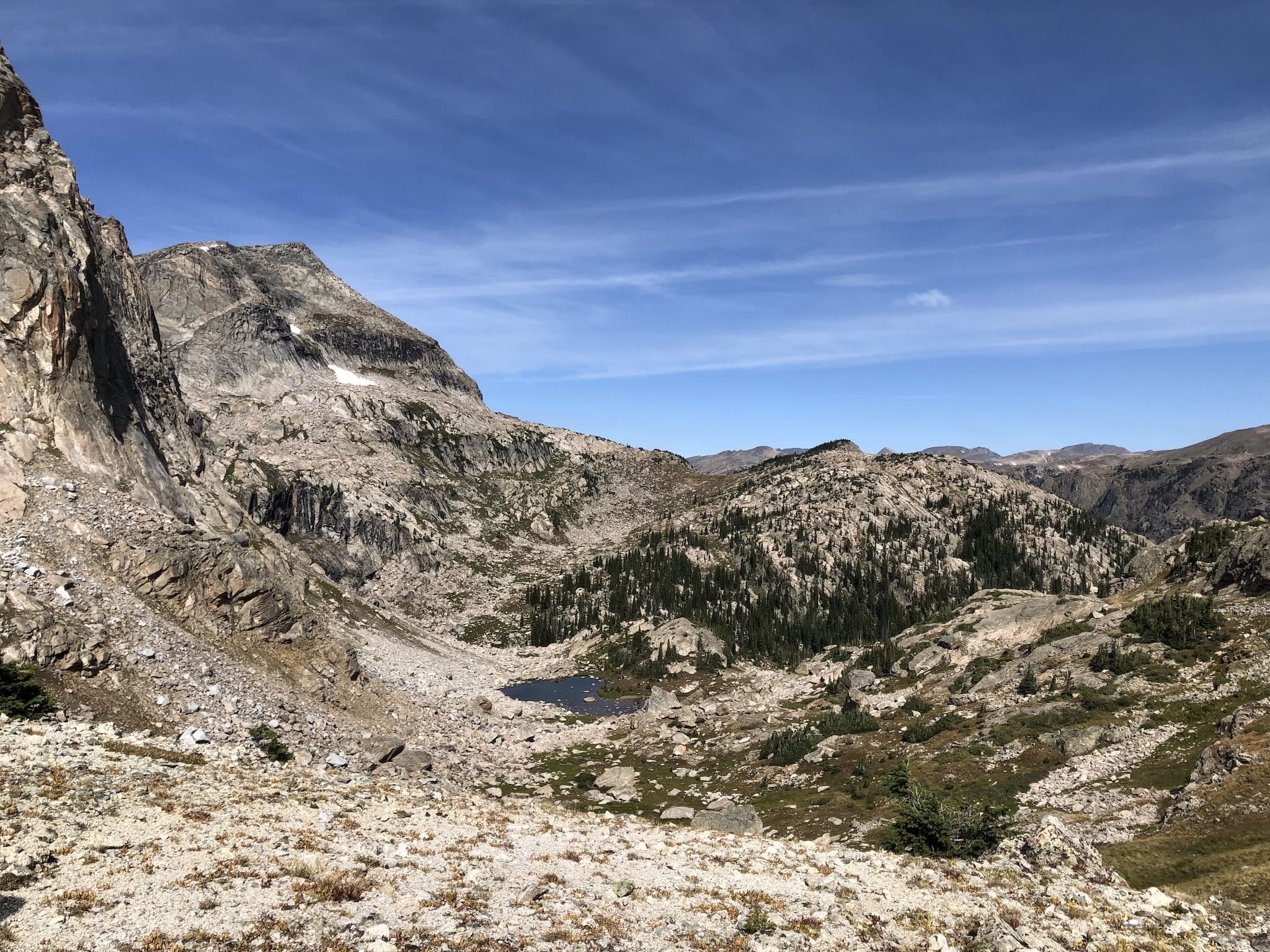 Our route took us over another pass, then down to a small lake before climbing back up over another pass. The tundra was easy to walk on, and the views just kept getting better.
Near the lake, we started running into larger and larger boulders. The climbers in our group took advantage of the situation and climbed up some of the rocks.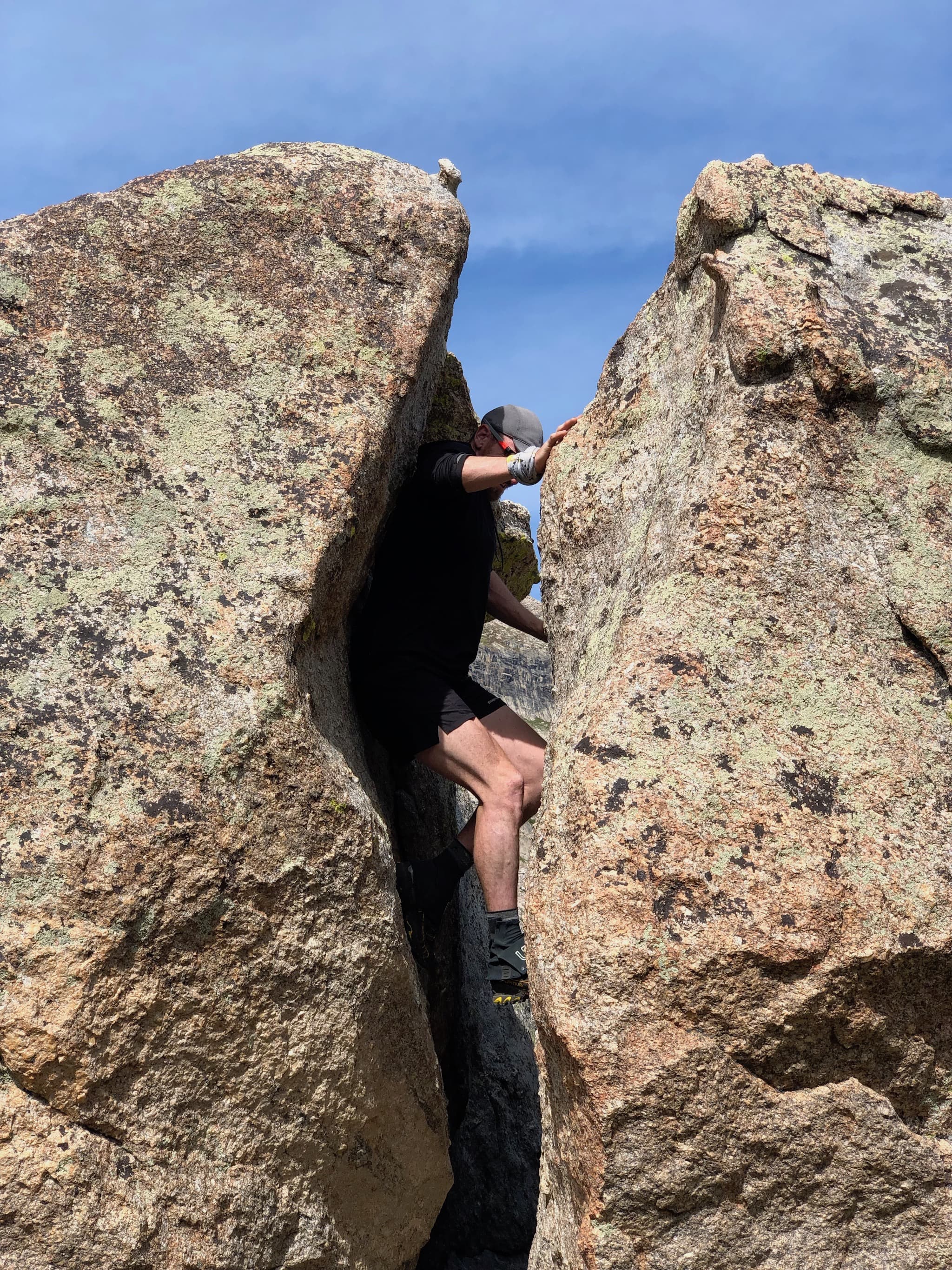 The boulders were a preview of what was ahead of us. Before we could start climbing up the next pass, we had to navigate through a talus field with rocks ranging from the size of a football to a car.
We spent a bit of time scouting a route before continuing. The rock-hopping wasn't bad at all, at times it was even fun. Having a small and light pack definitely made a big difference.
In the middle of the talus field, we met Andrew, who was out running. We stopped to chat for a while. After the talus field, the rest of the climb was straightforward but steep.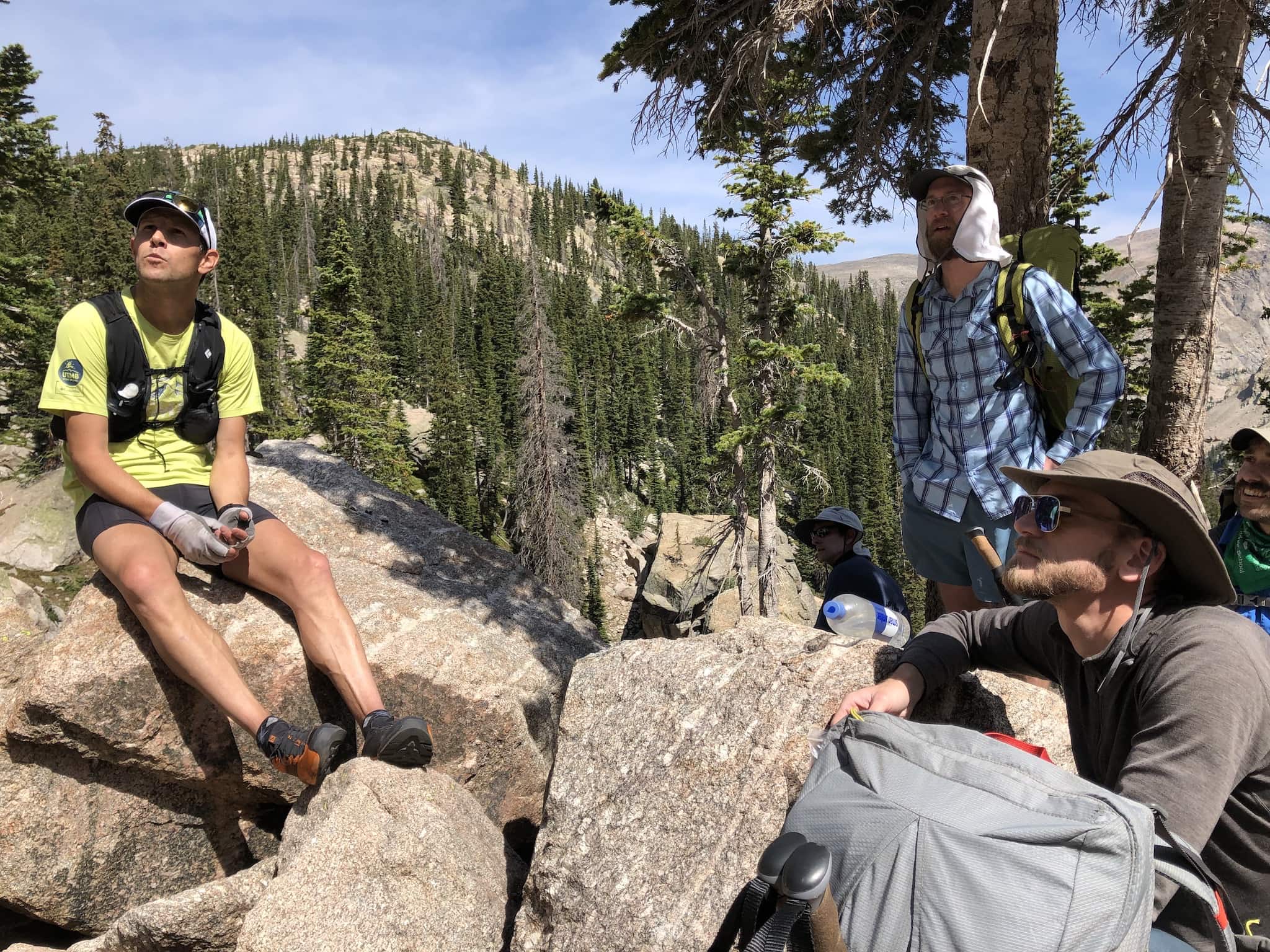 Some of the group wanted to go up to the top of a nearby peak. We decided to split up the group – Justin headed out with half of the group to ascend the mountain, while Mike would take the rest down to a lake for afternoon coffee. I felt like having a more relaxed afternoon, so I joined the group headed for coffee.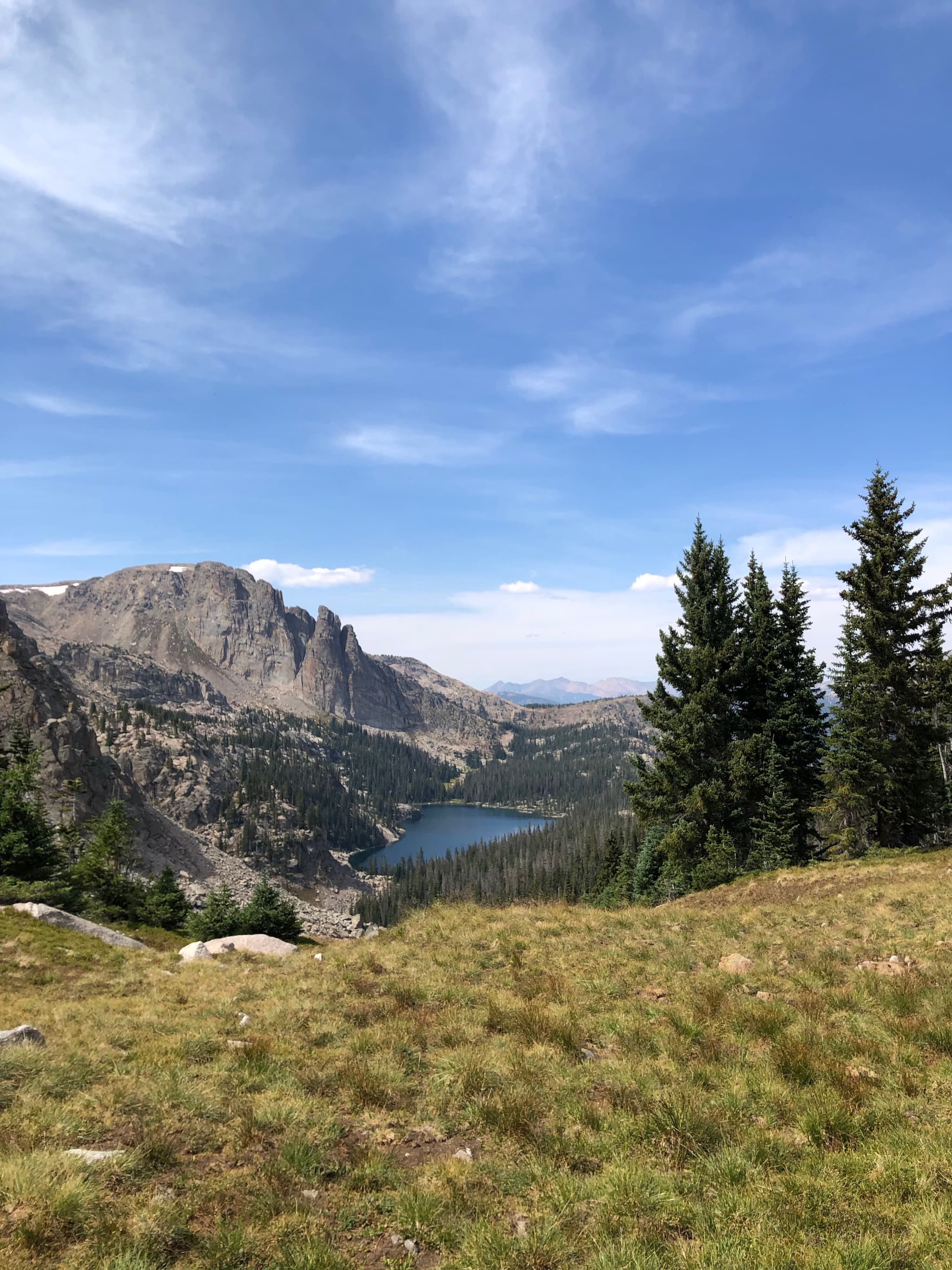 On the way to the lake, we dropped below tree-line. We learned to take advantage of animal trails to find the most accessible paths of travel. As long as you have a rough idea of the heading, you can often find animal trails that avoid drops, deadfall, and other obstacles.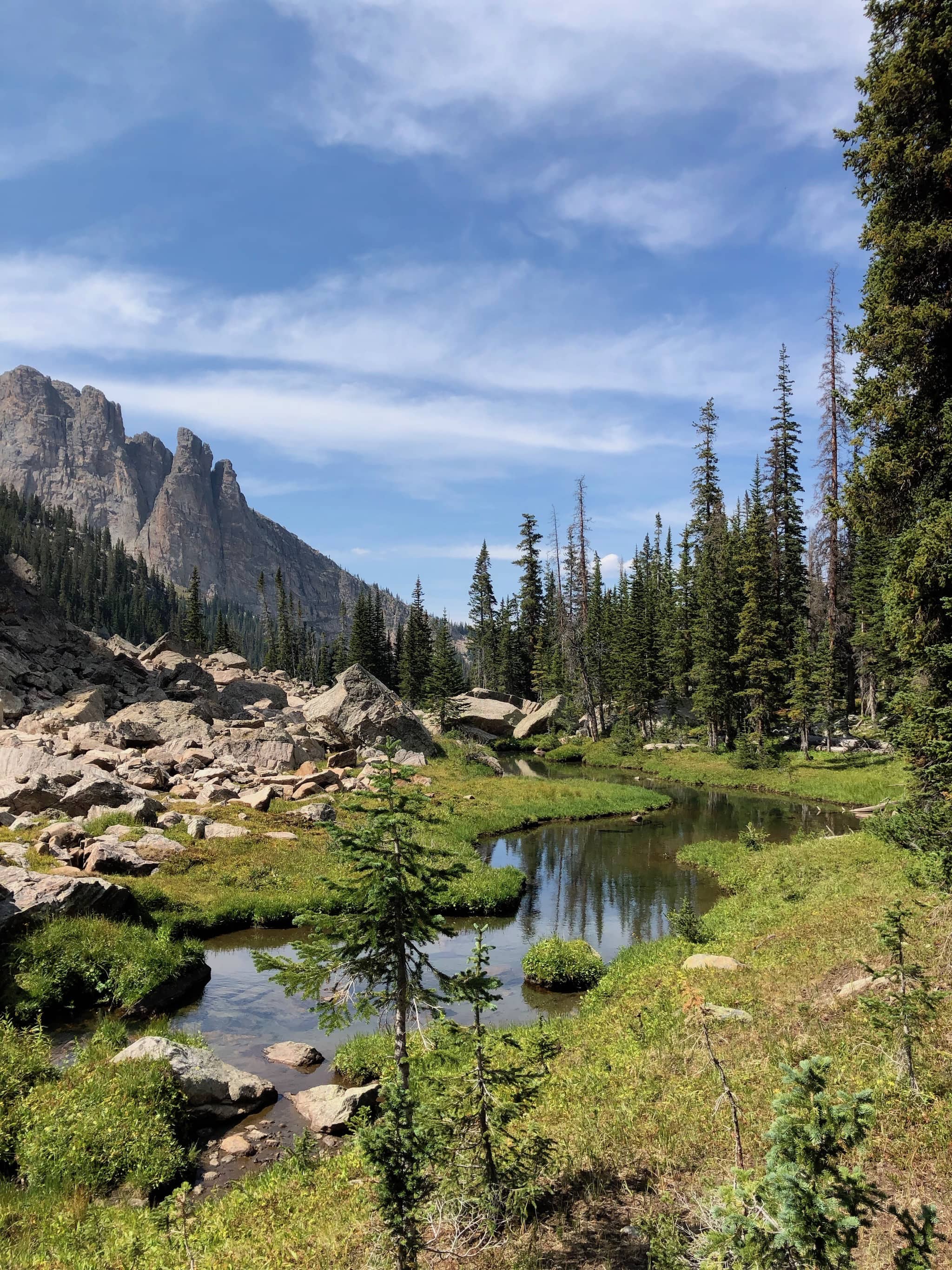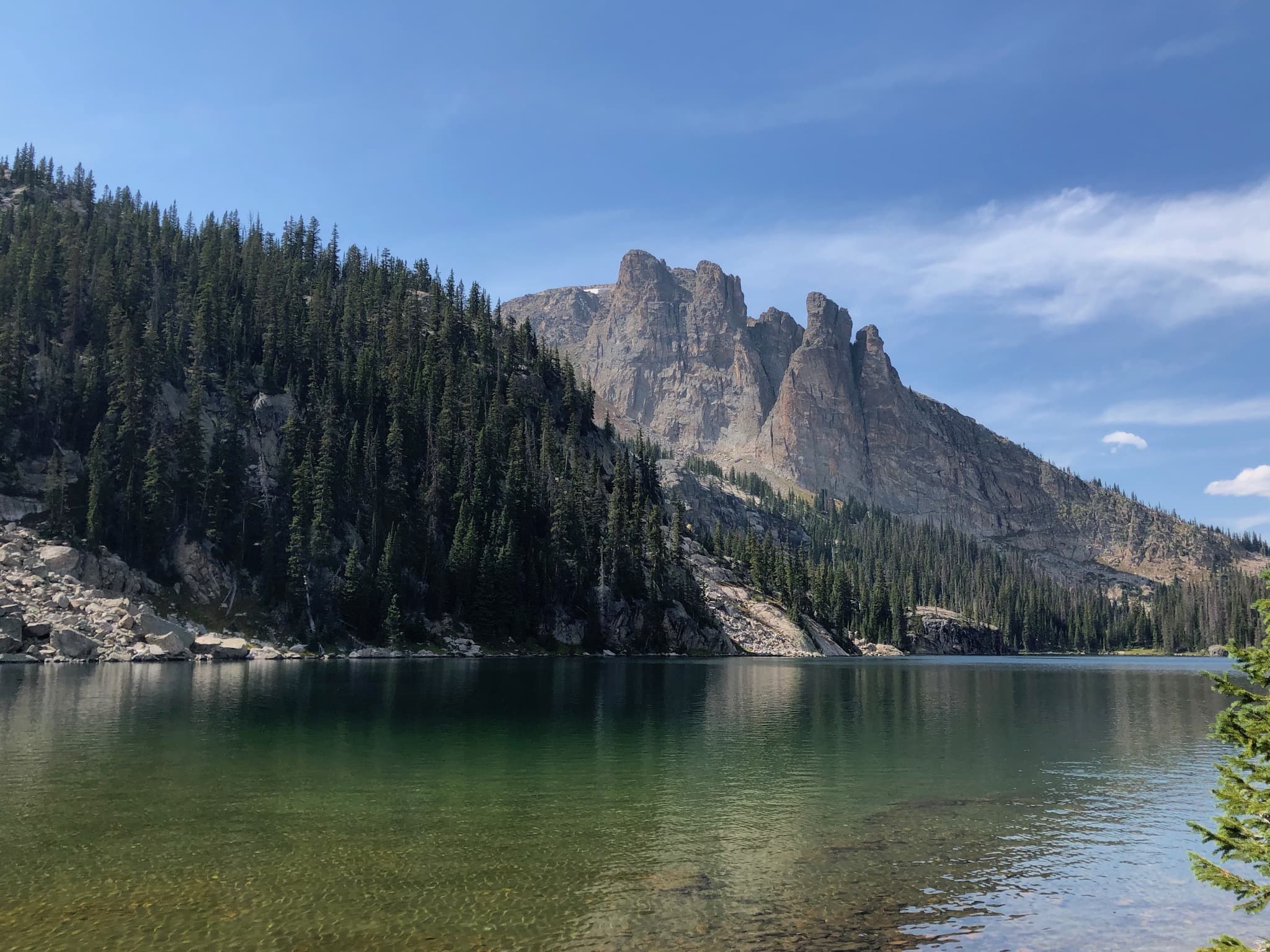 When we arrived at the lake, we got our coffee water going and went for a quick swim. The water was freezing cold, but refreshing.
We enjoyed ourselves at the lakeshore, soaking in the views, and having a good time.
Well caffeinated and rested, we continued down to our campsite. We rejoined a trail for the last few miles. The groomed trail and gentle grading made for quick travel.
On the way down, we could see the Continental Divide on the other side of the valley. That's where we were heading the next day.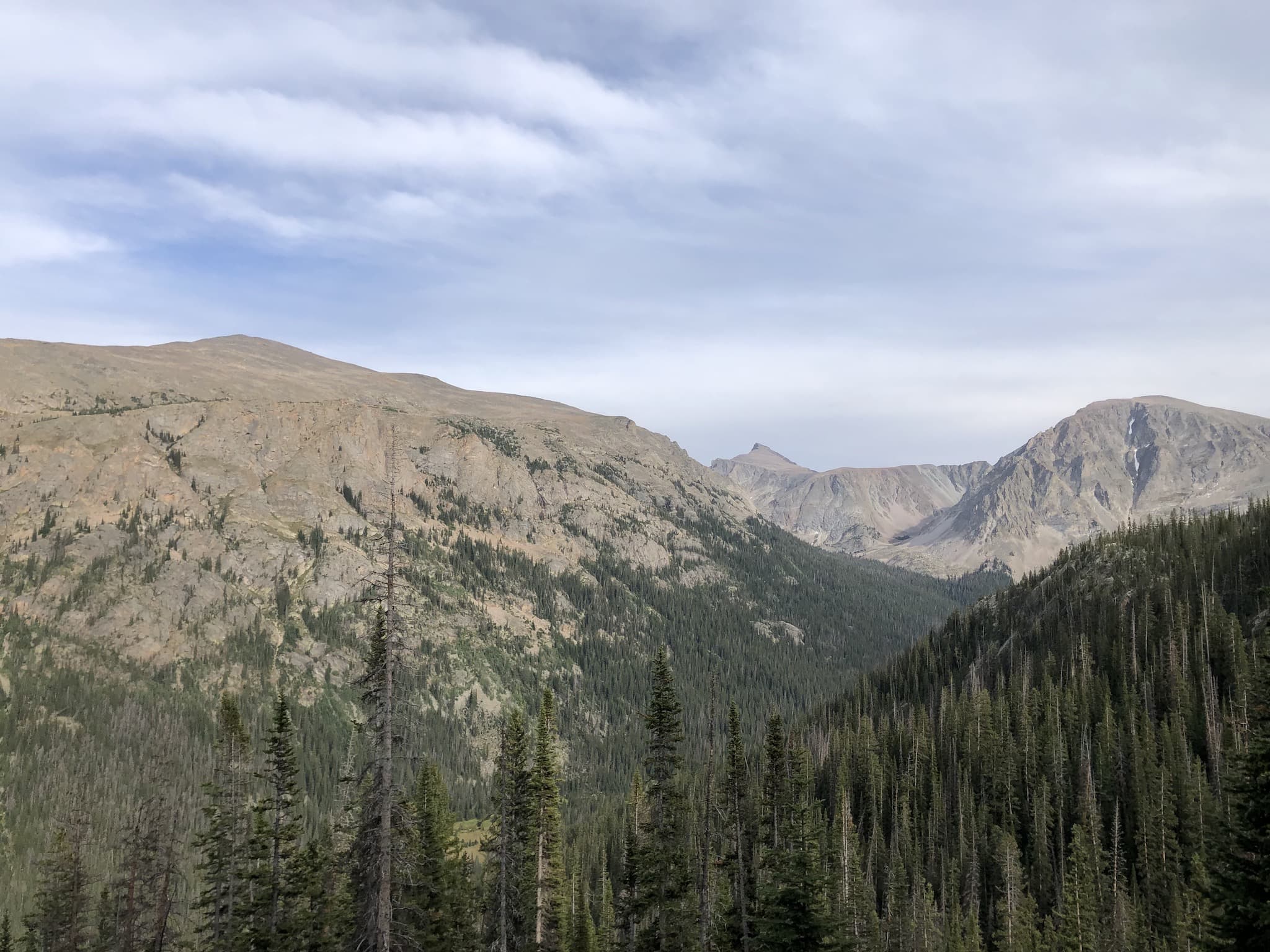 We got to the campsite and started getting ready for dinner. We expected the other group to come in after dark. It turned out that they had been pushing hard while we were taking it easy, and they got into camp about an hour after us.
We made dinner and stayed up listening to Justin tell stories about his adventures.
The weather was clear again, so I opted to cowboy camp and skipped both the tarp and bivy.
Day 2 stats

| | |
| --- | --- |
| Distance | 9.4 miles |
| Ascent | 2,500 ft |
| Descent | 3,200 ft |
Day 3 – Conquering the Continental Divide
This was the day I had been looking forward to the most since we first saw our route. We'd be climbing up to a peak on the continental divide, and then following it for a few miles, climbing a few smaller mountains on the way.
Our campsite was at 9,600 ft. Taylor Peak, where we were heading, is 13,153 ft tall, which meant we had a good morning workout ahead of us.
The first miles were on a trail. We slowly made our way up switchbacks ever higher, until we finally broke through the trees and into the open.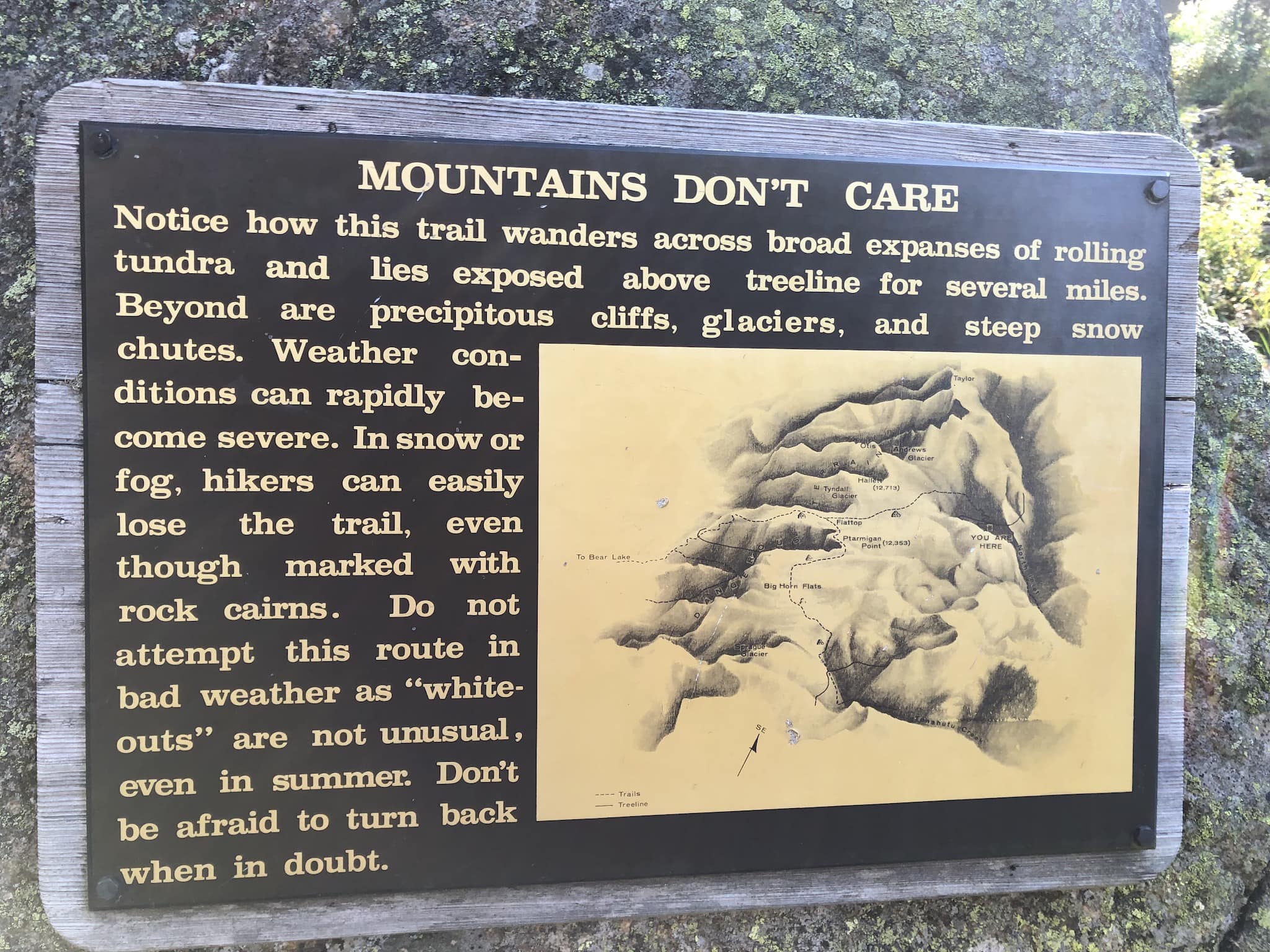 Suddenly, we were in this wide-open tundra. The first signs of fall were already showing in the red colors of the plants. We had another beautiful day ahead of us.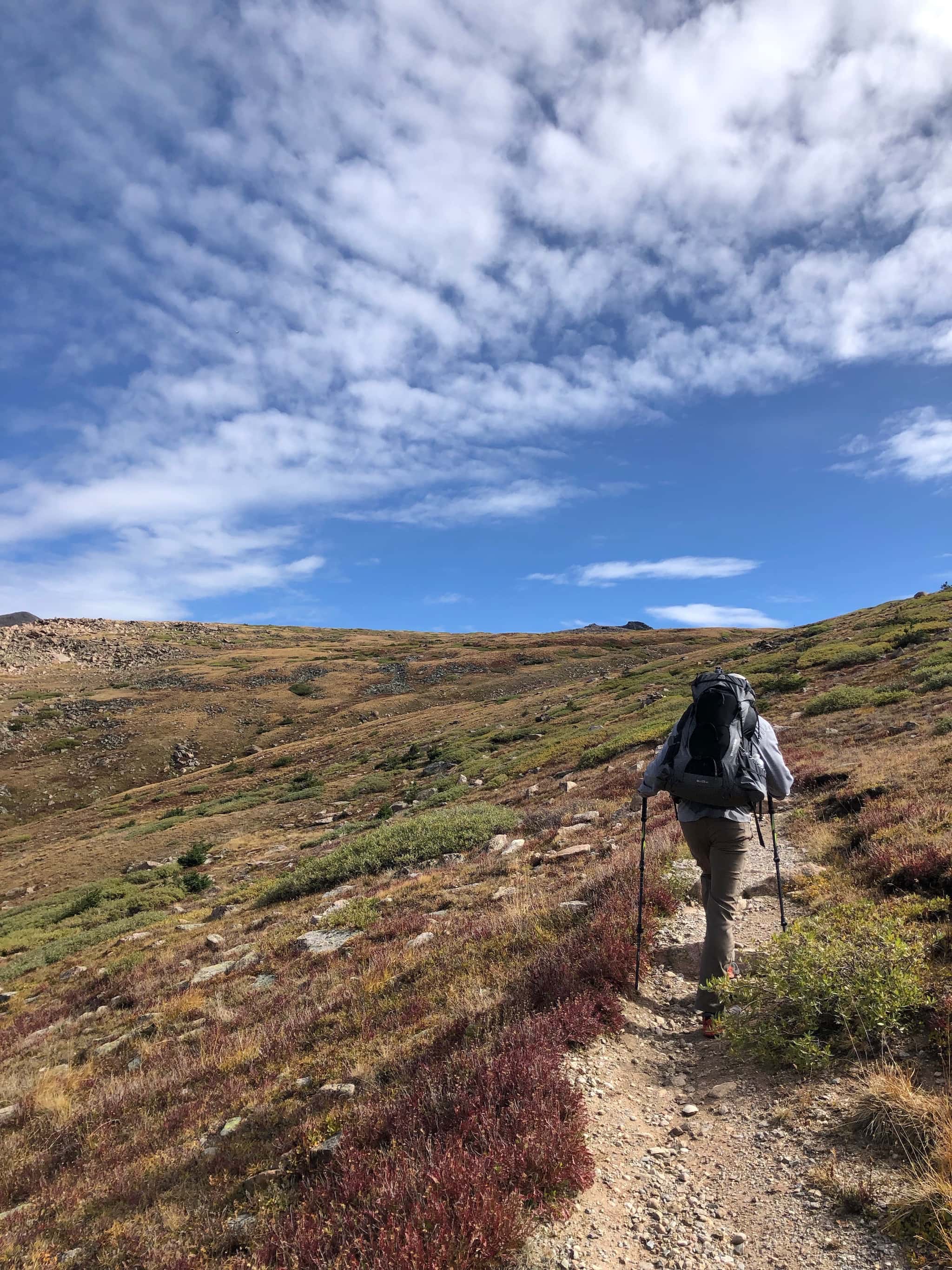 We stopped for water at a stream and then left the trail behind us. The terrain was increasingly rocky. Soon enough, we were scrambling our way up on rocks.
Off the trail, we ran into a herd of bighorn rams. They looked at us with wonderment for a while, then continued eating as we hiked around them.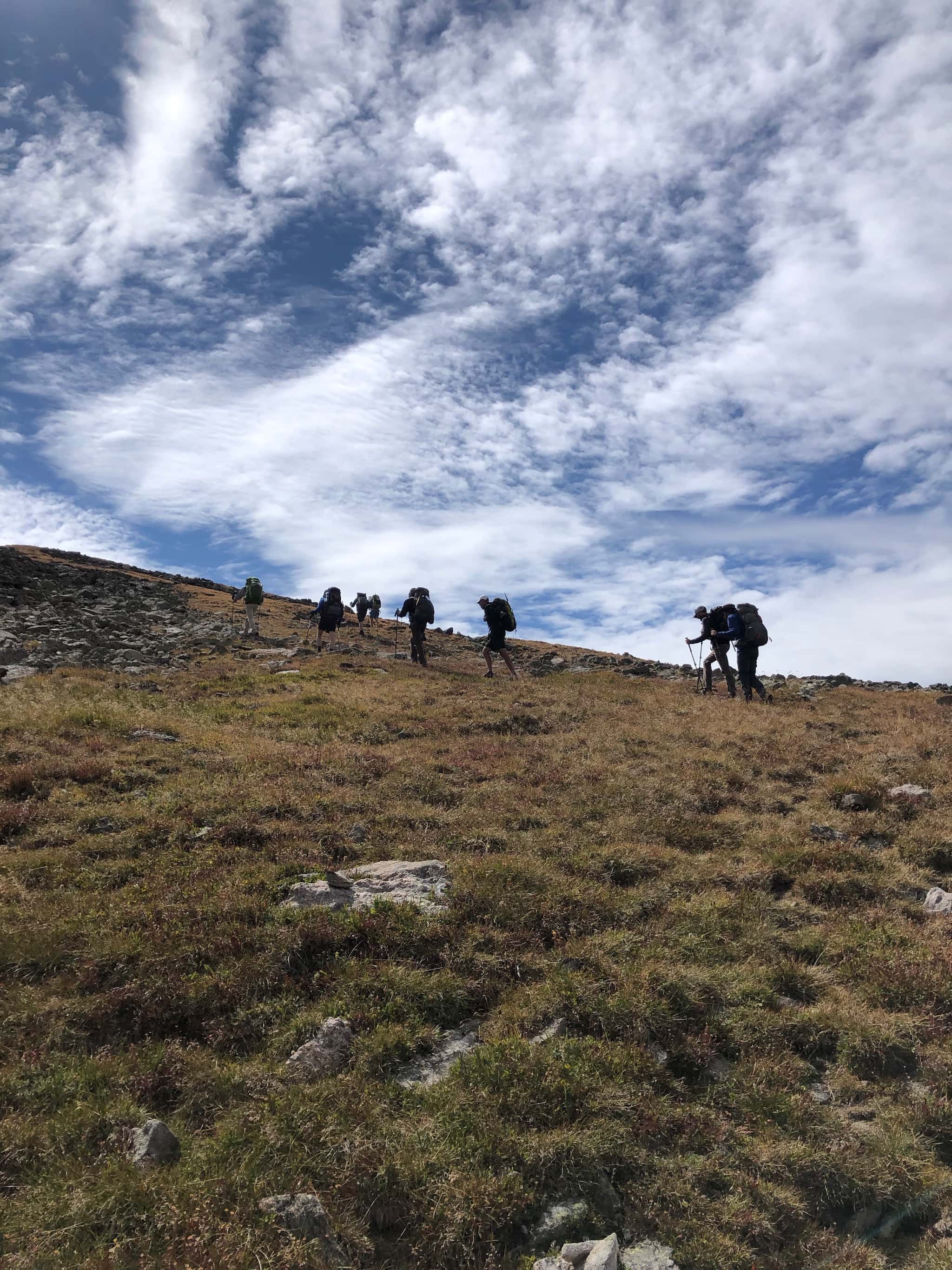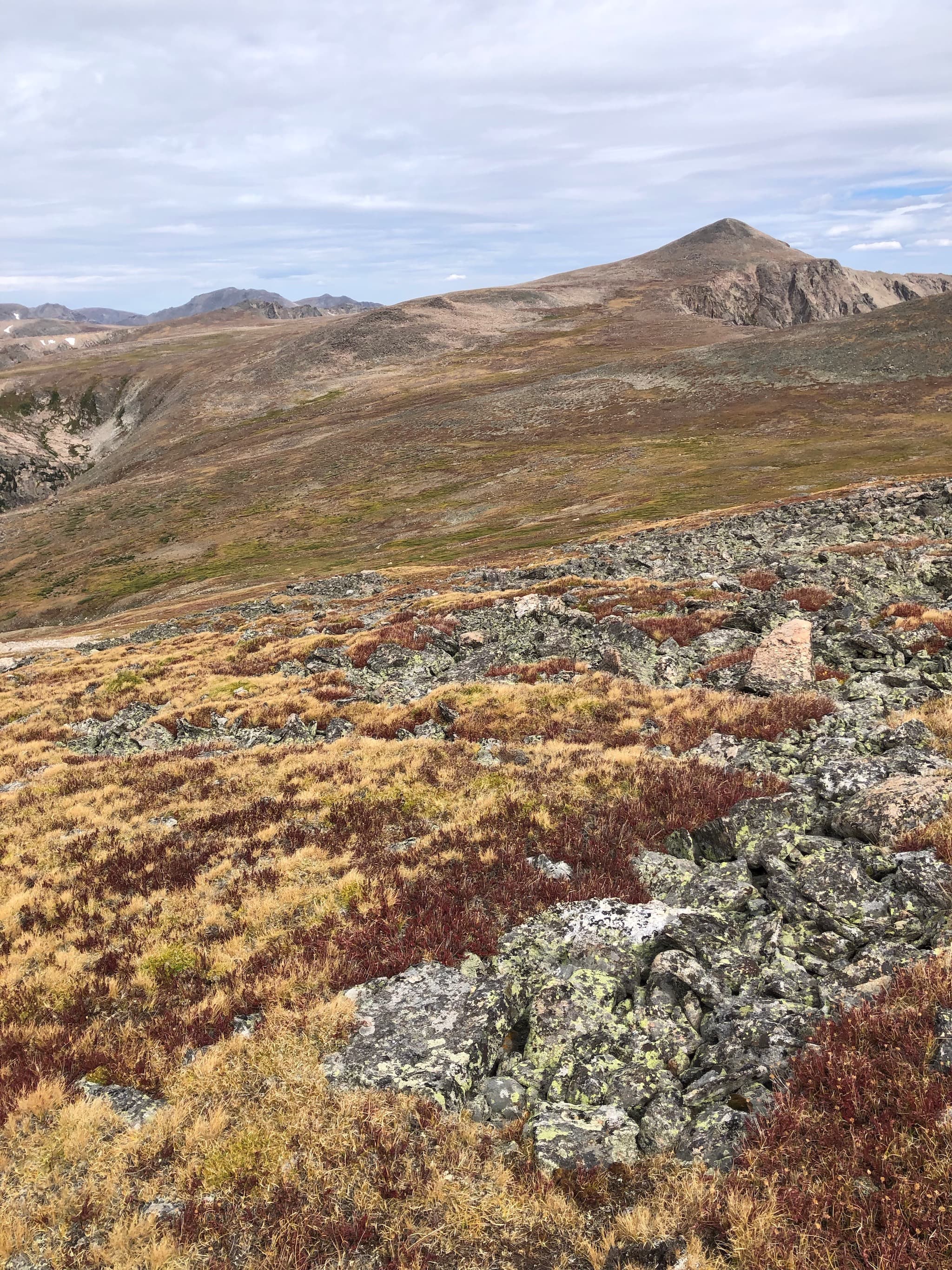 By the time we got to the top of Taylor Peak, we had already climbed over 3,500 feet – more than either day before – and it was barely lunchtime.
We took advantage of the blue skies and stopped for a lunch break at the top. For most of us, lunch consisted of assorted snacks, but others had packed charcuterie, cheeses, and bread for a more festive spread.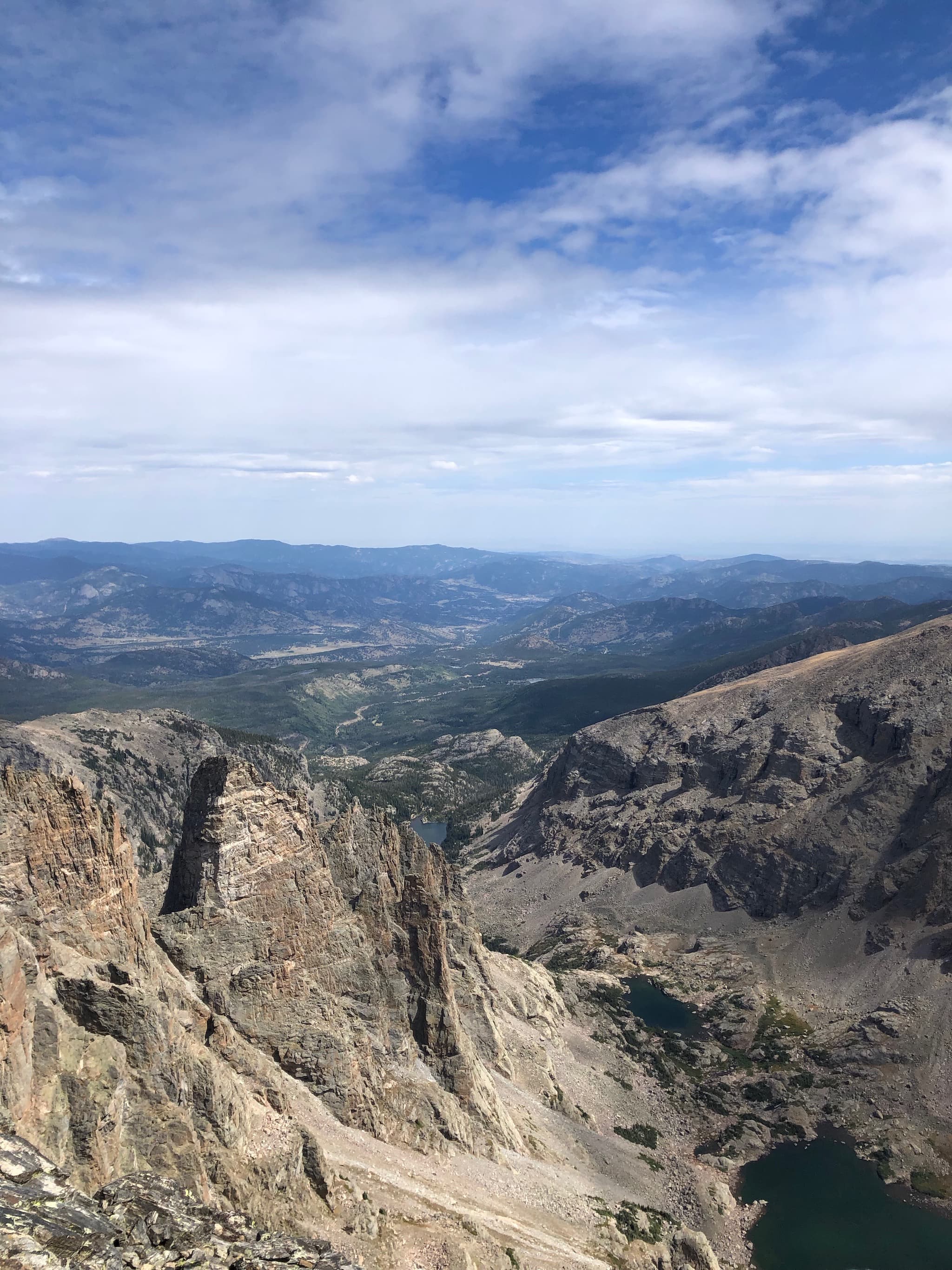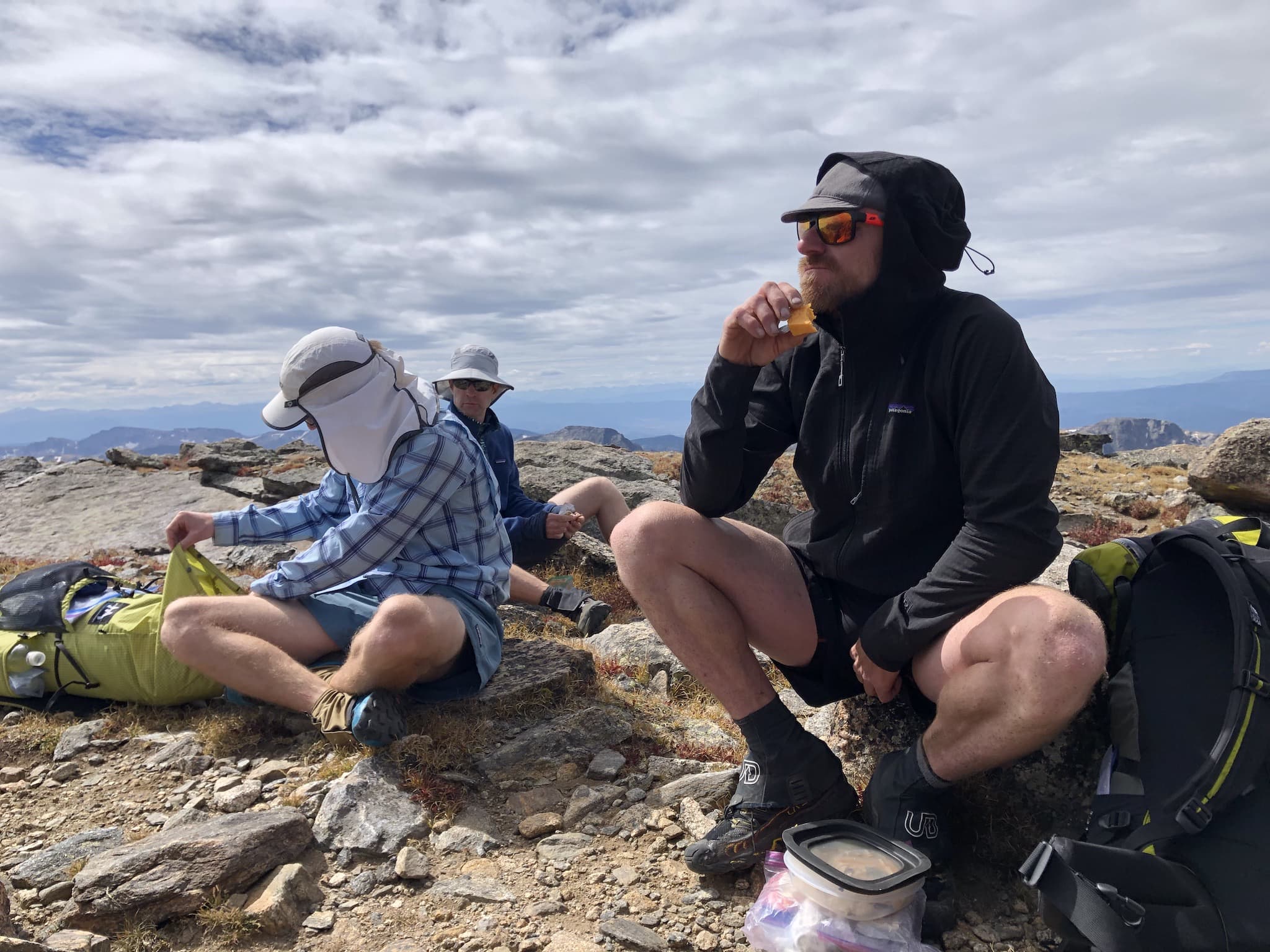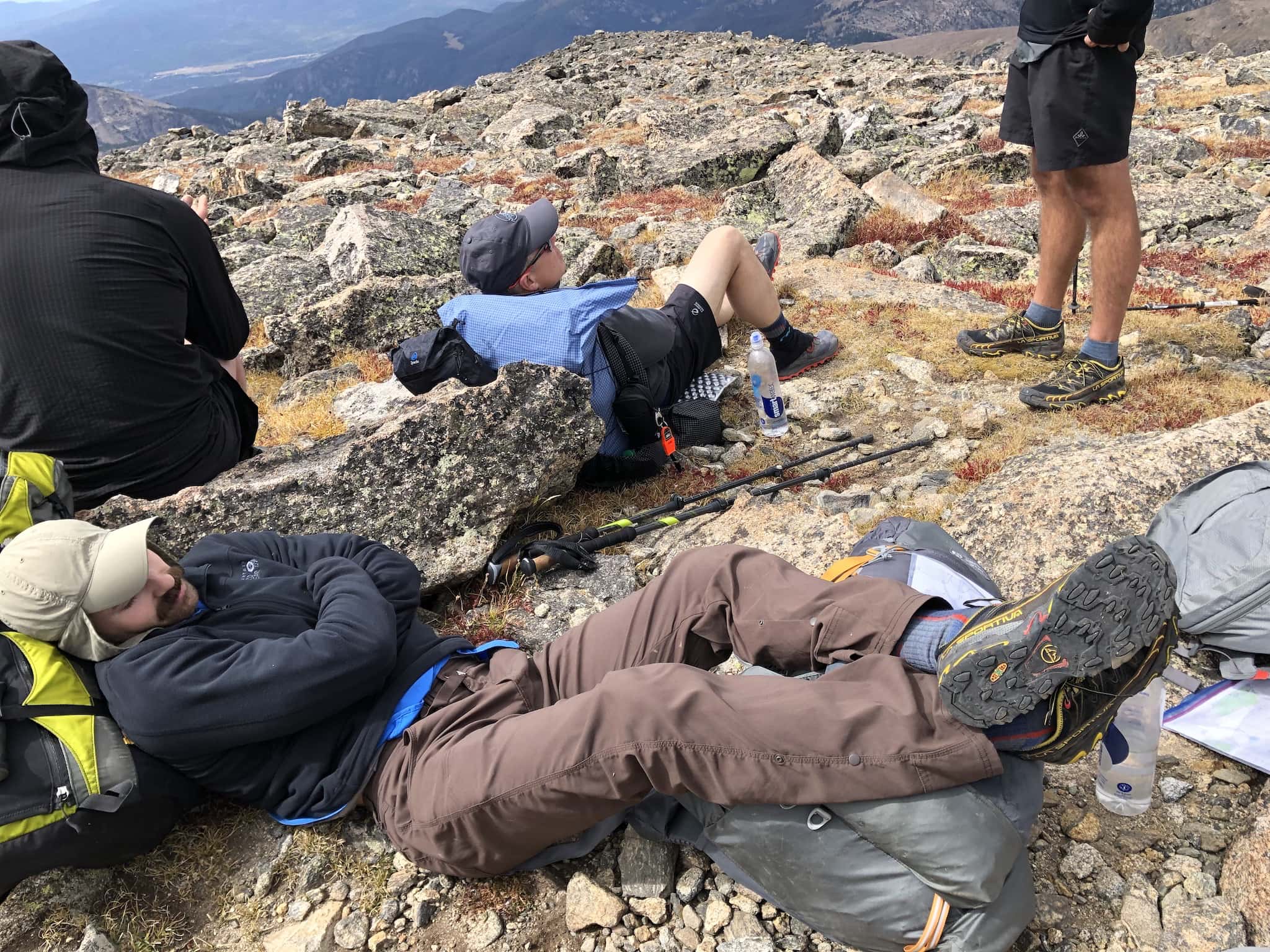 Once we were all rested and fed, we continued on. We had decided to form two groups: one that would rejoin the trail and head to camp, and another that would follow the divide and climb two more peaks before heading to camp. The decision was easy for me, I continued along the divide.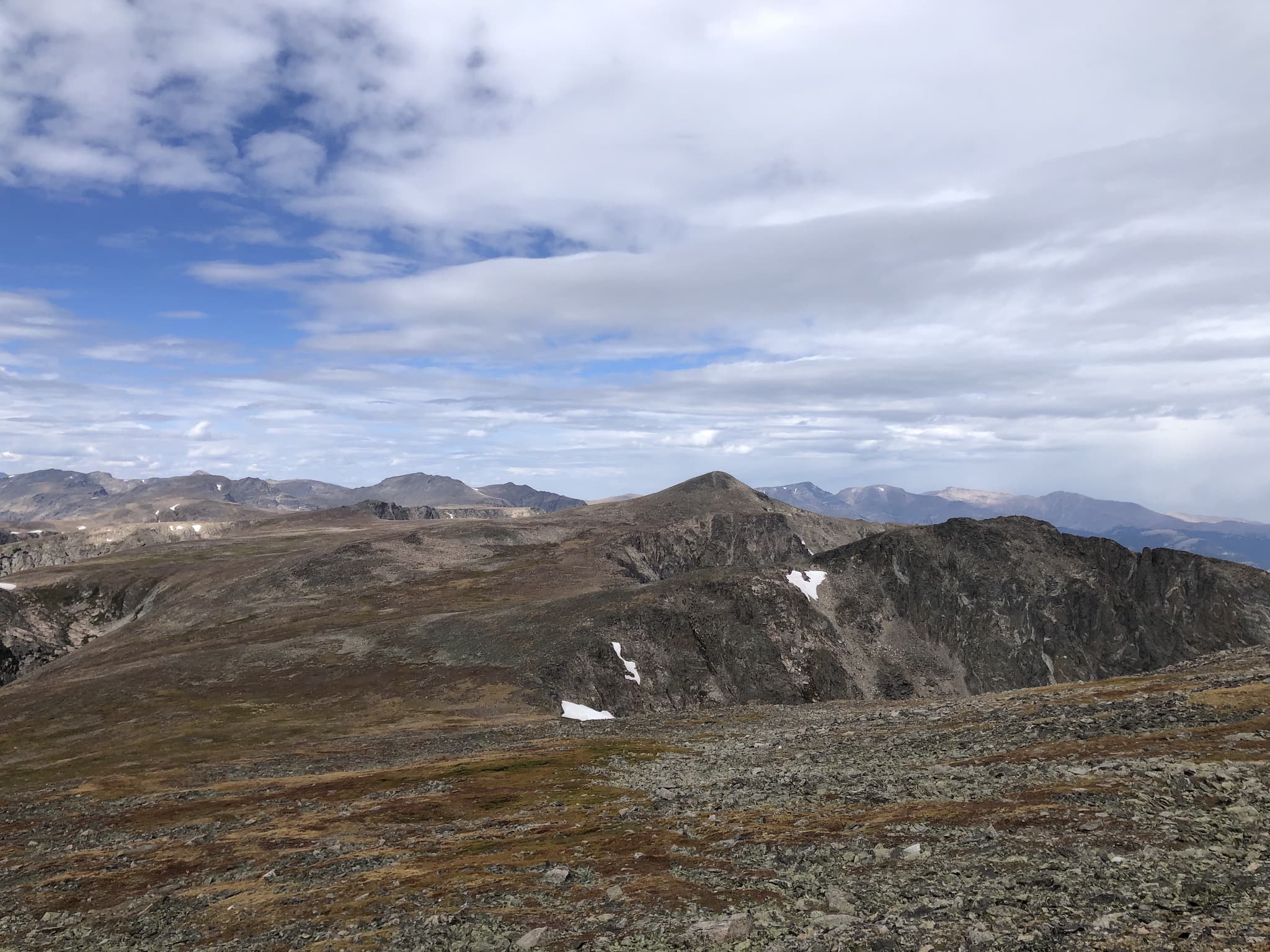 On the way down from Taylor Peak, we ran into the group going the route in the opposite direction. Two of the people I had shared an Airbnb with were in that group. We exchanged stories from our trips – it was clear that both groups were having a great time.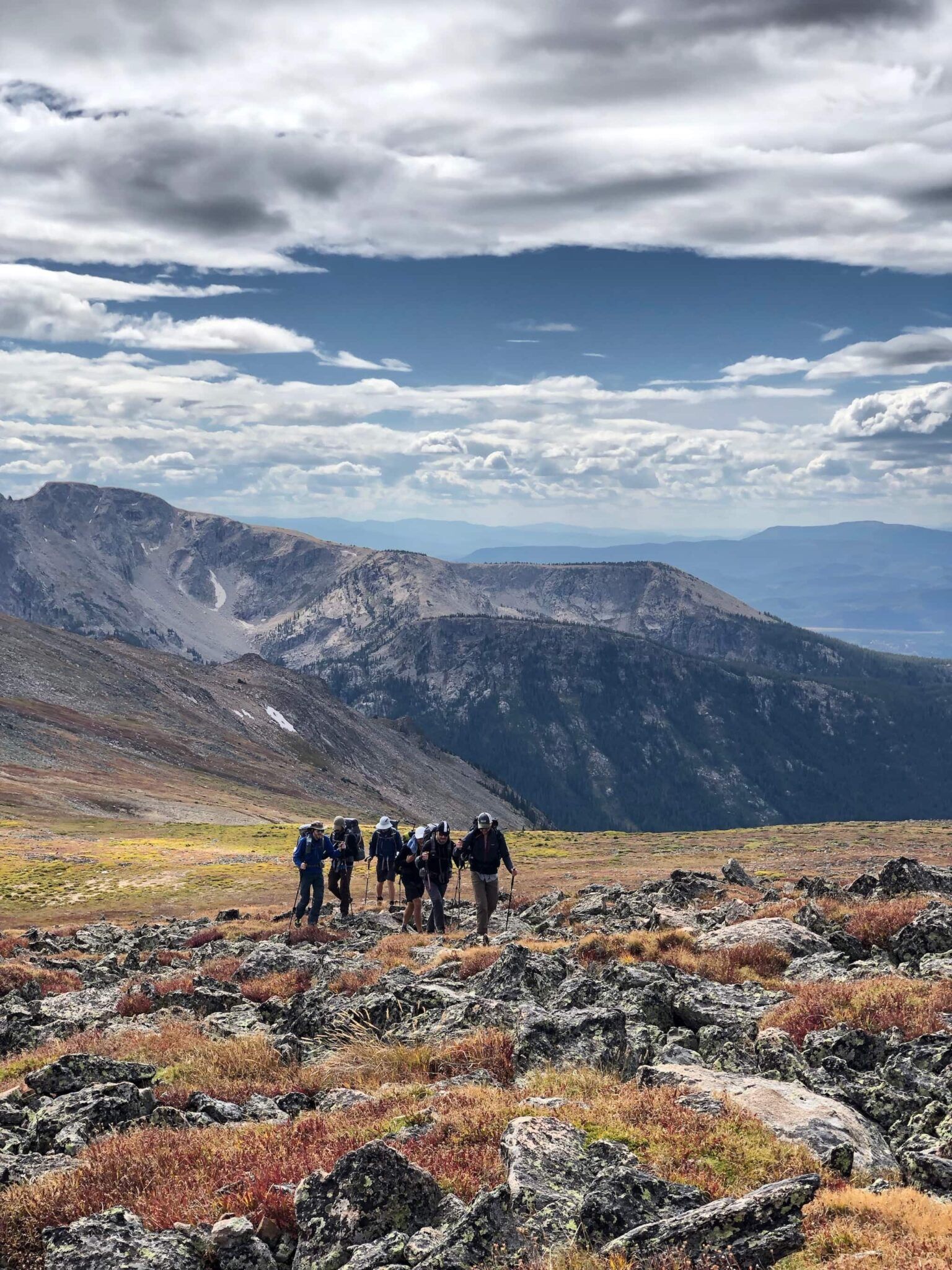 We dropped our packs at the base of Otis peak to make the last 300 ft of climbing a bit easier. We only stopped for a couple of quick photos before heading back down.
Dark clouds were starting to roll in, and we could see rain off in the distance. Fortunately, it didn't look like we were on the path of the worst of it.
The other peak we climbed was Hallett peak. It was 12,700 ft high, about 200 ft higher than Otis. Climbing both required navigating large rocks, occasionally using hands for support. I don't know if I would have climbed them if I were on my own, but in a group, they felt comfortable. It was great to try new things and expand the boundaries of what I feel comfortable with.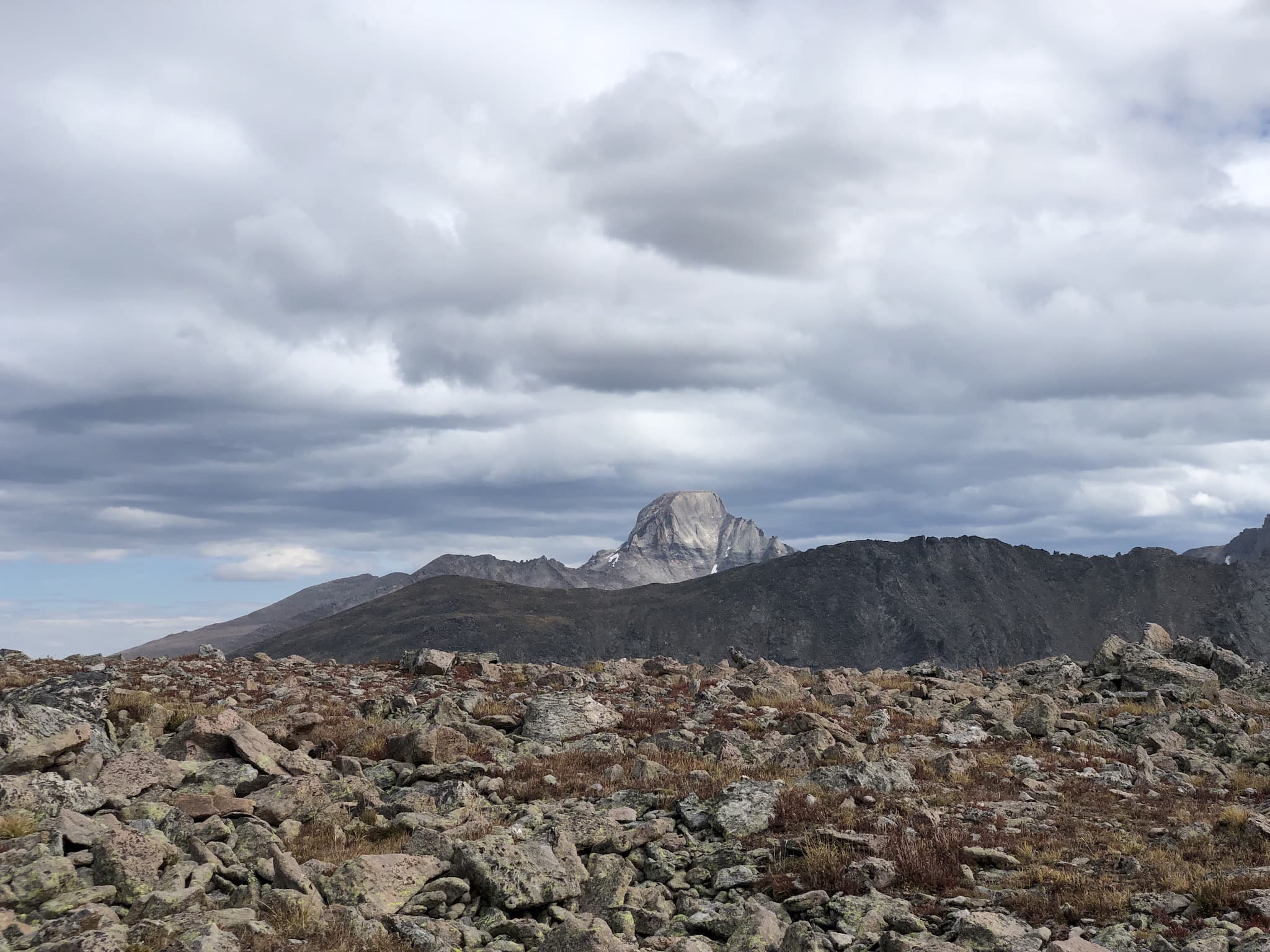 After Hallett peak, we began making our way back to the trail. It had been an exhilarating but exciting day. It was already several hours since our last water source, so we were also glad to get to lower ground to get some water.
As we descended from the plateau, the clouds began to give way for the sun again. The late afternoon rays bathed the tundra in a golden light.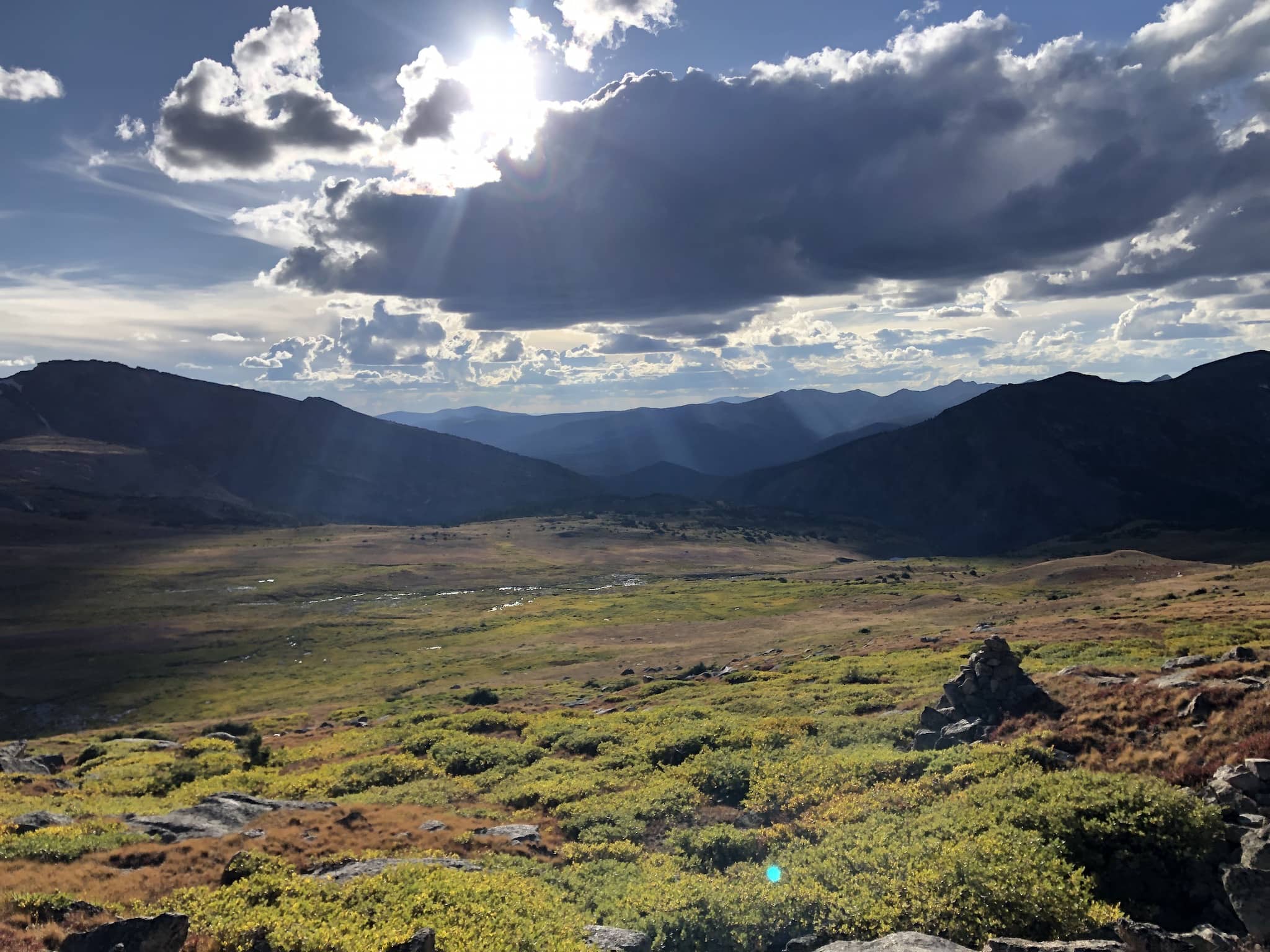 Just before camp, we encountered a herd of elk. They were on both sides of the trail, blocking our way forward. We tried scaring them off by making sounds to no avail. We had to wait for them to meander off before we could continue to camp and a warm meal.
When we got to camp and met up with the other half of our group, we heard that they'd had one of the elk come into the camp and chew on their packs earlier.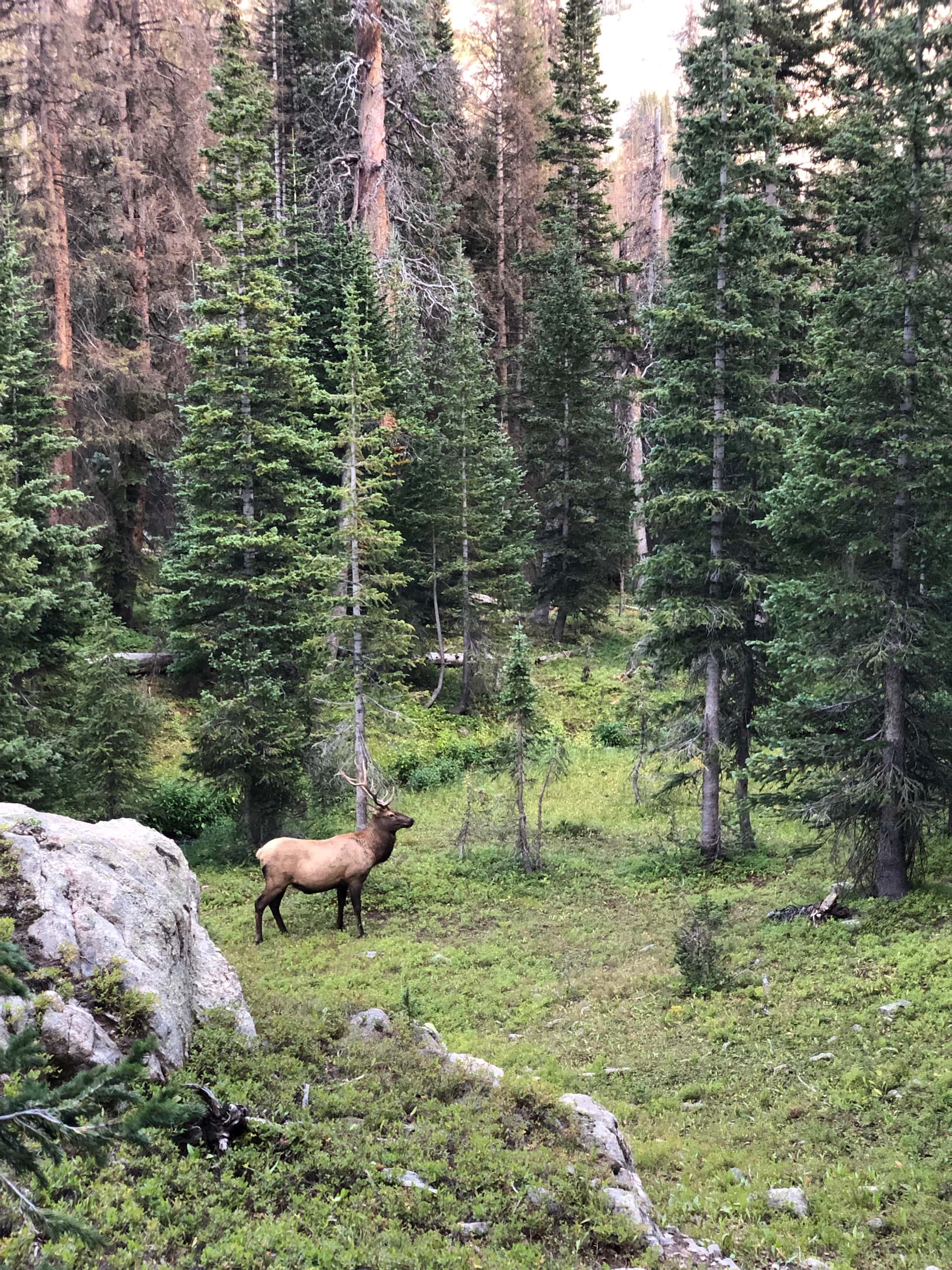 They say hunger is the best spice. After almost 5,000 ft of climbing, we wolfed down the group dinner. We almost finished off a 3 lb block of cheese before someone pointed out that we still needed some for a later dinner.
After dinner, as the sun was setting, I set out to another campsite with half of the group. The permit system in Rocky Mountain National Park did not allow for more than seven people to stay at any camp. The last push turned out to be another 350 ft of elevation.
There was a risk of rain that night, so I decided to set up my tarp. I didn't bother with the bivy as there were no bugs. Needless to say, it didn't take long to fall asleep that night.
Day 3 stats

| | |
| --- | --- |
| Distance | 13.6 miles |
| Ascent | 5,200 ft |
| Descent | 4,200 ft |
Day 4 – Having fun in wind, hail, and thick brush
We woke up a little before sunrise to pack up camp. The group that had stayed back at the other campsite joined up with us for breakfast so we could continue together.
The plan for the day was to hike up to a lake and then continue off-trail back up to the divide. For the first time on the trip, the sky was gray already early in the morning. We had to keep our eyes open for the weather.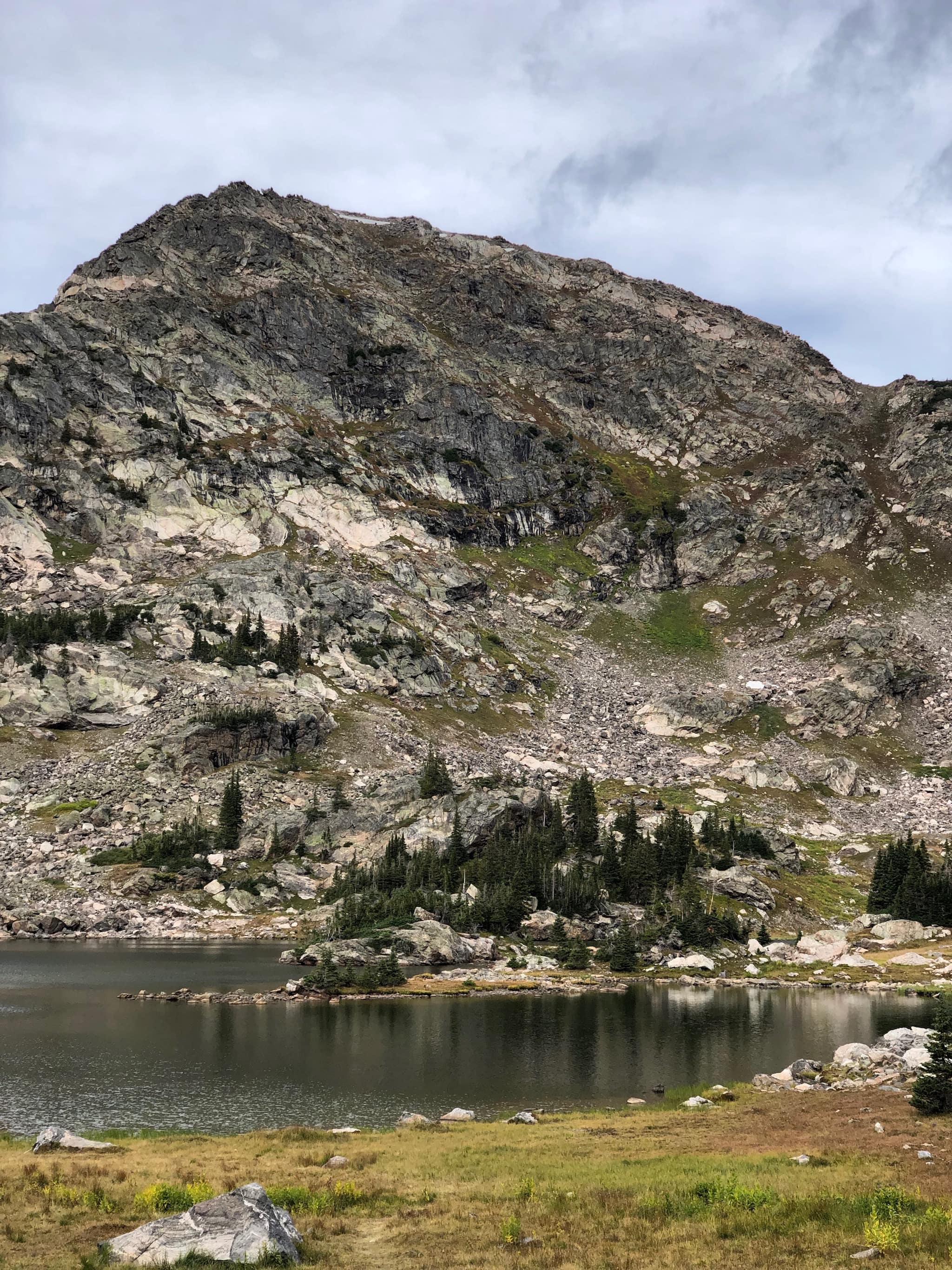 The climb up to the first pass was reasonably straightforward, especially now that everyone was more comfortable moving off-trail and on talus.
We planned to hike up to a lake and then continue off-trail back up to the divide. For the first time on the trip, the sky was gray already early in the morning. We had to keep our eyes on the weather.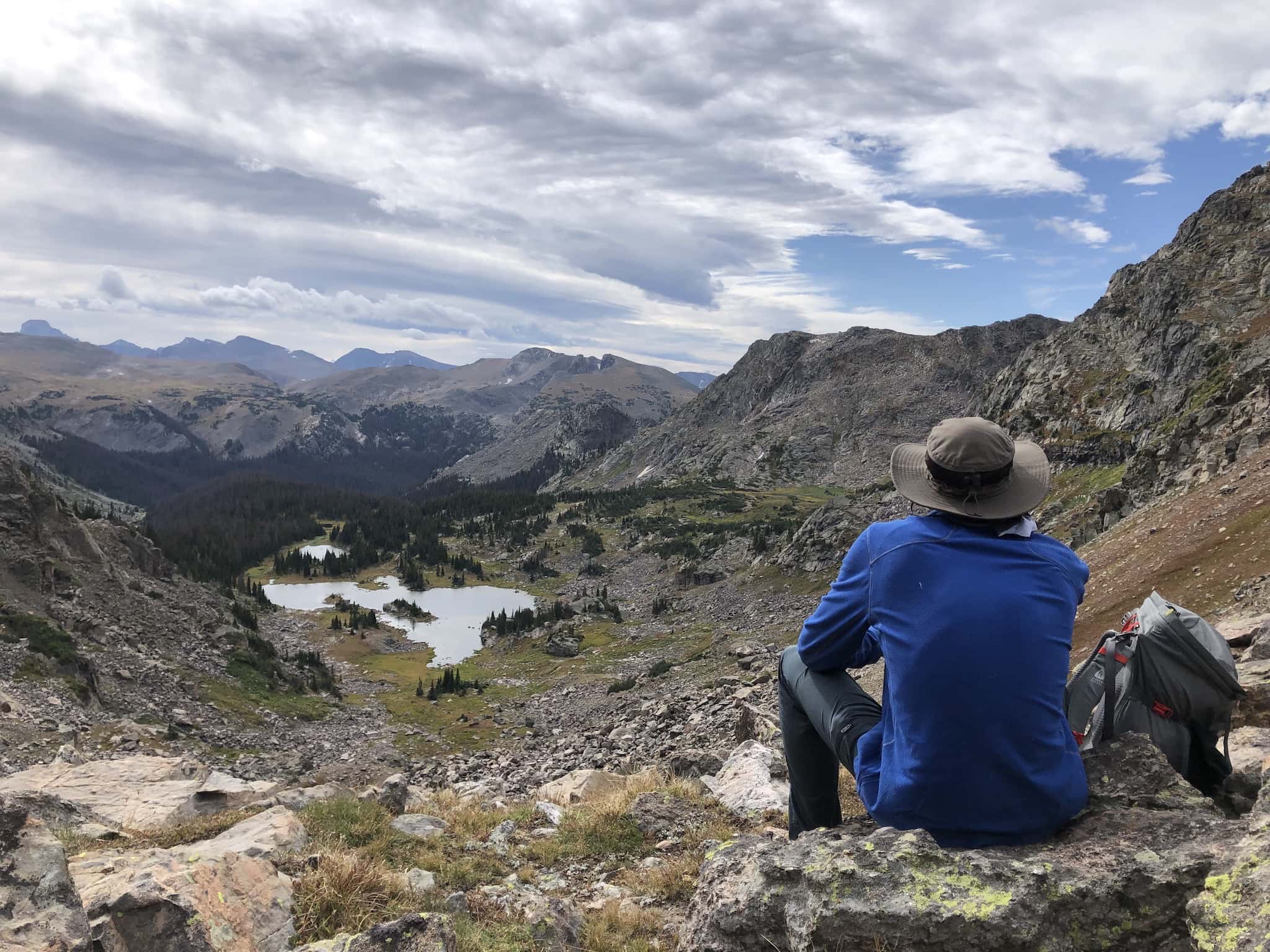 The climb got significantly steeper when we continued. Fortunately, the ground was stable, so it was more exhausting than it was sketchy.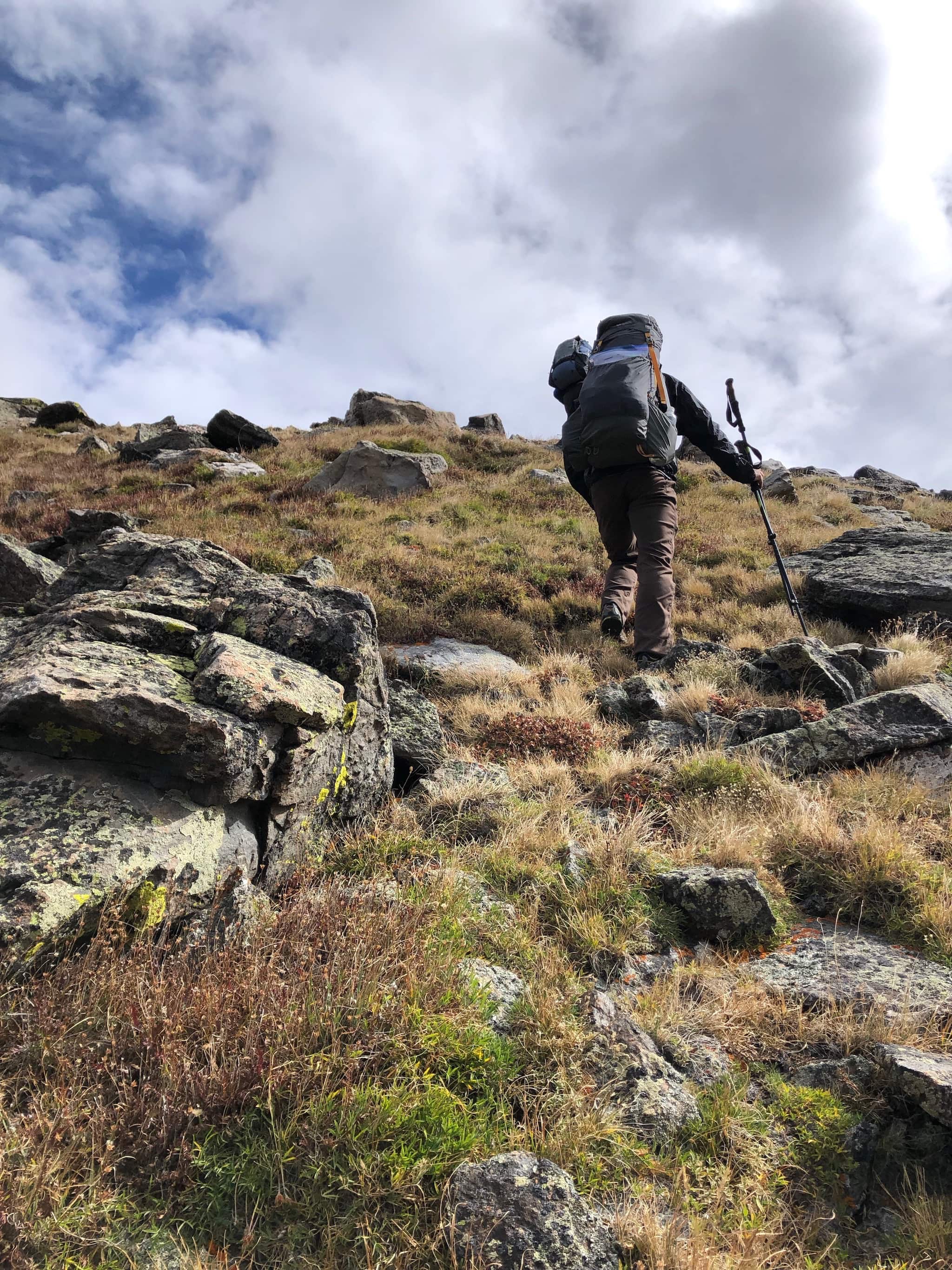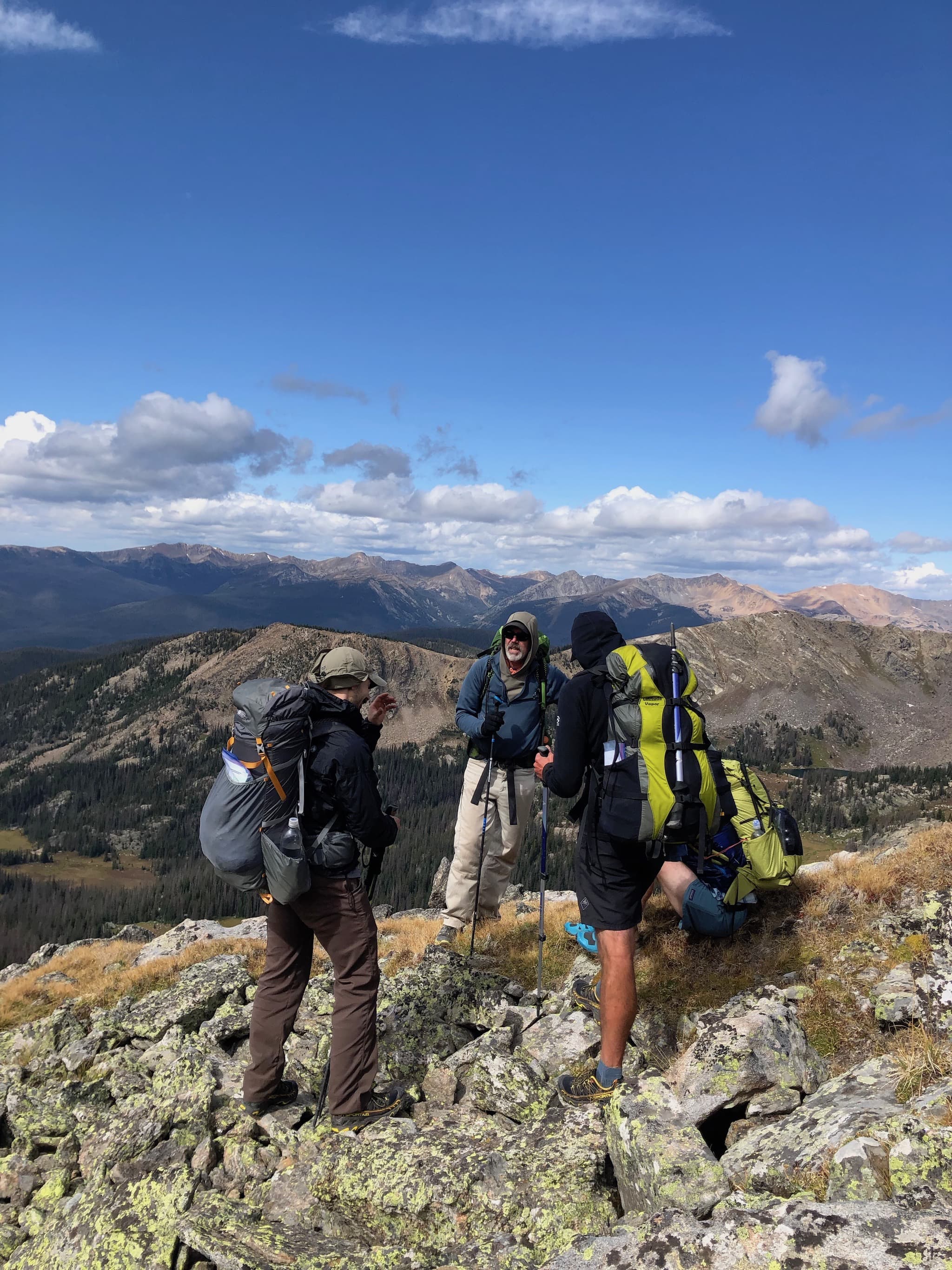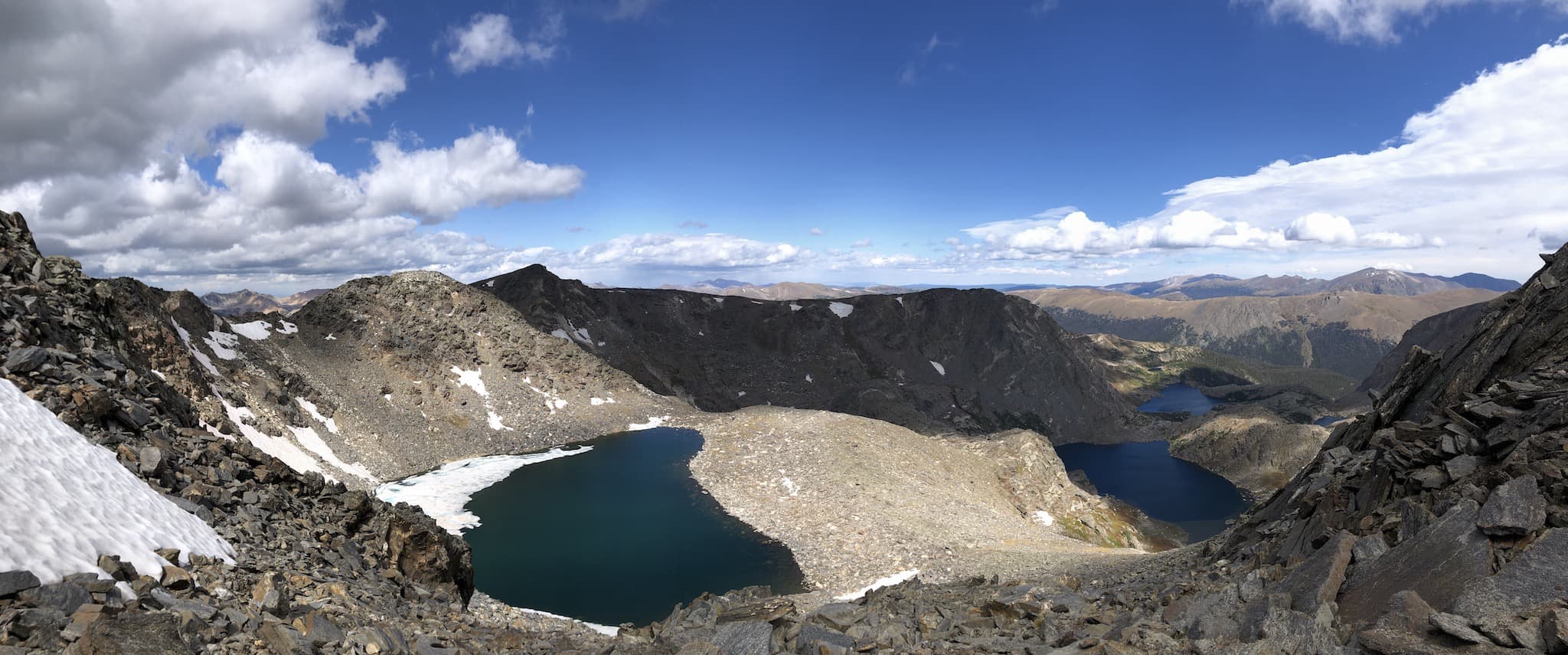 It was much chillier than it had been the previous days. The wind kept increasing as we walked along the divide. After a while, small hail started to pelt us.
The worsening weather made everyone want to move fast, but the terrain became increasingly difficult to maneuver as we were skirting a peak. The more confident climbers found a route that didn't lose elevation but required climbing on all four. I wasn't really comfortable with this, and others agreed, so we found a lower route that was less technical.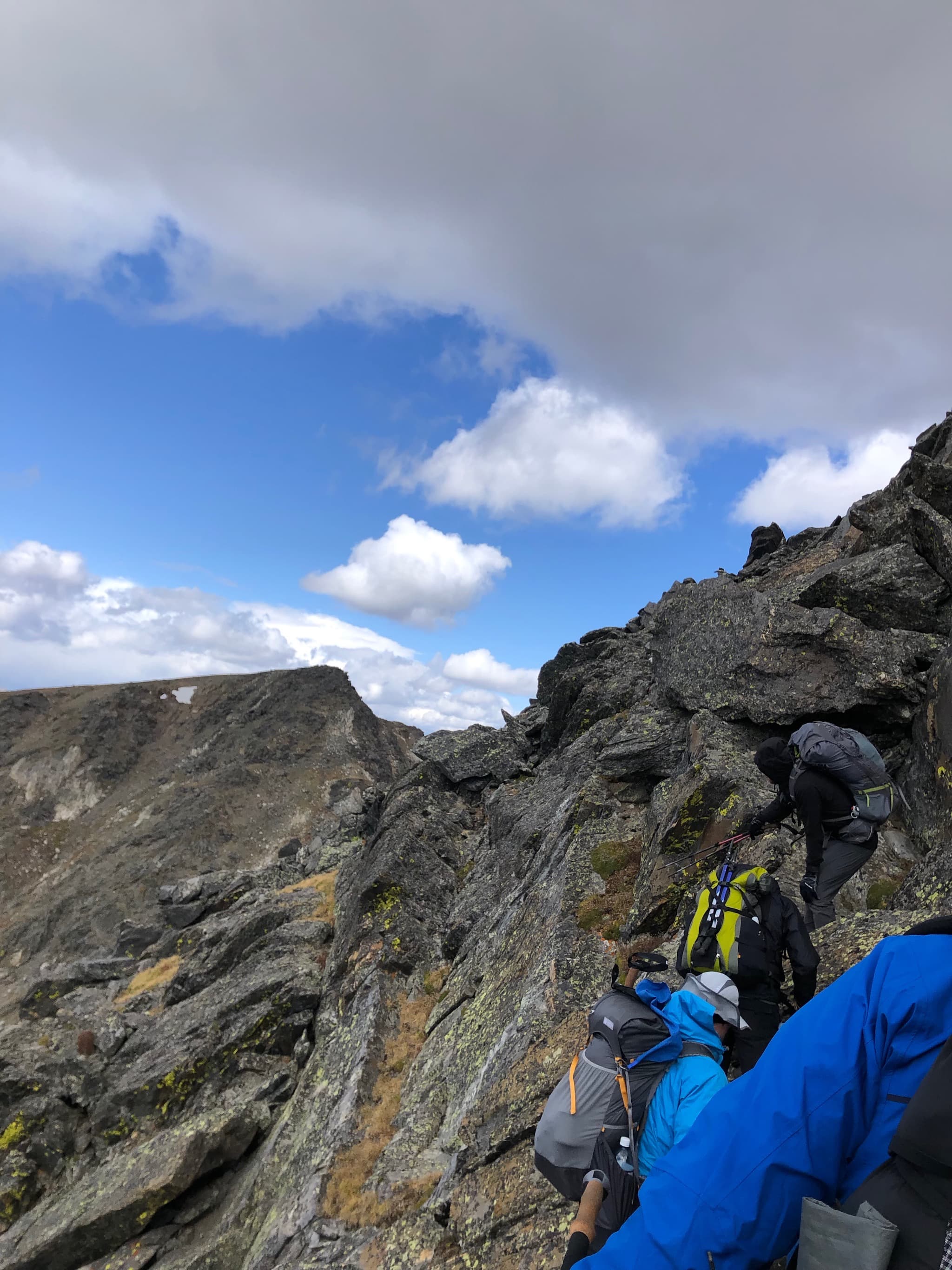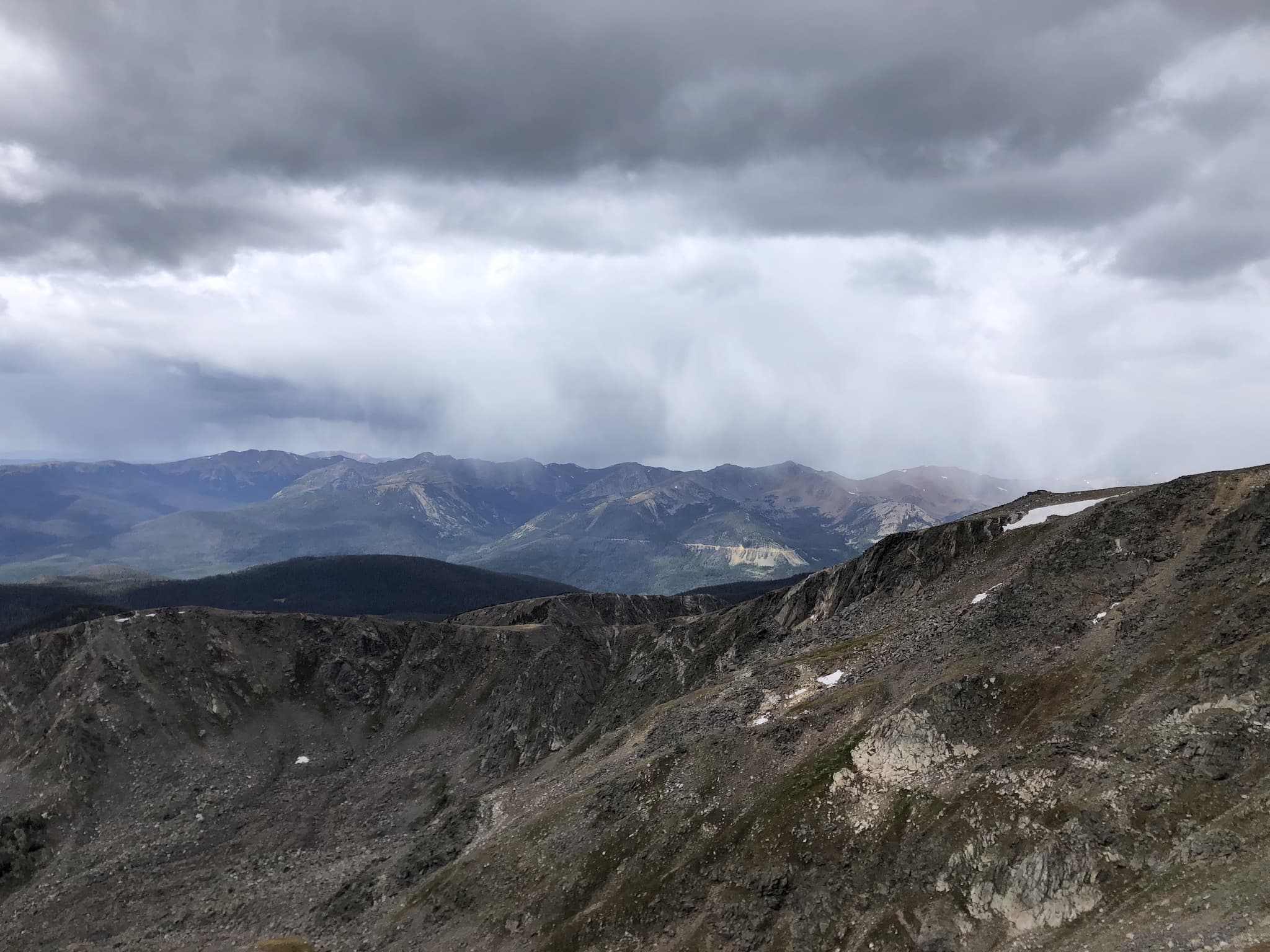 The wind kept increasing in intensity, and we could see ever darker clouds roll in. We made a group decision to alter our route and drop down into the valley to get out of the wind and incoming rain.
On the way down, we came across a heard of rams that were sleeping on a ledge. They didn't seem too interested in us as we passed them on a snowfield.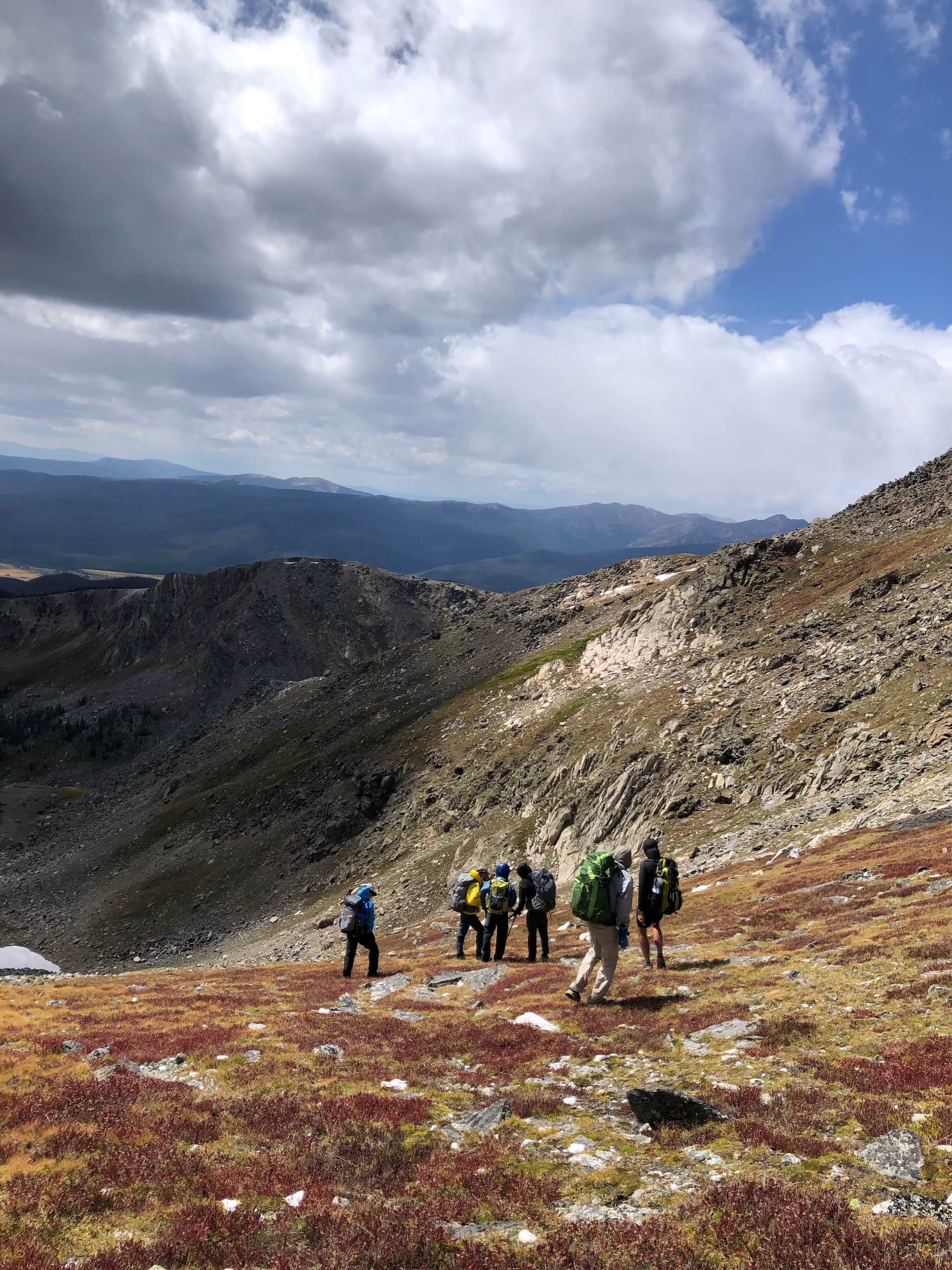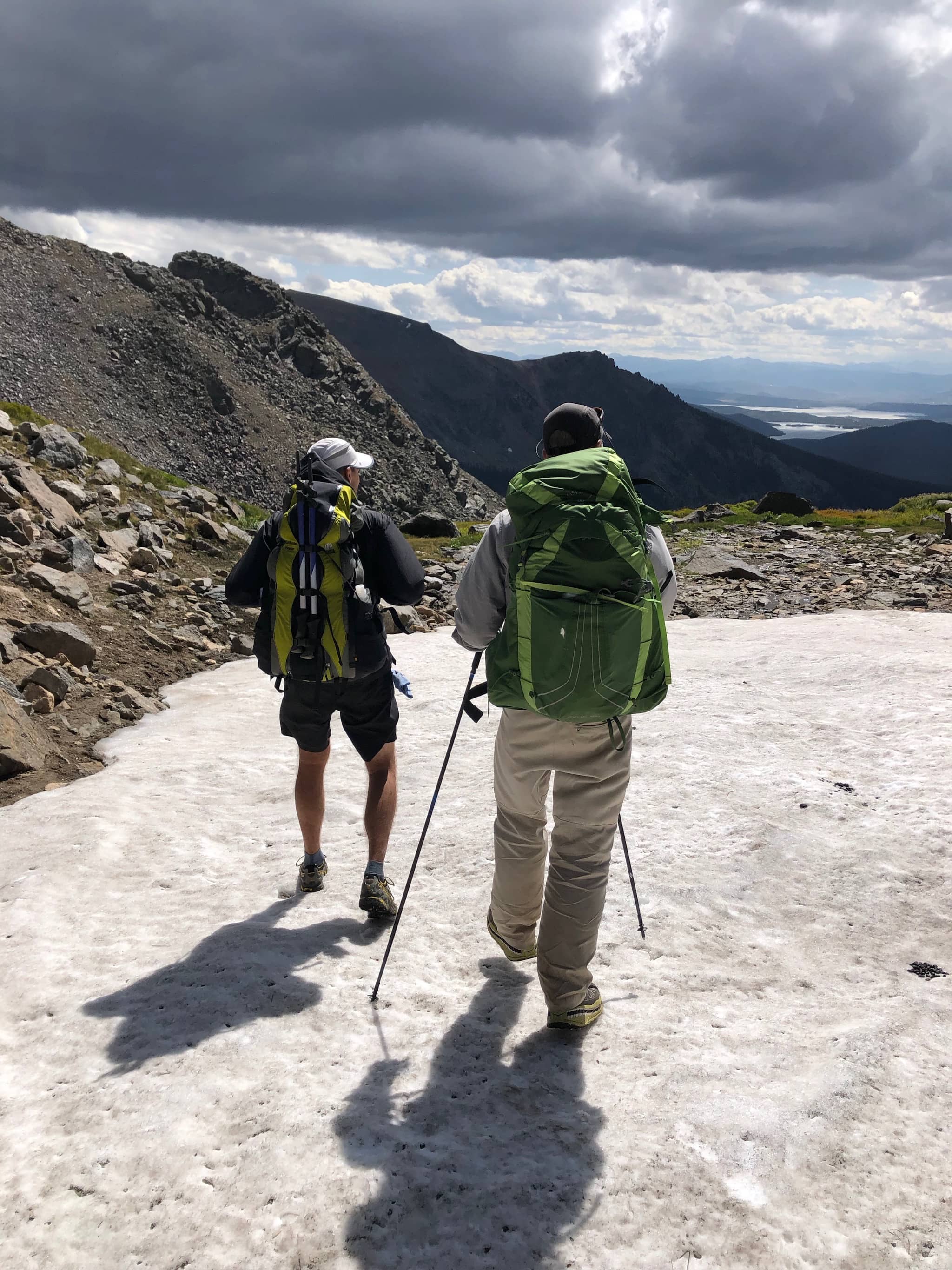 We stopped for coffee near a lake, sheltered by a group of trees and big rocks. Even with the shelter, the wind gusts were making it difficult to boil water. The Caldera Cone stoves were the only ones that worked well.
We stayed for a while, drinking coffee and telling bad jokes. Some even took the opportunity to go for a swim, and others were climbing nearby boulders.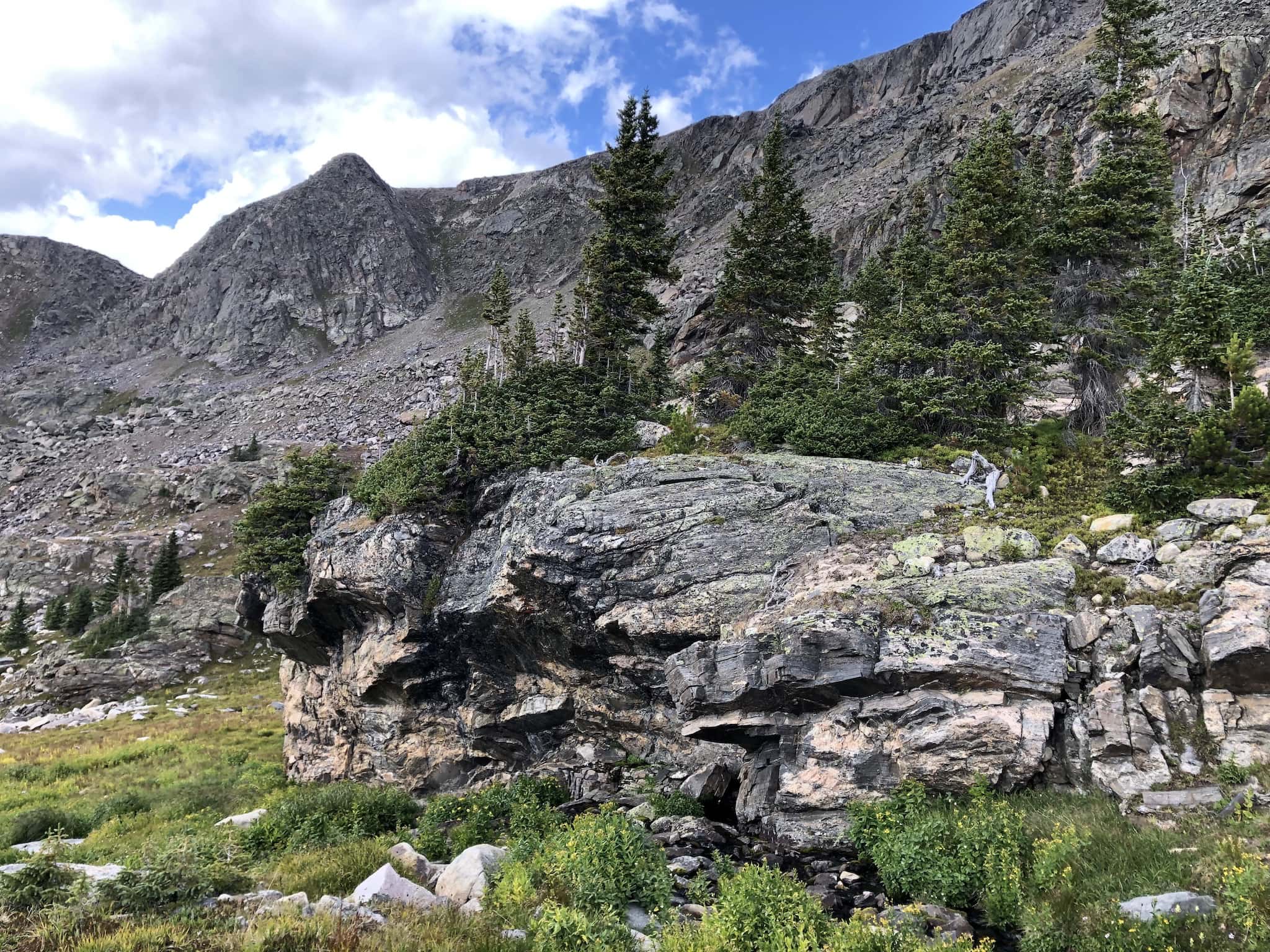 As we continued down the valley, the rocky tundra gave way to marshy meadows and thick forest. Again, we followed elk trails, which proved to be an excellent way to avoid some steep terrain.
It started raining a few times, but it only lasted long enough for us to get our rain gear out.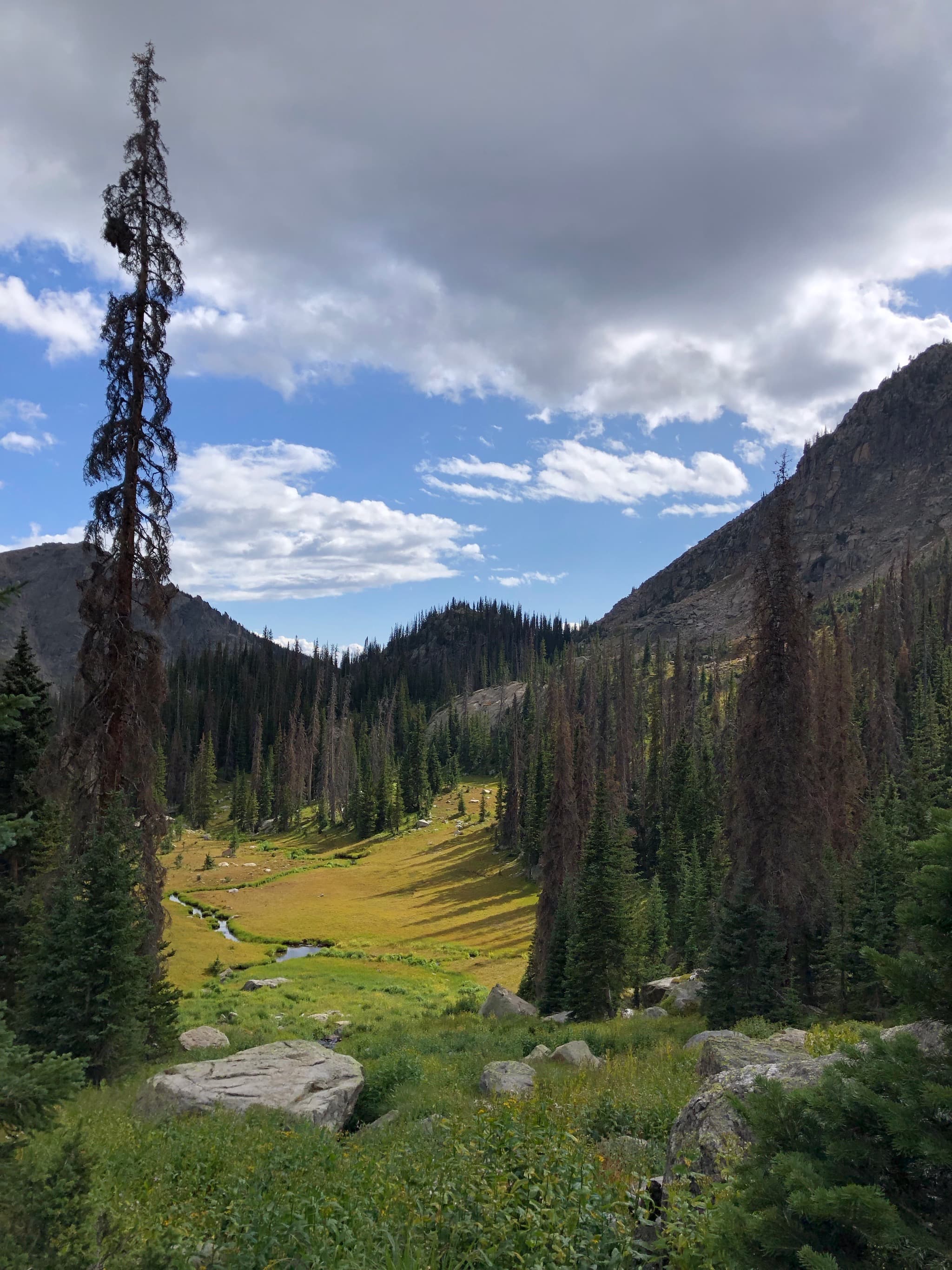 Navigating became more difficult as we entered the forest. We knew where we were, but there was a significant amount of deadfall that slowed us down. We had to get off the animal trails for a while to get around a large blowdown.
Closer to camp, we wandered into a marsh that turned out to be soggier than we anticipated. Most of the group got their shoes wet just minutes before we stopped for the day.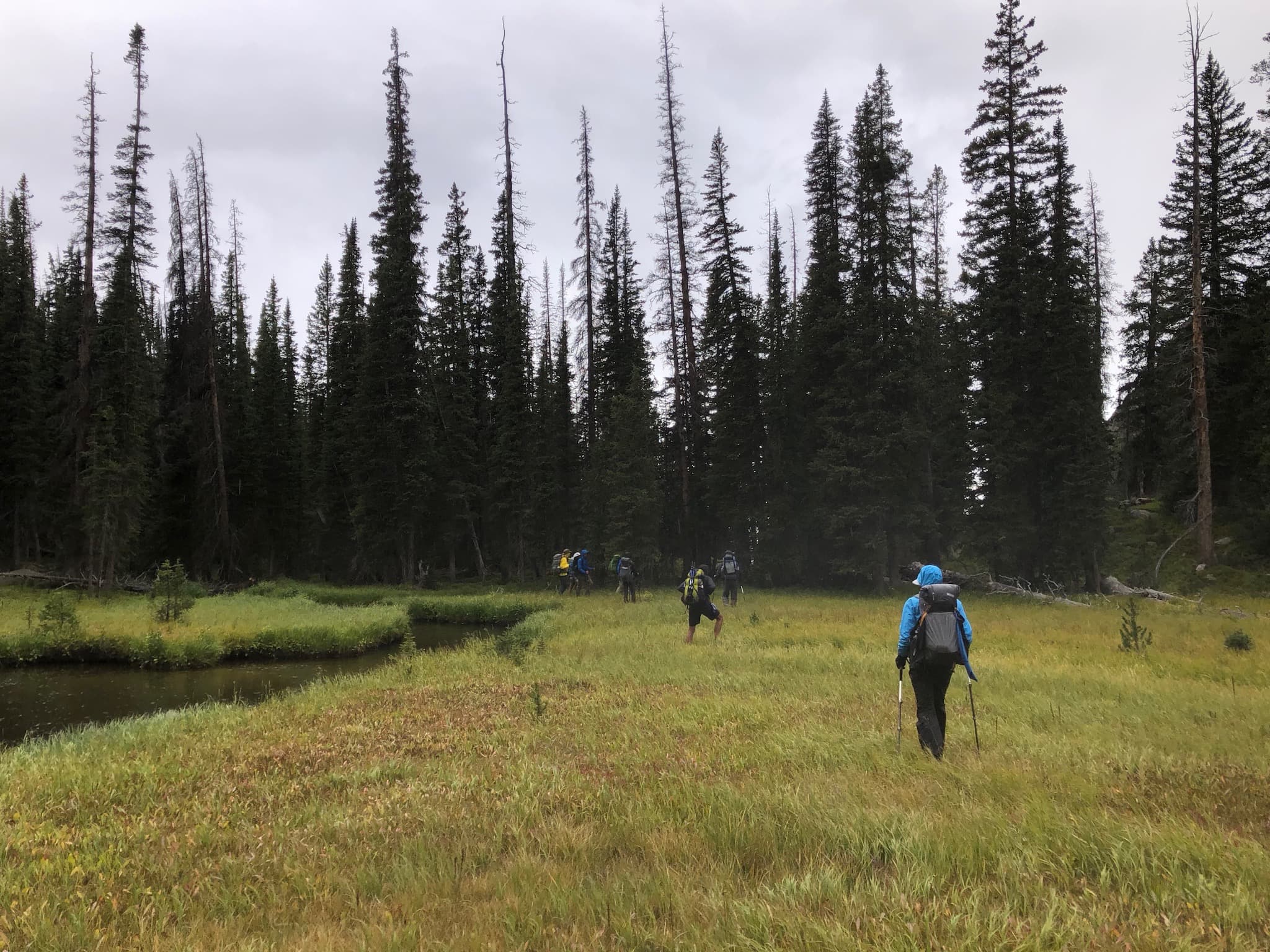 We spent the last night at a camping zone which meant that there weren't any established campsites. It also meant that we could all camp in the same location.
With less than an hour of daylight left, we scouted out spots for sleeping and got dinner going. It had been a long day, but spirits were high. We sat and enjoyed dinner and stories until it started getting dark, then went to set up our shelters.
It didn't take long for everyone to fall asleep even though it was barely 8 PM.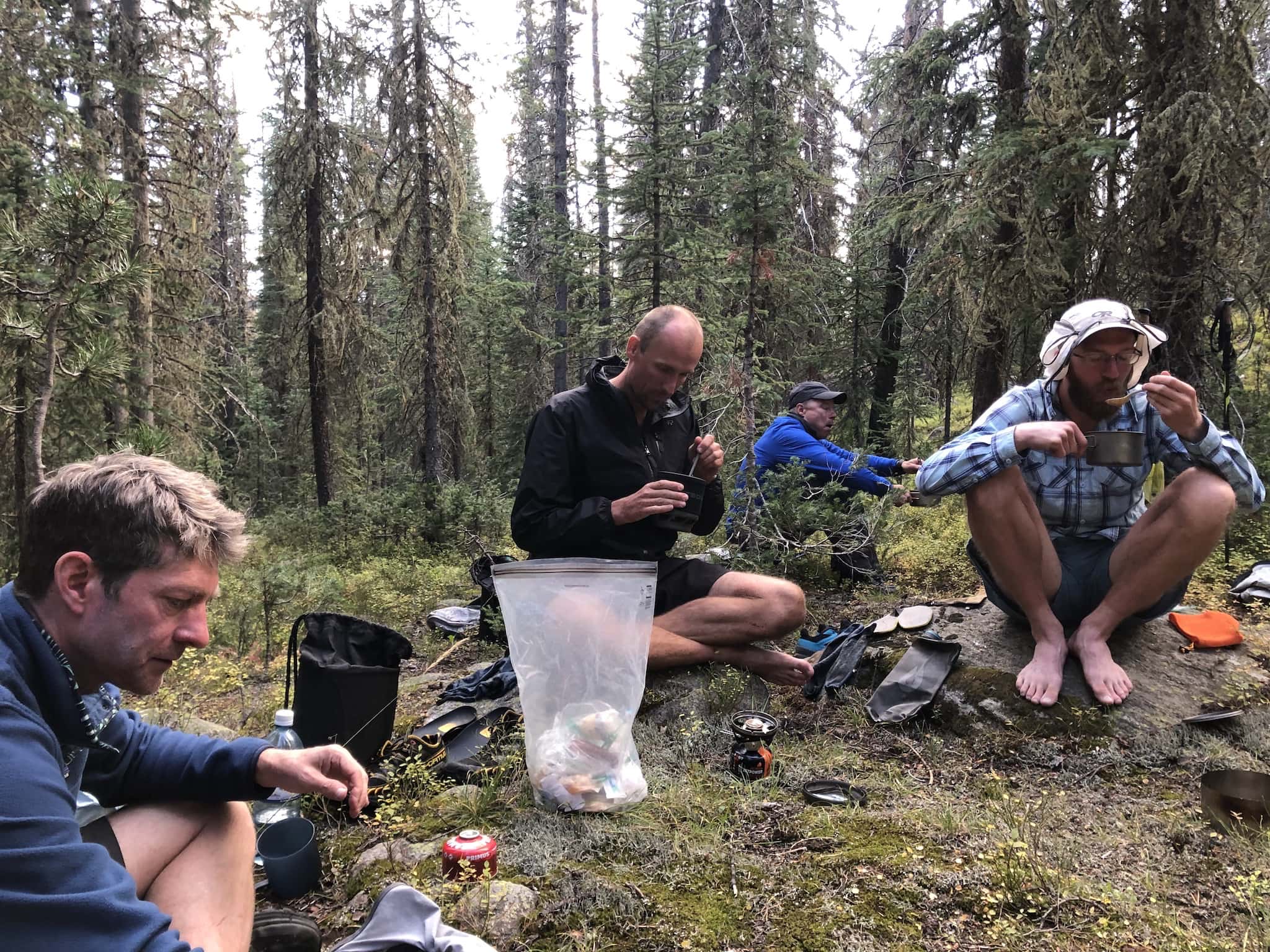 Day 4 stats

| | |
| --- | --- |
| Distance | 8 miles |
| Ascent | 2,500 ft |
| Descent | 3,400 ft |
Day 5 – Back to civilization
The only plan we had for the last day was to get back to the trailhead. We had a short distance of off-trail travel before joining a trail we could follow all the way back into Grand Lake.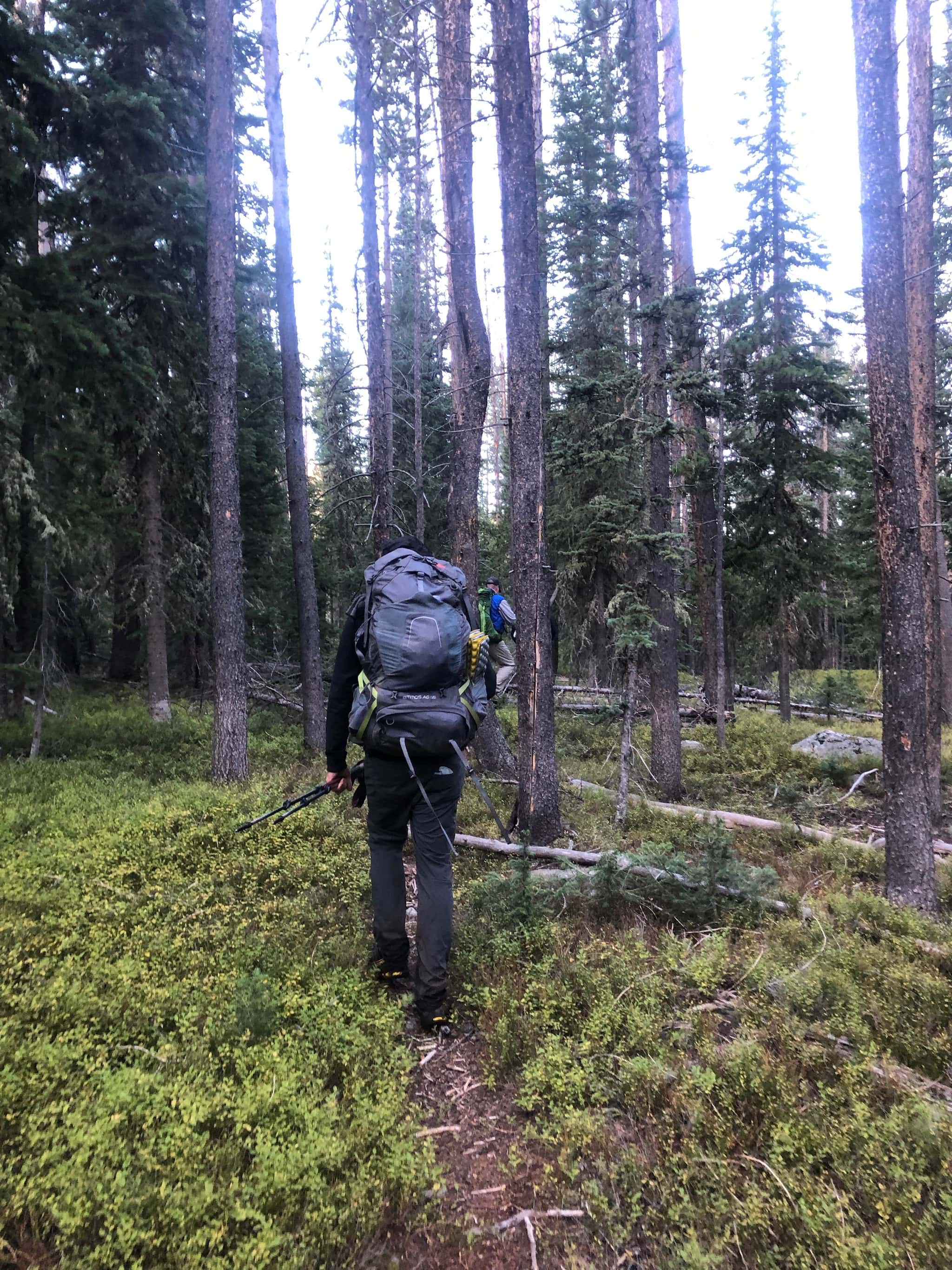 The highlight of the day was Big Meadows. The far side of the meadow was still covered in frost as the morning sun hadn't hit it yet.
As we continued on the trail towards Grand Lake, we began to run into more and more day hikers, a sure sign we were getting closer to the end.

In our excitement, we missed a turn which led us on a small detour. The other group was already at the trailhead when we finally came in. We quickly returned demo gear and cleaned ourself up before heading into town for burgers.
The first real meal after days in the backcountry is always great. I ordered a hamburger, fries, and a side salad. And a cold beer to go with them.
We stayed and chatted at the restaurant for a long while before finally saying our goodbyes and leaving. What a trip!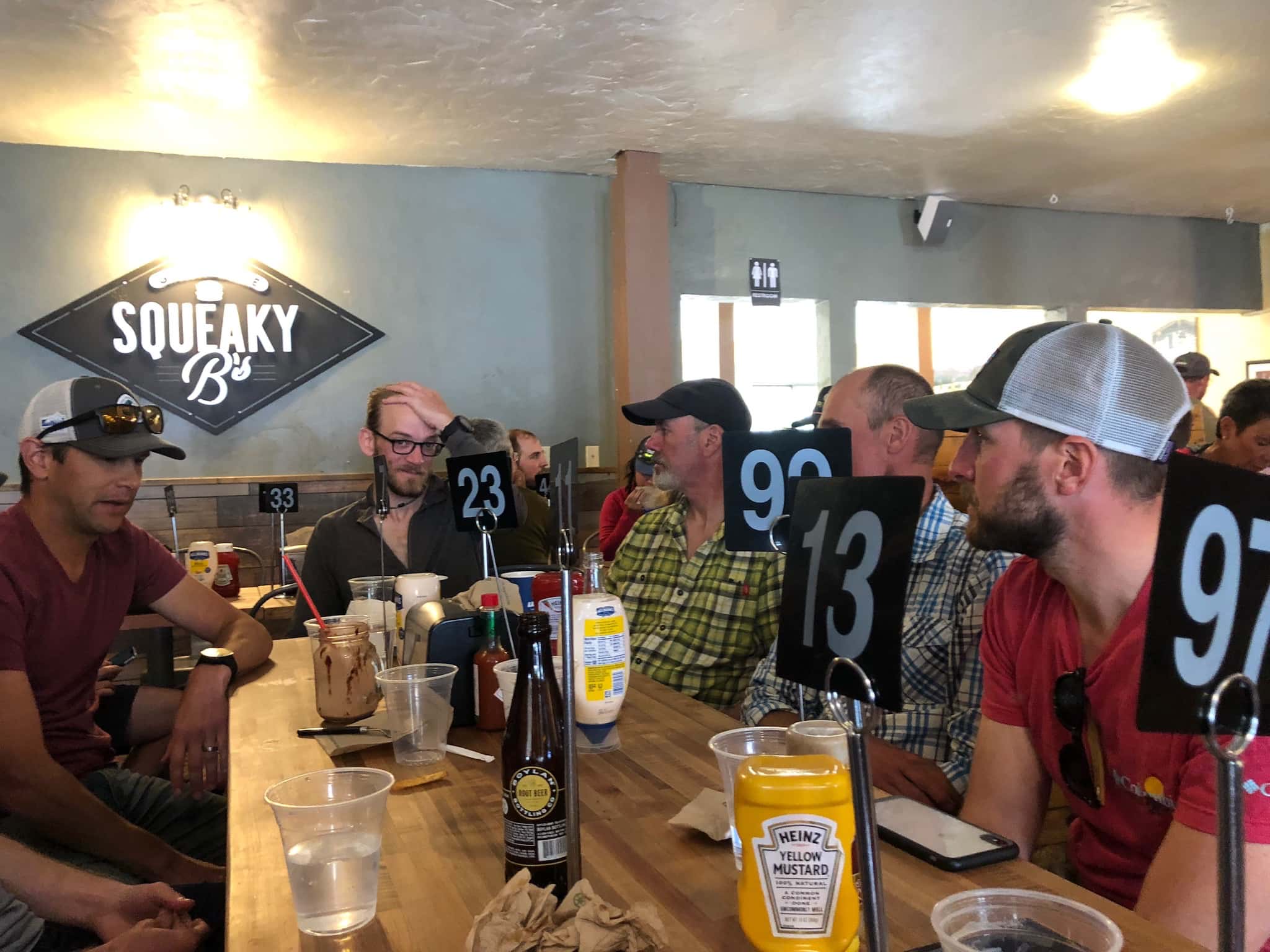 Day 5 stats

| | |
| --- | --- |
| Distance | 9.8 miles |
| Ascent | 700 ft |
| Descent | 1,900 ft |
Gear thoughts
Tarp and bivy setup. I'm not sold on the merits of a tarp and bivy after trying them out. The Zpacks Duplex tent I have weighs 2 oz more but is faster and easier to set up and offers a ton of bug-free space. The advantage of the tarp setup is that it's smaller when packed and that it can be set up in more ways.
Aquamira water treatment. Aquamira drops worked well most of the time. They were low effort and didn't leave a noticeable taste. The big downside is that it takes 15 minutes to treat the water, so it's not practical for cameling up water at sources and can be frustratingly slow if you're thirsty when you get to a water source.
Alcohol stove. The weight savings of an alcohol stove come mostly from being able only to bring as much fuel as you need. It's also comforting to know how much fuel you have remaining. The downside was slower boils and wasted fuel, both from a leaking bottle and from burning off extra fuel. For most trips, a canister stove will be worth the extra grams for convenience.
Final thoughts
I had been looking forward to the Andrew Skurka adventure trip all year, and it did not let me down. Not only did I learn a lot, but I also had a great time doing it.
I was already familiar with the concepts of off-trail navigation before the trip. What I learned from backpacking with the experienced guides were things that are difficult to learn by reading or watching videos. I learned what kind of terrain I could expect when looking at topographical maps. And perhaps most importantly, I pushed myself to go places I wouldn't have gone on my own.
I'm now comfortable with planning in more off-trail travel in my upcoming adventures.
Read more about Andrew Skurka's guided trips if you're interested in joining one.