6-day backpacking adventure in Kings Canyon
A 6-day backpacking route in the high sierra of Kings Canyon. Bubbs Creek, Rae Lakes, 60 Lake Basin, Bench Lake, JMT, Woods Creek, Paradise Valley, Road's End.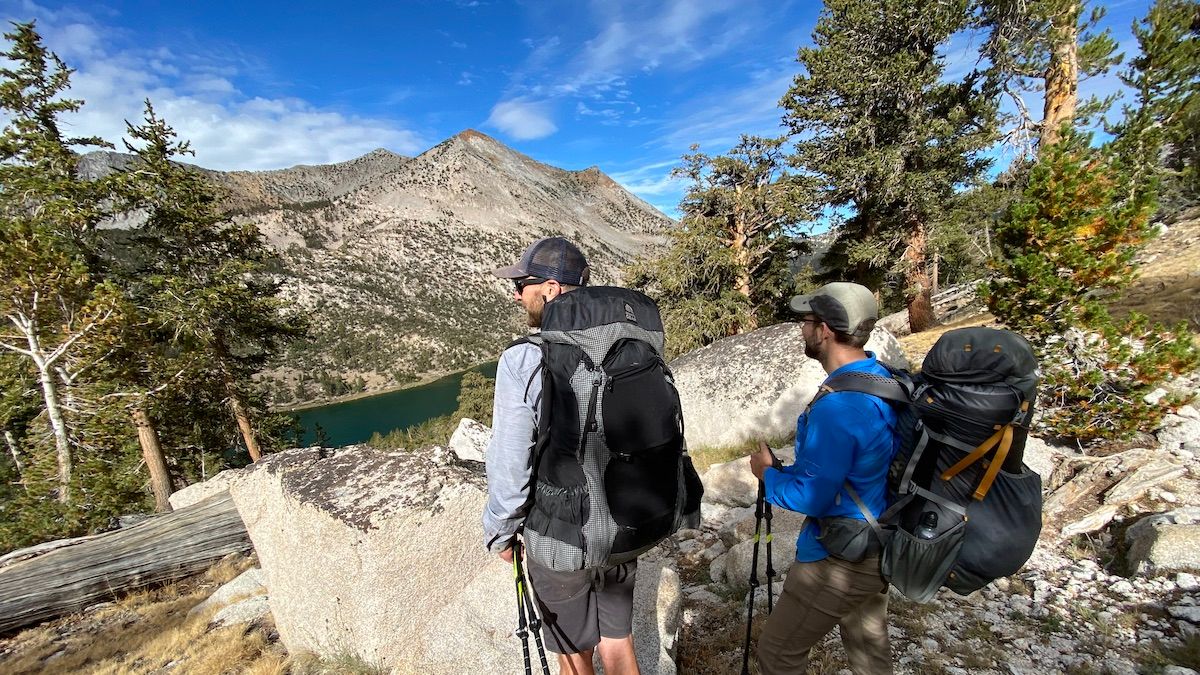 I met Brandon and Steve last year on an adventure trip organized by Andrew Skurka in Rocky Mountain National Park. We decided already during the trip that we should plan another adventure together since we all live near each other in California.
We started planning our trip in the dark of the winter. Our top two choices were the Kings Canyon High Basin Route and the Yosemite High Route. Out of the two, we decided on the Kings Canyon route because we wanted to spend more time in the high sierra.
Brandon submitted our application. A few weeks later, we got good news: we had a permit! Our initial permit was for our second choice trailhead, but Brandon managed to get it changed. We were ready to go. All we had to do was wait a few months.
Planning our hike of the Kings Canyon High Basin Route loop
We based our plan on the 4W section hike of Andrew Skurka's Kings Canyon High Basin Route. After discussing our route with Andrew, we decided to skip Gardiner Basin because we didn't feel comfortable with King Col. Instead, we'd follow the JMT to Rae Lakes and then go off-trail through the 60 Lakes Basin. We'd rejoin the 4W loop again by taking the White Fork Pass alternate to Bench Lake.
That was the plan. We ended up changing our route after Bench Lake because we had overestimated our speed going cross-country, and because there was a significant risk for thunderstorms which would have stranded us in the high country.
Route and stats
Note: If you want to attempt this route, please read Andrew Skurka's excellent route description of the Kings Canyon High Basin Route. It includes an incredible amount of valuable information on anything from how to approach passes to how to arrange resupplies on longer trips.
The path is approximate on the off-trail sections.
The stats are actuals recorded on my Garmin Fenix 6 watch.
| Day | Distance (miles) | Ascent (ft) |
| --- | --- | --- |
| 1 | 4.1 | 1,230 |
| 2 | 11.5 | 4,540 |
| 3 | 8.7 | 2,650 |
| 4 | 14.1 | 4,140 |
| 5 | 18.5 | 2,060 |
| 6 | 9.1 | 370 |
Day 1: The long drive to Road's End and a night hike up Bubbs Creek
It's a 4-hour drive to the trailhead from the coast where we live. Most of the drive is through uninspiring farmland in the Central Valley. But the scenery starts to change quickly as you begin ascending the Sierra foothills.
It was getting late when we drove through Kings Canyon. The late afternoon shadows drew stark shadows on the steep walls on either side of the road. There was very little traffic as much of the park was closed because of COVID.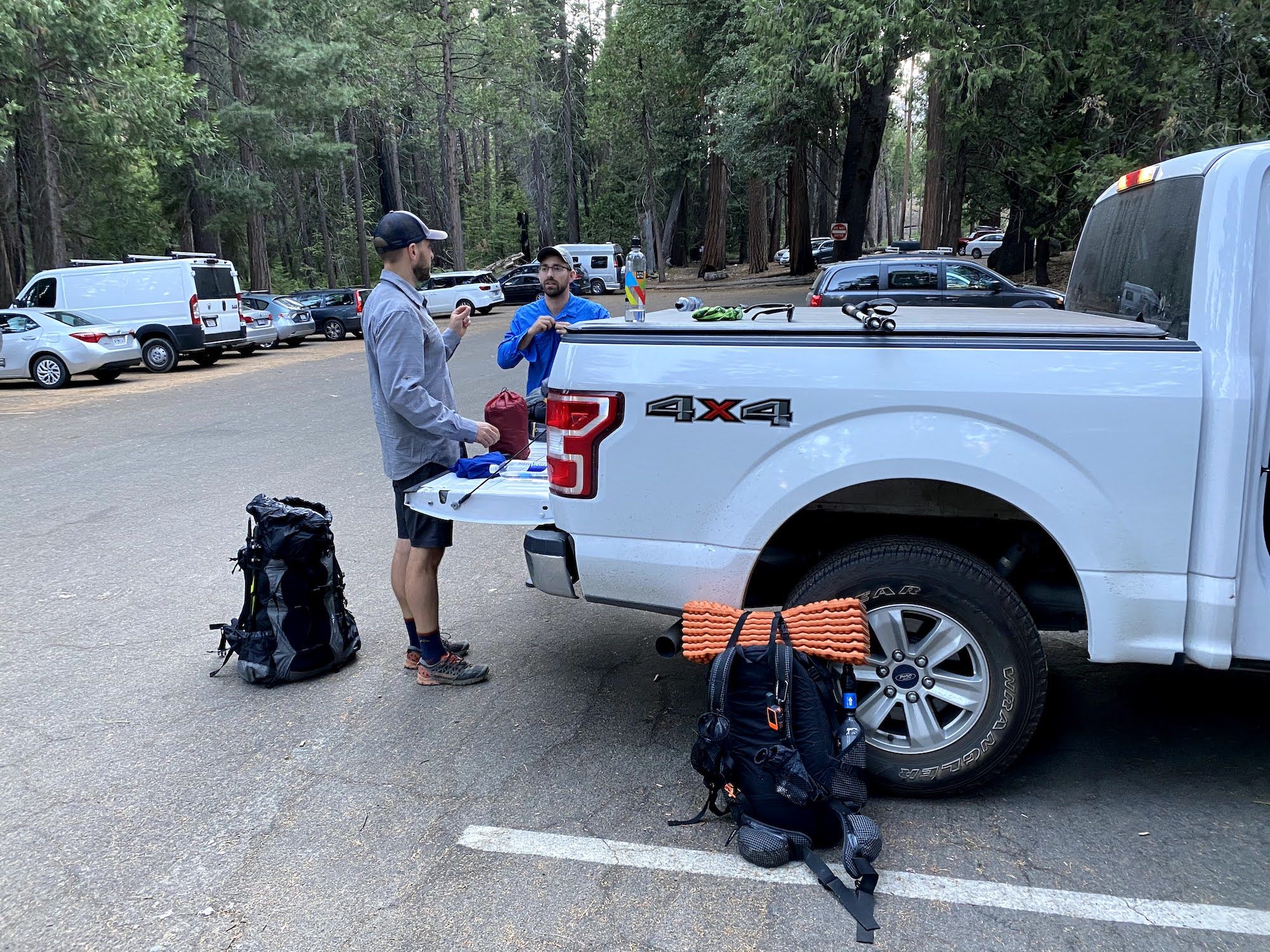 We arrived at the trailhead about an hour before sunset. Before we could head out, we still had to divvy up our meals and pack our bags. In true ultralight jerk fashion, Steve had brought a luggage scale. He won with a 26lb total pack weight. Brandon and were schlepping around 28lbs.
At last, after months of planning and hours of driving, we were on the trail. We only had about 5 miles to go the first day, but we knew we'd be hiking in the dark.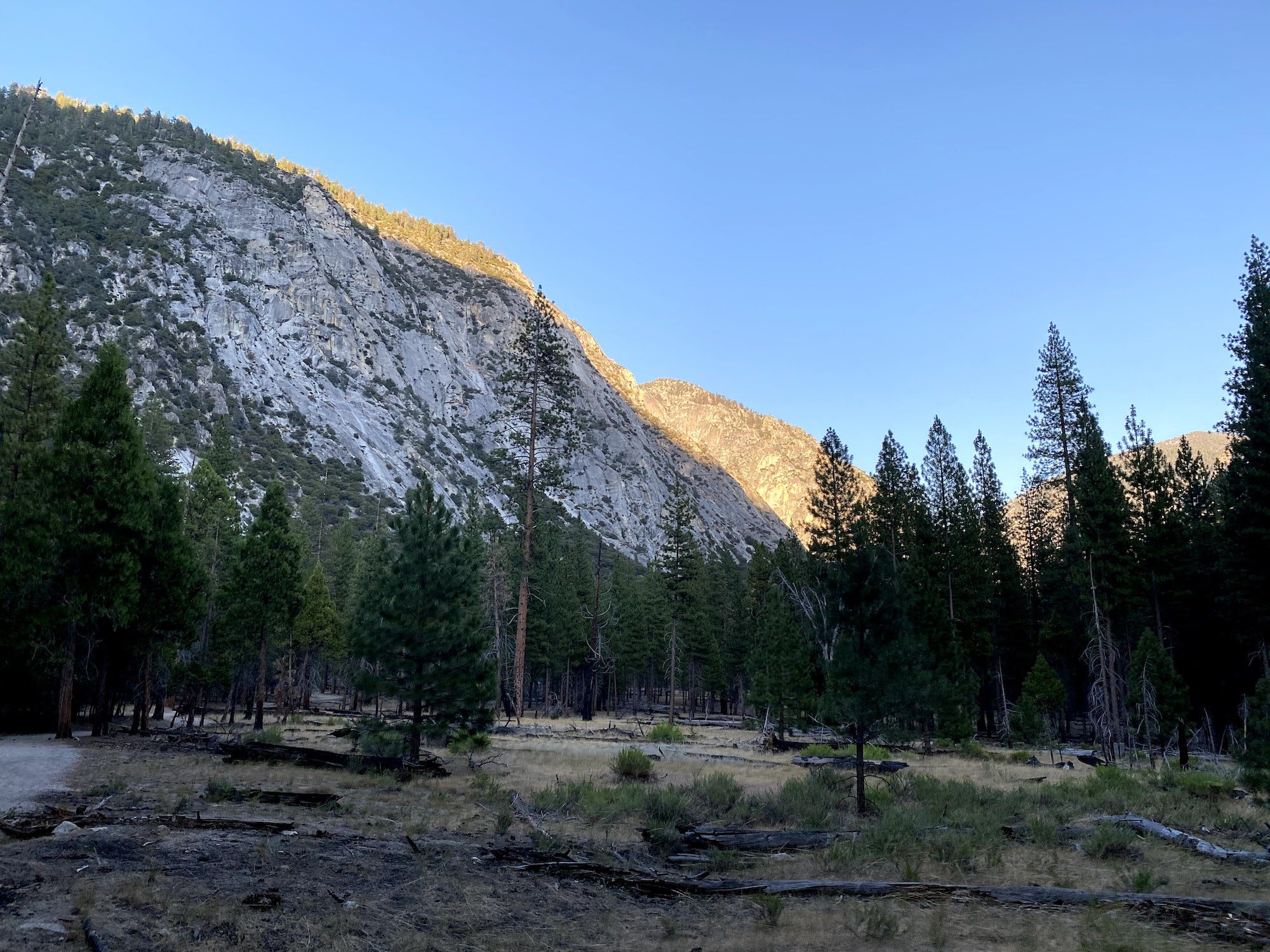 The trail climbed steeply when we left the South Fork Kings River and began following Bubbs Creek. As we gained altitude, we got some spectacular views of the valley behind us in the fading daylight.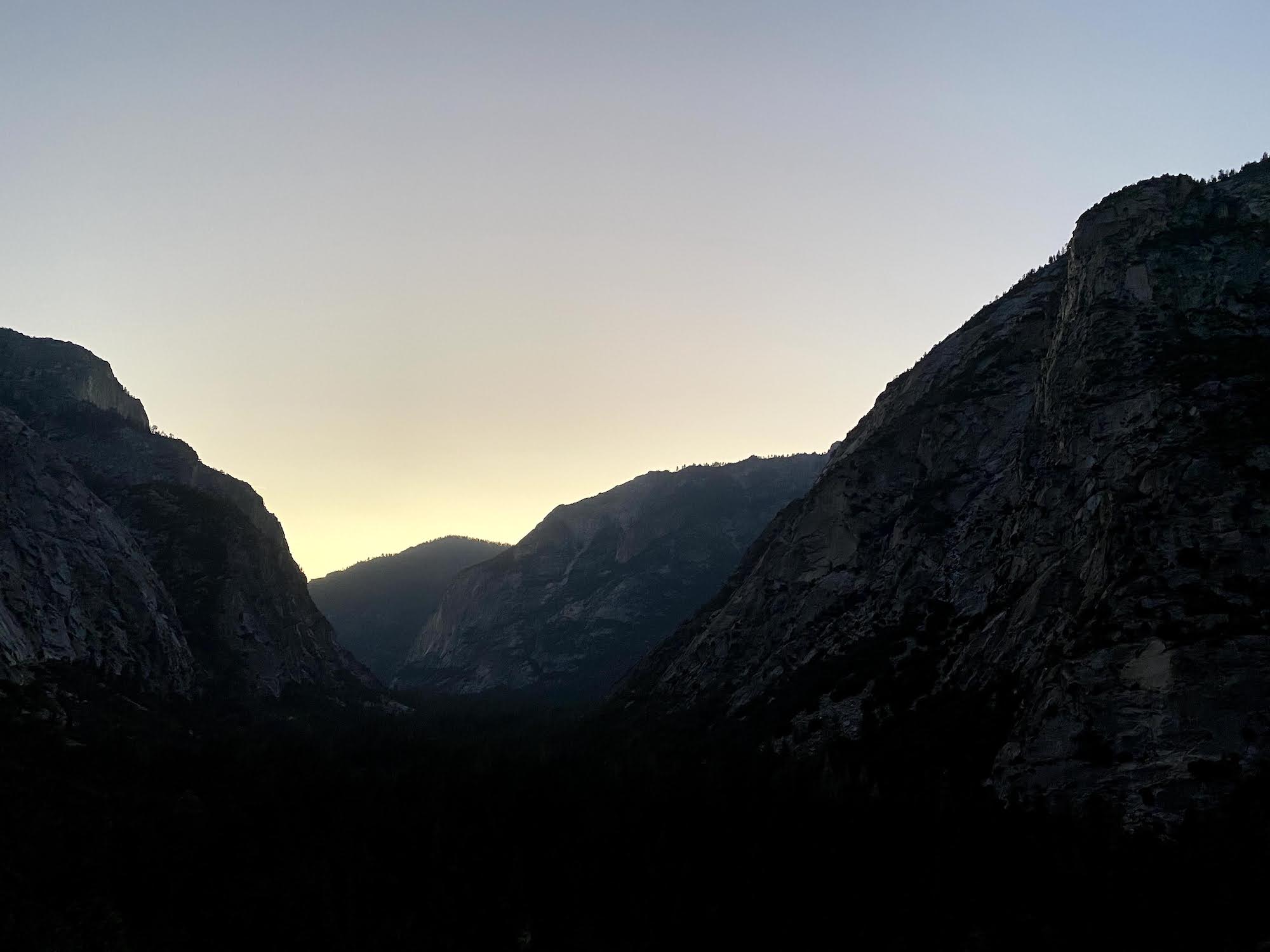 We rolled into camp a little before 9 pm. There were already several groups camping there when we arrived, so we quickly found a site that was off to the side and set up our sleeping pads for a night under the stars. It was unseasonably warm and no chance of rain, so we all opted to look at the Perseids meteor shower instead of being cooped up under shelters.
Day 2: Getting to know the bears at Charlotte Lake
We planned a couple of more leisurely days at the beginning of the trip to help us acclimate before heading off-trail into the high country. The shorter days also gave us time to fish, something we were all excited to do. Steve and Brandon had bought new Tenkara rods and were eager to try them out.
From camp, the trail follows Bubbs Creek through a pleasant forest. We planned on having breakfast a bit later in the morning once we found a sweet spot for fishing.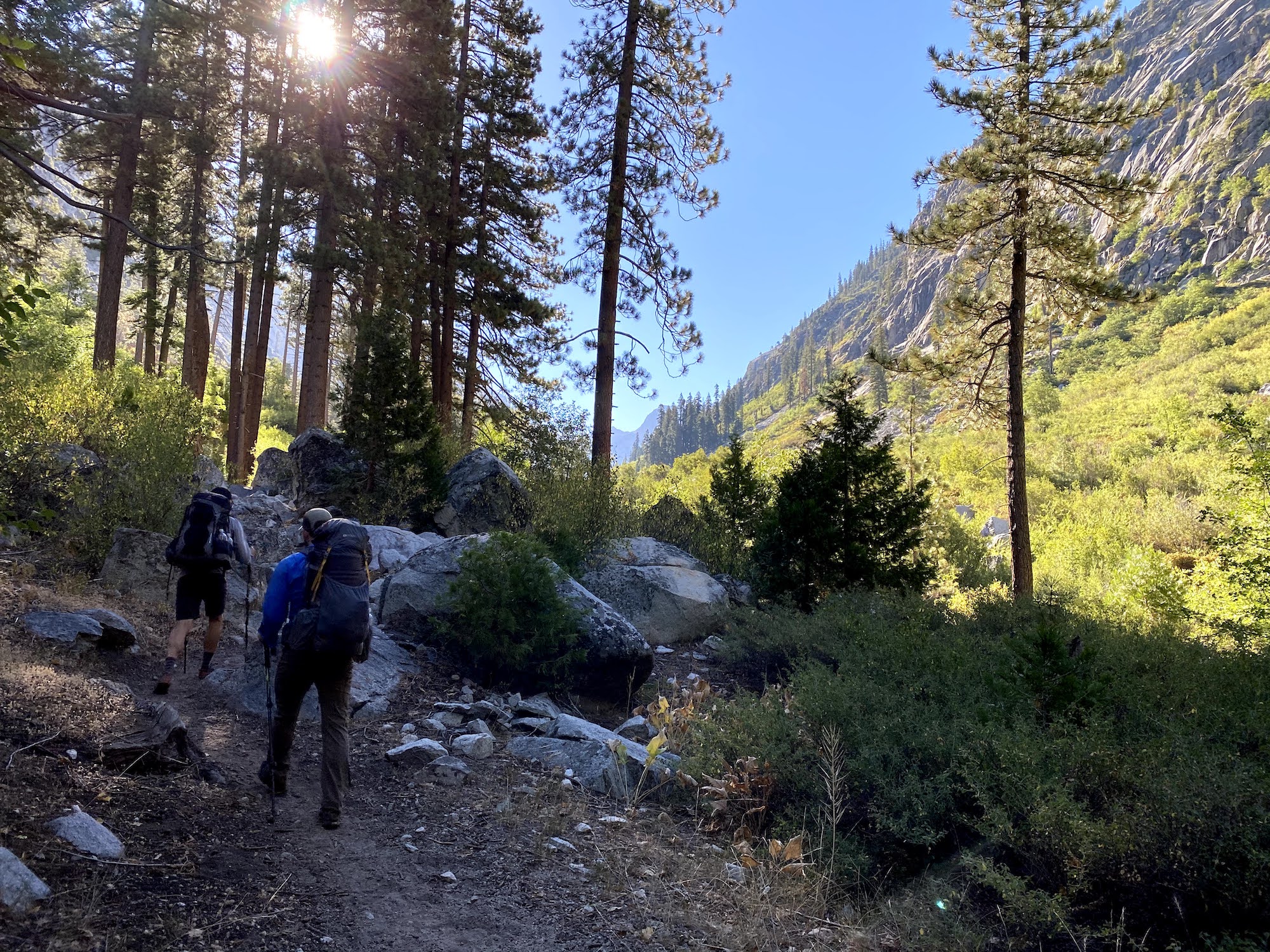 The water flow in Bubbs Creek was already low after a dry winter, making it difficult to find a good fishing spot. Eventually, we found a decent looking hole and stopped to fish for a while. We caught a total of one brown trout among us, so we continued, planning to spend more time fishing Charlotte Lake instead.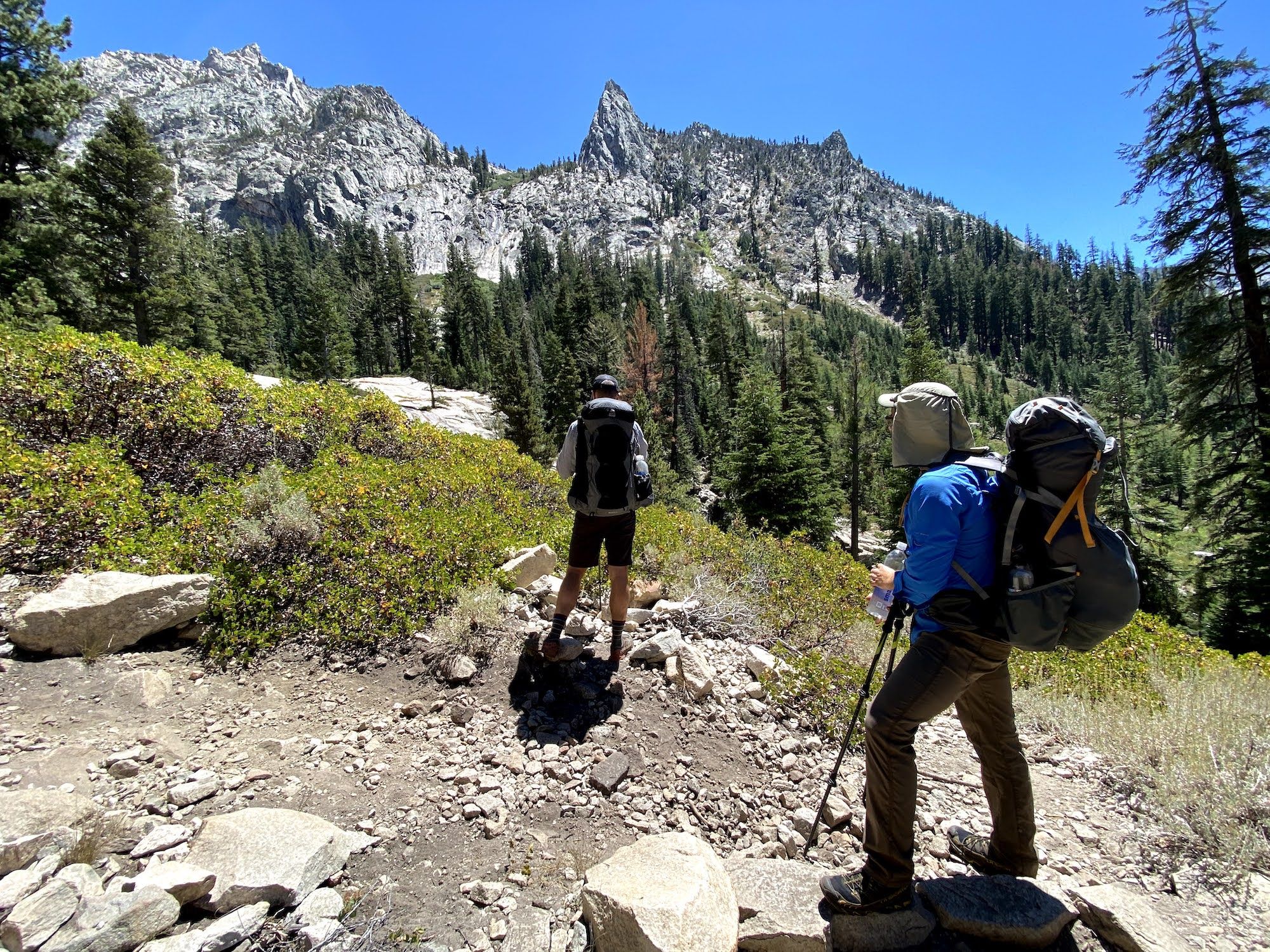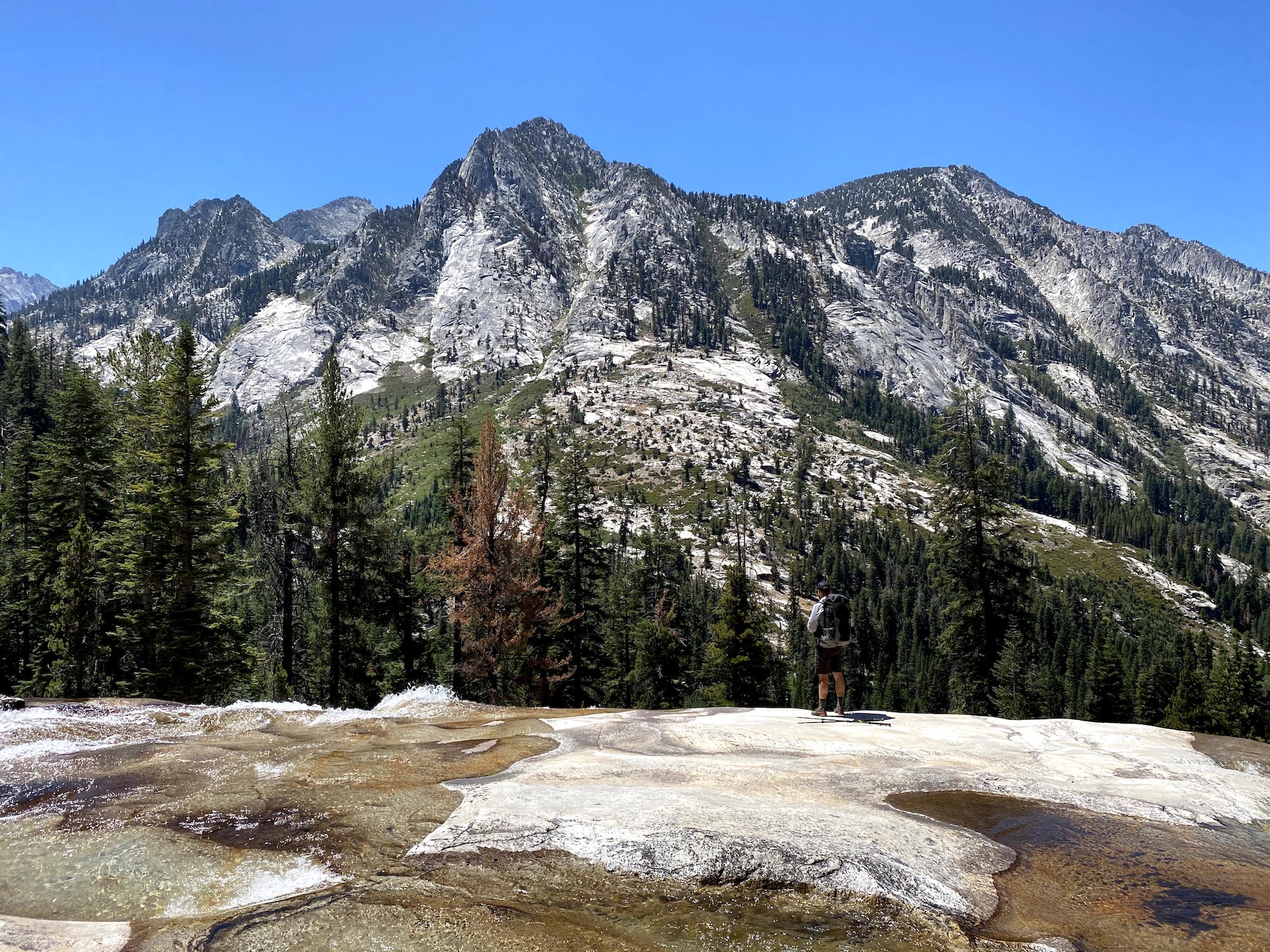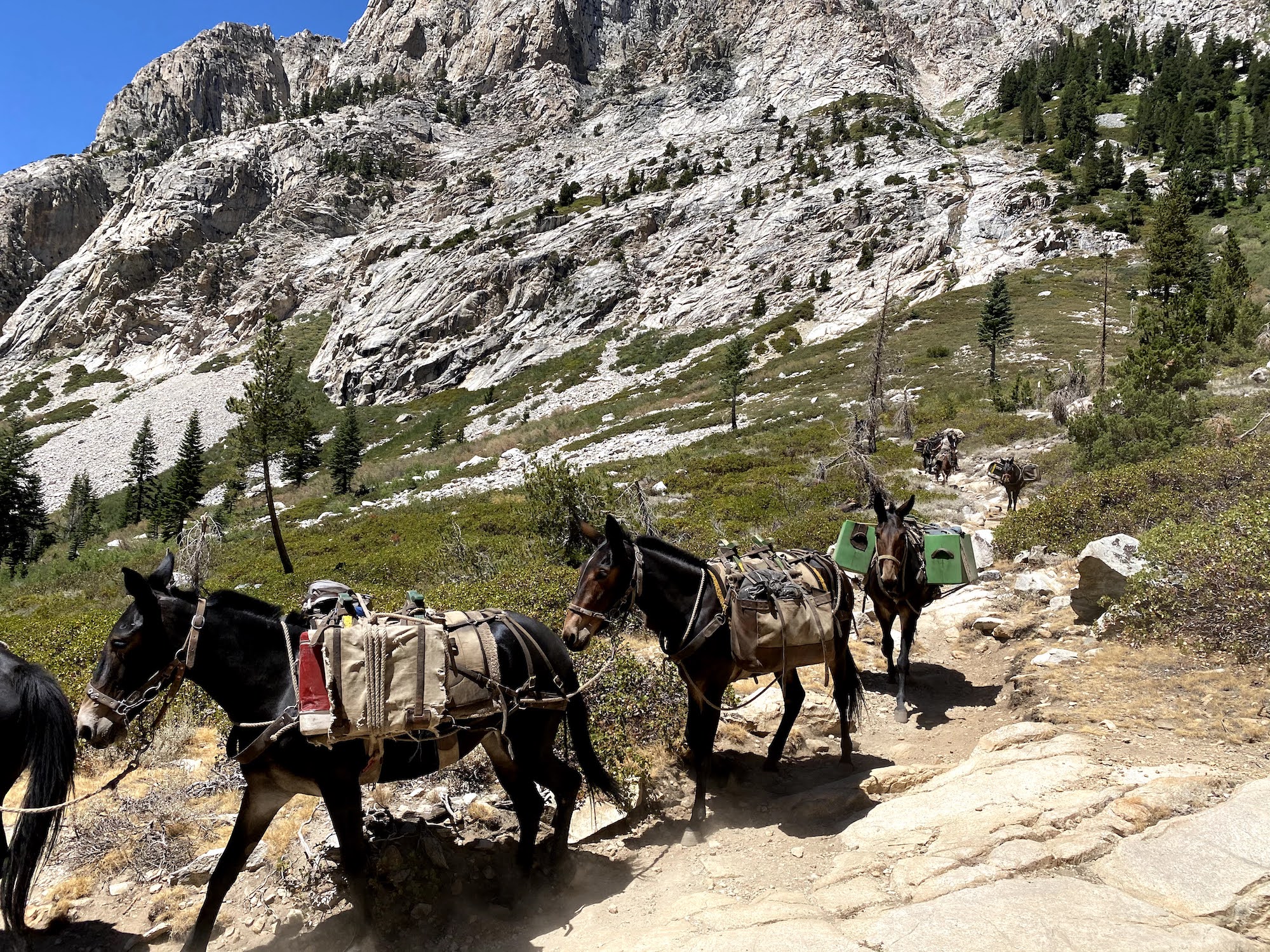 After Junction Meadow, the trail begins to climb more steeply. The tall trees start to give way to manzanita shrubs and views of the surrounding mountains. Bubbs Creek flowed over the granite, forming a wide waterfall. The last part of the ascent before the Charlotte Lake junction felt steep in the midday sun, especially since all of us had come from sea level the day before.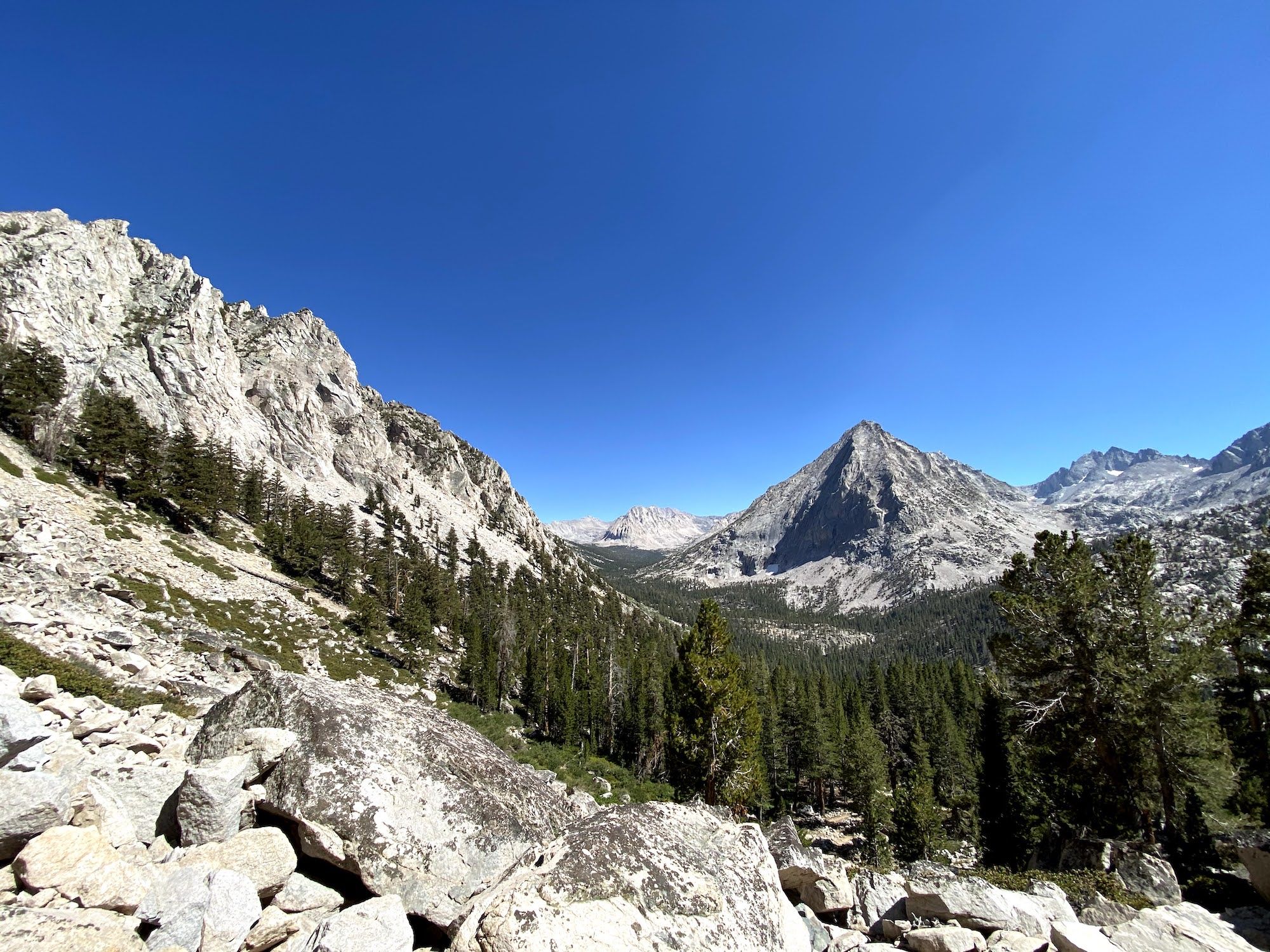 From the JMT junction, the trail drops a few hundred feet down to Charlotte Lake with some beautiful views of the lake as you get closer. We set up camp on the northern shore of the lake.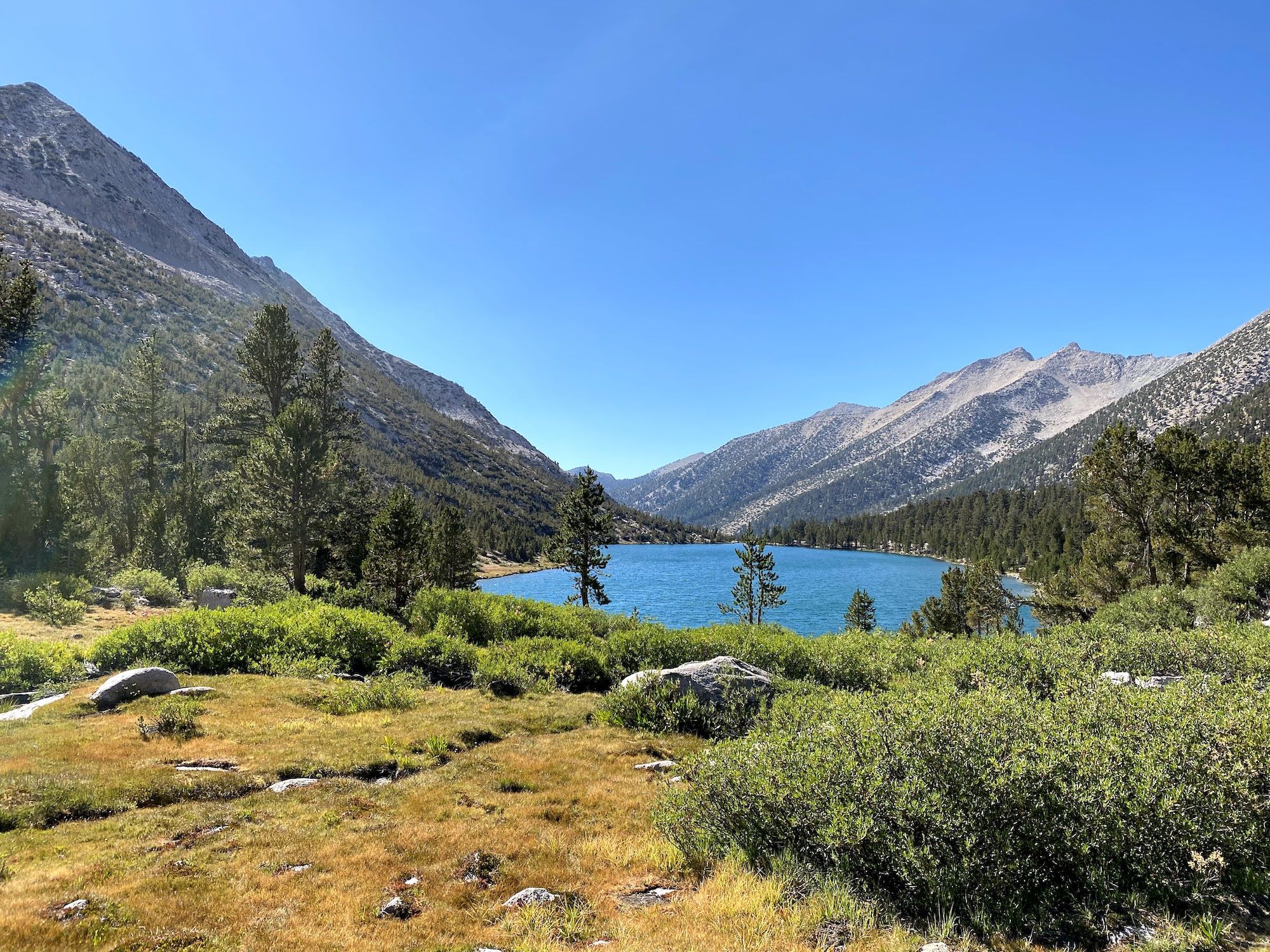 Suddenly, as we were having some afternoon snacks at the campsite, we started hearing loud, shouting, and whistling from farther away. Eventually, the noise stopped, but a few minutes later, Brandon noticed a bear looking down on our campsite from 20 yards away.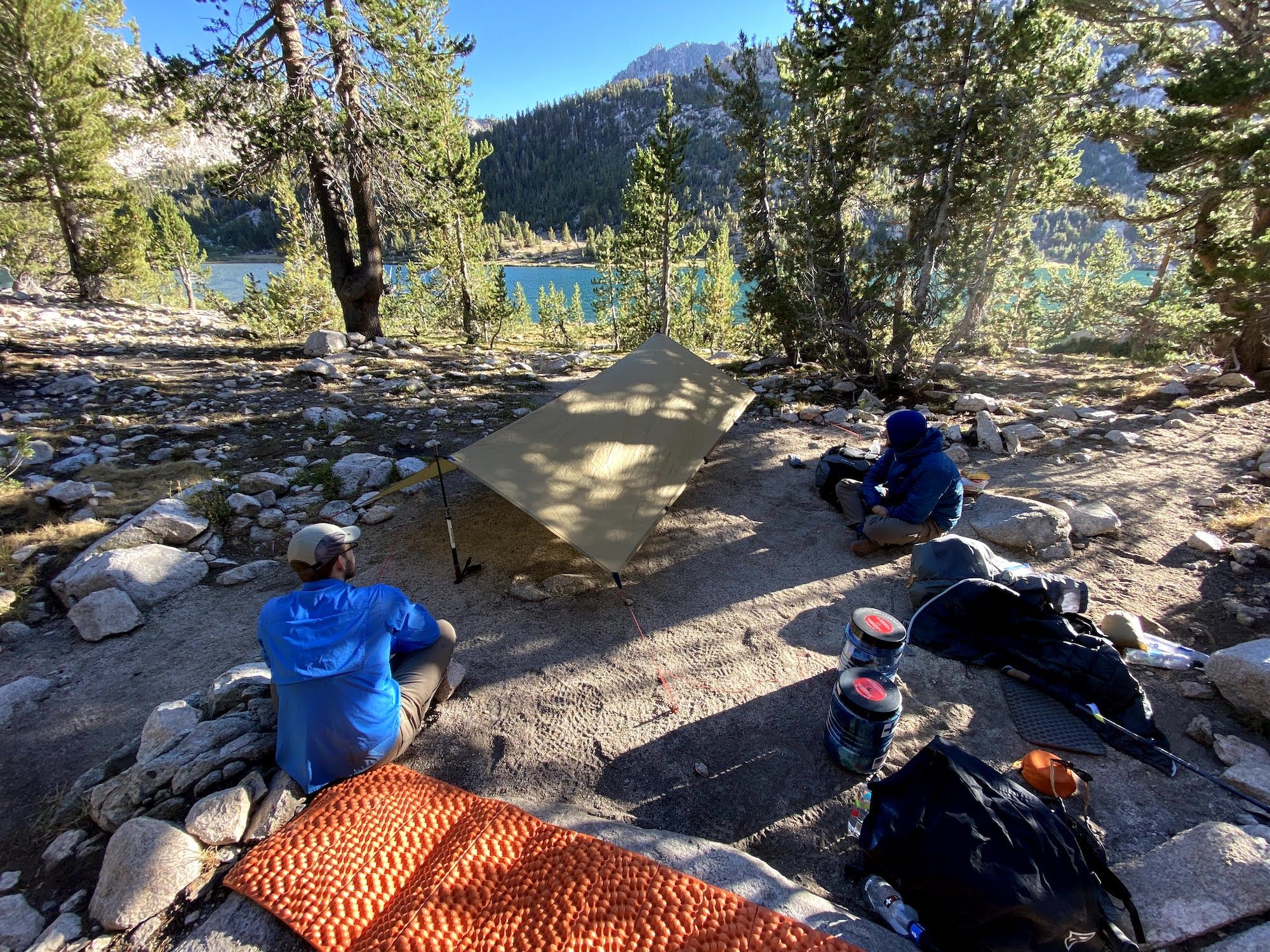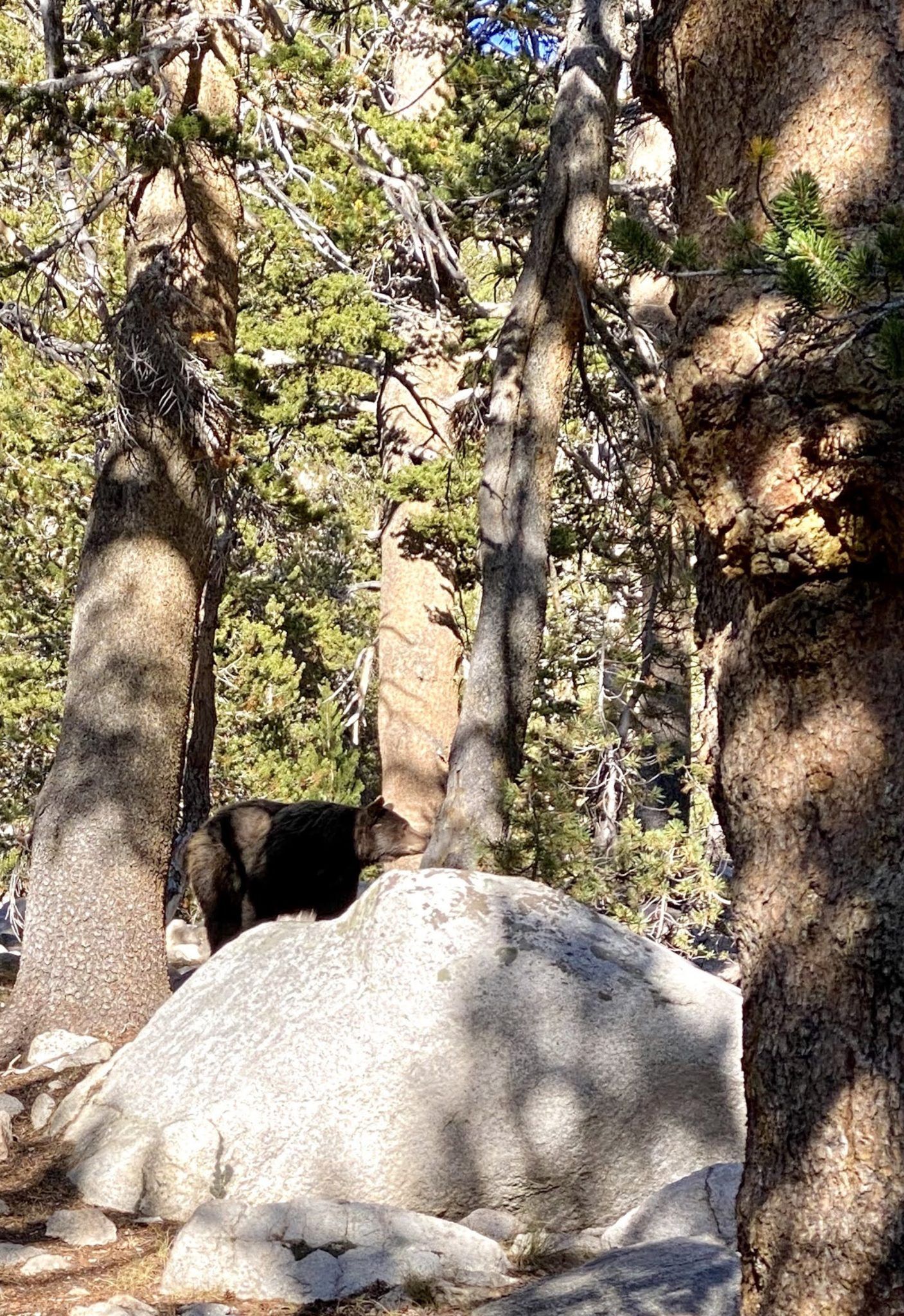 We chased off the bear by yelling at it, throwing rocks near it, and following it a bit to make sure it went away. A few minutes later, we could hear the next camp yelling at it. We named the bear Fred.
We went fishing as the sun started setting. As the wind died down, the surface started boiling with activity. We tied on some dry flies and caught a lot of trout, although the fish were small.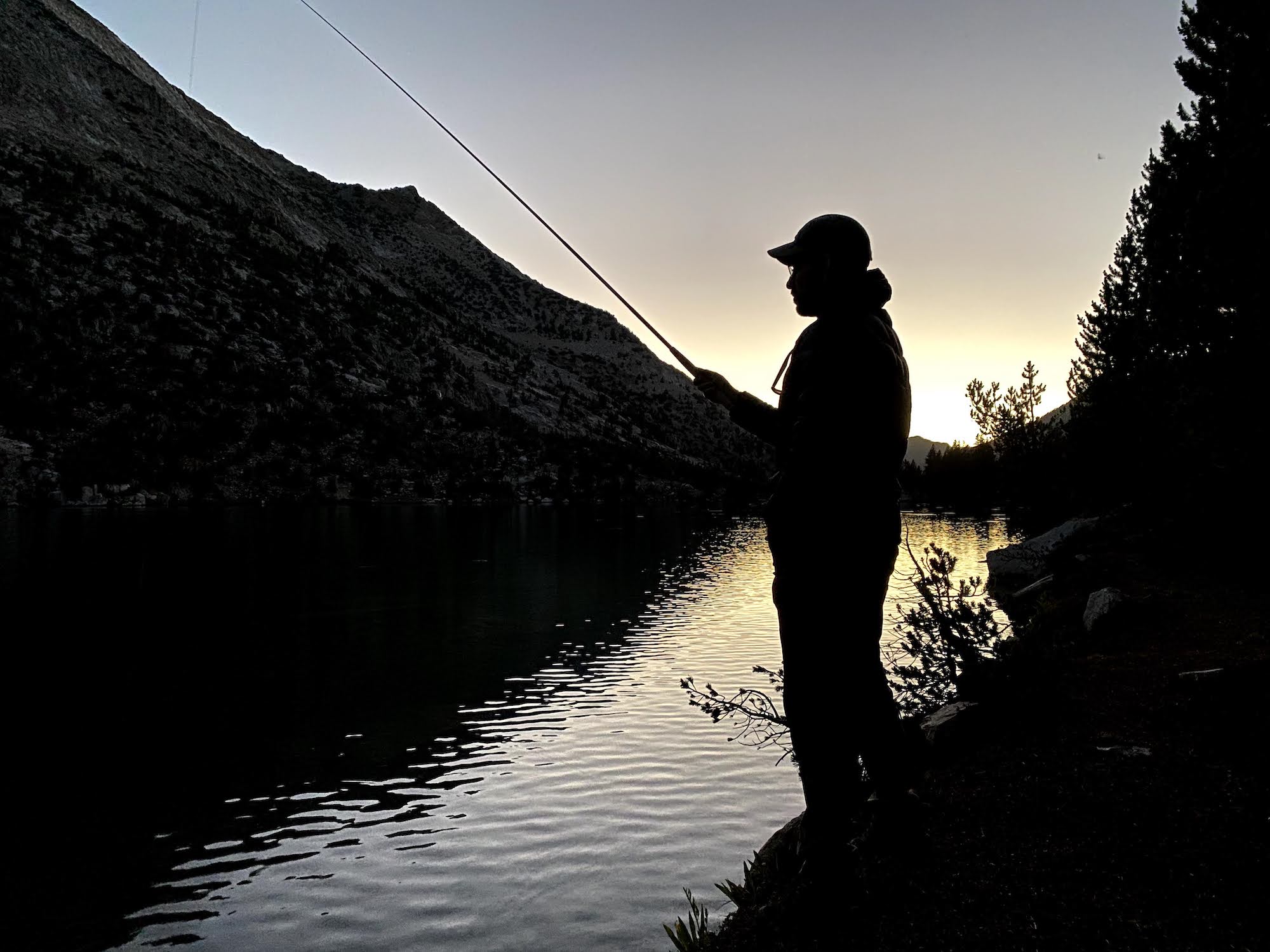 As the dusk started fading, Brandon came back towards the camp along the shore, saying that the bear is making its way back along the trail. Once again, we had to chase it into the woods. We all gathered a small pile of throwing rocks beside our sleeping pads so we could chase off any further bears.
Later that night, as I was lying under my quilt watching the meteorites, I thought I heard something near our bear canisters. I turned on my headlight, and sure enough, I could see a pair of eyes reflecting 10 yards from where Steve was sleeping. Again, we chased the bear off.
Clearly, we wouldn't be sleeping well this night.
Day 3: Fishing Rae Lakes before heading off-trail into 60 Lakes Basin
I spent most of the night laying half-asleep, keeping track of time by where the milky way was in relation to a treetop. Although I didn't sleep much that night, I got an incredible display of the Perseids throughout the night.
It was already light outside as I was lying under my quilt, waiting for the others to wake up. Although I hadn't heard anything, I sensed something was near me. Sure enough, there was a bear just 10 ft from me on my right-hand side, curiously sniffing the air. Once again, we got to chase it off, followed by a hail of rocks. In daylight, we could see it was a different bear than the one we'd seen the day before. We named him Frank. We figured he was on the morning shift.
The ranger came by our campsite in the morning asking if we'd have trouble with the bears last night. We told her about our encounters, and she was glad we'd been persistent in chasing them away. They had gotten a backpack from one of the camps the night before, and some granola this morning.
The ranger remarked, "Oh, you're actually doing something cool!" when we discussed our cross-country trip plans. I suppose most of the backpackers there are on one of the well-known trails.
The plan for the day was to fish at Rae Lakes and then head into 60 Lakes Basin and camp somewhere away from the crows (and bears).
Instead of taking the trail back to the JMT junction, we decided to take an off-trail shortcut to save almost 2 miles of back and forth. The terrain from Charlotte Lake to the JMT was straightforward and easy to navigate.
The climb up to Glenn pass felt easy even after the poorly slept night. We spent some time at the top eating snacks before continuing down to Rae Lakes.

On our way down, we met a woman who was just finishing an extended version of the loop we were doing. She said King Col had been an intense experience, and her backpack was beaten up from sliding down it. Hearing that made us glad that we had decided to instead go to 60 Lakes Basin.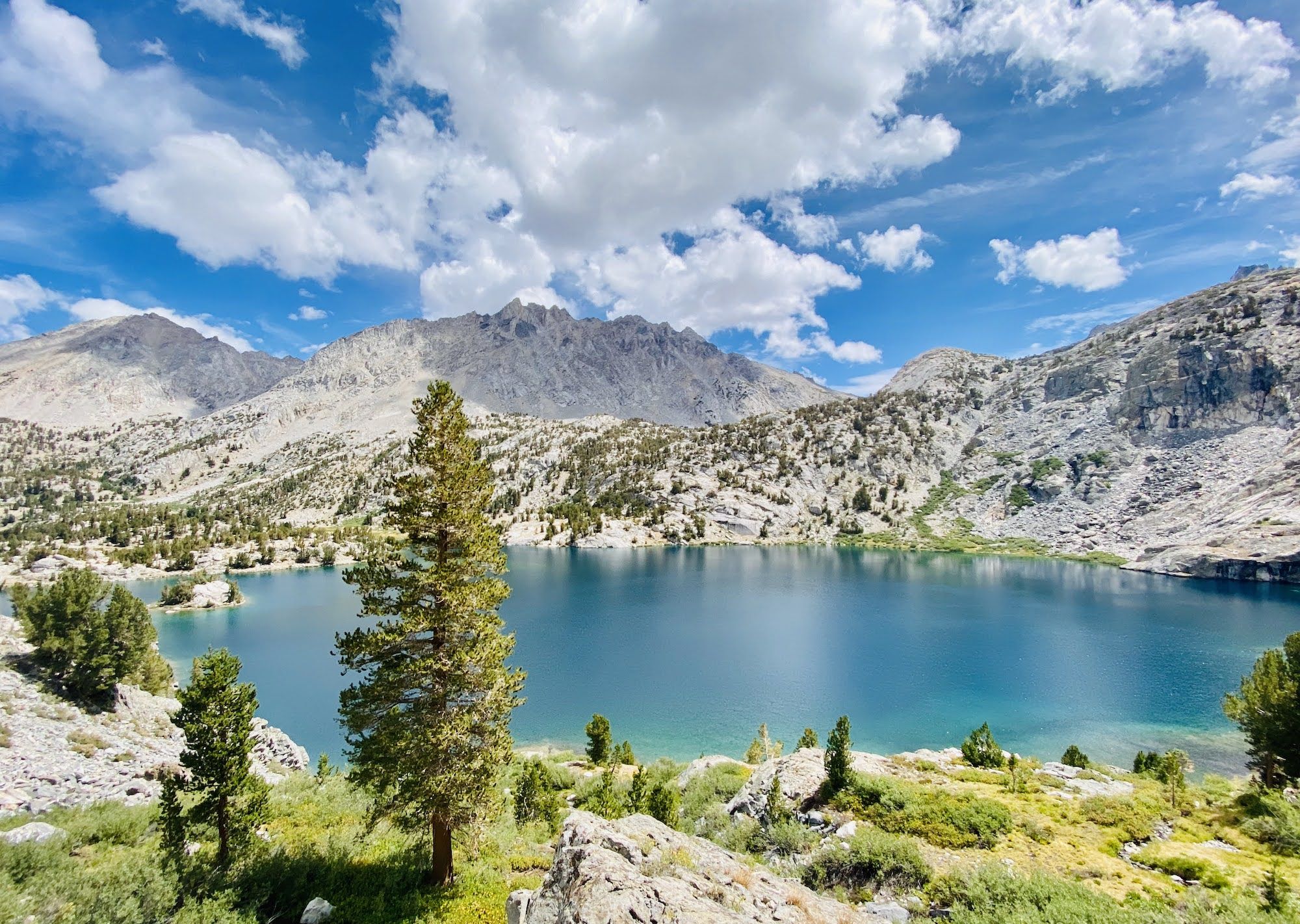 Rae Lakes is teeming with small trout. You can see them swimming along the shore from far away. I hooked a double-header right on my first cast, although I only managed to land one. All in all, we caught almost 20 trout before thunder clouds started rolling in. We cooked up one trout as a snack and then continued up to 60 Lakes Basin.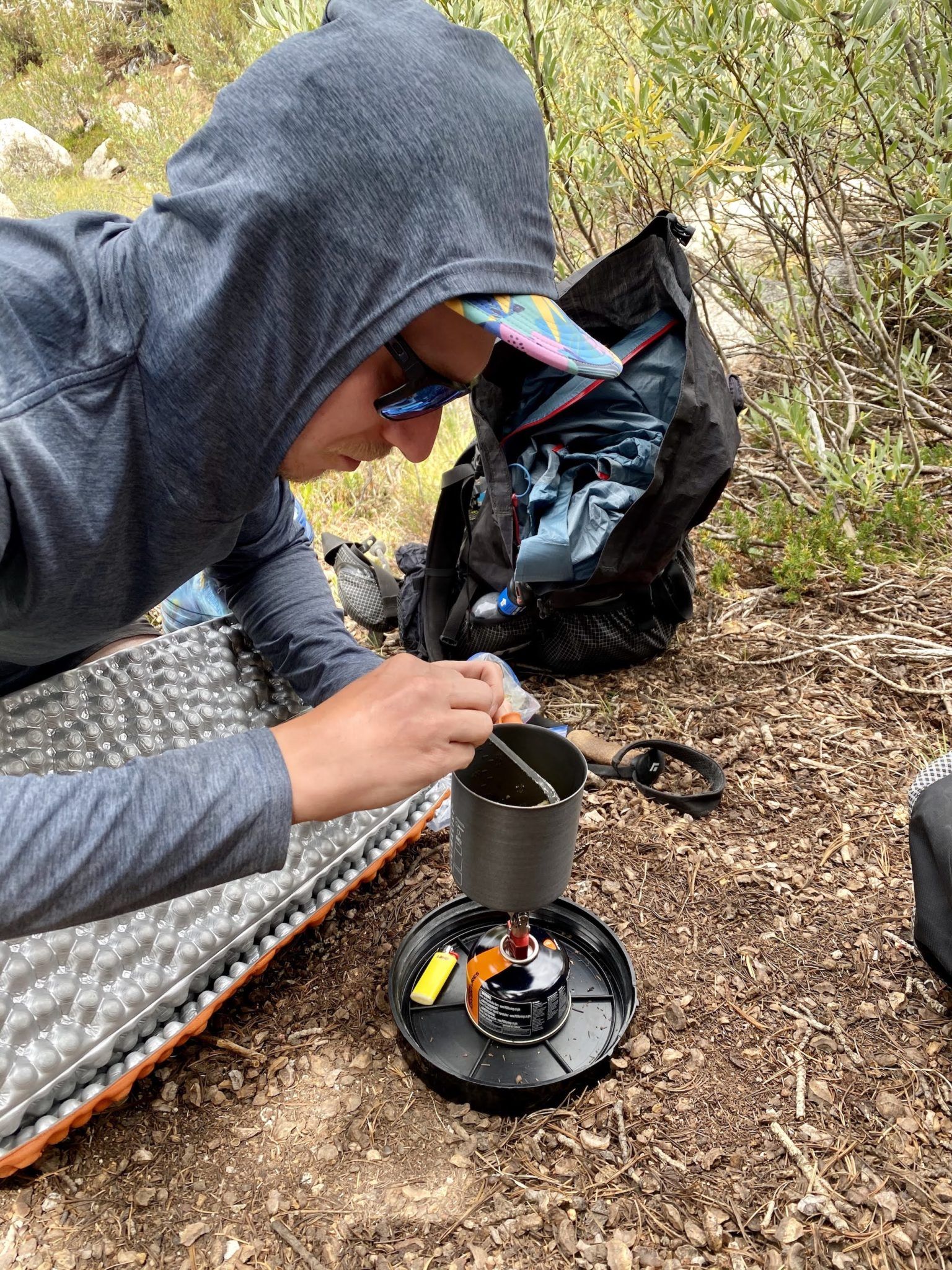 It started sprinkling on us as we ascended from Rae Lakes, but it never started raining enough to get us wet. The trail continued much further into the basin than the map showed. Only the last half-mile or so of our day was off-trail.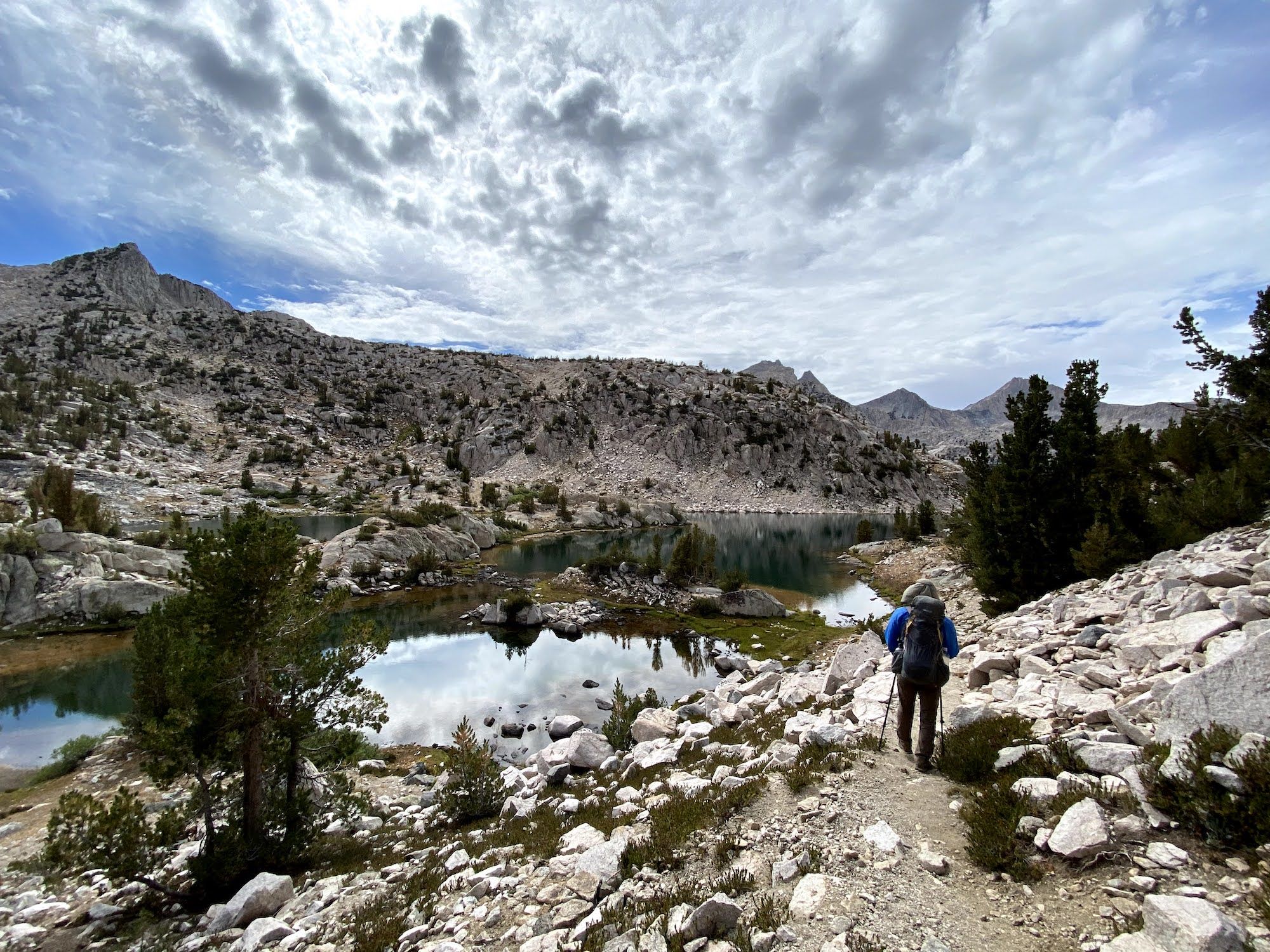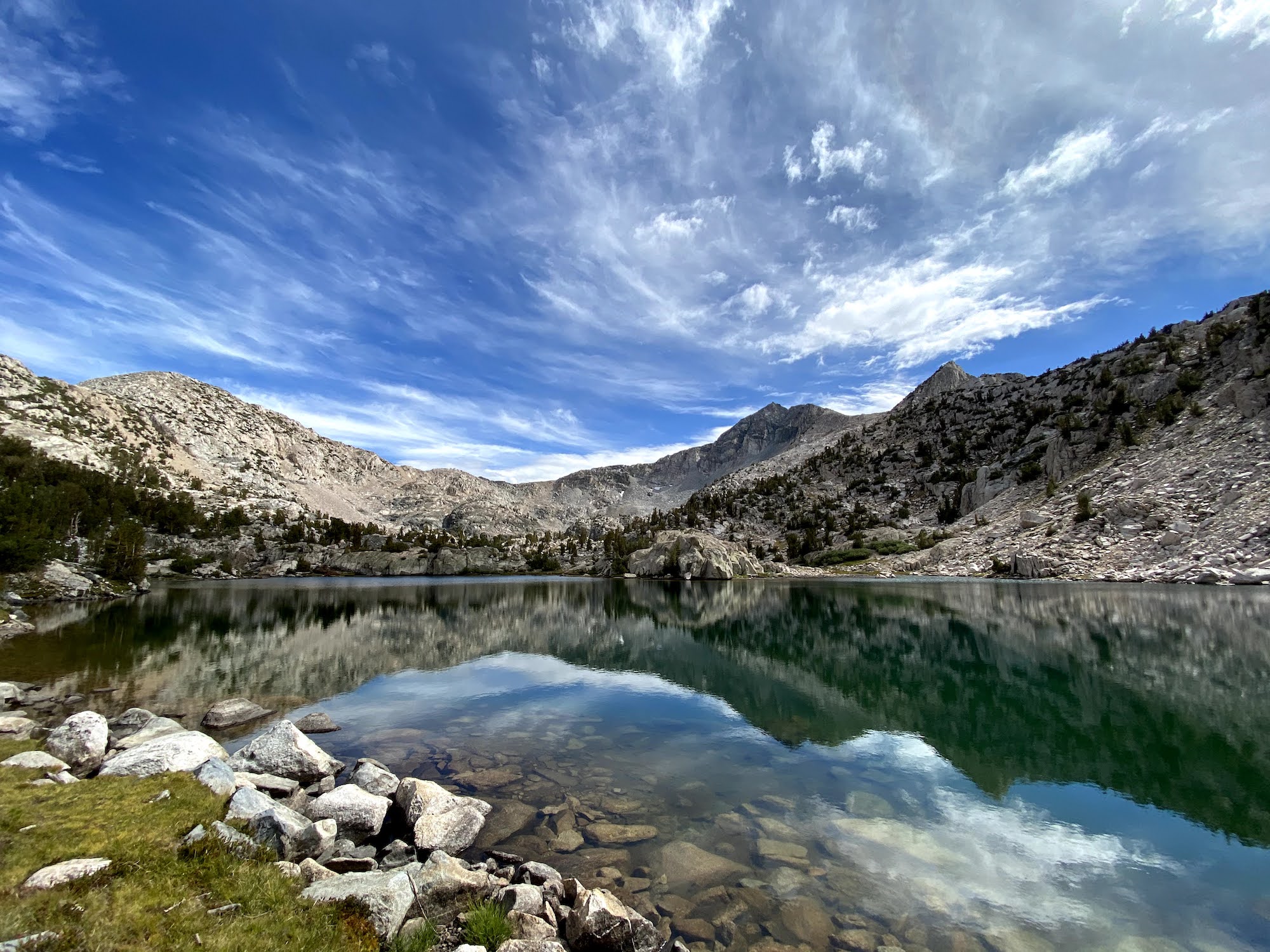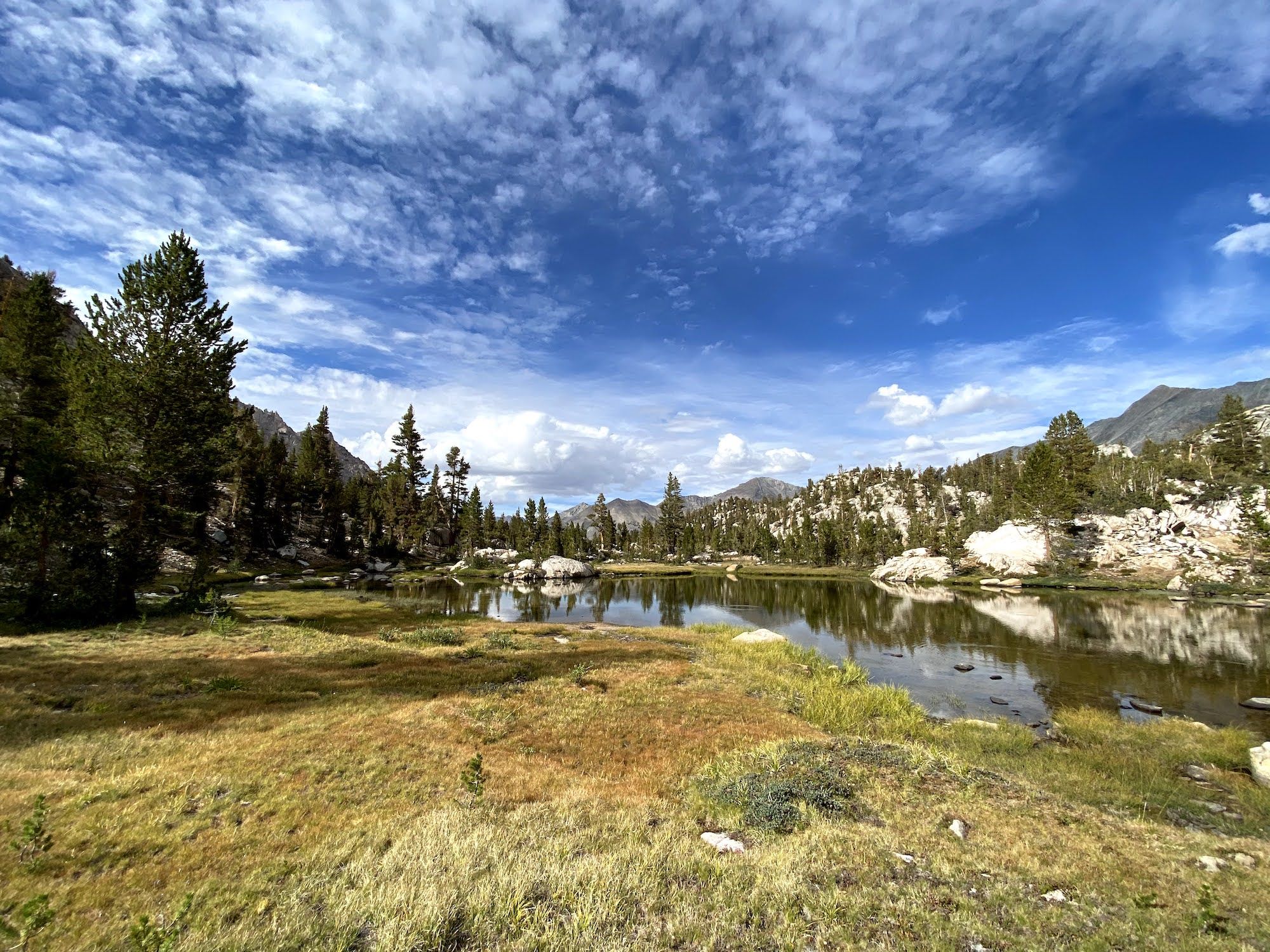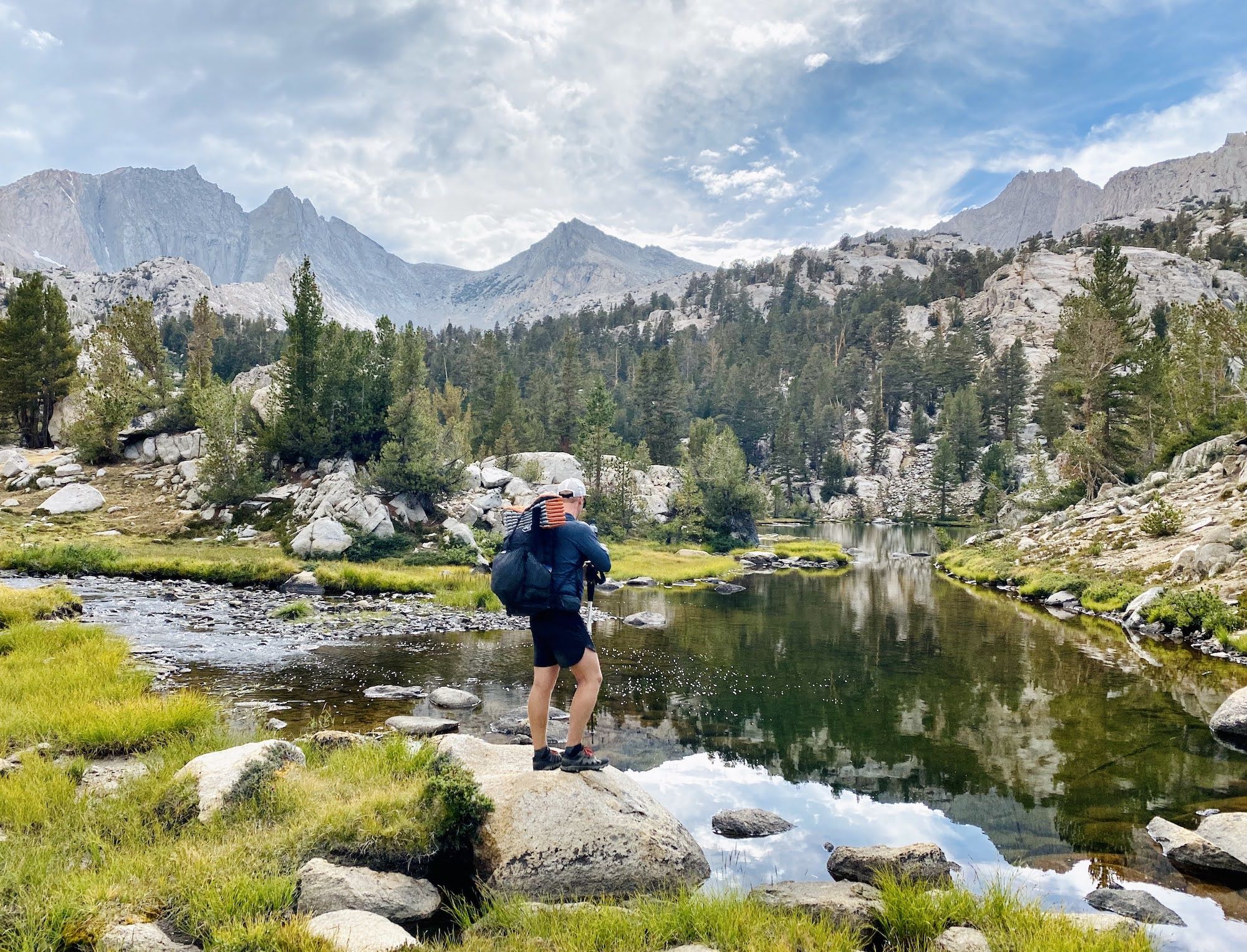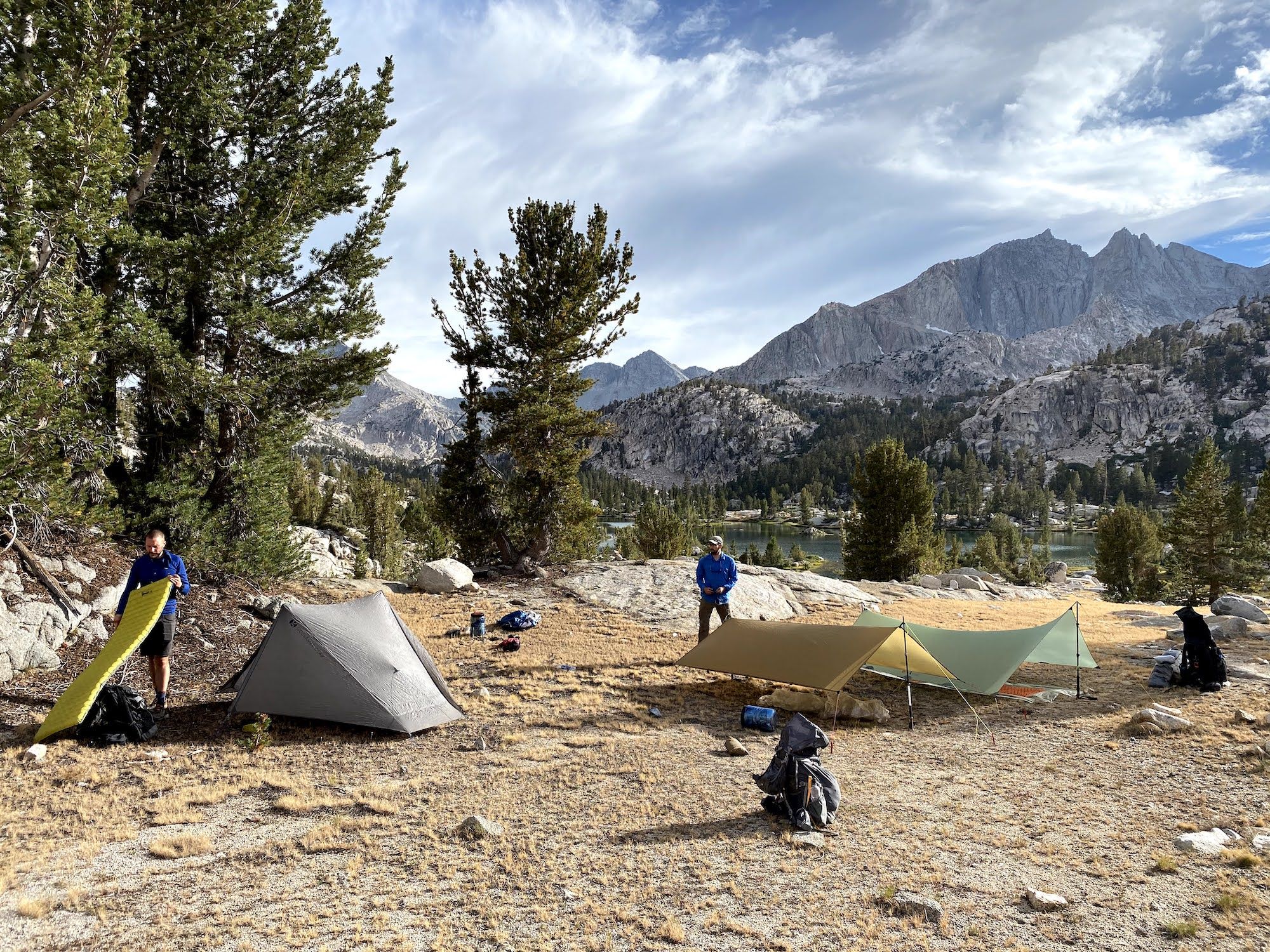 We found a stunning campsite overlooking the lakes. We decided to set up our shelters just in case, although the rain had already stopped. We had dinner looking at the sunset over the mountains.
Day 4: Chased by thunderstorms over White Fork Pass
The night was wonderfully uneventful, and I slept like a rock.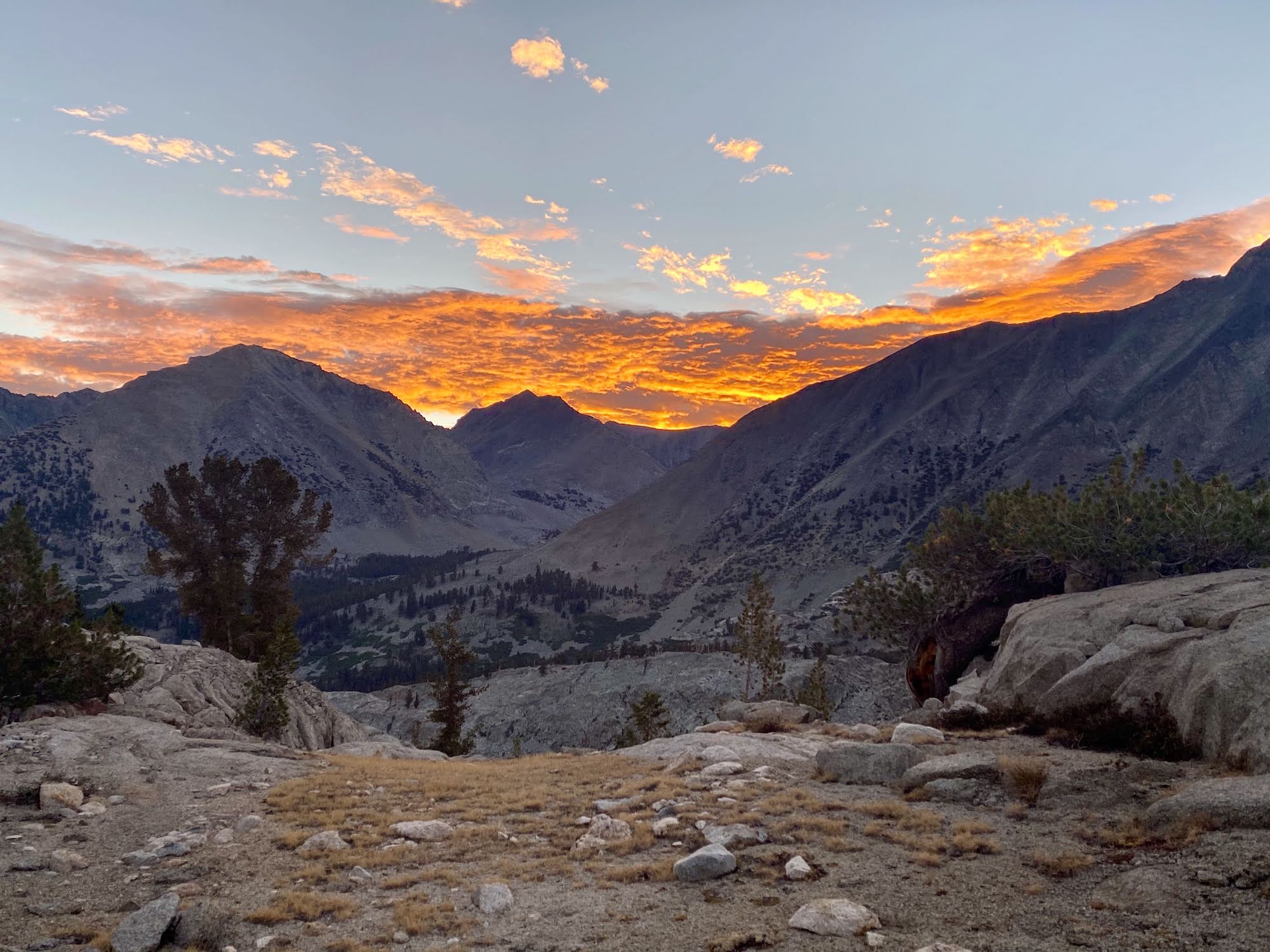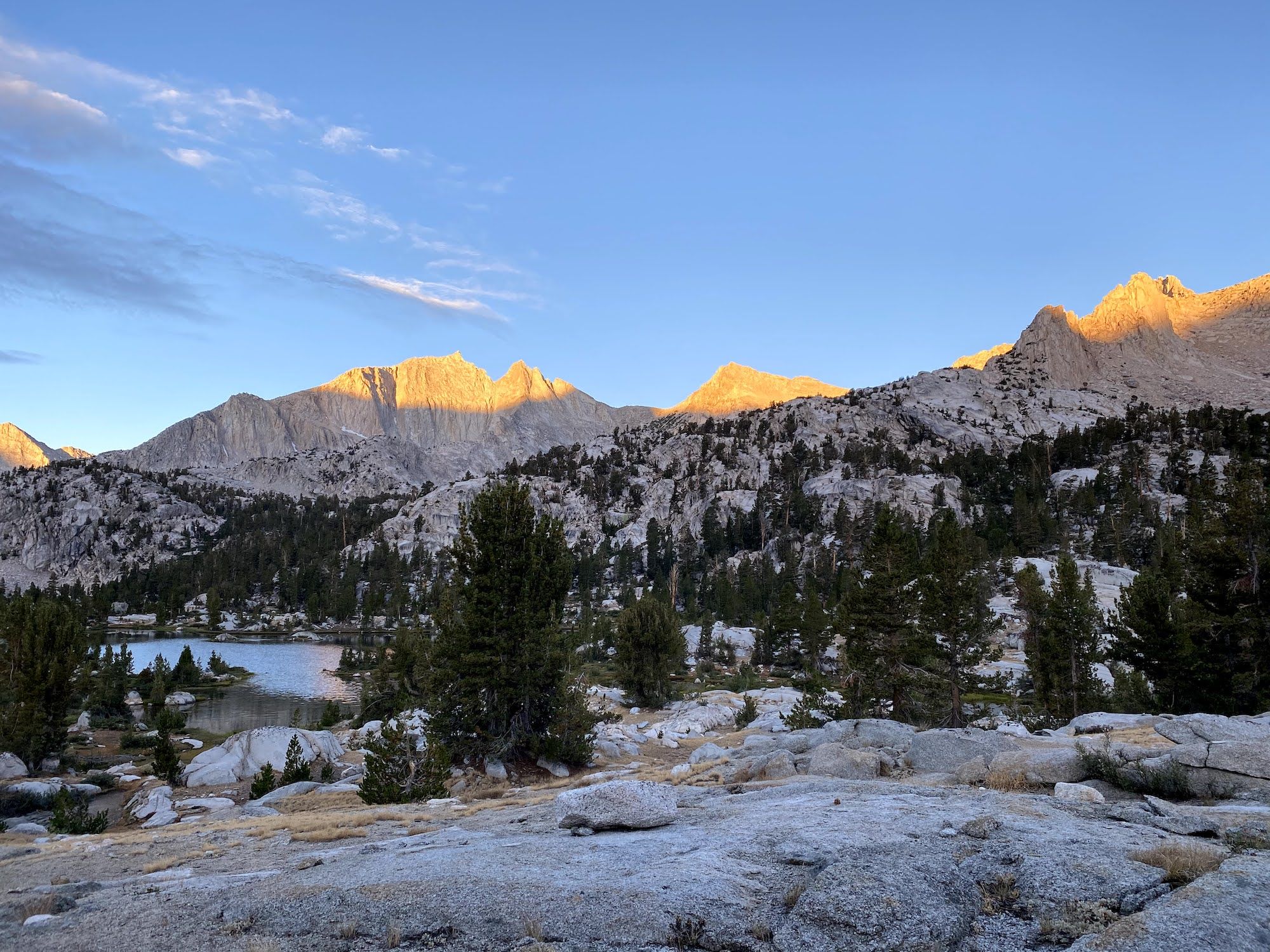 After breakfast, we started our trek out of the basin. We followed the creek, crossing it before the terrain got very steep. There were a few steep sections on the way down, but mostly it was easy going through the beautiful morning scenery.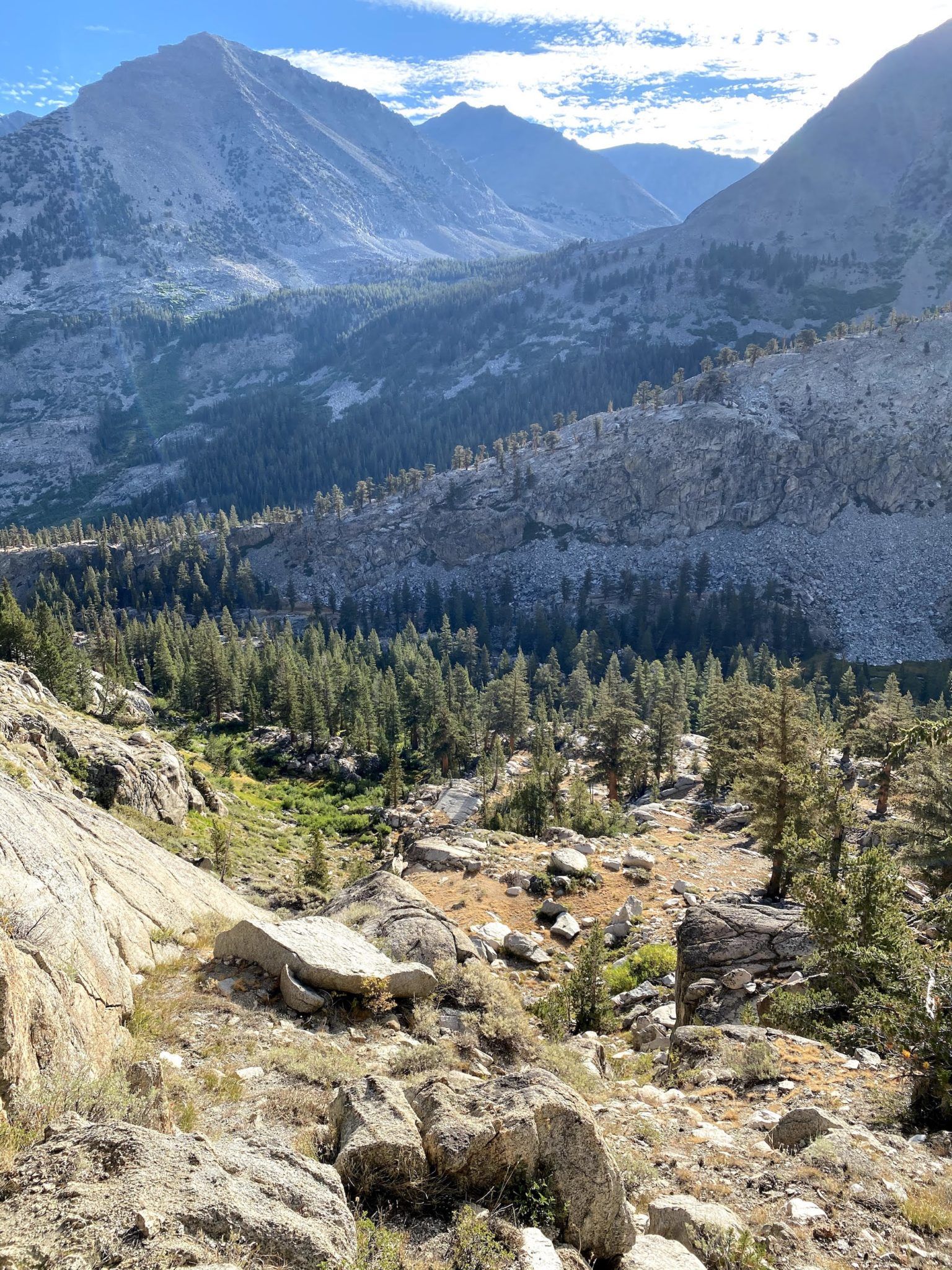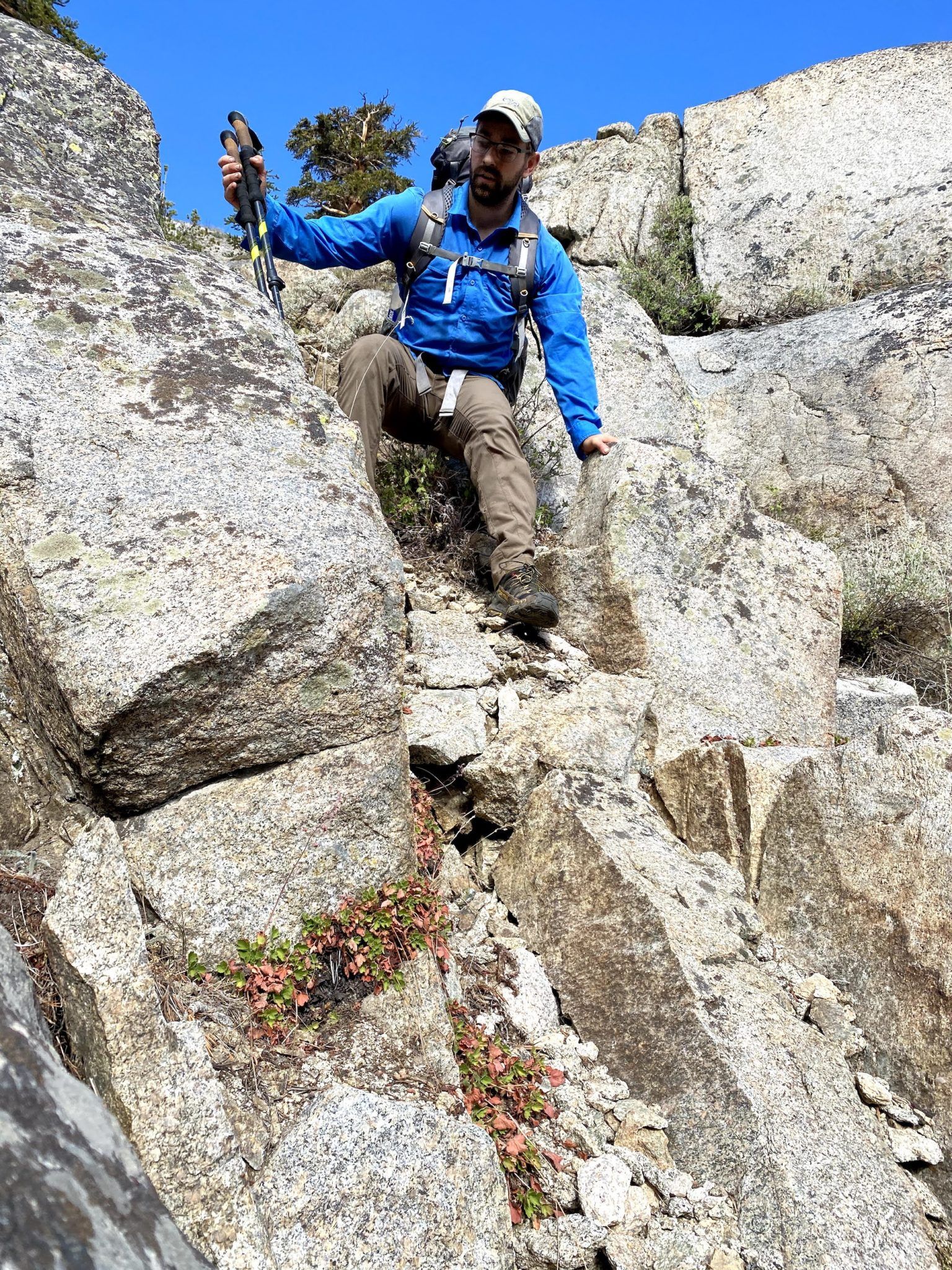 Back on the JMT, we continued our descent to 8,500 ft at the Woods Creek bridge. From there, we had just over a mile to White Fork, where we would leave the trail again.
We took a break in the shade of some birches along White Fork before starting the climb. Initially, the climb up White Fork goes through manzanita and talus. It's steep, but not technical.
The water in the creek was low enough that we could walk along the rocks at times, which saved us from a good deal of bushwhacking. The minerals in the water had colored the riverbed completely white.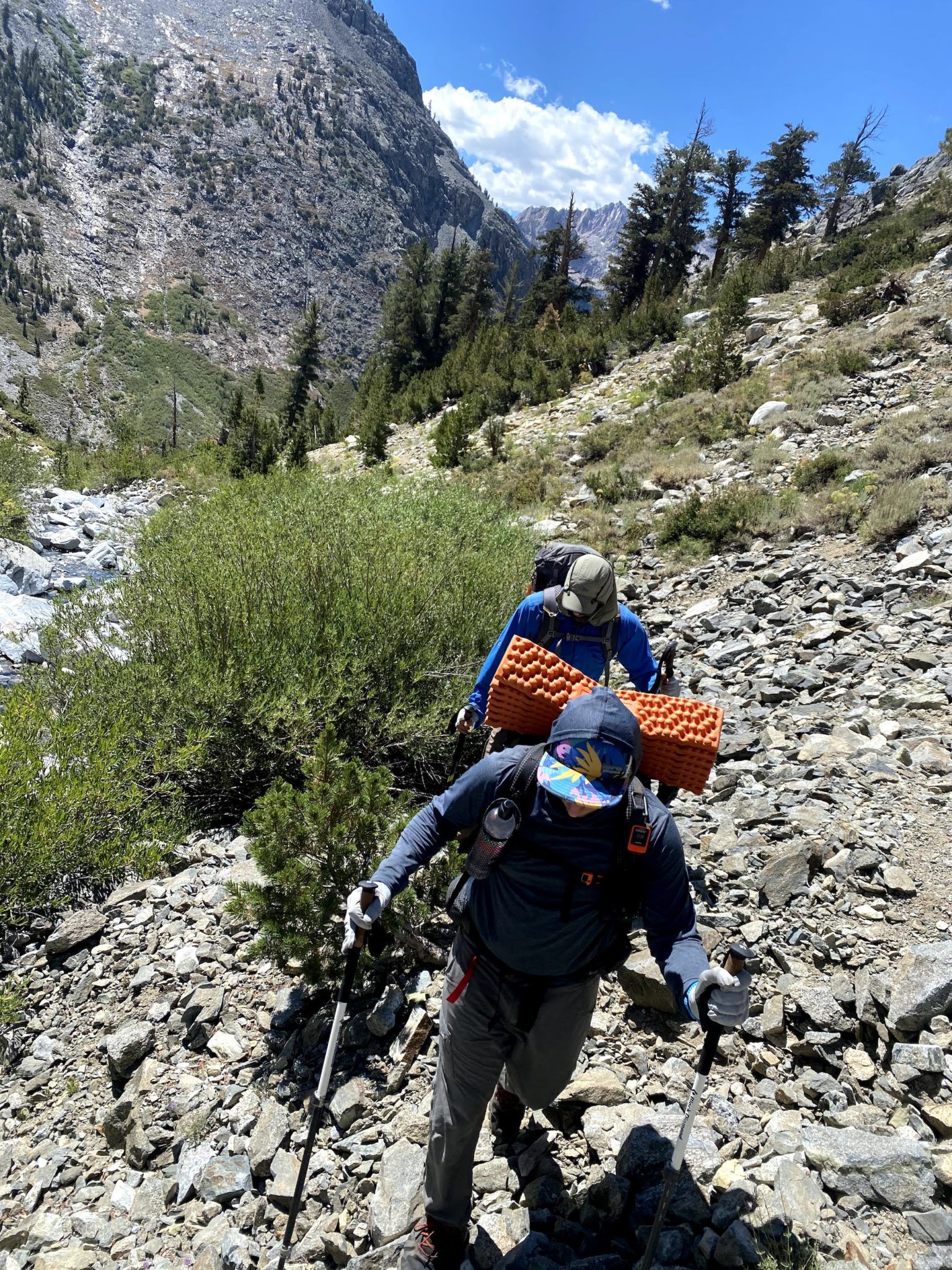 Most of the ascent up to White Fork Pass is though open tundra and talus, making it easy to navigate.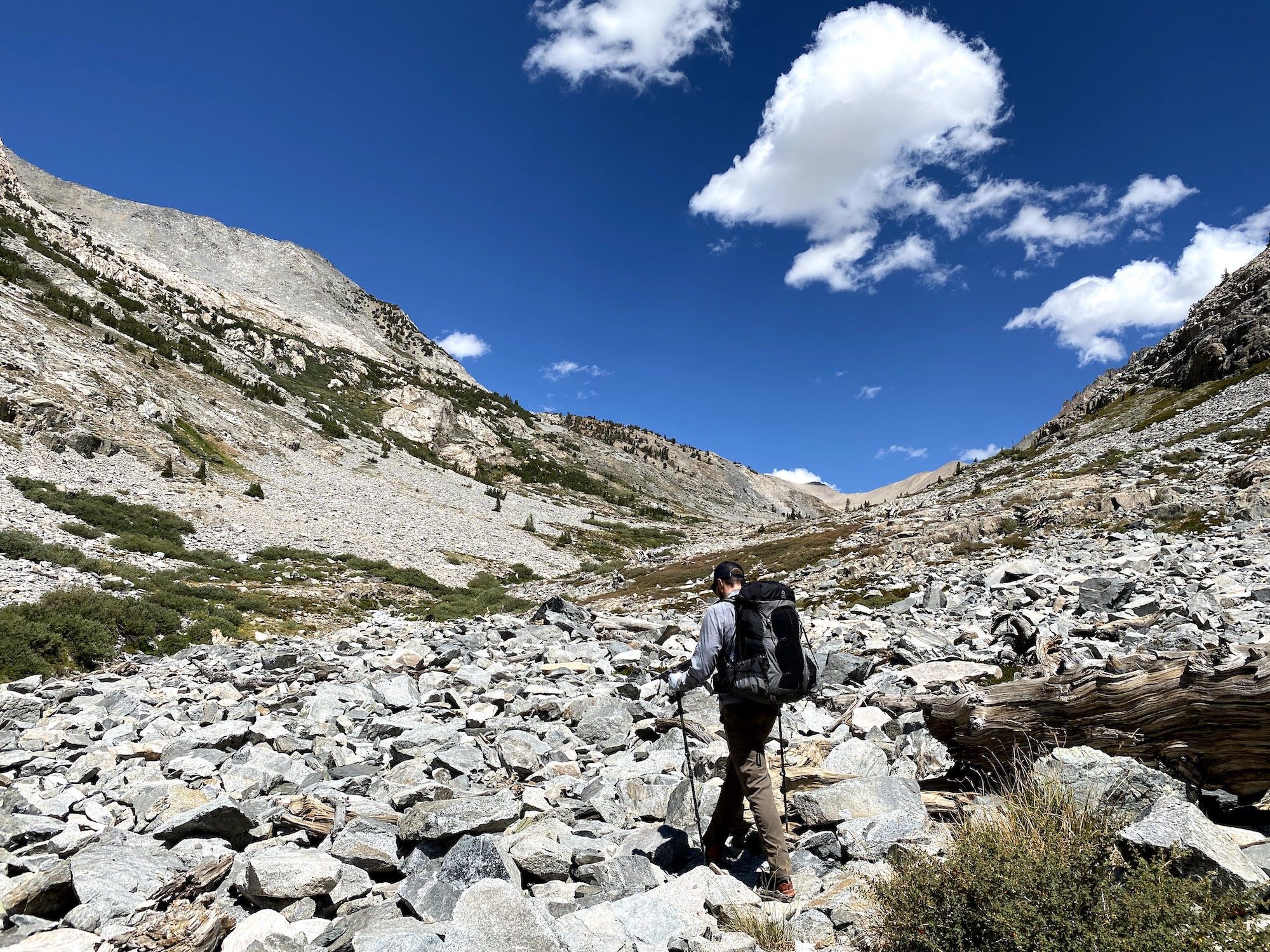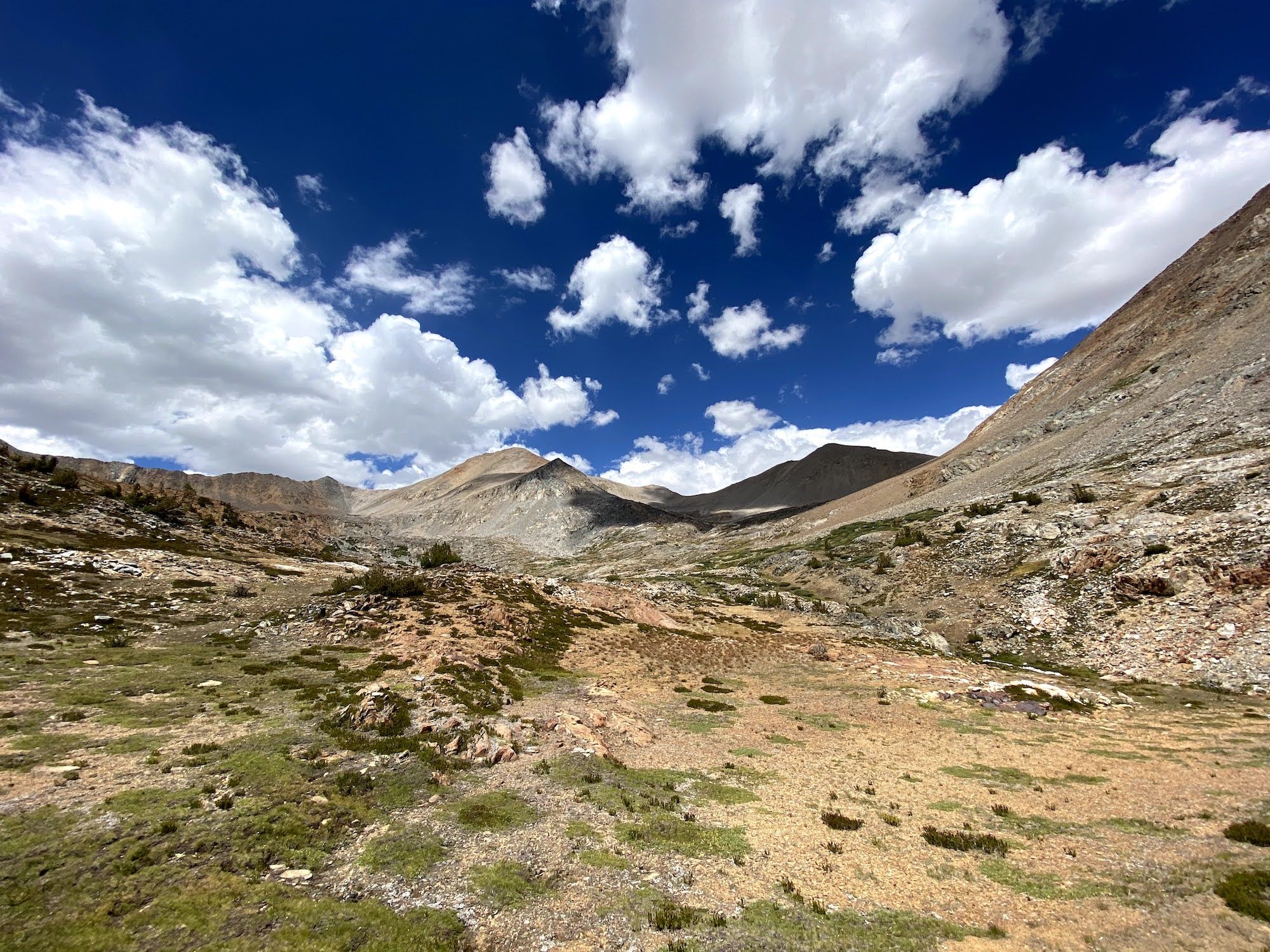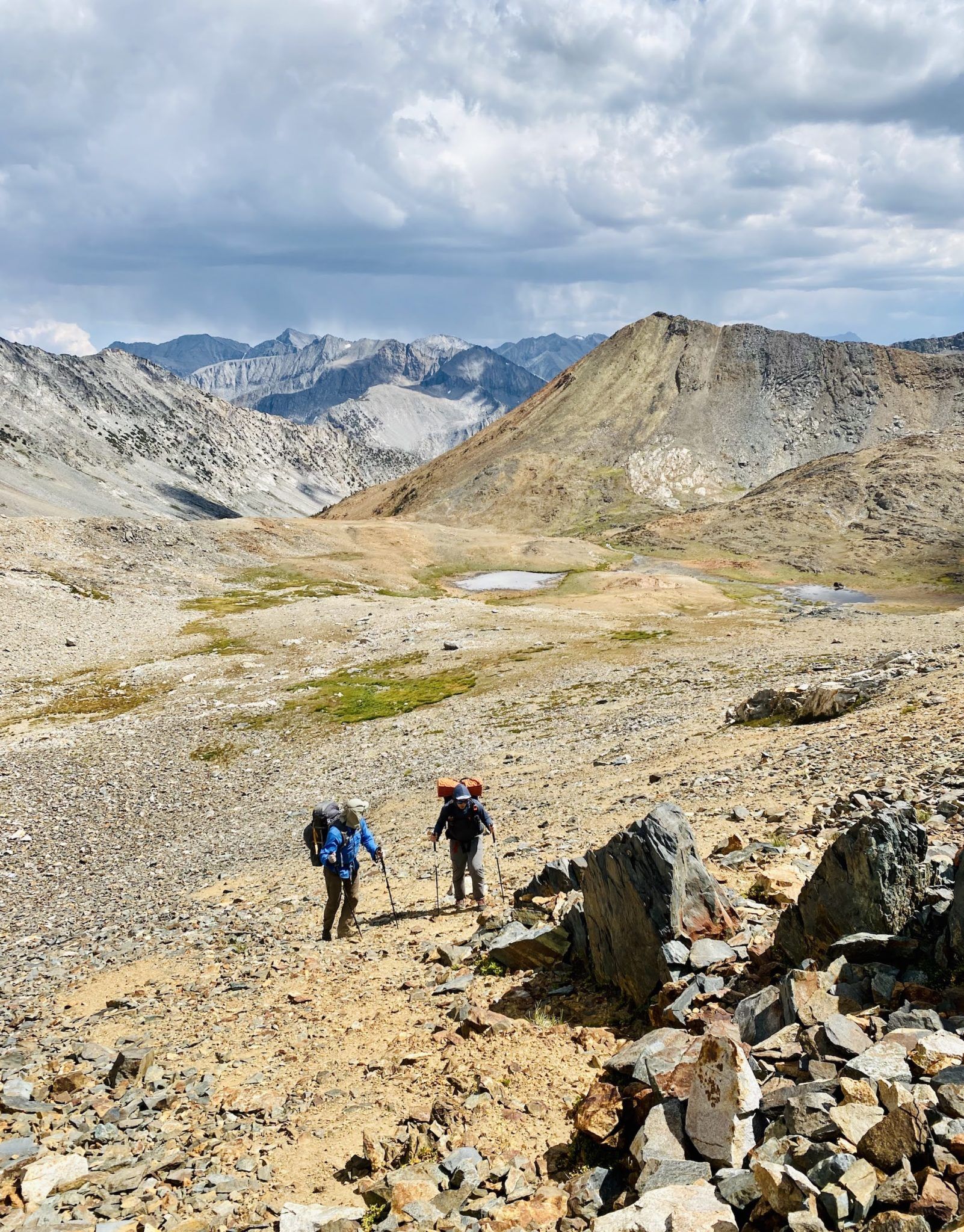 The dark clouds started to gather as we neared the pass. It began to drizzle as we took a short break. Fortunately, the worst of the clouds weren't on top of us, and there wasn't any thunder.
Somehow, all of us had been focused on the wrong pass when we began our final climb. Fortunately, we noticed our mistake early enough and contoured over to the right pass. The pass consisted of talus, scree, and sand. It wasn't very technical, but definitely a good leg workout.
We couldn't rest long at the top because the clouds overhead were getting darker. Ten minutes down from the top, it started pouring down on us.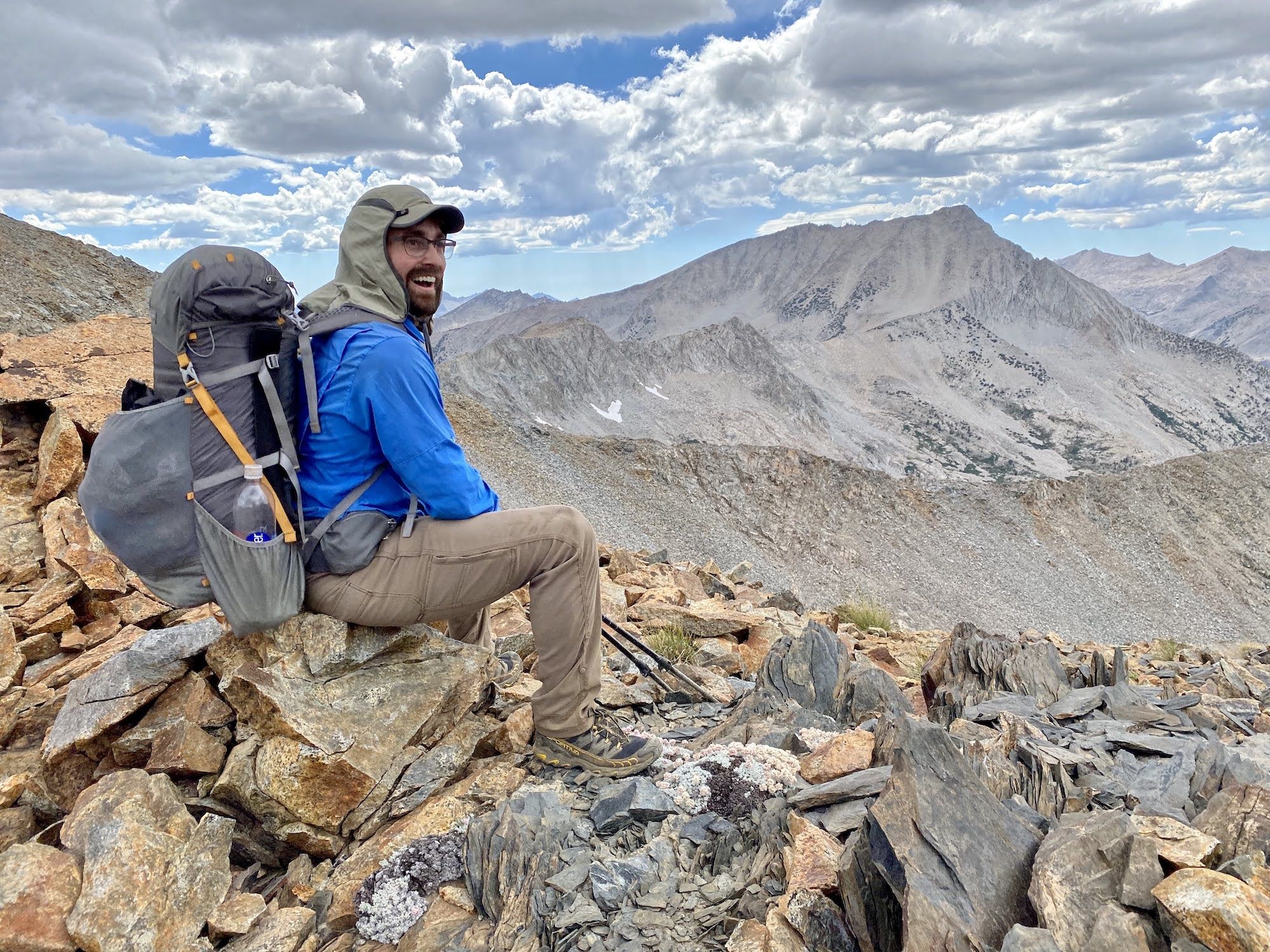 The descent towards Bench Lake was straightforward, although we were a bit surprised to see two sizeable lakes where the map only showed wetland (Skurka's notes also mentioned the standing water).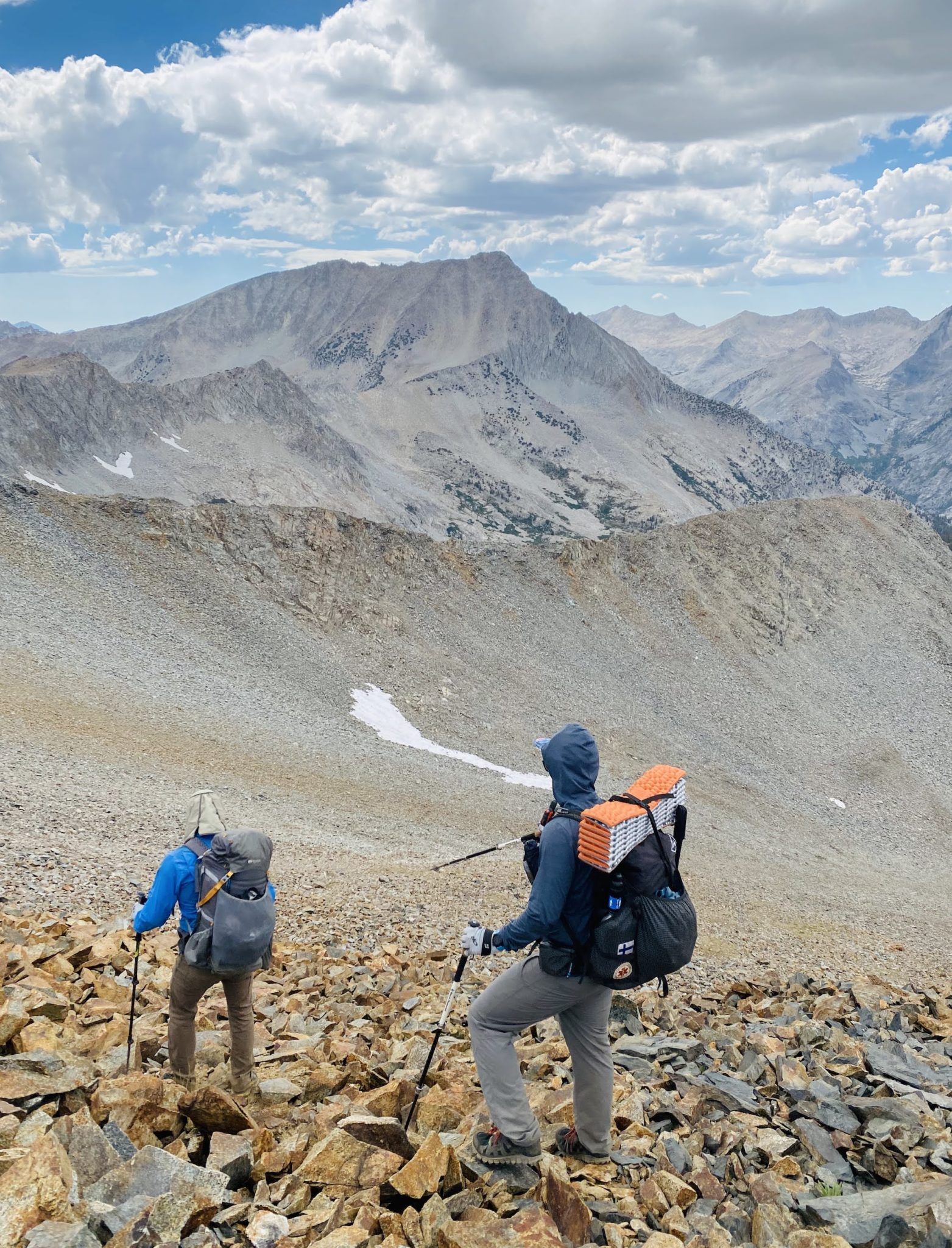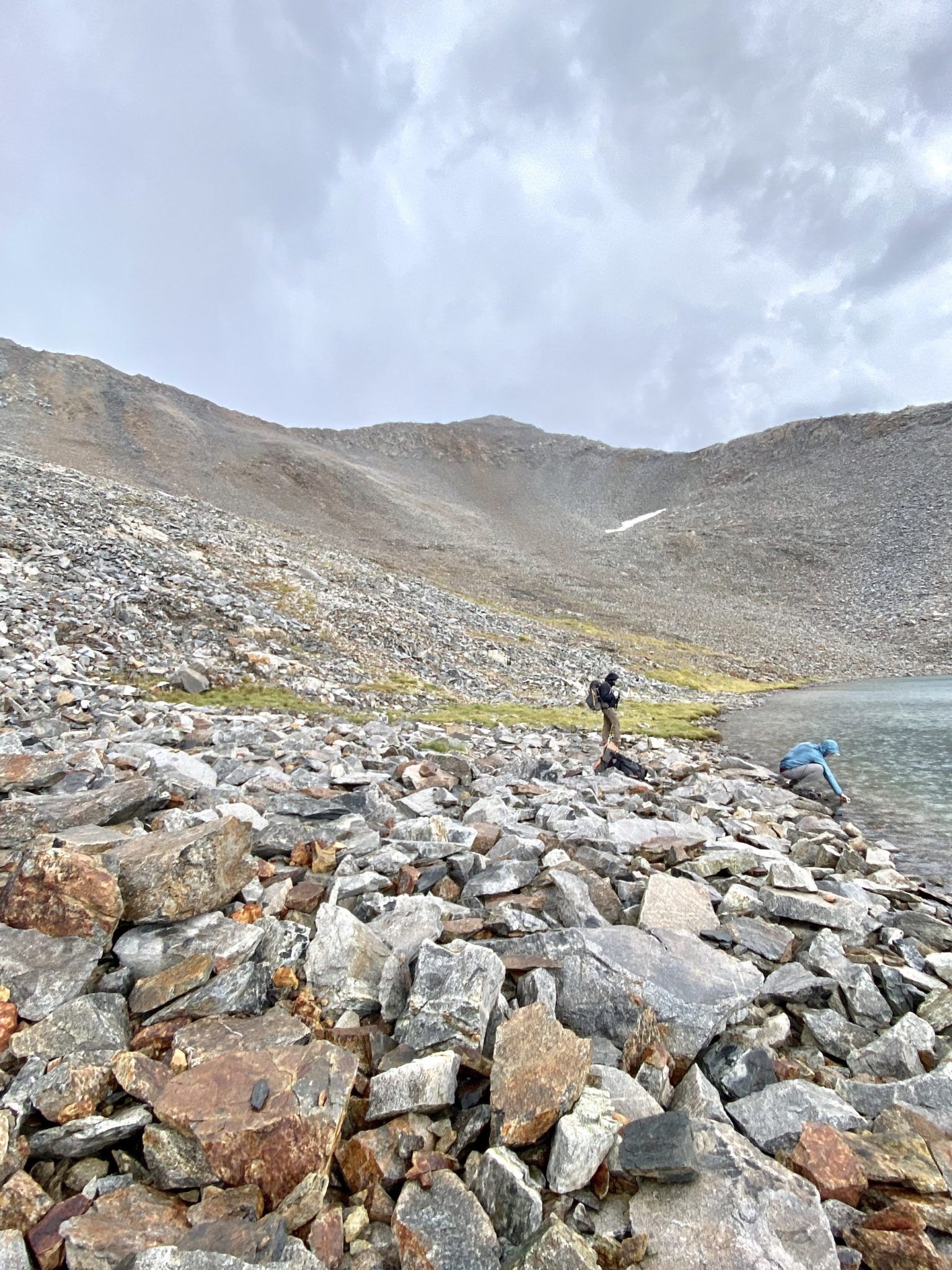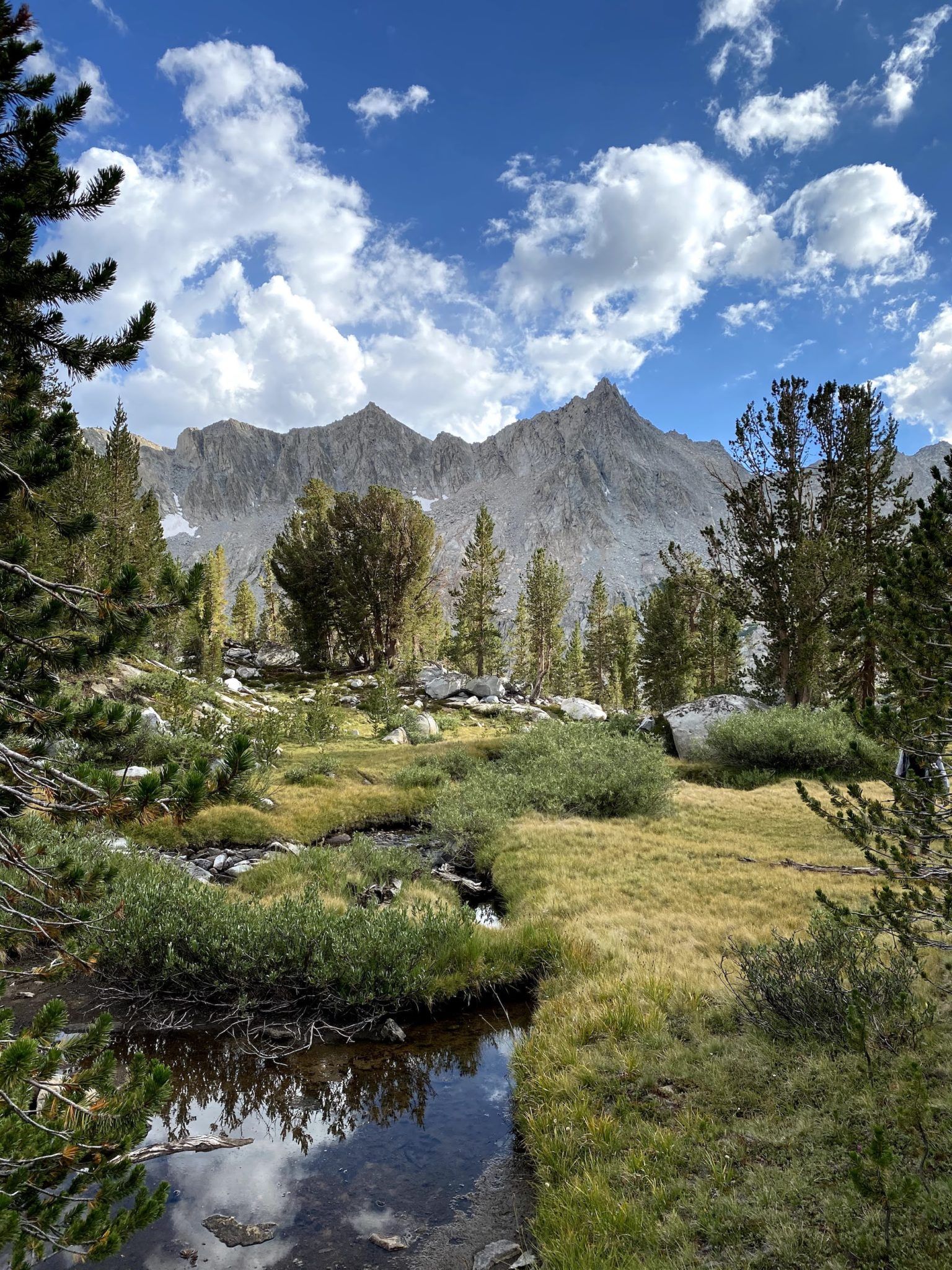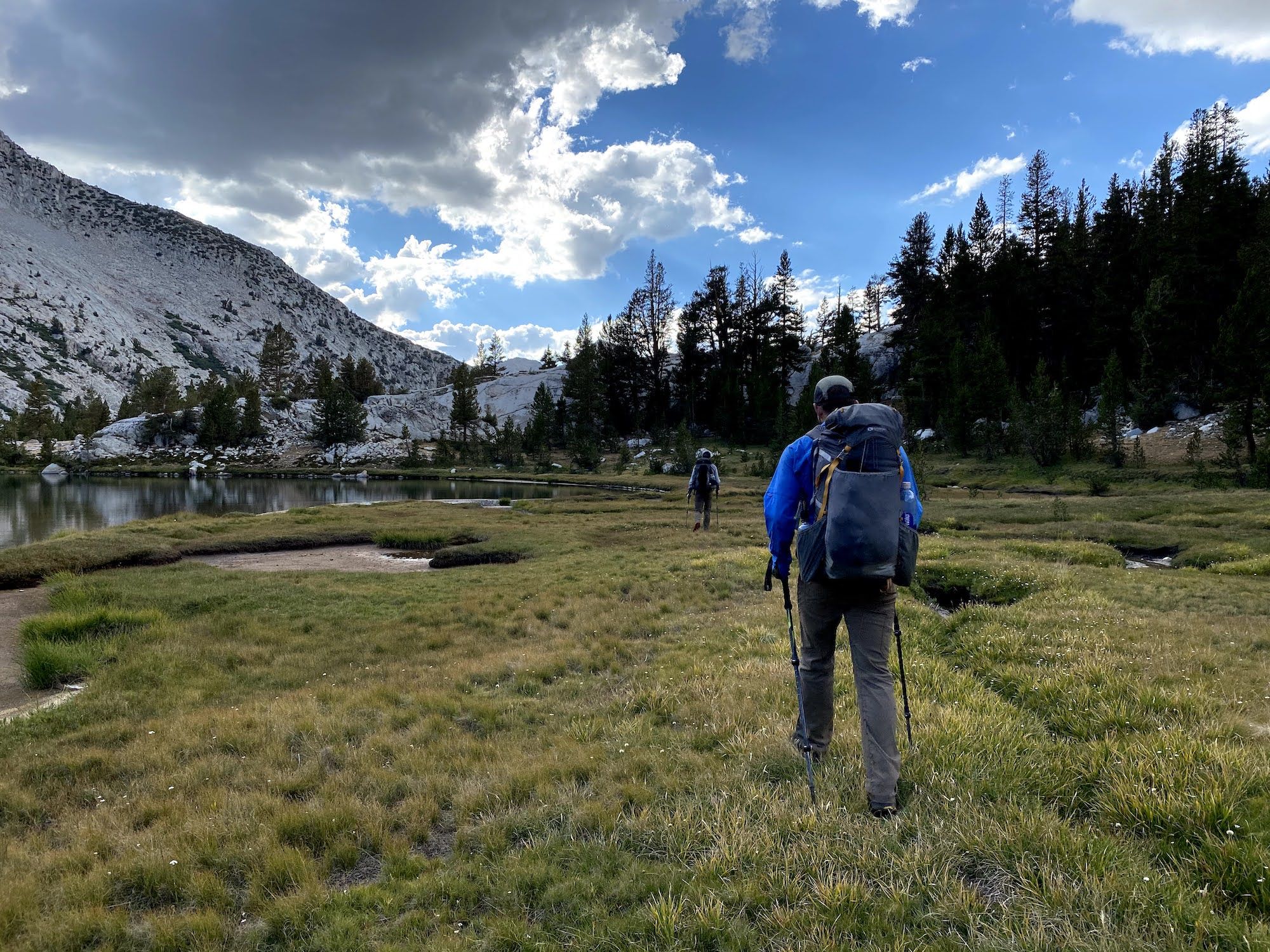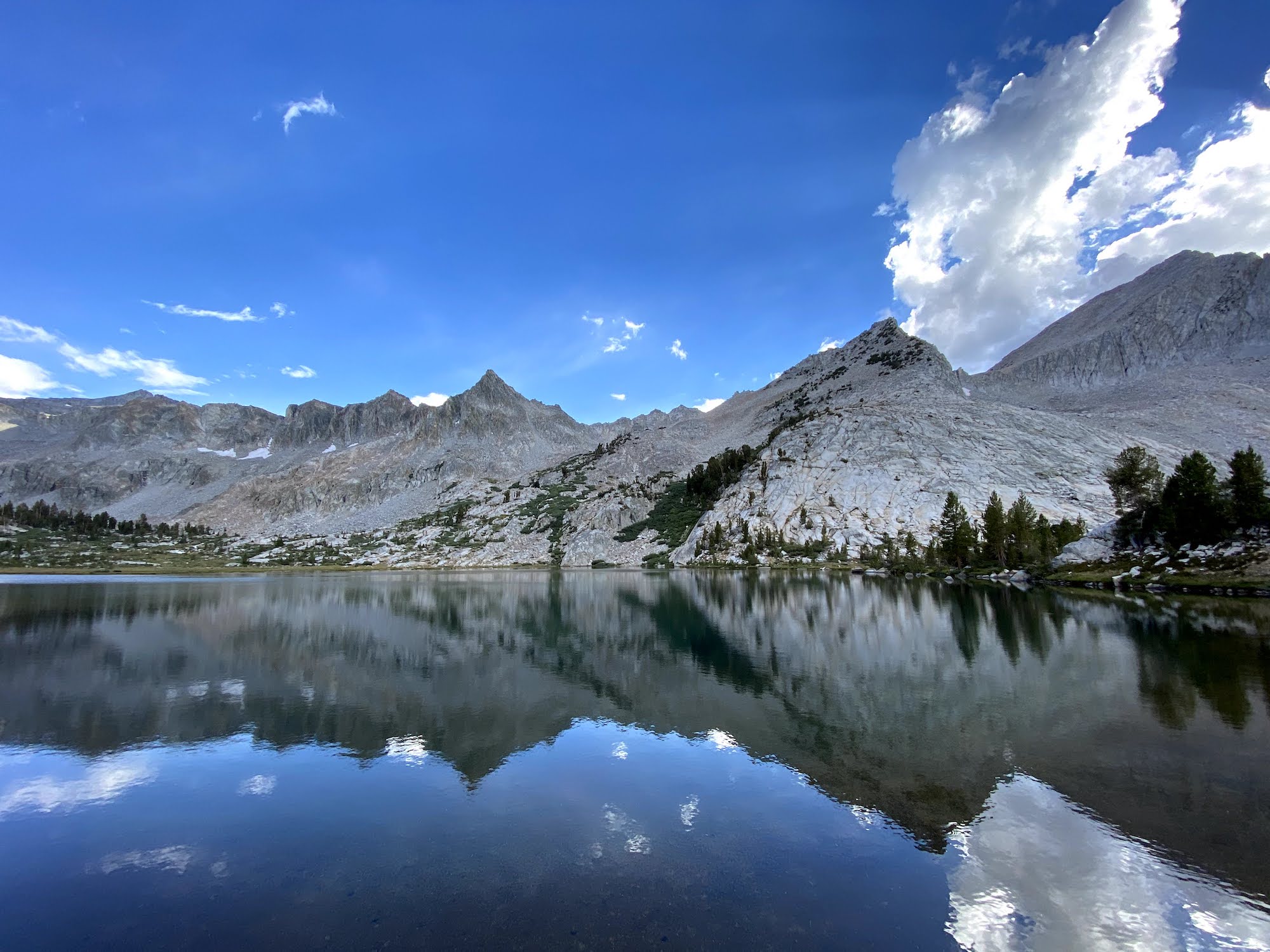 The final mile to Bench Lake felt endless because we were so tired. We contoured the peak south of the lake and had to descend more than we wanted because of cliffs.
We were spent when we reached the lake. Our original plan was to take a quick swim in the lake and continue over Cartridge Pass to Lakes Basin. It was clear to all of us that we wouldn't be continuing any further that night.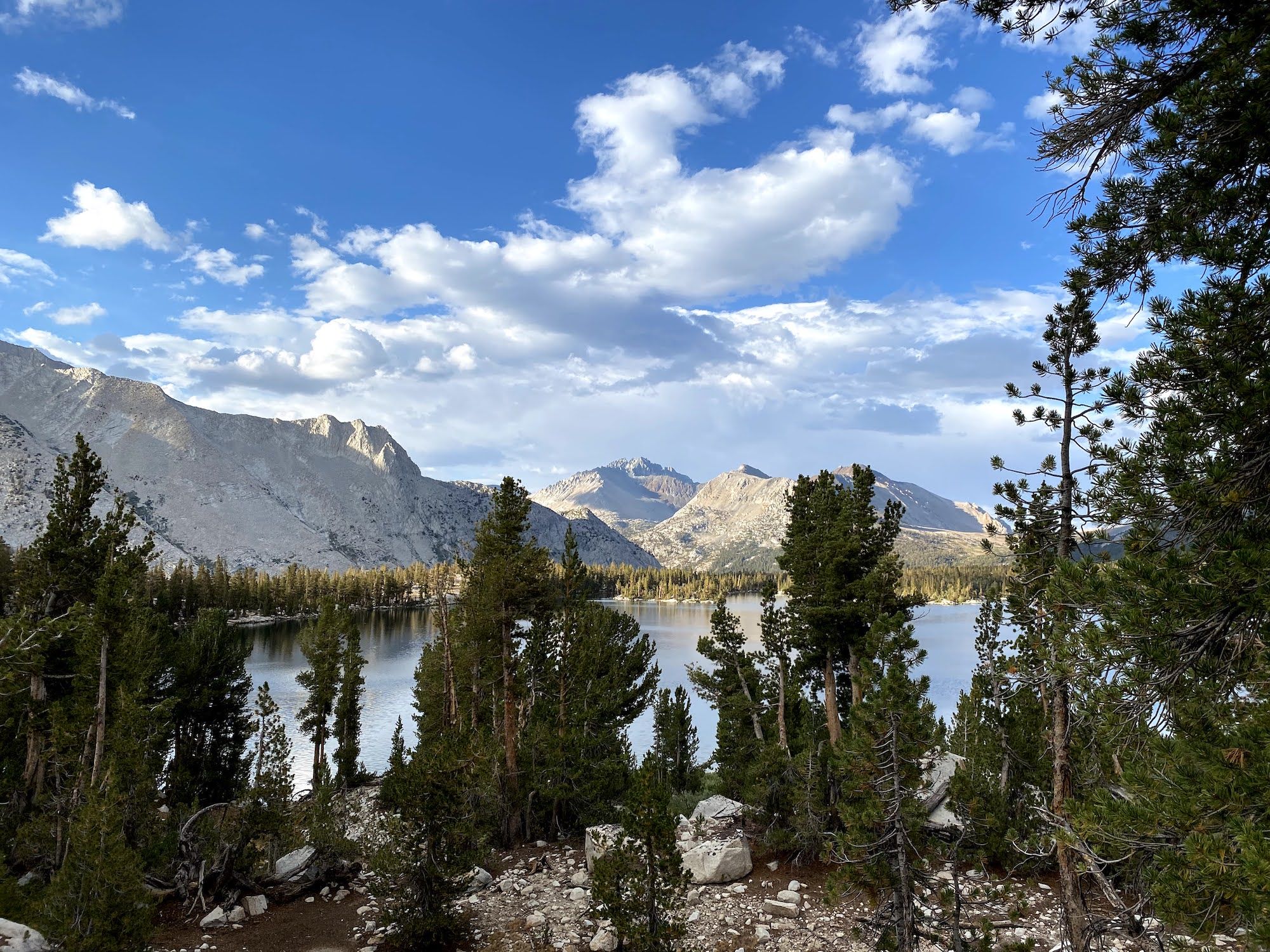 Exhausted, we set up camp and had dinner as it got dark.
Although we all wanted to see Lakes Basin, we realized that our original plan wasn't realistic anymore. We had overestimated our off-trail speed, and the risk of thunderstorms meant there was a big chance we'd get stuck in the high country and not make it back to work on Monday if we continued further on our planned route.
We made a group decision to get back on the JMT, over Pinchot Pass, then follow Woods Creek back to Roads End.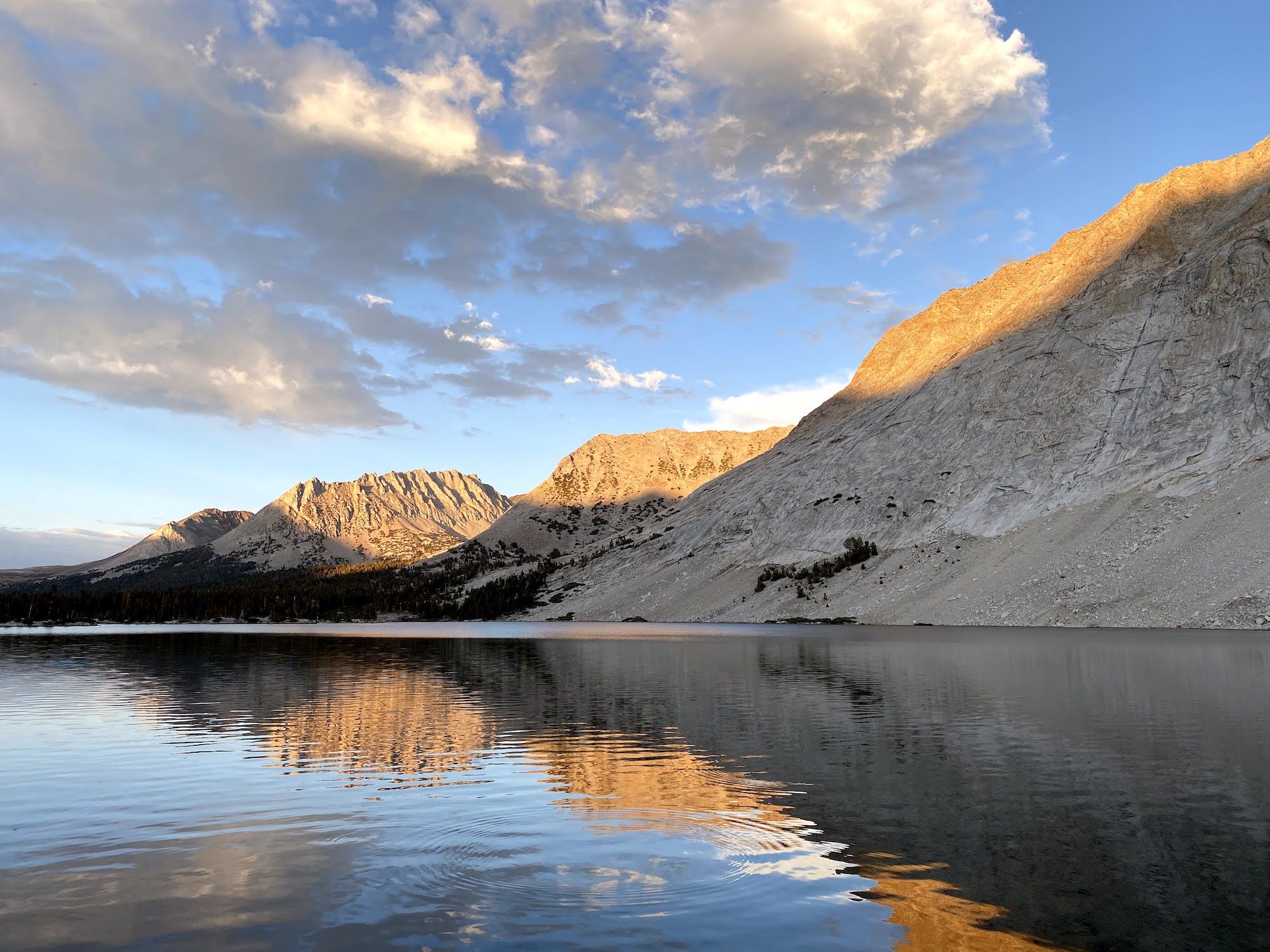 Day 5: Back on the JMT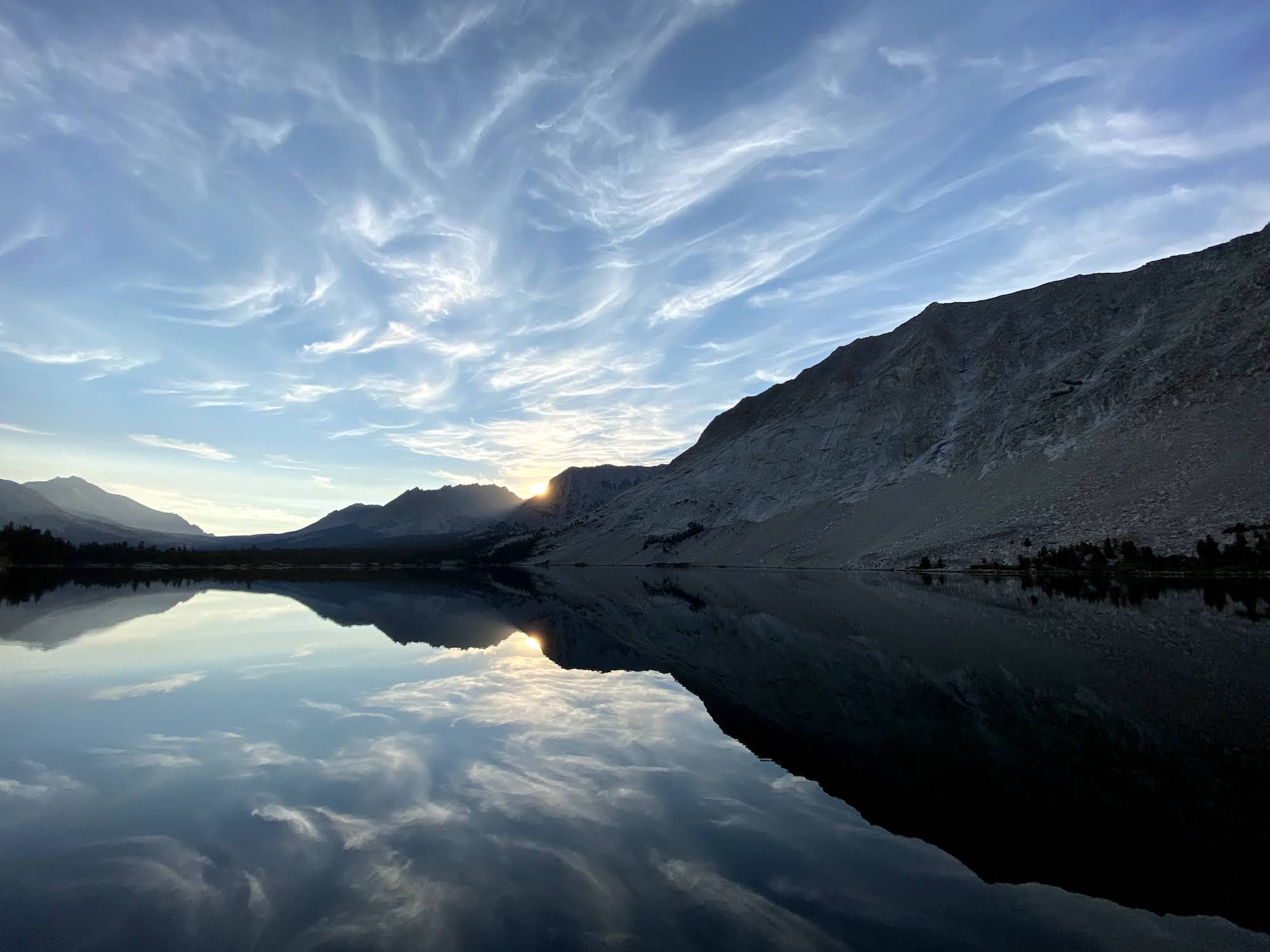 After a night's rest, we were all feeling good again. It was a beautifully calm morning, with fish rising to feast on the hatching insects. The trout in Bench Lake looked on average much bigger than in the other lakes we'd fished. We decided against fishing in the morning. Instead, we'd stop at Lake Marjorie to fish before going over Pinchot.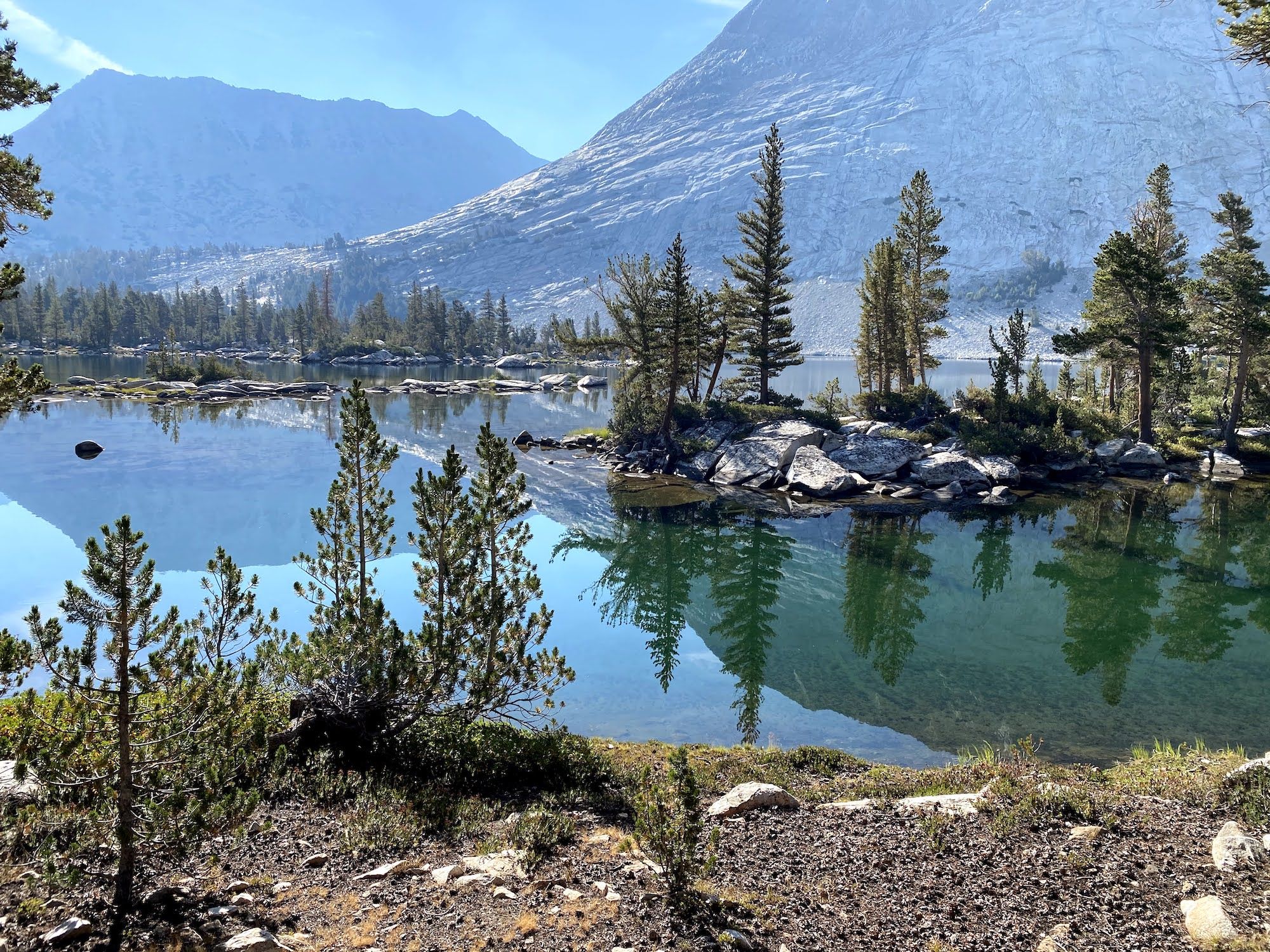 We were the only ones at Bench Lake, which was odd. It was one of the more delightful lakes along our trip, and the fishing looked great. The trail from Bench Lake to the JMT was about 2 miles, but with little elevation.
Once back on the JMT, we walked through the late summer meadows up towards Lake Marjorie. The lake was as deep blue as I remembered it from my JMT hike the previous summer.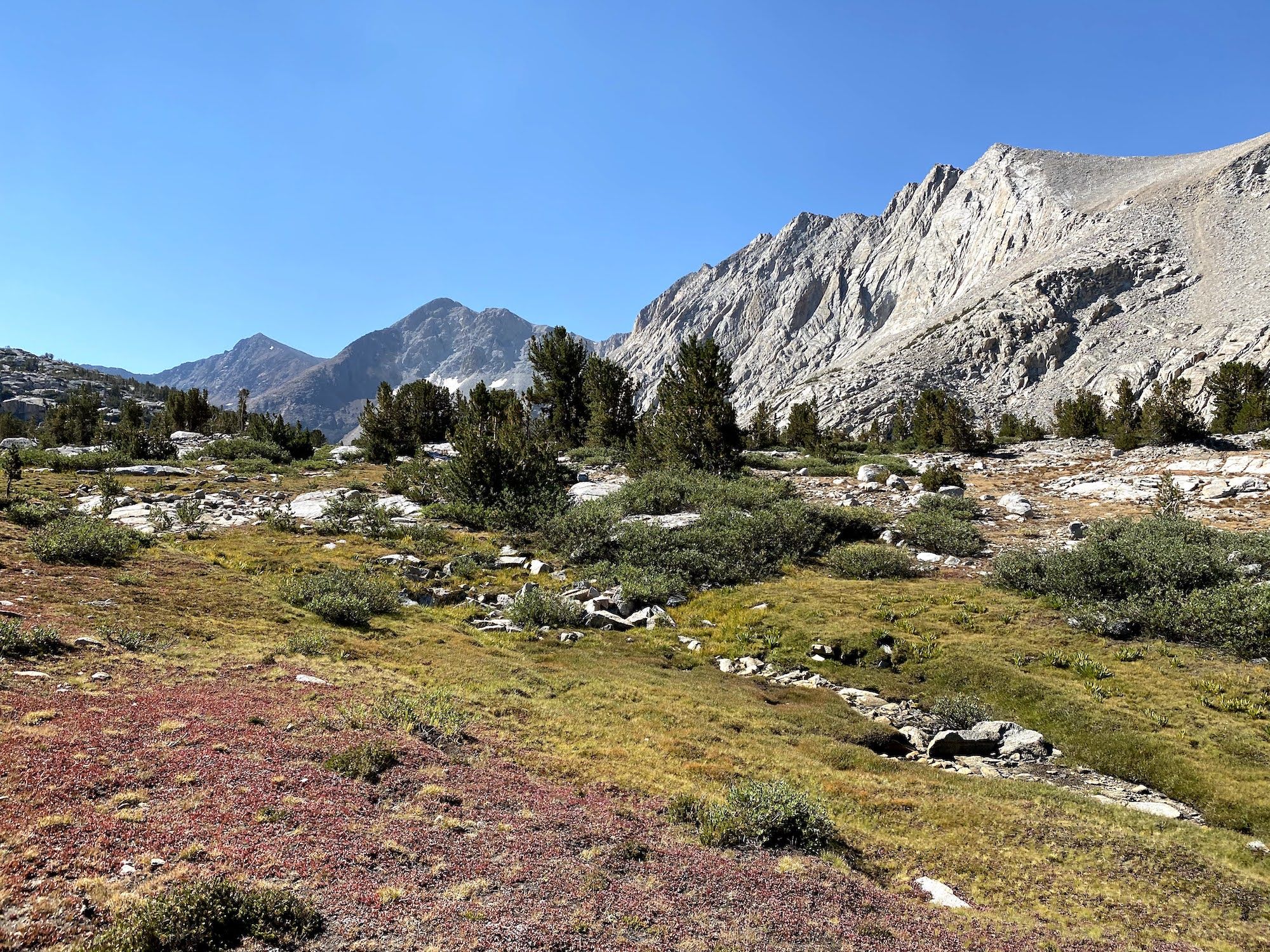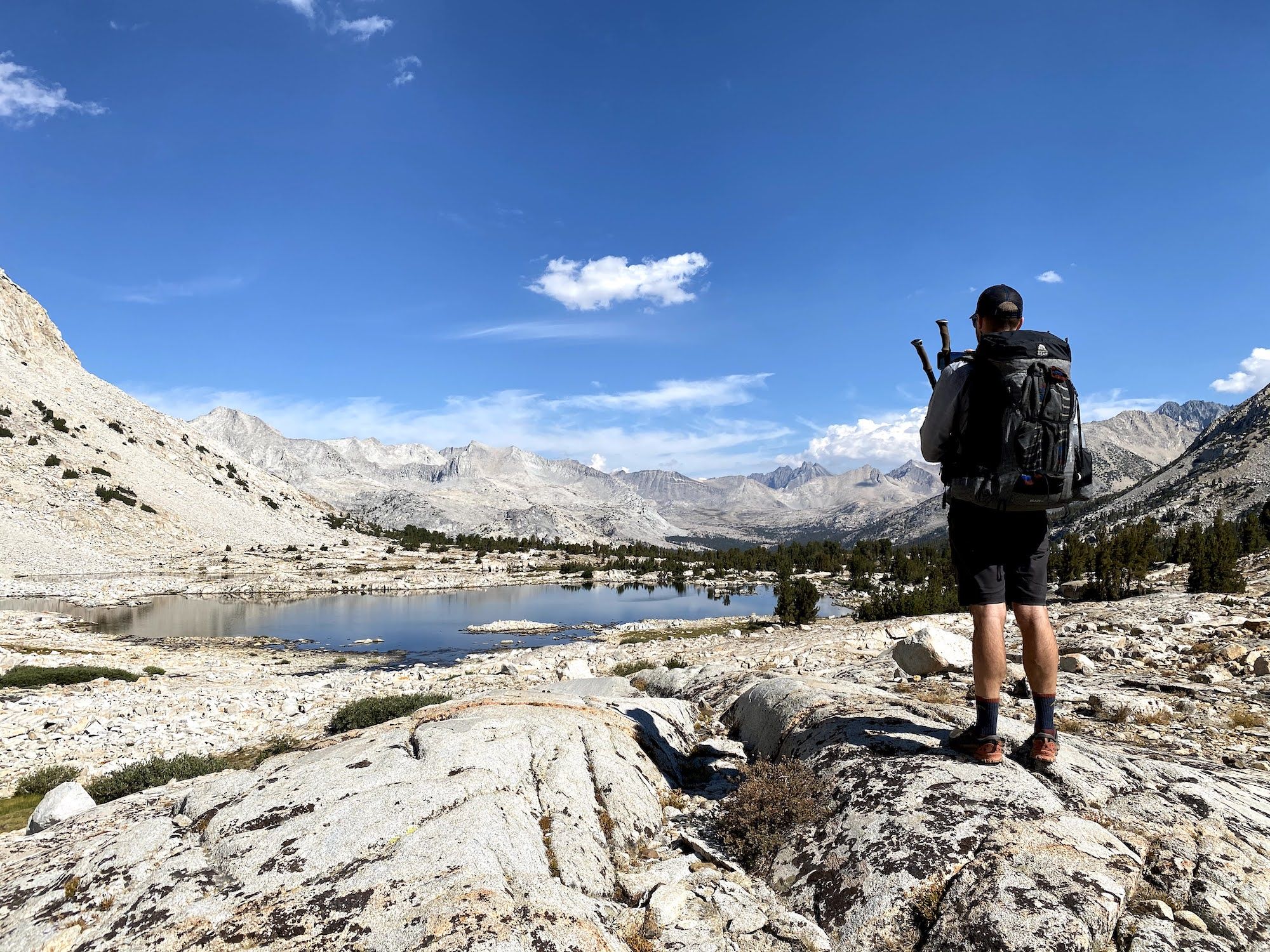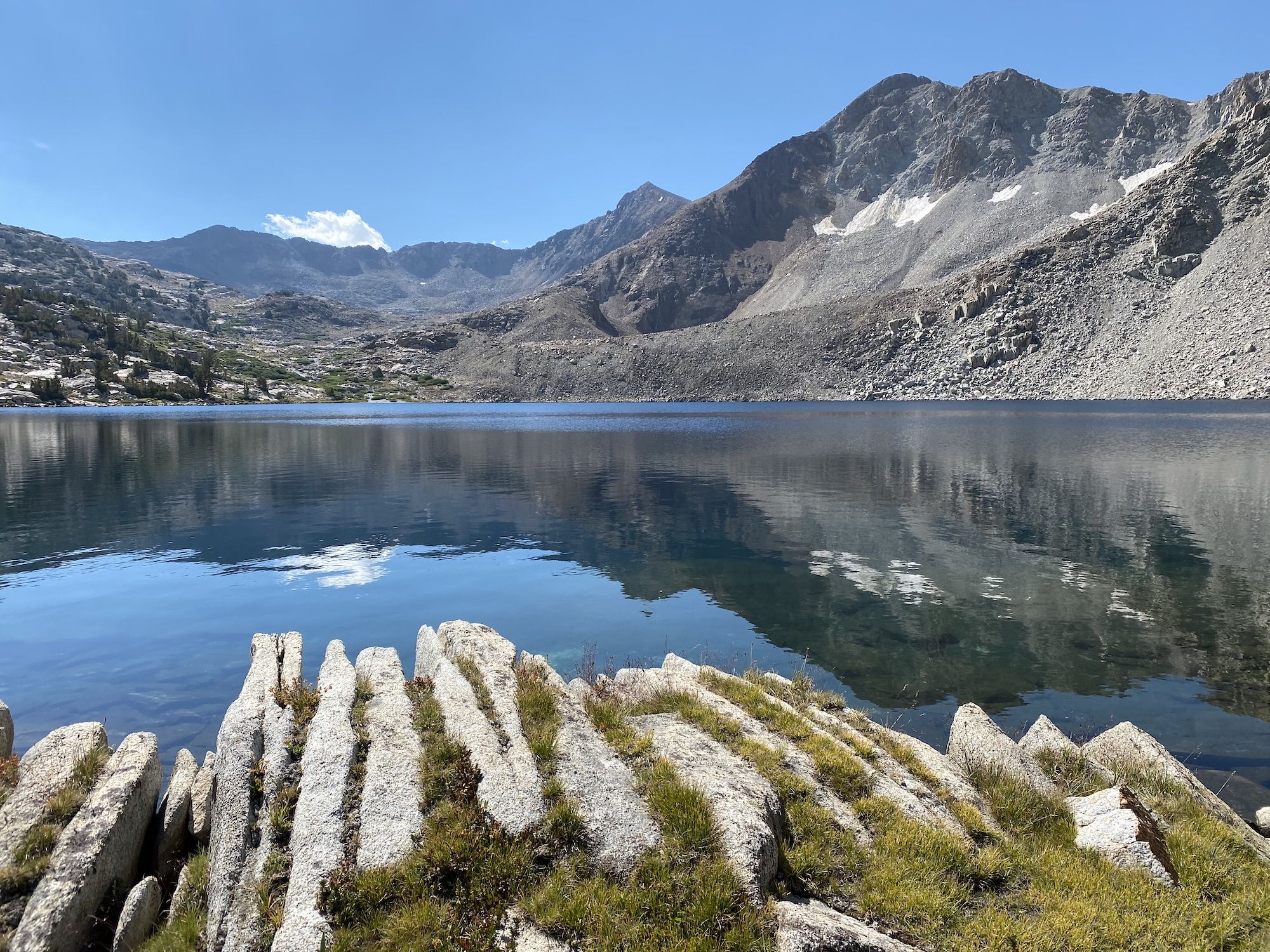 We all went swimming to rinse off the trail dust and sweat. The water was freezing but refreshing.
There was a good amount of brookies in Lake Marjorie, but they are very skinny. We had planned to eat a few as an early lunch but figured there wouldn't have been much left of them after cleaning them.
Steve's Tenkara line detached from his rod and sank 20 ft from the shore. Incredibly, he managed to dive down and get it.
Pinchot Pass is one of the easier passes along the JMT. Our GPS watches were off by a bit, so we were surprised when we suddenly made it to the top of the climb. We took in the views before heading down the barren landscape towards Woods Creek.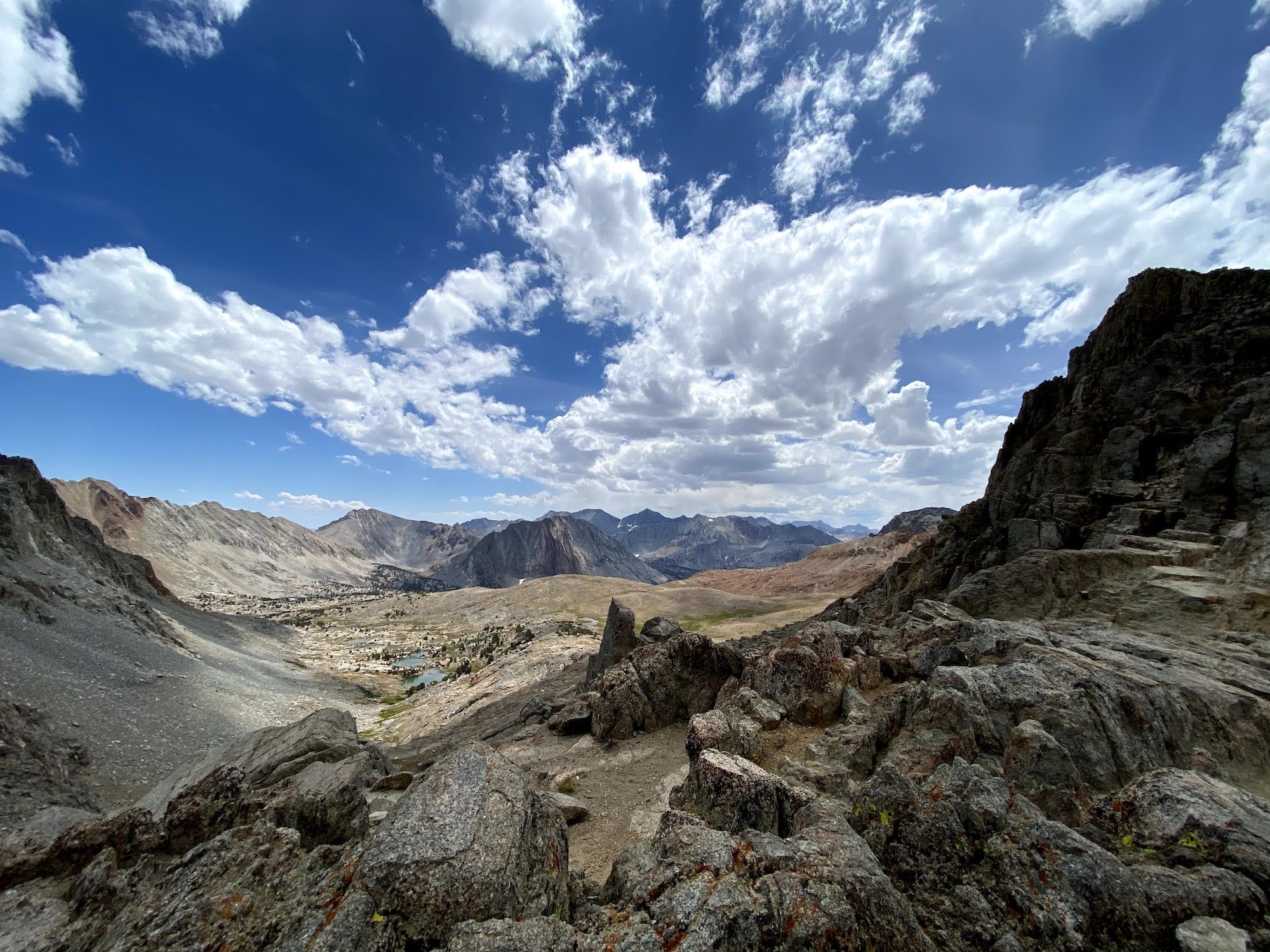 We stopped for an afternoon coffee at the Twin Lakes outlet. We were planning to hike a long day, all the way to Paradise Valley, so we wanted to make sure we were well fed and caffeinated.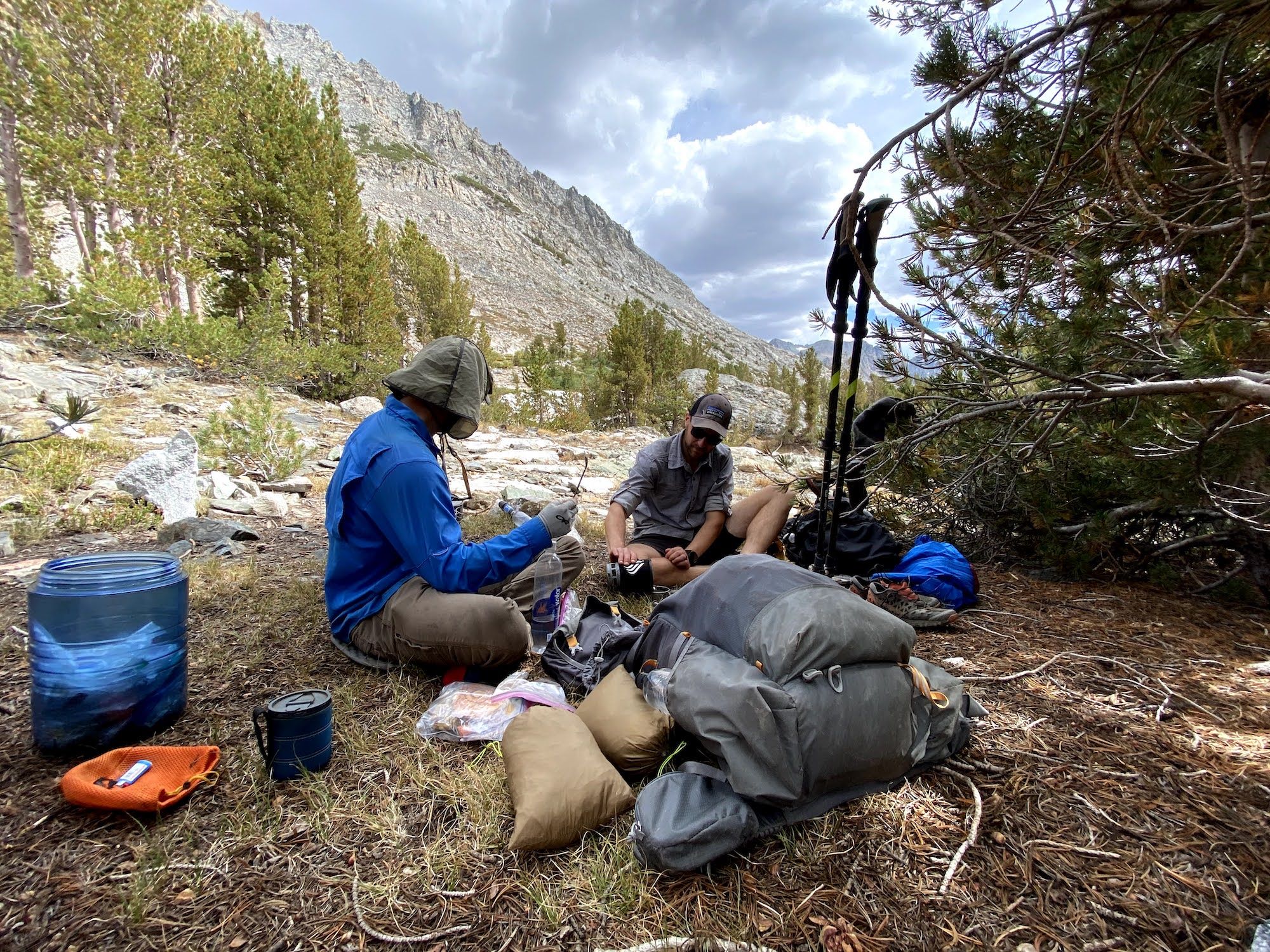 The hike along Woods Creeks is mostly wooded, but occasionally offers views of the sheer granite walls along its sides. Thunder started closing in on us, echoing off the mountains in an impressive display of nature's force. It rained on and off, at times just enough that you wanted to put on a rain jacket, but then it let off, so you regret your decision.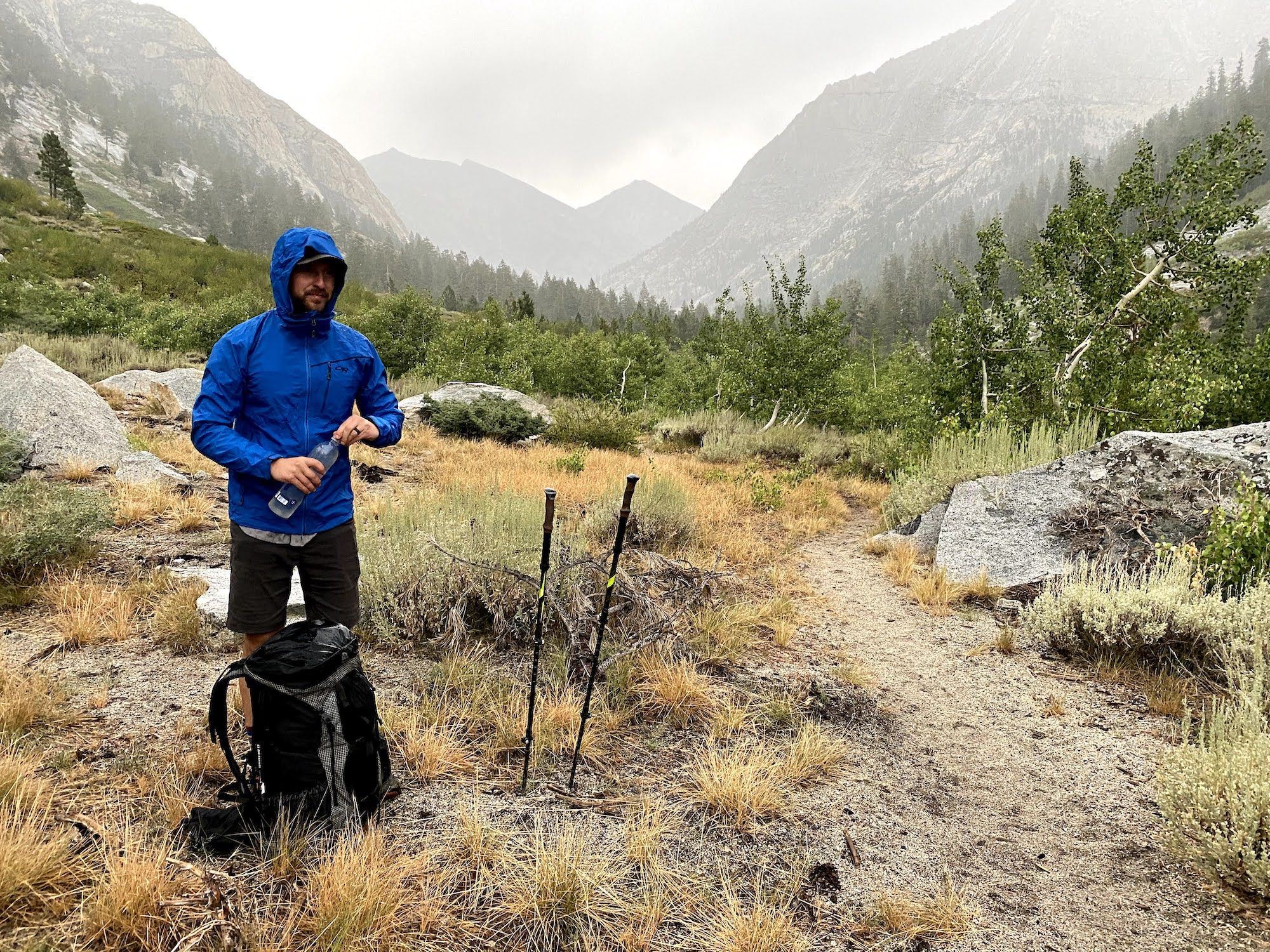 We made it to Paradise Valley just after sunset. The bridge over the river had washed away, but we were able to cross on a log. We set up camp as dusk turned into darkness.
Paradise Valley felt crowded after two nights completely alone. There were wads of toilet paper everywhere and people making noise long into the evening.
Day 6: The end of the road
We woke up early and had a quick breakfast. We had a little under 10 miles back to the car, most of it downhill.
The trail passes through lush forest and meadows until Mist Falls. The morning sun lit up the valley below the falls for some of the most spectacular views we had all trip.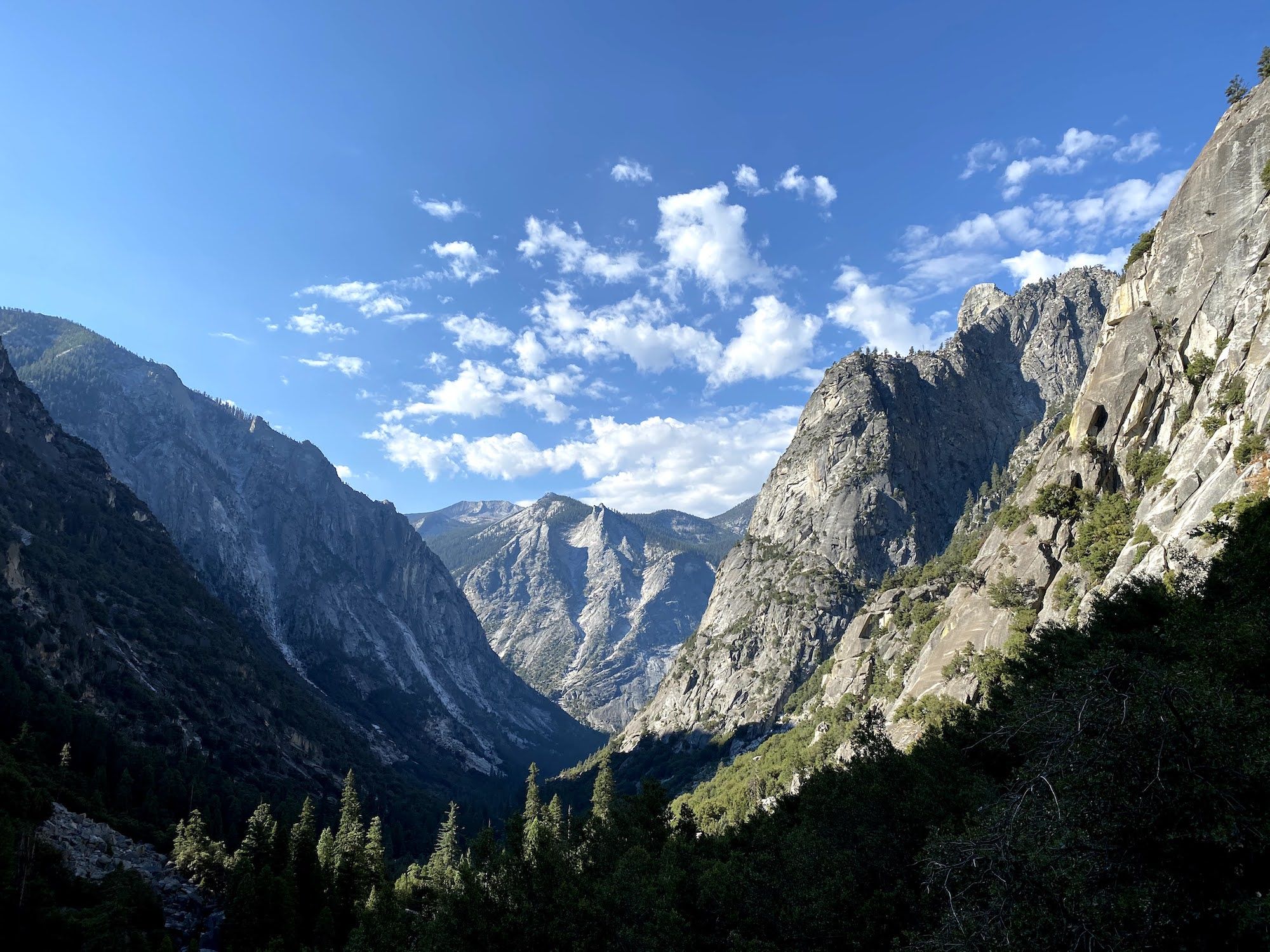 We met two groups of hikers on the way down saying they just saw bears, but somehow we managed to miss them both.
We arrived at the truck before 11 am. We used baby wipes to get rid of the worst of our filth, then put on some clean clothes and headed to Cedar Grove for hamburgers and beer. To our big disappointment, the restaurant was closed, and we had to drive almost to Fresno for our post-hike burgers.
Final thoughts
Kings Canyon has some of the most spectacular scenery in the Sierra. If you want to head out there and get off-trail, I can't recommend Andrew Skurka's Kings Canyon High Basin Route descriptions and material highly enough.
But also: know your skills and reserve enough time. Backpacking cross-country requires route-finding and bushwhacking. You might not move more than a mile an hour, plan accordingly. Climbing up a pass on loose rock and sand is a lot more tiring than gaining the same elevation on trail. Again – plan and reserve enough time. Finally, thunderstorms are frequent in the mountains in late summer. You may not get hit by one every day, but on a more extended trip, you'll likely have to stop short some days (or night-hike after the storm to catch up).
In the end, we didn't hike the route we had hoped, but we had a fantastic time. We're all looking forward to visiting Lakes Basin on a future trip.